Biggest Marketplace Problems and Ideas on How to Solve Them
19716 views
15 min
Oct 22, 2020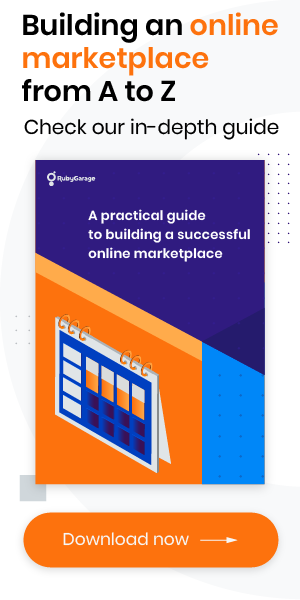 The idea of creating a marketplace like Amazon, Airbnb, or Lyft is ambitious and exciting. But to run a successful business, you need to carefully consider your development strategy, foresee possible problems with marketplace like a low customer retention rate, and choose the right development approach. In this article, we overview the challenges you may face when building your marketplace platform and share ideas for solving them. Let's start.
Why it's worth investing in a marketplace
Marketplaces have come a long way, and today they're booming. Let's look at the latest statistics to find out why marketplaces are worth investing in.
These numbers show that marketplaces are only gaining momentum. If you're considering a marketplace as a money-making business idea, are about to start developing a marketplace, or have already launched one, our valuable tips are for you. Let's turn your marketplace issues into workable solutions.
Problem #1 Choosing the right development approach
Choosing the wrong development approach leads to a product that doesn't meet your business needs and the needs of your customers. To avoid this problem, choose among three development approaches that will help you launch your marketplace quickly and cost-effectively.
Use an open source solution
Open source solutions are a way to kick off your own marketplace in a matter of weeks with no programming skills. The only thing you need to do is choose a suitable theme and plugins that will cover your business needs.
This development path fits if you wish to test a new marketplace business idea with real users. However, you should remember that open source solutions in most cases don't allow you to create a unique interface design. Moreover, plugins and themes you apply to your platform may compromise your marketplace's security. 
Subscribe to a software as a service (SaaS) solution
By subscribing to a SaaS platform, you can access the platform's features and use them to achieve your business goals.
A SaaS platform is the right choice if you're going to kick off your marketplace within a short time frame. But when you opt for this solution, you should remember that you may pay a high flat fee for the whole feature set no matter how many features you actually use.
Purchase a white-label solution
By going for a white-label product, you buy a ready-made software product with all the features you need to implement in your marketplace. All you have to do before launching is select the necessary features and apply your own branding.
Unlike with open source solutions and SaaS platforms, with a white-label solution you get the product's source code and have complete control over your marketplace. Owning the right to the product's source code gives you the ability to add new features and modify your platform as you want. With a white-label product, it takes little time to launch a marketplace, and if you plan to create a platform that lasts a long time, this option is the best choice.
Problem #2 Solving the chicken and egg marketplace issue
When launching a marketplace, the first thing you need to do is create supply and demand. However, the question arises: Whom should you attract first? Below, we consider several options.
Attract sellers first
If customers visit your marketplace and there are no sellers or vendors with products and services, the chance they'll turn around and leave is high.
One common approach to attracting sellers is to offer a small monetary reward or a perk. When Uber launched its taxi service, it offered a minimum wage to drivers, even if they didn't get rides. This practice attracted many drivers and riders, and as a consequence, it made Uber one of the largest transportation companies.
Attract buyers first
Attracting buyers first and then attracting sellers is more difficult, but it makes sense for some marketplaces like Creative Market. To attract early buyers, Creative Market offered a cash reward of $5 coupon for registering. This stirred users' interest, and the platform succeeded in gaining a vast client base.
You can follow in the footsteps of Creative Market and attract buyers with virtual rewards like discounts on first orders or certificates on the first few purchases.
Attracting both sides simultaneously
With the right strategy and plan, you can attract both sellers and buyers at the same time.
To attract both parties, you can allow sellers to act as buyers — and vice versa. This means that while presenting goods on your marketplace as a seller, a user can also act as a buyer. Sellers have common interests and can support each other. The Etsy marketplace adopted this strategy and successfully attracted both buyers and sellers interested in handicrafts.
Acting as a producer
Marketplace giants like Amazon and eBay started by acting as producers. When a marketplace owner acts as a seller, they can attract the first customers to the website, build up a customer base, and then expand their platform by attracting other sellers.
Problem #3 Low brand awareness
When creating a new marketplace and bringing it to the market, you may face the problem that your platform isn't known and recognized. Here's what you can do to improve your marketplace ranking and enhance your brand visibility.
Use search engine optimization (SEO) techniques
Kelly Shelton, the VP of Marketing at Boostability, says that 92 percent of customers don't go beyond the first page of Google search results. Therefore, your first practice to improve brand awareness should be to apply SEO practices. SEO aims at improving the position of your website in search results to increase your platform traffic. Once you appear on the first page of Google results, you can expect more traffic and more deals on your marketplace.
Partner with other brands
As part of your marketing strategy, you can use the co-branding method. Partnerships with other businesses involve teaming up with a well-known brand with whom you share a common audience. The idea of a partnership is to generate positive associations with your brand and gain credibility among customers of your partner brand. Working with a trustworthy brand, you can significantly increase your brand awareness.
Use social media marketing
Using social media is one way to quickly gain recognition for your marketplace. This approach will allow you to establish a community around your business, share news, and build long-term relationships with customers.
Plus, social media is a nice place for your advertising campaigns. Well-targeted ads and a smart investment in them can help you reach millions of people worldwide and build a network of followers.
Problem #4 Low customer acquisition
Customer acquisition is the process of gaining new solvent customers. The ability to systematically convert new visitors into customers makes it possible to maintain marketplace growth and generate profits. Below, we reveal practical tips to help you increase brand awareness and build a strong marketing strategy to acquire more customers.
Get brand advocates
Brand advocates are people who use services or purchase products on your marketplace and leave positive reviews on your site or share their positive experiences with friends and family. Brand advocates promote your brand for free and want other customers to have the same great experience they've had.
Mention Me found that 51 percent of UK consumers trust a friend's recommendation more than direct brand advertising. This shows that attracting brand advocates can help you significantly increase customer acquisition.
Employ storytelling
Incorporate storytelling into your marketing strategy to make your marketplace more engaging to potential customers. Stories create an emotional connection between a customer and a brand, increasing loyalty and trust and encouraging customers to purchase from you. By telling a story instead of just sharing facts, you create a memorable image of your business and its core values.
Convey values via social media
With the help of social networks, you can inform customers about the mission of your marketplace and broadcast your ideas to engage with users.
By being active on social media and using analytics tools, you can assess users' reactions to the photos, videos, or texts you post. This will help you understand what content customers like or dislike so you can remove unnecessary content and add desired content to your social networks.
Start your own blog
A blog is a great way to increase website traffic, improve your marketplace's Google ranking, and provide valuable information to your customers. However, to create the most valuable content, you have to know your buyer personas and their pain points.
To engage with customers via your blog, you should create different content depending on the type of your marketplace. For example, Etsy posts videos and DIY articles as educational materials to engage with art fans. Airbnb, an accommodation rental marketplace, publishes travel guides to tourist routes with interesting places to attract travelers.
You can publish useful materials not only for buyers but also for sellers and vendors. Provide insightful materials on how to increase sales on your marketplace, or publish guides for aspiring sellers to make your blog even more useful.
Provide users with guides and guarantees
Your users need to trust your marketplace and each other to stay with you for a long time. Build trust with guidelines and guarantees to relieve customers of security concerns when they buy a product or access a service on your marketplace.
The first thing you need to do is establish a set of rules for how things work on your platform. For example, BlaBlaСar created two separate guides: How to be a good driver? and How to be a good passenger? By posting similar guides on your site, you can let your users know that if they don't comply with the requirements, they'll be punished.
Also, to increase trust, you can introduce a rating system for both buyers and sellers/vendors. Allow users to rate each other and leave comments to build trust within the community.
Problem #5 High cart abandonment rate
Nearly 70 percent of shoppers give up on their shopping carts, making a high cart abandonment rate one of the most common problem with marketplace. There can be many reasons for this problem, but the main one is a poor user experience. Here how you can fix this.
Use one-click checkout
Cision PRWeb claims that 87 percent of online shoppers will abandon carts if the checkout process is lengthy or complicated. Create an enjoyable user experience and allow visitors to browse products, add them to the cart, and check out in one click without creating an account. This will improve the perception of your brand and the desire for customers to make repeat purchases on your marketplace.
Simplify the checkout process
Consumers are impatient and wary of giving too much personal information to marketplaces. Simplify the checkout process by reducing the number of required fields while gathering enough information to process orders. Also, avoid unnecessary design elements that can disrupt the checkout process.
Offer many payment options
Analyze your target audience, find out which payment methods they frequently use, and add them to your platform.
For instance, some customers don't have credit cards and prefer to use online payment services like PayPal or Payoneer. To please everyone, try to provide several payment options to give users an opportunity to pay in a convenient way.
Gain customer trust
Online fraud is one reason why buyers aren't confident in new marketplaces and are reluctant to trust them with personal data. Offer social proof such as certificates of compliance, customer testimonials, and clear return policies to build trust and win over your visitors.
Make getting in touch easy
Don't leave customers with unanswered questions. Add an online chat option to your marketplace, direct customers to an FAQ page, or place a callback button. Allow customers to get support without a hassle.
Problem #6 Tracking vanity metrics
Vanity metrics are dangerous.
Getting more likes and comments can look attractive. But these are vanity metrics that prevent you from making data-driven decisions and understanding the success or failure of your business. A large number of likes doesn't give you an idea of how many people have become your customers and how much your sales have increased or decreased. In order not to be misled and to stay informed about key performance indicators (KPIs), track actionable metrics. Learn more about what metrics to track below.
Percentage of active sellers/buyers
To understand how your marketplace is growing, you need to measure the total number of registered sellers and buyers and compare it with the number of new registrations and with the number of sellers and buyers who remain active after a month. By doing this, you'll track the growth of your user base from month to month or from year to year and see how popular your marketplace is.
Customer acquisition cost (CAC)
The customer acquisition cost is the average amount spent on acquiring one new customer. Marketers use CAC to gauge the return on ad investment. The ideal CAC is zero. That would mean that the audience grows organically and you make maximum profit. A high CAС leads to losses.
Average order value (AOV)
AOV is one more actionable metric that allows you to calculate the average check size for each filled order and find the average revenue from each visitor. This metric helps you track customer behavior and determine how much customers spend on products or services. Once you know how much your customers spend on average, you can more accurately plan your pricing strategy.
Gross merchandise value (GMV)
GMV is used to measure the total value of goods and services sold on a marketplace. This metric shows the real growth of the marketplace, how popular it is, how well it performs, and how much revenue it brings in.
Take rate
This metric shows marketplace owners the net revenue their marketplace gets from commissions, fees, and any other monetization strategies.
Liquidity
This KPI exposes how supply and demand metrics work in your marketplace. To obtain accurate liquidity metrics, it's necessary to calculate the liquidity of sellers and the liquidity of buyers separately. The gathered information will show the percentage of listings completed with transactions and the likelihood that a buyer will make a purchase.
Problem #7 Low customer retention rate
Retaining customers is just as necessary as attracting new ones. If your marketplace faces the problem of customer churn, this is an alarm that your business is doing something wrong. To prevent such a situation, consider the strategies below.
Apply a subscription-based business model
If you have loyal customers who order products or services with a certain frequency, you can offer them a monthly subscription to regularly get those products or services. In addition to increasing your profits, subscriptions may also help you retain customers for the long term.
Motivate customers to purchase
A loyalty program is an excellent way to motivate customers to make purchases and return to your marketplace. A loyalty program rewards customers and gives them positive emotions. You can offer progressive discounts or free shipping when your customers purchase a certain amount of products or goods.
Offer the best customer service
To retain customers, you'll need high level customer service. Make sure that customers' questions don't go unanswered. Provide ongoing chat support or the option to request a callback. Demonstrate your interest in solving your customers' problems and create a great customer experience.
Personalize the customer experience
Personalization is another way to retain customers. 80 percent of customers prefer to shop on marketplaces with a personalized experience. A personal touch gives customers a sense of importance and a sense that you care about them. For personalization to work successfully, conduct customer surveys and study customers' needs. Once you receive information, you can provide personalized offers and services via social media or email newsletters.
For instance, the Asos marketplace provides smart recommendations. When a buyer chooses a piece of clothing, the site offers items that will go well with it. In this way, Asos provides personalized service and upsells buyers, increasing profits.
Gamify your business
Gamification improves customer retention and makes the purchase process fun and interesting. It's one of the most powerful tools for retaining customers since it uses psychological aspects such as competition achieving goals.
There are many gamification strategies. The main thing is to choose the one that best suits your type of marketplace. Here are several ideas you can apply to your marketplace.
Progress bars. The ability to monitor progress while executing tasks provides an incentive to complete tasks quickly and get a sense of success.
Virtual currency. By completing certain tasks, you can reward buyers with in-marketplace currency. Buyers can exchange this currency for free shipping or your brand's merchandise.
Lottery. Ask buyers to try their luck and spin a virtual wheel of fortune. By making customers wonder what prize is in store for them, you'll add an engaging experience and retain customers.
Wrapping up
Launching a marketplace can seem like a daunting task. However, by subscribing to a SaaS platform or buying a white-label platform, you have a great chance to create a strong business strategy and not let problems with marketplce overwhelm you.
FAQ
Marketplaces commonly face these seven problems:

Choosing the wrong development approach
Chicken and egg problems
Low brand awareness
Low customer acquisition rate
High cart abandonment rate
Tracking vanity metrics
Low customer retention rate

Even though creating a marketplace is hard, you can become a successful founder and make big profits. According to the 2020 Online Marketplaces Report by Digital Commerce, global marketplace sales are expected to top $4.9 trillion by 2021. By choosing the right niche and creating a development strategy, you can establish a marketplace that rocks.

Three development approaches will help you launch your marketplace quickly and cost-effectively. Choose the most appropriate one depending on your needs and the business goals you want to achieve.

Use an open source solution
Subscribe to a SaaS platform
Buy a white-lablel product

If you want to quickly launch a scalable marketplace, our team offers a white label product as a reliable solution. Contact us for details.