How to Attract Customers to Your Marketplace
11759 views
11 min
Nov 07, 2019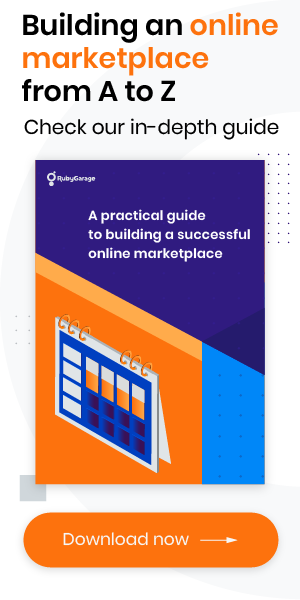 After you've built a marketplace platform, solved the chicken and egg problem, and grown your supply base, it's time to start selling goods, attracting your first customers to your marketplace, and building a strong customer base. To attract more customers and raise awareness of your marketplace, we recommend adopting an inbound marketing strategy that includes various approaches. In this guide, we'll dive into the most workable ones.
Generate brand advocates
We've all heard about influencers and celebrities, but who are brand advocates and how can they help you with marketplace customer acquisition? 
Brand advocates are customers who have used your service or tried your goods and been satisfied. They're willing to promote and recommend your brand because of a strong feeling that their needs have been met and because they've had a great experience. You don't pay brand advocates for their recommendations; only emotional bonds and good service can make them promote your products or services among networks and refer family and friends through word of mouth.
Brand advocates vs influencers
Brand advocates are satisfied customers who want to help others have the same great experience. They promote your brand free of charge. And this is one of the main differences between advocates and influencers, who charge for their endorsements. In addition to financial incentives, influencers are motivated by gaining a larger audience for themselves, not promoting your brand. In general, influencer advertising drives a short-term increase in social chatter and brand awareness but does not affect customer behavior. Brand advocates, on the other hand, generate leads and sales. The Nielsen Global Trust in Advertising Survey from September 2015 states that 83 percent of global respondents trust recommendations from people they know.
How to generate brand advocates
There are several approaches to gaining brand advocates. The most critical factors in stimulating advocacy among your customers are:
Creating a great product/service
Providing unforgettable customer service
Without these things, you're not likely to get thankful customers who are willing to recommend your brand. A great product is something of good quality that can solve a customer's problem. An unforgettable experience is about achieving and maintaining a high level of customer satisfaction during and after the purchase.
Benefits of brand advocates
Minimal customer acquisition costs (CAC). If you work in a highly competitive market, your brand advocates can lower your CAC by driving conversions for you.
Increase in demand and precise targeting. Thanks to brand advocates, you can drive massive demand for your products and services — all because of the faultless targeting. As more of your customers advocate for your brand to people who can benefit from it, interest in and demand for your products/services will go up.
Broaden your social influence. If your loyal customers use social networks to advertise your brand, their sphere of influence will become yours, increasing your social capital.
User-generated content. Creating content plans for social networks takes time, effort, and money. Want to get content for free and drive brand awareness? Meet user-generated content (UGC)! Brand advocates use their online assets to spur brand awareness, share their content for you, and boost your marketing campaigns.
Storytelling over selling 
Use the power of storytelling in your marketing campaigns. It's key to making your campaigns richer. Stories bring more value to an idea, help customers understand what a brand stands for, and most importantly, build an emotional connection between the brand and its customers. A story makes your message more memorable: it outlines experiences, challenges faced, solutions found, and the helping hands along the way.
Stories are 22 times more memorable than facts alone.
One of the most customer-oriented services is Airbnb. They understand the power of storytelling. Not only do they make great marketing campaigns, they also let their customers be part of the brand. This approach targets customers at an emotional level and transmits the company's values.
Airbnb found a perfect solution to the pain point of many users – mistrust and doubts about hosts and their homes. The Belong Anywhere campaign showed the lives of Airbnb hosts and guests' experiences. Airbnb focused on the authentic experience the platform provides of living like a local in any part of the world. Moreover, thanks to this campaign, Airbnb raised more than $1 million for UNHCR, the UN Refugee Agency.
Use a referral marketing strategy
Promo codes or referral links
One of the best ways to get new customers is to offer promo codes that encourage users to invite their friends. With this approach, users who invite others and those who are invited each get discounts or free service.
Popular taxi marketplaces like Uber and Lyft use this tactic to acquire new customers. Referred users get an invite code for a free ride. And after they use the invite code, the user who referred them also gets a free ride. To make this option convenient for everyone, users can send these invite codes via text message, email, or social networks.
Gamification
Shopping has transformed into something bigger than just exchanging money for goods. For many vendors, their business is more about the purchasing experience. Gamification brings more fun to shopping. A well-structured gamification model can act as a magic wand, not only attracting but retaining customers. For instance, you can add a points system to your referral strategy so customers can earn rewards for new referrals. The more referrals, the bigger the reward. Another proven strategy is introducing an eBay-like bidding system for buyers.
Take a look at the Chinese retail giant AliExpress. Gamification lies at the core of the marketplace. There are plenty of games and tasks that users can complete to earn coupons or coins. Coins are the virtual currency in the AliExpress app. Users can get them in exchange for completing daily tasks, winning in-app games, or achieving long-term goals. In the end, users can spend coins on discount coupons or use them in other games.
User-generated content 
One strategy that will cost you no money is getting users to share posts, photos, reviews, and unboxing videos of your goods or services. The main thing here is to build credibility so your customers want to mention your brand in the content they create. To boost content creation, you can throw out a challenge on social networks and encourage customers to post photos with your branded hashtag. Rewarding customers for referring others is a 100 percent win-win situation.
Wish lists are another type of user-generated content. Amazon collects data about every item added to every user's wish list, then selects the most popular items among all customers and adds them to their global Most Wished list. In this way, new customers can see items users are interested in and can choose the most trusted thanks to the star ratings below them. This form of user-generated content evolves into another one — unboxing videos. A lot of famous bloggers buy the most wanted items from Amazon and film the unboxing process. Such videos get thousands and even millions of views on YouTube, engaging current and potential customers.
Convey values via social media
You can provide additional value to your marketplace if you use social media effectively. It's a great way to inform current and potential customers about your company's mission, offer insights, etc. Moreover, your profiles on soсial networks will show that you share and communicate with your customers, strengthening your reputation. Follow these steps for a productive experience:
Find the social networks your target audience uses 
To reach your customers, you need to figure out which social networks you should be the most active on. Different social networks are effective for different audiences. Here are the most popular social networks in the US as of early 2019 according to research by the Pew Research Center:
You can use Facebook as a universal platform to reach a vast audience. Facebook has users in every demographic. It's also customer-oriented; consequently, it will add value to your marketplace. The global marketplace Wish uses native Facebook ads to promote its vendors and goods.
Instagram is becoming an alternative marketplace for millennials. It has big potential and unlimited opportunities for businesses connected with travel, fashion, health, arts, food, ecommerce, beauty, and photography, so make sure you use this promotion tool wisely. It's very easy to promote brand awareness and take advantage of user-generated content on Instagram. 
Thanks to the visual nature of YouTube, it's an effective tool for ecommerce. Users become more motivated to buy products after watching product videos. Moreover, customers often make videos with purchased goods, promoting and recommending favorite brands, shops, and marketplaces.
If your marketplace is business-oriented, put more effort into creating an appealing LinkedIn profile. B2B promotion of services looks native on this platform. For instance, Amazon devotes much time to engaging users on LinkedIn and posting photos of the Amazon employees work lives.
Vary your content
To appeal to different customers and get a wider reach, you need to create a content plan that includes all types of posts that can attract your customers. Using statistics, you can evaluate customers' reactions to the content you post. You may notice that some users prefer in-depth, long-form content and detailed videos, while another category wants short, to-the-point posts with useful information. We recommend using long-form content to explain how to use your products and educate your customers. Opt for light reading (such as infographics or interviews) to improve your engagement rate and brand awareness. 
Define portraits of your customers and provide a clear takeaway with every piece of content you create.
Start your own blog
A blog can help you boost website traffic, increase your ranking on Google, show your expertise, and build trust and credibility. 
How to blog successfully
As with social networks, you need to know who to make content for. Define your buyer persona in order to generate content that solves your buyers' pain points and fulfills their needs. The following information will help you create a portrait of your customer:
Demographics
Background
Motivations or challenges
Pain points and concerns
Your value proposition/solutions to these pain points
Make sure to post content regularly – about three times a week is standard practice. If you want to check if your idea is viable, you can start with a minimum of one post a week. Another great way to increase traffic to your marketplace is through guest posts or interviews. In this way, you'll reach more potential customers and will prove yourself an authority in your field. 
What can you post on your blog? 
Depending on the nature of your business, you can post:
Case studies or clients' success stories
Articles
Infographics
Memes
Videos
Other types of content
Check out (and get inspired by) how Shopify organized their blog. There are places for different categories of content: inspiring founder stories, articles on branding, SEO recommendations, podcasts, tips for internet marketing, case studies, and even funny stories with memes.
Provide your users with guides and guarantees
Acquiring customers is only half the work. The second half of your job is retaining customers and convincing them to stay loyal to your marketplace. By showing customers the regulations you follow, you'll foster trust in your business and drive meaningful engagement. Get the most out of your efforts by making your values and sales policies visible and accessible.
When you visit the main page of Lyft, the first things you see are sign-up buttons and safety guarantees, with an explanation of why customers (both drivers and passengers) should choose Lyft. Even if only a few users really visit these sections, they're visible and easy to find in case someone wants them.
Summing up
Marketplace customer acquisition isn't a cakewalk. It takes much time and effort to keep customers engaged and satisfied with your products or services. To sum up, we recommend doing these things to acquire loyal customers:
Engage with brand advocates to effectively promote your brand
Apply storytelling in your marketing campaigns to bond with customers emotionally
Stick to a referral marketing strategy to kindle customers' interest with bonuses
Develop a strong image on social media to convey your values
Try out the tactics described in this guide and subscribe to our blog to get new articles and useful guides weekly.