Comprehensive Guide on How to Build a Service Marketplace
7909 views
15 min
Oct 15, 2020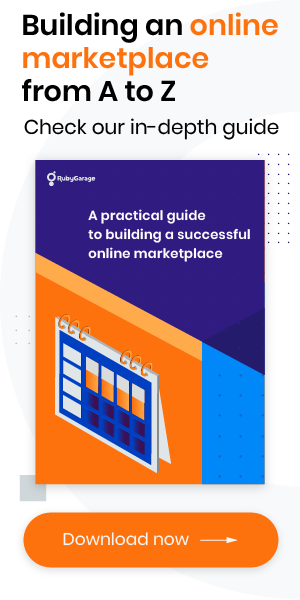 The situation in the job market is changing. The focus is switching from traditional employment to gig work as people are starting to prefer short-term jobs to long-term employment. This state of the economy provides a great opportunity for entrepreneurs to start new businesses. If you've been thinking about creating a service marketplace but have been hesitating, now is the time to act.
Eager to learn how to build a service marketplace? Keep on reading to find out. 
What's a service marketplace and is it worth creating one?
Before you dive into service marketplace development, you should have a clear vision of what a service marketplace is and make sure it's worth investing your time and money to develop one.
A service marketplace is a platform that links service providers with customers. Unlike product marketplaces that sell products, service marketplaces provide services.
Have a look at the infographic below to understand how the gig economy influences service marketplaces. We've considered the state of service marketplace development in the US and predictions for the future of the gig economy.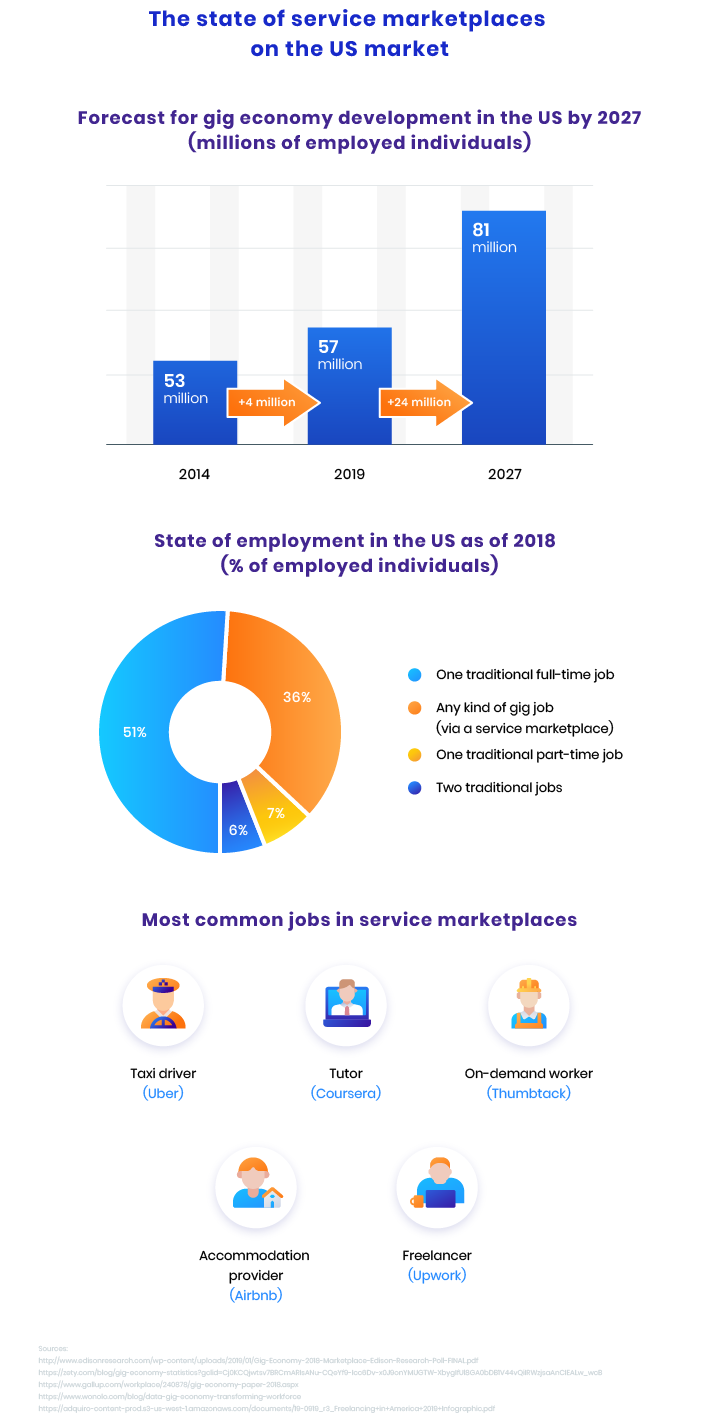 If the data presented in the infographic has persuaded you that it's worth creating a service marketplace, your next concern will be how to do it. First and foremost, you should decide on the type of service marketplace to build.
Choosing the type of service marketplace 
There are numerous types of service marketplaces, and they can be categorized by business domain. Let's have a look at the most popular types:
Travel marketplaces provide travelers with accommodation. On travel platforms, users can also find offers on attractions and excursions. The most popular travel marketplaces are Airbnb and Booking.com.
Education platforms offer online courses from educational institutions, companies, or private tutors. Udemy and Coursera offer thousands of courses in numerous subjects. 
On-demand service marketplaces operate in different niches. When someone needs a plumber to fix a leaky pipe, they can use Thumbtack or TaskRabbit. If someone's looking for a dog walker, they're likely to book one via Wag! or Rover. There are also multiple babysitting services such as HelloSitter and Bubble. 
Freelance specialists. On freelancer platforms, specialists in different spheres offer their services as remote workers. Web and app developers, accountants, designers, marketers, and other professionals create profiles on Upwork and Fiverr to find customers.
Car services include taxi rides, carsharing, and ridesharing. The most well-known car services are Uber, BlaBlaCar, and Lyft.
Food delivery has transformed from a takeaway service offered at restaurants and cafes to a separate service niche. Customers can use Uber Eats or a similar service to get pizza or even have a whole shoppping list of food items delivered from a supermarket.
Tool rental services provide customers with the tools they need for a short period of time. For example, Home Depot rents a variety of tools from drills to moving trailers.
Consulting is becoming an extremely popular niche, especially when it comes to healthcare. New telemedicine marketplaces appear every day. Doctor on Demand and MDLIVE are just two examples.
This is only a small part of the services that can be offered in a service marketplace. That's why the first step you should take to create your marketplace is choosing your niche. Once you've made up your mind about the type of your service marketplace, you can move to deciding on its features.
How to choose features for a service marketplace 
Whatever type of service marketplace you want to start, you'll have to provide features for at least three types of users: admins, service providers, and customers. Each of them should have specific features to meet their needs.
Features for admins
An admin panel contains all tools an admin needs to properly manage marketplace operations. Whether an admin needs to add or remove service providers/customers, approve comments and ratings, track users' activity, or generate reports, there should be admin panel functionality that allows them to do it.
Features for service providers
Personal profiles are where service providers can describe services they offer, list certificates and licenses, display their portfolios, etc.
A dashboard helps service providers control their activities/bookings, offers, and earnings.
Listings present services offered by service providers. Depending on the type of service, listings should use different templates. For example, accommodation rental services should include information such as the type of accommodation, number of visitors, check-in and check-out dates, amenities, etc. When listing car rental services, providers should present information on a car's make, model, year, and mileage, departure and arrival points, availability, and so on.
Geopositioning is a must for marketplaces that offer on-demand and car services, accommodation rentals, and other services that are location-dependent.
A booking system will allow service providers to accept or decline orders and effectively plan their work.
Chat should be available so service providers can answer customers' questions regarding their services. This is a must-have feature for a service marketplace since customers often want to discuss details before a deal.
Ratings and reviews ensure transparency in your marketplace and increase trust between service providers and customers.
Features for customers 
Personal profiles for customers usually include standard information such as name and surname, location, and sometimes a phone number. For convenient cooperation with service providers, customers can also be asked to fill in their preferences regarding service delivery.
Search tools help customers filter offers and find the services they need in several clicks. 
Booking and cancellation options are a must in service marketplaces since they help customers plan their activities.
In-app payments are a safe and convenient payment option, allowing both service providers and customers to feel more relaxed when cooperating via your platform.
Notifications remind customers that they have a scheduled activity.
Ratings and chat features should also be available for customers to increase trust and maintain effective communication with service providers.
Once you're ready with the feature set for your service marketplace, it's time to think about how to make your marketplace profitable. 
How to monetize a service marketplace
There are numerous approaches you can use to make a profit from your marketplace. You can choose one monetization strategy or combine several.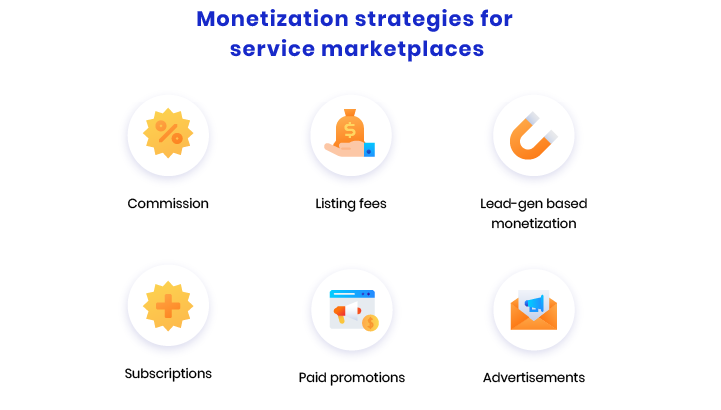 Let's consider the most common monetization approaches for service marketplaces in detail. 
Commission is frequently used as a monetization approach for service marketplaces. Different types of marketplaces set different commission fees. Fees depend on numerous factors such as marginal costs, competition, and transaction size and quantity. For example, the commission charged by OpenTable is 1.9%, while Shutterstock ranges its commission fees from 60% to 85% across 6 levels. 
Listing fees are charged every time a service provider posts their services on a platform. Craigslist, a non-profit organization, uses this approach to support the platform's operations.
A lead-gen based approach means service providers are charged every time they contact a potential lead. Thumbtack uses this approach to make money.
Subscriptions allow customers to use marketplace services. Subscription rates can differ depending on the frequency of payment (once a month, every three months, every six months, yearly) and available services. Shutterstock has a number of subscription options for customers. 
Paid promotions allow service providers to upgrade their profiles for an additional fee. PetBacker, an on-demand dog walking app, uses paid promotions to monetize their business. They offer dog walkers to use the Sponsorship option to advertise their services and get more orders.
Advertisements work great as an additional way to make profit. If you're thinking about using ads as a monetization approach, make sure you advertise goods or services related to your industry so your customers get interested, not annoyed.
Challenges of building a service marketplace
When starting a service marketplace, you should be aware of the challenges you'll encounter on your way. We've prepared a list of challenges and some tips on how to overcome them.
Challenge 1. Creating a popular platform
Making your platform popular is the first step to making it profitable. But you can't know for sure if your service marketplace will be in demand among your customers. That's why you should clearly understand how to position and sell your marketplace. Here are two ways to do it.
Research personas. In marketing, a persona is a character that has all the traits of your potential customers. When researching product personas, you should take into account such factors as location, age, job title, pain points, and expected solutions. These characteristics will help you understand who your perfect customers are so you can build your product to meet their needs.
Use the job-to-be-done approach. If you come up with too many personas with general characteristics that can't be united in one category, you can opt for the job-to-be-done approach. The idea is to analyze what job your customers expect your product to do. In other words, you should concentrate on features of your product that are of importance to your audience rather than on persona characteristics.
Once you know how to position your product, you can build an effective marketing campaign to attract customers.
Challenge 2. Choosing the appropriate development approach
There are several ways to build an online product, but for a service marketplace, we suggest considering two of them: licensing a software as a service (SaaS) product or buying a white label solution. These two approaches allow for fast and cost-efficient development. You should consider both to decide which best suits your business.
Licensing a software as a service (SaaS) product 
An online SaaS platform offers you a range of functionalities to run your business. If you opt for a SaaS solution, you'll pay a monthly fee and can use all features provided by the platform. You'll be able to add features to and remove features from your marketplace so that it meets your business needs. It's worth mentioning that you don't own a SaaS platform, however. You temporarily use its services. One of the most well-known SaaS marketplace platforms is Sharetribe.
A SaaS product is great if you want to test your business idea and launch your product fast. With this solution, you also avoid development and maintenance troubles since these are the platform's responsibilities. 
Purchase a white label solution
A white label solution is software with pre-built features for specific purposes. You can come across development companies that offer white label solutions for product or service marketplaces, or for both. 
A white label solution is the perfect choice if you want to create a quality product fast, since pre-built features allow you to develop an MVP in about four months. Moreover, using a white label solution is cheaper than building a product from scratch.
Challenge 3. Ensuring constant improvement
Launching a successful marketplace isn't a one-time campaign. To provide for the ideal operation of your business, you'll have to constantly improve your marketplace. The best way to do that is with a lean approach. 
A lean approach in software development is a model that consists of three recurring steps: build, measure, and learn. Using the lean approach, you first build your marketplace, then you launch it and measure its performance. The data you get allows you to learn what works well and what needs improvement. Once you learn, you improve your marketplace. 
To use the lean approach and save money on the first version of your marketplace, you can start your marketplace development with a minimum viable product (MVP). An MVP includes only core features of a product and allows you to test a business idea, gather feedback from early adopters and make improvements fast.
Challenge 4. Covering the supply
There are no customers without service providers, and vice versa. On a service marketplace, it's even more complicated to solve the chicken and egg problem than with a product marketplace.
Service marketplaces have successfully solved the chicken and egg problem in different ways.
Tinder co-founder Whitney Wolfe went on a tour of American cities to present the app. She persuaded visitors who came to her presentations to sign up for Tinder right after the event. In this way, Tinder got its first users.
Airbnb founders used Craigslist's user base to contact landlords and offer them to rent their apartments via Airbnb.
Uber attracted service providers first by offering them an economic incentive. The company promised to pay taxi drivers a fixed amount even if they didn't have any orders.
Challenge 5. Ensuring data security and compliance with industry standards
Once you decide on the type of service marketplace to create, you should check what requirements your marketplace has to comply with. Non-compliance with laws and industry standards might discourage potential customers from using your platform. What's more, at some point in time, you might be held liable for non-compliance and be subject to large fines.
The laws, regulations, and standards you'll have to comply with will depend on the industry and geography of your marketplace. Let's have a look at the major compliance requirements you may come across when starting a service marketplace. 
The General Data Protection Regulation (GDPR) lays out requirements for companies that operate in European Union countries and those that serve EU residents, no matter their location. The GDPR ensures that any personal data of European residents such as names, surnames, addresses, and ID numbers are collected in a lawful way.
The California Consumer Privacy Act (CCPA) is a state statute intended to enhance consumer protection for residents of California, United States. Just like the European Union's GDPR, the CCPA intends to protect consumers' data privacy rights. 
The Health Insurance Portability and Accountability Act (HIPAA) is a US law that obliges owners of medical software (for example, telehealth apps) to stick to certain rules of gathering, processing, exposing, and storing medical information about their customers. 
The Payment Card Industry Data Security Standard (PCI DSS) is aimed at protecting cardholders' information such as credit card numbers, expiration dates, and service codes. Any company that processes over 1,000,000 credit card transactions per year must be PCI certified. Otherwise, they face fines in the thousands of dollars. Smaller companies don't need to get certified, but they do have to carry out annual self-checks to make sure they're complying with PCI DSS requirements.
It's likely that your marketplace must comply with several standards, laws, and regulations, including ones beyond those we've just mentioned. Check the compliance requirements for your service marketplace and ensure timely compliance.
Challenge 6. Retaining users
Once your marketplace starts working, retaining users can be problematic. When a service provider and a customer get each other's contact information, they might be willing to bypass the marketplace system and work directly, without paying fees to the marketplace. 
To prevent user leakage, you should think of a feature or an offer that will add value so your users will find working via your platform easier and more convenient than working without it.
One way to retain users is to ensure trust in your platform. This is especially vital on marketplaces for babysitting, pet care, and household chores. Let's have a look at how the famous service marketplace Wag! managed to build trust.
Wag! is an on-demand platform that connects dog walkers with dog owners. Dog owners not only entrust their pets to strangers; they also let strangers in their homes. To persuade dog owners to use their services, Wag!:
implemented background checks for dog walkers
provides up to $1 million insurance if Wag! walkers cause damage to customers' homes
obliges dog walkers to send photos of pets to pet owners during and after a walk
added a GPS tracking feature so pet owners can check where and for how long their pets are walked
presented the Wag! Lockbox ‒ a special box with a code for house keys so that only a Wag! walker can access them
With this list of features aimed at building trust in the platform, Wag! has been able to attract and retain customers. These features ensure the security of pets and property so customers don't feel it's risky to hire dog walkers on the platform.
Challenge 7. Managing issues
Once you've built and launched your marketplace, you should be ready to manage issues that service providers and customers face when using it. Depending on the specifics of your marketplace, different problems might appear. Let's have a look at how famous service marketplaces deal with issues that appear in their everyday work.
Uber provides 24/7 support for its drivers. Whether they have questions regarding their accounts, want to clarify work details, or need to report an incident, they're free to do it at any time. 
Thumbtack ensures money-back and property damage guarantees to customers who order services via the platform.
Hello Sitter, a babysitting marketplace, carries out background checks on both service providers and customers. Only after being vetted are users given access to the app. 
Final thoughts
Although building a service marketplace does entail some challenges, the service marketplace niche is prosperous and offers a great number of opportunities. If you've decided to create a service marketplace, plan your business approach thoroughly and choose the right development team to successfully implement your idea.
FAQ
There are several monetization strategies you can use to make a profit from your marketplace. You can choose the approach that best suits your marketplace or combine several approaches:

Commission
Listing fees
Lead-gen based monetization
Subscriptions
Paid promotions
Advertisements

When starting a service marketplace, you're likely to come across the following challenges:

Creating a popular platform
Choosing a development approach
Providing constant growth
Covering the supply
Ensuring data security and compliance with industry standards
Retaining users
Managing issues

To start a service marketplace, you should decide on the type of marketplace you want to develop, define the main features for admins, service providers, and customers, choose an appropriate development approach, select a monetization strategy, and be ready to handle challenges on your way.

Need help building a service marketplace? The RubyGarage team are experts in quality and cost-effective marketplace development. Contact us to start building your marketplace right away!