Top 5 Ways to Increase Marketplace Brand Awareness
9763 views
10 min
Dec 12, 2019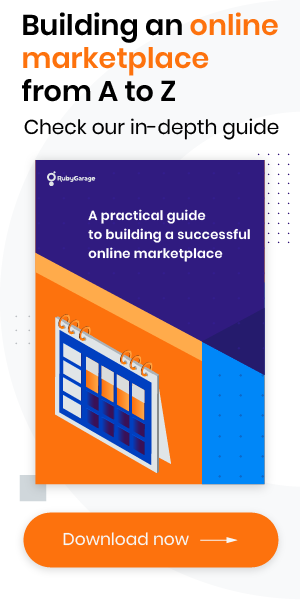 A well-known and trusted brand helps businesses get recognized, increase customer loyalty, and gain a competitive edge. This is true for marketplace businesses as well, which is why we decided to write this article about how you can build a strong brand for your marketplace.
There's a long way to go in order to get from low-level recognition to a household name like Kleenex. To get there, a marketplace needs to take a series of steps to increase brand recognition among customers. We've gathered five proven approaches that will increase your brand awareness and backed them up with real-life examples. 
#1 SEO techniques to increase brand awareness
Users tend to stop at the first page of Google search results. Moreover, they rarely scroll down the page, looking only at the first results at the top. SEO optimization will help you make it to the top of the list and increase your brand awareness.
According to research by HubSpot, SEO is the #1 challenge in inbound marketing.
Use our tips below to master your SEO strategy and get more traffic to your marketplace.
Research keywords
This is the number one task you should do while adding content to your marketplace. What's the secret to finding the most appropriate keywords? Just put yourself in the customer's shoes! Imagine what you would type in the Google search bar if you were looking for goods from your marketplace. Think of what motivates your customers. Use these keywords to optimize your pages. 
Consider including latent semantic indexing (LSI) keywords that help search engines recognize the niche you're working in. LSI keywords relate to the products listed on your marketplace. Basically, LSI keywords form a word cloud around your other keywords. 
For instance, if you sell tea, your LSI keywords can include leaves, loose-leaf, green, black, China, India, drinks, glass, water, harvest, beverage, plant, pu-erh, etc. 
If you include several LSI keywords in a product description, your marketplace will be more visible and rank higher in Google results.
Here are places where you to use LSI keywords:
Page title and description
HTML header
URL address
Meta tags
Alt text for images
HTML content
To speed up the process of finding relevant and popular keywords, you can use websites such as Ahrefs, SEMrush, Keyword Planner by Google, and AppCodes. They will automatically show you the most popular requests and keywords to rank your marketplace on Google. Don't forget to update your keywords regularly.
Content marketing
An SEO strategy is all about content. To increase your brand awareness, you need to find out what type of content draws customers to your marketplace and keeps them engaged. Conduct research into your target audience to create customer personas and identify customers' pain points and needs in order to offer solutions to them. This stage is of big importance, as every piece of your content must target a specific customer and drive actions. In a perfect scenario, every text, image, or video on your marketplace should correspond to a certain stage in a buyer's journey: awareness, consideration, decision.
As soon as you've done the target audience research, you should increase the amount of content that's valuable for your customers. Create a content plan for regular posting and guidelines for vendors so they create SEO-friendly listings. You can post articles about your products, related news, enticing or entertaining content, and FAQs.
#2 Partner with other brands
It's a good idea to team up with a well-known brand to increase your own brand recognition. In such a way, you'll inherit the other brand's memorable image and reflect it on your marketplace. Brand partnership has become commonplace not only among celebrities and the world of fashion but among businesses. 
Just recall the most famous selfie of all time at the 2014 Oscars, when host Ellen DeGeneres took a selfie with Bradley Cooper, Jennifer Lawrence, Brad Pitt, Angelina Jolie, Meryl Streep, Channing Tatum, Julia Roberts, and Lupita Nyong'o with the help of a Samsung smartphone. In just two days, the selfie got 3 million retweets, advertising Samsung the whole time. Maurice Levy, CEO of French-based advertising and PR giant Publicis Groupe, mentioned in an interview that all the buzz around Ellen DeGeneres' selfie generated $800 million to $1 billion in marketing value. That's the power of a brand anyone should strive for.
Learn from…
To illustrate how brand partnerships can work out for your marketplace, let's recall the case of the Uber and Spotify alliance. Who likes music in taxis? It's either not to your taste or it's just the radio playing. To revolutionize rides and make them pleasant for customers, Uber partnered with music streaming service Spotify.
This collaboration was a perfect fit, aimed at personalizing music in rides. When a customer calls an Uber, they can sign in to their Spotify account and make a playlist for the ride. This partnership created an experience every rider strove for but never had a chance to get. It also increased the chances that customers would choose Uber and Spotify over their competitors.
#3 Launch a referral marketing campaign
Referral marketing leads convert 30 percent better than all other marketing channels and have a 16% higher lifetime value.
Referral marketing is a must for online marketplaces, as it's proven itself many times. Often, when your customers like your service or product, they want to share it with their friends or family. If you inform your customers that they can get a reward for doing that, the number of referrals will increase, bringing new leads to your marketplace. Referral marketing transforms your current customers into brand ambassadors who are eager to promote your brand in order to get an incentive. This approach provides a big boost in your customer growth and sales. 
To get the best results from your referral marketing strategy, follow these tips:
Make your offer visible. Don't hide invitation links and referral codes in settings; instead, make them prominent. Use pop-ups and banners to inform your customers about referral coupons or discounts.
Be upfront. Make yourself clear and put your terms of use in simple language so your customers can see where their private information will go. Consider creating a FAQ section. Customers are very cautious about their data these days, so come prepared.
Create a unique value proposition. Only if your customers see a real value in your product will they recommend it to their peers. To make your rewards worthwhile, match them to the motivations, pain points, or needs of your customer personas.
Think of timing. Plan the customer journey on your marketplace and think where customers will be more likely to refer your product to their friends. Don't send a pop-up with a referral link before your customer has had a chance to experience your service. It's better to ask for a recommendation during a shopper's high moments – when customers feel the rush of dopamine that kicks in during shopping. 
Learn from…
Airbnb has become a household name. They mastered how to increase brand awareness and how to get social proof and quality leads from customers thanks to their rewards system. Since 83 percent of people trust recommendations from friends or family, referral links and recommendations were the only way to get new hosts and visitors to join Airbnb at the start. Thanks to Airbnb's mutually beneficial incentive program, both referrers and new guests get a cash reward after the latter has completed their first trip. Additionally, existing hosts that invite new hosts to the platform can get a $100 reward after an invitee hosts their first guests.
#4 Experiential marketing 
Nowadays, every brand is associated not only with their product or service but with the experience they provide. This is why experiential marketing is important. It's a relatively new approach with the aim to create a memorable impact and engage customers offline. Experiential marketing is a fun way to get to know customers and their needs, personalize the user experience, and create personal bonds with the target audience, resulting in increased brand awareness and sales. 
Experiential events usually overlap with the product launch or its marketing campaign. As a result, such events produce mostly positive feedback. According to Statista data on the influence of retail events and experiences on consumer attitudes in the US and Canada in 2018, up to 85 percent of respondents would buy from a brand after participating in their events. In addition, the positive attitude toward a brand went up by 91 percent after an event.
Here are some tips on how to make your experiential event memorable:
Pick a relevant venue. This should be a place where your target audience comes on a regular basis. They should be there even if they didn't hear about your event.
Fit your event to your customer persona. Every moment of this event is about engaging your audience, so make sure you bridge the gap and reach them with all your event activities.
Make it worthwhile. Make it a night to remember. Do something outstanding and unique, as Adidas did when they hosted a must-visit event for all basketball players with a chance to get a pair of signature shoes by Derrick Rose.
Relate to a social issue. Speak out about your goals and social mission; show that you care about the world and are devoted to making it a better place.
Learn from…
Lyft and Uber are constant rivals and always try to outrun each other, and their competition results in stunning marketing campaigns. Lyft contributed to the Grammy's 60th-anniversary event with a tech-infused mini-concert. They hosted gigs around New York City to celebrate the Grammy's return and modified their cars to use the horns, alarms, and lights to play Grammy-nominated songs. Check out the unique experience Lyft created for their customers.
#5 Social media marketing 
When you launch a marketplace, one of the challenges you'll face is making yourself visible on the internet. The fastest way is not buying ads but opting for social media. It will help you create a community around your product, spread the news about your business, build long-lasting relationships, and solve the chicken-and-egg problem. On social media, you can show the people who stand behind your marketplace to foster customer loyalty and strengthen bonds. Additionally, you can reach billions of people worldwide, broadcasting your brand and creating a network of subscribers.
Here's a list of what to pay attention to on social media:
Solid reputation and company image. Invest your time in building a reputation that will help you compete with rivals.
Advertising. Social media is a great launchpad to start your advertising campaign and target your customers demographically and locally to increase ROI. Don't underestimate the built-in opportunities on Facebook and Instagram.
Feedback. Collect feedback from your customers to improve your service. With social media, customers can reach you 24/7. Remember to always respond to their comments and suggestions.
Learn from…
Another big player among marketplaces is Etsy, which runs social media pages on popular websites such as Facebook, Instagram, Twitter, and Pinterest. Etsy uses social media for sharing knowledge among their vendors and craftspeople and engaging their customers in community life. On their social media pages, Etsy doesn't sell products but rather serves as a useful educational and entertainment resource, supporting the authentic spirit of this unique ecommerce platform. Customers can find useful tips, discover makers and independent designers, find inspiration, and get recommendations on running a successful shop.
Wrapping up
There's no secret spell to make your marketplace popular overnight, but there are workable strategies that have led famous marketplace platforms to success. Learn their valuable lessons, create a profound marketing strategy, and apply the useful tips above in order to succeed. If you're only planning to build a marketplace or need help maintaining an existing one, contact us and we'll be happy to help!