How to Manage Marketplace Payments: Five Payment Solutions for Your Business
11661 views
12 min
Oct 02, 2020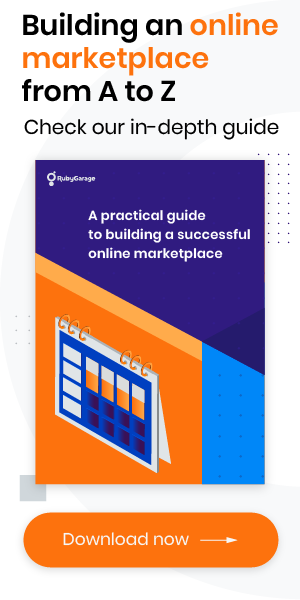 The incredible growth of online marketplaces has led to the necessity to process large quantities of marketplace payments. Traditional payment systems weren't good enough for the job, which is why marketplace payment solutions have appeared. In our article, you'll learn:
the difference between single- and multi-vendor marketplace payments
the main features to look for in a payment solution
the benefits and limitations of the five best marketplace payment solutions
tips to choose the right payment tool for your marketplace
Keep reading to discover everything there is to know about marketplace payments.
What is the difference between single-vendor and multi-vendor marketplace payments?
Depending on the number of vendors, online marketplaces are divided into single- and multi-vendor platforms. The type of marketplace platform determines the way marketplace processes payments.
With a single-vendor marketplace, all buyers pay a single seller. The only thing a single-vendor marketplace owner needs to do to get money is provide payment details.
For multi-vendor marketplaces, the situation is more complicated. First of all, there are numerous vendors with numerous bank accounts. Secondly, marketplace owners need to make a profit from managing the marketplace. Finally, multi-vendor marketplaces allow customers to buy from several vendors simultaneously. To make the shopping experience enjoyable for your customers, you should allow them to pay for the whole cart at once even if they're buying from several vendors.
Marketplace payment solutions, or payment gateways, allow you to manage payments inside your multi-vendor marketplace with maximum convenience. In the next section, we'll discuss the essential features of a payment solution for a multi-vendor marketplace.
What to look for in a marketplace payment gateway
Although modern payment systems have more or less similar characteristics, you should pay close attention to the following details.

Let's discuss why these things are important when choosing among marketplace payment solutions.
Availability in your target markets determines whether you'll be able to collect payments in the markets where your business operates. You should also pay attention to the currencies a payment solution handles. The more currencies you can process, the more opportunities you have for your business.
Compliance with requirements ensures a payment system sticks to standards, laws, and regulations. A payment solution should comply with Know Your Customer (KYC) and Anti-Money Laundering (AML) requirements, the General Data Protection Regulation (GDPR), and the Payment Card Industry Data Security Standard (PCI DSS).
A mass payments feature allows buyers to pay for multiple orders with one payment. If an order includes goods from different vendors, the payment system automatically splits the payment and distributes it among vendors
Tax reporting tools can be of great use for sellers operating via your marketplace. In the US, for example, vendors who have annual revenue of more than $20,000 need to provide tax reports. Although tax reporting tools aren't the core features of payment providers, they can be a pleasant bonus for vendors selling via your marketplace.
Once you've defined what features to search for in a marketplace payment gateway, it's time to consider the most popular options for your marketplace.
The best marketplace payment solutions
There are hundreds of payment solutions worldwide. The majority are local and aim at servicing a limited number of regions and currencies. For comparison, we've chosen the five most popular payment systems you should consider for your multi-vendor marketplace.
Stripe
Stripe is a technology company aimed at building economic infrastructure for the internet. Launched in 2011, the company has grown fast and now offers several products, one of which is Stripe Connect.
Stripe Connect positions itself as a solution for marketplaces. It's especially popular among startups thanks to its ease of implementation.

Benefits of Stripe Connect
A seller is the merchant of record (MoR). An MoR is a party that accepts payments and is liable for payment processing. An MoR's administrative responsibilities include ensuring the safety of transactions, dealing with taxes, complying with laws, managing refunds, etc. Thus, when choosing Stripe for your marketplace, you avoid a great load of financial responsibility by putting it on the shoulders of your sellers.
Three Stripe accounts. Stripe Connect for marketplaces offers Standard, Express, and Custom accounts. Each has different terms of use, so you'll definitely find one that suits your business needs.
Easy integration is possible thanks to well-built SDKs and clear API documentation. Once you decide to implement Stripe in your marketplace, you can be sure you'll have all the necessary tools, libraries, documentation, and code samples for seamless operation.
Limitations of Stripe Connect
No mass payment system. Mass payments allow marketplace buyers to purchase from different vendors and pay them with one transaction. With mass payment, a buyer simply places an order, presses the Pay button, and waits for the order to come. When mass payments are unavailable, buyers have to pay each vendor one by one, which can be a concern for marketplace users.
A developer's assistance is needed. Although Stripe's documentation is well-written, you can't implement Stripe in your marketplace with one click. If you don't have a technical background, you'll need to hire a developer to do it for you.
Dwolla
Dwolla is an American payment system that processes bank transactions. Unlike Stripe or any other solution reviewed in this article that accepts debit and credit card payments, Dwolla is a mediator between American banks.

Benefits of Dwolla
Automated Clearing House (ACH) transfers. ACH is an American network that ensures hassle-free transactions between banks. One of the advantages of using ACH is that it's free to transfer money using this system unless you need an expedited transfer.
Low fees. Although ACH transfers are free, Dwolla needs to make a profit, so it charges fees for acting as a mediator between your marketplace and American banks. Nevertheless, the fee is only 0.5% for both sending and receiving transactions, which is quite affordable and much cheaper than the fees charged by other payment platforms.
Free trial. You can try Dwolla for free to see whether it meets your business requirements.
Limitations of Dwolla
Long money transfer times. Money transfers via Dwolla usually takes one to two days. It's a peculiarity of the ACH network, which is the core technology behind Dwolla. So if you choose this payment system, be aware that transactions won't happen instantly. However, Dwolla offers a Same-day ACH feature that your customers can use to speed up money transfers.
The marketplace owner is the MoR. Being a merchant of record implies a number of administrative responsibilities that we've described above. When choosing Dwolla as the payment platform for your marketplace, you accept liability for financial operations happening on your marketplace.
Only for the US market. Dwolla is suitable only for American businesses and doesn't support international payments. This won't be an issue if you start your marketplace in the US. But if you want to scale your business over time and enter the international market, Dwolla won't suit you.
PayPal
Launched in 1998, PayPal is the oldest and most experienced payment solution. Nevertheless, PayPal for Marketplaces is relatively new. Let's see why you might opt for this payment system.

Benefits of PayPal
Widespread availability. PayPal has the widest availability among all payment solutions we're comparing, operating in 161 countries. If you plan for your marketplace to target multiple markets, PayPal may be your best option.
Enhanced security. Unlike other marketplace payment systems, PayPal doesn't require its users to reveal payment information like credit card numbers in their accounts, which ensures better data protection.
Transfer money without an account. Buyers who come to your marketplace and purchase via your platform don't need to have an account with PayPal to use this payment system.
Limitations of PayPal
Outdated checkout page. Once buyers click the Pay with PayPal button, they're redirected to the old-fashioned PayPal page, which is difficult to come back from. For many buyers, this might be frustrating.
Account freezing. If PayPal notices suspicious activity on your account, it can freeze your account without warning. On the one hand, this can serve as additional protection from fraud. But if PayPal's analytics work incorrectly and your account is frozen without serious reasons, it can harm your business reputation.
Braintree
Braintree was initially established in 2007 as an independent payment system, but it's been a PayPal subsidiary since 2013. Braintree shares some features with PayPal, but it also has its own unique characteristics. Let's have a look.

Benefits of Braintree
Integration with PayPal allows marketplace users to process Braintree transactions with PayPal. This may be convenient for users who don't want to create accounts in several payment systems.
Support for over 100 currencies is a great advantage for your marketplace; by giving buyers a chance to pay with any convenient currency, you increase your chances of making a profit.
Limitations of Braintree
Not as secure as competitors. Customers complain that they experience breaches from time to time and that Braintree management doesn't always prevent fraudulent transactions. 
Lack of support. Although Braintree claims they have 24/7 support, there are cases when customers can't reach out to Braintree for assistance. 
Mangopay
Mangopay is a suitable solution for marketplaces and crowdfunding platforms operating globally. With availability in 125 countries, Mangopay deserves the attention of marketplace owners who target the international market.

Benefits of Mangopay
Customized payment flow. In addition to preset payment options, you can use Mangopay APIs to create your own payment flows. This will help you customize Mangopay to better meet your business needs.
Real-time monitoring allows you to track all financial activities that occur in your marketplace. It's also easy to view payment reports via the Mangopay dashboard.
Escrow payments allow Mangopay to temporarily hold money that a buyer owes a seller. This helps to safeguard buyers and sellers from fraud. Money is kept in escrow by Mangopay until both the buyer and the seller fulfill the conditions of the deal.
Limitations of Mangopay
No free trial. You can't check whether this payment system is suitable for your marketplace.
Limited number of currencies. Mangopay deals with only 15 currencies, which can be an issue when running an international business.
How to choose the best marketplace payment processing system
Since every marketplace has its own business goals, you should choose among those payment providers that best align with yours. We can highlight three steps that will help you make up your mind.
Check availability in your target market. You simply won't be able to use services that don't operate in your target markets.
Decide on the necessary features. Prioritize payment system functionality in accordance with your business goals. While security standards and mass payments may be at the top of your list, you might be willing to sacrifice support for multiple currencies.
Find out if it is easy to integrate the chosen payment platform into your marketplace. While the majority of payment providers boast modern SDKs and APIs that are easy to implement, you may also want to consider how much integration will cost and how long it will take.
To help you choose, we've gathered information about five marketplace payment platforms in one table. Let's have a look.
| Characteristics | Stripe | Dwolla | PayPal | Braintree | Mangopay |
| --- | --- | --- | --- | --- | --- |
| Fees (per transaction and additional) | 0.25% + $0.25 | 0.5% | 2.9% + a fixed fee based on the currency | 2.9% + $0.30 | 1.8% + €0.18 |
| Ease of integration | Easy | Easy | Difficult | Easy | Easy |
| ACH payments | Yes | Yes | Yes | Yes | No |
| Merchant of record | Seller | Marketplace owner | Marketplace owner or seller | Seller | Seller |
| Geographic availability | 42 countries | US only | 161 countries | 46 countries | 125 countries |
| Tax reporting tools | Yes | Yes | Yes | Yes | N/A |
| Security requirements | KYC, AML, PCI DSS | PCI DSS | PCI DSS | PCI DSS | KYC, AML, GDPR, PCI DSS |
| Mass payments support | No | Yes | Yes | Yes | Yes |
| Currency support | Over 135 currencies | 38 currencies | 24 currencies | Over 100 currencies | 15 currencies |
| Payment options | Visa, MasterCard, JCB, Diner's Club, AMEX, Discover, Apple Pay, Android Pay | US bank accounts | Visa, MasterCard, American Express, Discover, PayPal | Visa, MasterCard, JCB, Diner's Club, AMEX, Discover, Apple Pay, Android Pay | Visa, MasterCard,AMEX, Diner's Club, Maestro, SEPA, international bank transfer, 9 European payment systems |
| Famous users | Lyft, Kickstarter, Amazon, Shopify, Booking.com | GOAT, Rally Rd, Kidfund | eBay, Grailed, iFundWomen, Replin | Uber, Poshmark, OpenTable | Vinted, Paul Camper, pumpkin |
Summing up
Although the payment providers we've compared are aimed at marketplaces, not all of them will suit your particular business. Let's summarize what payment system you might want to choose to meet your business needs.
Stripe can be a great choice for a single-vendor marketplace since it doesn't have a mass payment feature.
If you're targeting the US market, you can consider Dwolla, a US-only payment provider. Moreover, it has the lowest fees.
PayPal and Braintree are equally suitable for multi-vendor marketplaces that operate on the international market.
Mangopay is a preferable option for European businesses, since besides international banks, it deals with a number of local European financial institutions.
FAQ
There are four main features you should pay attention to:

Availability in your region
Compliance with laws, standards, and regulations
Mass payment features
Tax reporting tools

There are hundreds of marketplace payment solutions on the market. We've analyzed five of them:

Stripe
Dwolla
PayPal
Braintree
Mangopay

It depends on your business needs. Consider availability in your target markets, core features, and ease of integration.


If you need help choosing a payment solution for your marketplace, contact us for a consultation.