Services

Solutions

Industries

Company
We at RubyGarage worked hard and played all year. So as 2016 comes to a close, it's time to sum up the outgoing year and look back at how things have changed over the past twelve months. In this article you'll find the most memorable and meaningful moments of our year at RubyGarage.
#1 We Moved to the New Office
In January of 2016 we realized there was no longer enough space for all of us in the old office. Getting more projects and hiring new employees has been exciting, but we had finally reached a limit. So with a team of 40, we moved to a completely new empty office in the center of Dnipro. Relocating is never easy, but our new office has been well worth the hassles.
In slightly less than a year, our number of employees has grown — nearly doubled — and now our friendly RubyGarage family numbers almost 90. We filled the ranks of our Ruby, HTML/CSS, iOS, and Android developers, added more QAs and RAs, hired new designers, and even started a new department — the content department — to tell about the RubyGarage experience, share our development insights, and cover the most essential industry topics about Ruby on Rails development.
On the one hand, it's awesome that we have 90 people at RubyGarage now; but on the other hand, it's pretty hard for our HRs and our office manager to keep an eye on so many people in such a big office. That's why we hired Max, our Security Manager.
As we mentioned, when we moved to the new office it was absolutely empty. This year, we put a lot of effort into creating the most comfortable and productive work environment for our employees. The white walls in open spaces were painted with cool illustrations, and the white walls in the corridors were painted with marvelous octocats.
All the rooms were accented with flowers, tables, and shelves holding figurines and knick knacks.
And our employees can now rest or work on сozy bean bag chairs and couches.
We also spruced up our meeting rooms where we hold English lessons, meetings, interviews, and other activities.
Woohoo! And, of course, we have to mention one of the loveliest places in the office – the kitchen. Our kitchen has two coffee machines, two microwaves, and two refrigerators. You can brew your coffee into our own custom octocats mugs, listen to some music, and chat. Plus, every day you can find a lot of tasty cookies, candies, and fruits.
Of course, every IT company needs a playroom. Ours is small but cozy, and offers a PS4, football, and a variety of board games. And since we generally have sedentary lifestyles and don't always move enough, we brought some trainers and a tennis table.
Since our new office is in the Menorah Center, one of the biggest Jewish Business and Culture Centers in Europe, we started a tradition of celebrating Shabbat together every Friday. The last Friday of each month is additionally special, as that's when we celebrate all our colleague's birthdays for that month. This December we have 10 birthdays, and the gifts are already waiting for them.
Our cozy and friendly RubyGarage office was also great for welcoming our customers. This year, we were visited by eight of our customers, who were pleased to see not only our beautiful country and city, but also the place where we develop quality products for them.
#2 We Taught Two Ruby on Rails Courses
When our company began, our co-founders faced a lack of highly-qualified full stack Ruby and JS developers. Consequently, they decided to start their own courses and produce these specialists themselves. Ruby on Rails Courses at RubyGarage were – and still are – free, because we aim not to make money from them, but rather to invest in people and get qualified developers. The main advantage of our courses is that our teachers are developers who are faced with real-world projects and real-world challenges every day.
Currently, most of our courses are taught by our developers who themselves completed these courses in the past. Our goal is to share our real knowledge and experience. For years we've taught – and we'll continue teaching – specialists who meet all the standards and requirements of a Full Stack Ruby/JS developer and who are able to work independently on projects, benefit the company, and develop quality products for customers.
Usually, about 15 students out of an initial group of 25 successfully finish our Ruby on Rails courses. Some of these students go on to get jobs at RubyGarage, while the rest get jobs at other top Ukrainian companies. This year we completed two courses. The first wrapped up in April, and the second ended in September. As a result of these two courses we hired 15 new employees.
#3 We Released a Bunch of Cool Projects
Our successful projects for our customers are our most important achievements. Many of our projects are long-term, so they're still in progress, but some of them are smaller or have already been completed. We'll introduce you all the projects we completed and released at RubyGarage in 2016.
Online Drugstore
This product is a US-based online store offering medicines and health products for people of all ages. Their selection is quite large: the drugstore offers over 37,000 items in dozens of healthy living categories. The online shop already has a large number of daily visitors and orders.
The store offers customers the wholesale shopping option and the automatic reorder feature. Customers can also benefit from a custom one-page checkout that helps them save lots of time.
Online makeup store
This is an online store for a high-quality European makeup brand that provides customers with a huge assortment of cosmetics for a great price. The brand launched in the USA for the first time thanks to the online store we developed. Now, customers from the US are able to order the first-rate European cosmetics and get it delivered within a few days.
The online store distinguishes itself with a unique referral system with a multi-level marketing model. Customers can earn rewards by building a personal group of referrals.
Health Consultation Marketplace
It's a live online nutrition clinic that takes patients treatment to a completely new level. Instead of wasting time on booking an appointment and going see a health practitioner, people can enjoy live online consultations from certified dietitians, nutritionists, and wellness practitioners. The health consultation platform also allows patients to conveniently track their routines and health indicators.
The marketplace functionality enables accredited nutritionists and wellness practitioners to join the platform and offer their services to patients from all over the world. Patients, in turn, can select a relevant membership plan and which practitioner they want to work with.
To enhance customer experience, our team developed an iOS application that allows patients to get consultations right from their mobile devices.
MoonAge
MoonAge is an unusual iOS application that allows people to calculate their age according to moon phases. You'll also find out, according to Native American folklore, what kind of moon you were born under. MoonAge sends you a daily horoscope and with every full moon, MoonAge alerts you to your new MoonAge.
Maplify
Maplify is a new, free mobile app that makes it easy to create a story about a place. You can upload videos or photos and Maplify will automatically sort, geotag, and time arrange a story on the map for you to share. You can even edit photos right in the app.
SprinkleBit Android App
SprinkleBit, which means "to spread information," wants to help you make better investment decisions in an easy and fun way, regardless of how much money you have. You can learn how to trade, follow top investors, and invest for the future – all from one, intuitive social investing platform that we developed last year (and are still working on). First came the iOS app for SprinkleBit, and not so long ago we finally launched the beta version for Android.
Betwixt
Betwixt is a conversational engine that helps employees build strong professional relationships even when colleagues are separated by distance, time zones, or cultures. Teams that use betwixt.us engage in the kinds of dialogue that creates the psychological safety and emotional connection needed to spark innovative and productive work. We also developed a betwixt.us chatbot for Slack to help gather information with questionnaires.
Pindify
Pindify is a marketplace for art, text, film, and music that allows creators to publish, distribute and earn on one platform. Users can explore digital content posted by creators and sponsor their favorite artists by subscribing to the service.
Shopperations
Shopperations is a planning and collaboration SaaS platform for brand and retail marketers that helps them plan, estimate, execute and analyze shopper marketing promotions. The platform simplifies the daily work of shopper marketing managers and makes spending transparent.
Hinterview
Hinterview is a ground-breaking online interviewing platform with extensive video tools that allow professional recruiters to interview candidates online, save these video sessions, and share them with top management.
DesignBro
DesignBro is an online design marketplace where you can buy a logo, define your brand identity, or get packaging design quickly and affordably. Simply create a clear brief for your design and launch a limited-entry competition. Then you can select your favorite of 10 suggested designs from quality designers and pay for the design of your choice at a category-fixed price.
Avidyx
Avidyx is a Norwegian marketplace for sports and extreme activities that aims to connect like-minded adventurers. When you're in Norway, you might want to go snorkelling or snowboarding in the beautiful nature. Avidyx is the go-to app to find suppliers of the most extreme and exciting activities who can arrange basically any activity for you and customize those activities according to your preferences.
Box+Dice Accounting
Box+Dice is a leading social CRM, website, email, and accounting provider for the Australian and New Zealand real estate industry. For Box+Dice, we developed the accounting module that is responsible for invoices, bills, reports, etc. We moved their accounting module from an old PHP CRM, which was impossible to improve and time-consuming to support, to a new Rails CRM.
#4 We Took the First Steps with Our New UGEM Design Studio
The idea to split off our design into a separate brand was born more than a year ago. But with our projects at that time we were too busy to seriously think about implementing the idea. On December 1 we took the first step towards our new design studio UGEM — by launching our UGEM Instagram account. Subscribe and follow our progress!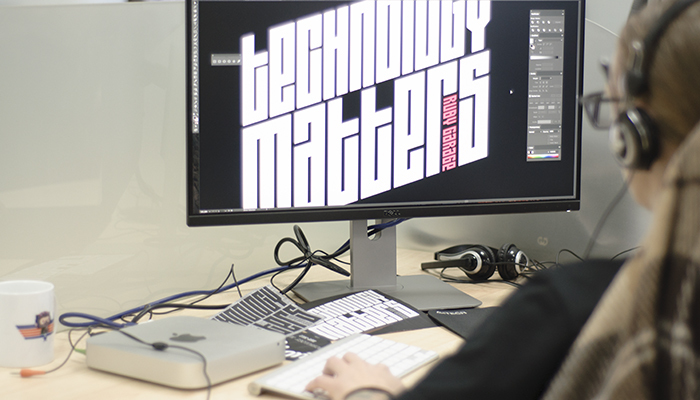 The first step has been taken, and now we're working on a new logo, a website, and many interesting projects. Actually, UGEM's first project was released last week. UGEM, together with the iOS team at RubyGarage, created and launched the Drako sticker pack for iMessage. These beautiful stickers already make people smile. You can read more about them in our Case Study about Drako Stickers.
#5 We Attended Conferences
Here at Ruby Garage, we like to stay involved in the most essential industry events. Conferences are a wonderful opportunity to get fresh insights about our lovely programming language Ruby, learn about the latest trends in marketing and design, and talk about other stuff related to our work. Industry events are also great places to meet old friends and get make new ones. Let's look at the biggest conferences we attended this year.
Lviv IT Arena
Lviv IT Arena, the biggest international IT conference in Ukraine, took place in Lviv from September 30 to October 2. There were two streams – Innovations and Actual Issues – for the technically inclined. Meanwhile, the Business and Product Development streams gave attendees new insights into the IT market in Eastern Europe and beyond. This conference gave our team an opportunity to meet all kinds of people — CEOs, developers, designers, project managers, business analysts, entrepreneurs, and more. And with fun after parties, the conference created just the right atmosphere for informal networking.
RubyC
RubyC is the biggest Ukrainian conference devoted to Ruby, Ruby on Rails, and other related technologies. This year it took place in Kyiv from June 4–5. Our developers who visited this conference were able to hear 13 speakers from Ukraine and abroad whose talks were all presented in English. On the second day they visited Open Talk and asked questions and discussed all the latest news in the Ruby world.
BuildStuff '16
Build Stuff is a software development conference "for those who actually build stuff." Build Stuff began in Lithuania in 2012, and for four years it has been highly regarded by developers all over Europe. This November, all attendees at Build Stuff had the opportunity to visit five sessions per day as well as panel discussions. There were also open spaces where they could hear insights from industry leaders about the latest developments, trends, innovations, and new waves in software development.
The theme of this year's conference was "The Old New Things," and speakers took a look at old programming languages and technologies and the ways they can make unexpected comebacks. You can read more details about the Build Stuff conference from our guys who were there.  
BlackSea Summit
The BlackSea Summit is one of the "must-sea" international IT conferences in Ukraine. It took place in Odessa from September 9–10. All attendees were able to visit three sessions of talks and workshops about inspiration, growth, and innovation. More than 30 popular speakers from around the world shared their insights about the latest trend in different areas, talked about attracting investments and scaling, and stimulated innovation by venturing into the practical sides of engineering, mathematics, algorithms, robotics, bio hacking and more.
WebSummit
WebSummit is the biggest technology conference in Europe, held annually since 2009. The WebSummit company was founded by Paddy Cosgrave, David Kelly, and Daire Hickey. The topics of this year's conference were mostly centered around internet technologies. WebSummit has become "Europe's largest and most important technology marketplace," a crossroads for the world's largest buyers and sellers of technology, alongside many of the world's most disruptive emerging technology companies.
It's not just Europe's largest companies that attend Web Summit, but over 7,000 CEOs from companies of all sizes across multiple industries, all there to learn about how new software and hardware can transform their businesses. Our Sales Manager, Julia, even met one of our clients at the conference!
Software Engineering Conference
SE2016 is a popular conference IT conference that took place this September 2–4 in Kyiv. Attendees had time to listen to 12 speakers out of a total of more than 100 and attend discussions, round table talks, and talks about networking. Over the course of three days, everybody was able to visit a start-up track that covered such topics as marketing, PR, management, and talking to investors.
NNGroup UX Conference
NN/g conducts groundbreaking research, evaluates user interfaces, and reports real findings – not just what's popular or expected. NN/g helps businesses create better user experiences and improve their bottom lines. They write articles, provide expert reports, and offer training and consulting. Our UI/UX designer Anton attended one of these trainings, and he said that it was really helpful to get not only theoretical knowledge but to also learn practical skills as well; all of the design recommendations could be put to use immediately. What's more, it was very nice for Anton to meet Jakob Nielsen, the co-founder of NN/g.   
As you can see, our team managed to visit not only local conferences, but also international ones this year. We hope that next year will bring us even more opportunities to visit cool events both near and far.
#6 We Did In-house Activities
It's cool to visit big events. They can teach us something new and inspire us to do awesome stuff. But it's also important not to forget to involve to whole team in internal activities. This year we held a lot of them, but we want to share just the most memorable and meaningful.
Public Speaking Courses
In October we held a six-week course on public speaking. This in-house course was attended by our developers, designers, and content writers. We learned how to keep our audience's attention, how to use body language to our benefit, and how to be confident in front of large audience. We filmed our speeches before we started training and after the course was finished.
The results were stunning! We really improved our public speaking. And before long, a few of us had a chance to practice these new skills. In December, our designer team organized a workshop and shared their insights about the latest design trends. Thanks to the public speaking course, we now feel confident and inspired to organize even more in-house events for our team as well as guests!
Functional Programming Courses
One of our developers, who some time ago was a student in our RubyGarage courses, got involved in learning functional programming. He was reading a lot of articles and books, and during the course of his reading he realized that Functional Programming concepts are applicable to our work. In fact, these concepts and practices can improve the quality of our current and future projects.
But while these practices seemed so helpful to Vlad, he understood that this paradigm isn't well-known in practice, and most of his colleagues had never heard about these concepts. Consequently, he decided to share his newfound experience with his colleagues. This was how our Functional Programming courses were born. Vlad held 3-4 lectures for 1-2 hours each to give a basic understanding of Functional Programming and to awaken in his colleagues the desire to start learning more about it. This course was attended mostly by our RubyGarage developers, but there were also several people who came from other companies.
Design Digest
In December, our design studio UGEM decided to organize a workshop for the whole company. They covered topics aimed not only at our designers, but also to all people who work in the IT sector: highlights of the UX Design Conference in New York; 10 usability heuristics for user interface design by Jakob Nielsen; Awwwards 2017: value your time, make you projects valuable; technologies of the future; and Apple Watch – why I bought one, and why you shouldn't.
We livestreamed this workshop on Facebook. If you understand Russian, you can feel free to watch it here. If not... in the future we'll hold such events in English so a wider audience can benefit.
IT-Duel "Fight of Bots"
Anadea organized a cool contest, together with IT Cluster and RubyGarage, called "IT-Duel 'Fight of Bots.'" Held on September 3, this contest involved different teams sending their bots to battle with each other. Our RubyGarage team – "A team that was organized in 10 minutes" – managed to win a special prize and take first place in this battle. For winning, they got tickets to the Build Stuff conference we mentioned earlier.
#7 We Rocked at Big Holidays
As we prepare to wrap up the year with the biggest holidays of the season – here in Ukraine, Christmas doesn't come until January 7 – we thought it would be nice to finish our year in review by looking back at the biggest holidays so far.Our biggest events this year were our 5th anniversary of Ruby Garage, Halloween, and New Year's.  
RubyGarage's 5th Anniversary
This summer we had a very important holiday for our company – RubyGarage's 5th anniversary. To celebrate, we spent a day at the "GoodZone" recreation center outside the city. We ate, drank, chilled out, and played a bunch of sports. We also visited the rope park and high park, practiced archery, rode bicycles, played football (soccer), and got lost in board games.
Halloween Party
We prepared well for Halloween this year. Most of us had cool costumes and horrible make-up. Our office really looked like hell. On top of eating ghost- and pumpkin-shaped cookies and listening to Halloween music, at the end of the work day we took part in a quest game where we had to find the person who was guilty of murder.
Happy New Year's
Last Friday we had our corporate New Year's event. As tradition holds, we organized a Secret Santa game and everyone in our office has got cool New Year's gifts hiding for them under our beautiful RubyGarage tree.  
Also, our RubyGarage personal Santa brought us some cool custom hoodies. Thank you Santa, we love you so much!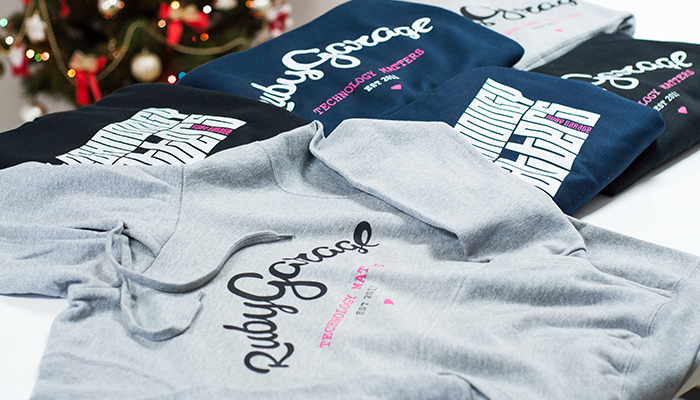 It's exciting to look at all we did this year. We're looking forward to even more enthusiasm, plans, and ambitions, for the next year. Hope your year was great, and that Santa brought you (or will bring you) what you were hoping for. Happy New Year's! Don't forget to follow us on Facebook and Twitter to see what's going on in our daily life!
Subscribe via email and know it all first!