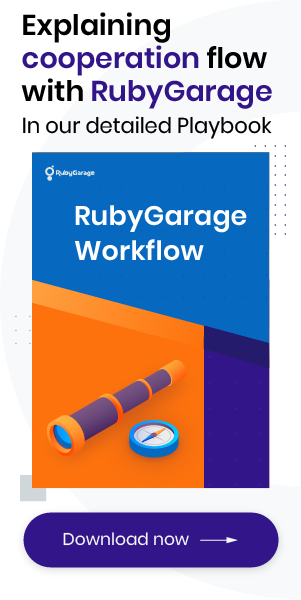 2017 was a wonderful year for us at RubyGarage. And we can say it was wonderful because of the success of our clients.
This year we focused on enhancing the technical expertise of our development and management teams as well as improving our project management approach to deliver our clients with better outcomes both faster and more professionally.
In 2017, our team helped 30+ clients from the United States, Great Britain, Australia, Canada, and China to expand their markets, boost their sales, improve their customer relations, bring their innovative ideas to life, and stand out from the crowd.
We contributed to the success of clients in many industries: ecommerce and retail, marketing, healthcare, travel services, real estate, financial services, and education.
We did our utmost to make our clients' applications state-of-the-art, re-built their applications from the ground up, developed new functionality, implemented cutting-edge technologies within their projects, prepared complete MVPs, and provided technical consultations to help our clients build reliable foundations for their solutions.
In this article we offer a snapshot of what was behind our clients' success stories in 2017 and how we brought together technology, people, and processes to contribute to these successes.
Re-building Operating Processes
During 2017, we worked on RubyGarage company's structure and processes.
We nailed down our workflow at each stage and smoothed out internal interactions among departments and teams so that our clients can experience even more productive, flexible, and clear cooperation at every step of the project and at each contact point.
So far, RubyGarage has set up the following offices:
Project Management (PM)
UI/UX Design
Web Development
Mobile Development
Quality Assurance (QA)
The main task of each office is to cover specific area of responsibility and contribute efficiently to the whole project.
Our PMs in the Project Management office are responsible for eliciting high quality requirements, delivering clear estimates, and providing well-structured project prototypes. Our UI/UX Design team work on preparing the full product design. Then our engineers from the Web and Mobile Development offices deliver the actual product, the quality of which is tested by our Quality Assurance team.
After each release, our tech professionals keep working on maintenance, updates, and continuous improvements to the product and design.  
However, we apply continuous improvement not only to our work but also to our qualifications and knowledge.
Continuous Learning
As sir Richard Branson, famous for his inspiring approach to people management, says: "Clients do not come first. Employees come first. If you take care of your employees, they will take care of the clients."
Following these words – not just as a company of tech professionals but primarily as a team of innovators and close colleagues – we strived to broaden the scope of our knowledge, skills, and approaches in 2017.
Software Development Academy
For the sixth consecutive year, our RubyGarage team continued nurturing our local talent market by organizing an external Ruby/Rails course as part of our talent acquisition strategy. This year, our senior engineers trained over 50 students in this course. The most promising and dedicated of them joined our team.
One of our key values is exchanging useful knowledge with our peers. During 2017, our RubyGarage teammates launched internal tech talks and gave presentations about UI/UX design approaches and tools, best ways to perform productive demos, and efficient project management methodologies like Scrum and Agile.
We also organized an internal training course on JavaScript/React, which we plan to launch for an external audience of developers next year.
Contributing to the IT Community
Our learning isn't limited to Ruby courses and internal educational events, however. This year we started a series of external events for tech professionals. First event we organized and hosted was two-days intensive Agile Certification Training ICP-APM that gathered great project management professionals.
In fact, our team keeps actively contributing to the Ukrainian IT community. In 2017, we became a partner of the most valued International and Ukrainian Ruby conferences, RubyC and Ruby Meditation.
RubyGarage CEO Volodymyr Vorobyov also shared his expertise and technical experience as a speaker at the IT Forum and Full Stack Factory conferences.
Our HR and sales teams are also on board with cutting-edge IT trends. Our RubyGarage teammates were seen at the Lviv IT Arena and ITEM conferences as well as at Web Summit in Lisbon.
Building a Culture of Engagement
Of course, it's essential to stay on track with growing professionally. But creating an atmosphere of fun and shared achievements is equally important for team spirit.
Celebrating Together
In 2017, RubyGarage turned six. To celebrate the occasion, our whole company had a great time relaxing at the country resort, participating in a quest game, and trying out traditional crafts.
We also celebrated an absolutely green Saint Patrick's Day, Vyshyvanka Day (the vyshyvanka is the Ukrainian national costume) and Easter to honor our Ukrainian traditions, and Halloween to have some fun on the scariest night of the year.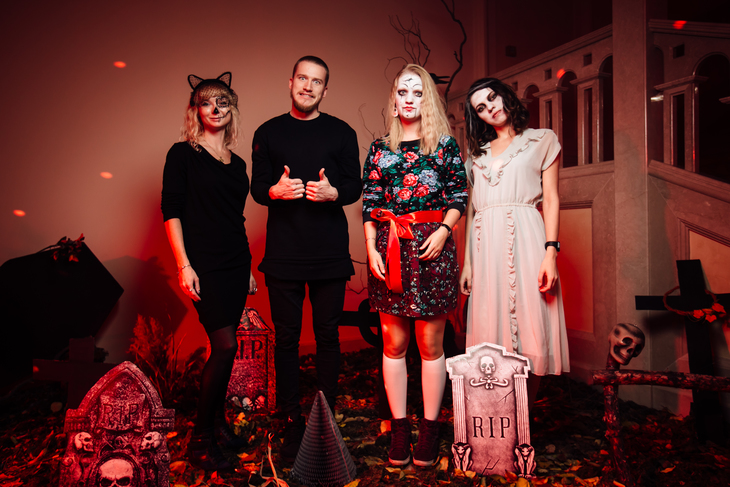 Charity
Along with having fun, we also strive to share our kindness outside of our office. This year, we launched two charity projects for kids. The first was on International Kids' Day in June, when we made a donation to a local orphanage. The second was on Saint Nicholas's Day in December when we helped some of the smallest kids requiring urgent medical help.
Technology Matters. But How Exactly?
We're famous for delivering successful web and mobile products to our clients. However, our technical expertise goes far beyond fast and effective application development.
Specifically, our motto, "Technology Matters," emerged out of our approach to investigating new technologies and trends and adopting them to make even greater products and solutions for our clients.
Mastering Technologies
We want what's best for our clients. Therefore, when consulting or working on an application, we always think about how the solutions and technologies we offer will impact that particular app.
Our mission is to provide our clients with sustainable, scalable, and flexible technology solutions that usher in the future.
For our engineering teams, 2017 was a year of gaining and mastering expertise in AI and Machine Learning, blockchain technology, chatbots, Virtual & Augmented Reality, Big Data technology, cloud technology, and DevOps & Infrastructure as Code.
| | | | |
| --- | --- | --- | --- |
| AI and ML | Blockchain | Chatbot | VR and AR |
| | | |
| --- | --- | --- |
| Big Data | Cloud | DevOps and IaC |
We managed to implement this new expertise to build innovative solutions at the intersection of existing product domains.
For example, we worked on a blockchain-based marketplace, created a chatbot to improve communication within distributed teams, and implemented AI and cloud technologies within marketing analytics and healthcare projects.
But don't take our word for it. It's better to take a look at our clients' success stories.
Our Clients' Successes
First, on behalf of the whole RubyGarage team, I'd like to say thank you to our great clients for their trust, for sharing their inspiring ideas, and for letting our team bring them to life.
So what were these brilliant ideas, projects, applications we worked on this year?
Ecommerce
Accept is a blockchain-based marketplace that takes buying and selling to the next level. With cryptocurrency checkouts, deals based on smart contracts, and a variety of products and service providers, Accept is at the intersection of the marketplace and the blockchain.
Prodigy integrates with Wordpress-based online store to let store owners managing shipping and orders. Prodigy also offers a lot of opportunities for customizing customer accounts.
Content Marketplaces
DesignBro is an online platform that connects creative talents with clients from all over the world, offering clients a time-efficient and cost-efficient solution for getting brilliant content.
Pindify is a blockchain-based marketplace for creators of art, texts, films, and music that allows creators to publish, distribute, and earn on one platform.
HR Management
BTN is a job platform to help recruiters find the best talents quickly. BTN allows candidates to have, record, and share video interviews to significantly increase their chances of employment and accelerate the hiring process.
Betwixt is a Slack chatbot that aims to build strong professional relationships within distributed and remote teams by sparking communication among teammates.
BuiltForTeams is a powerful and time-saving tool that allows businesses to efficiently track paid time off (PTO) of their employees. BuiltForTeams is customizable and makes it easy to request and approve time off.
Marketing Analytics
Shopperations is a SaaS platform that helps marketers plan, perform, and analyze their shopper marketing promotions conveniently and cost-efficiently.
Vootex is a social voting application. Visually appealing and interactive for regular users, Vootex has become a strong marketing research tool for businesses that need to investigate markets before launching new products or services.
As a mobile application, Vootex has a strong technology stack behind its striking design: a scalable architecture, complex integrations, and tools to efficiently cope with big amounts of data.
ExposureDB allows brands and event planners to gauge the effectiveness of their marketing campaigns and gain insights into visitor behavior. The system retrieves data from Wi-Fi sensors installed on the territory of an event and processes this data according to a complicated mathematical model.
Upcall is a service for businesses to organize call centres to perform research, get feedback, and set up communication with end customers in a cost-effective way in real-time through modern communication tools. Cloud technologies ensure smooth scalability and efficiency of the service.
Healthcare
Casetabs is a cloud-based communication app for surgery centers, enabling access to real-time case updates for facility staff, physicians, outside offices, and vendor representatives. Casetabs is an alternative surgery coordination solution presenting a central hub for all communication about cases. In comparison to traditional means of coordination, Casetabs saves time, improves patient care, and increases profitability.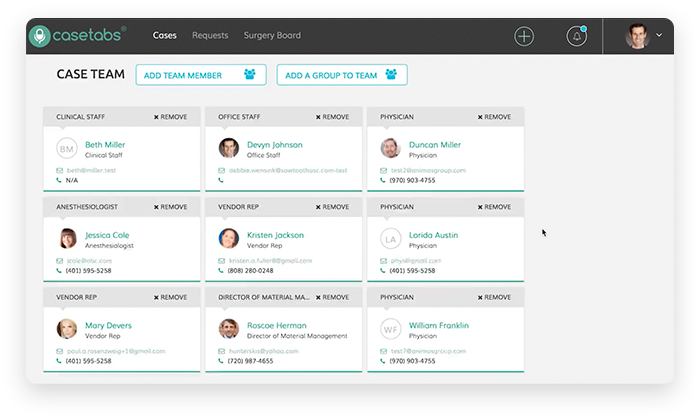 Health consultation marketplace that brings together certified health practitioners and patients from all over the world. The platform is not just a web-based health clinic but also a marketplace allows dietitians and wellness practitioners to offer their services to wider audiences. The online consultation platform we developed leverages the power of cutting-edge technologies to help people live healthier lifestyles.
Fintech
SprinkleBit is an application that unites regular users and top investors to help users make better investment decisions in a fun and easy way.
Pair Finance is an automated and data-based solution for claims management. Based on big data and machine learning, the Pair Finance debt collection engine learns from customer behavior and offers the best solution for debt collection – not only improving recovery rates but also offering customers the best experience possible.
Online Education
Blue Sky is a cloud-based learning solution that helps businesses get the most out of their content and engage better with their audiences. The cloud-based educational content manager at the core of Blue Sky is designed specifically for lecture-based learning, training, and sharing of knowledge by spoken word. With specialized features for clinical trials, member associations, extended enterprise, marketing agencies, and continuing professional education, Blue Sky provides a singular solution to connect nearly any industry's content to its target audience.
Prodygia is an online publishing platform for in-depth digital content allowing companies of all sizes to capture training sessions and create collections of their best webinars and reports. Prodygia is a great solution for making online events available on-demand, increasing the impact and visibility of events, and earning by selling online courses.
Real Estate
Box+Dice is an end-to-end social CRM platform for real estate agencies that provides a complete set of tools to attract, nurture, and retain customers, take customer relations to the next level, and significantly increase revenue.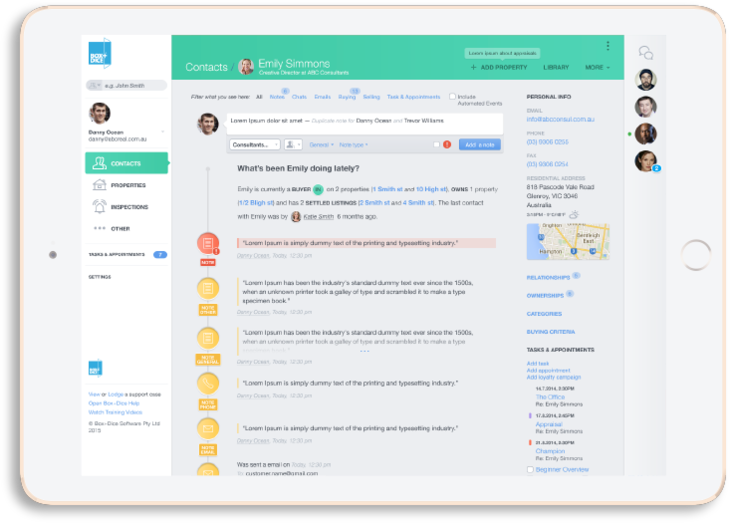 Travel
AdventureFirst is a platform for adventure-focused travellers seeking curated trips and expeditions to beautiful destinations. AdventureFirst unites adventure tours and festivals throughout the world, providing users with an environment where they can learn and enjoy activities together.
Vittles is a mobile application that helps users find the best nearby places to eat. Providing a lot of filters, integrated geolocation tools, and comprehensive information on restaurants and cafes, Vittles gives its users a great customer experience and helps restaurant owners attract new visitors and spread the word.
Campsited is the ultimate platform for campers, providing the most comprehensive details on bookable campsites around the world in a convenient, appealing, and time-saving way.
Transportation
Distribusion Technologies is an intercity bus ticket booking service. Launched in 2012, Distribusion Technologies has brought over 100 intercity bus operators on board throughout 25 European and Asian countries so far.
Distribusion Technologies is based on scalable technology that brings together bus operators, travel resellers, and mobility apps worldwide without the effort of acquiring and managing them manually.
Automotive
An App for Preventing Distracted Teen Driving. This product is a state-of-the-art solution that helps parents make sure that their teens are driving safely by monitoring and preventing common aspects of dangerous and distracted driving. Thanks to integration with a physical device, parents can monitor the behavior of teenage drivers in real time. The beacon collects and analyzes data and then transmit it to parents via a mobile app. The app allows parents to create accounts, add vehicles, add drivers, adjust restrictions, and receive notifications with photos or videos when a violation happens.
Event Organization & Management
Bananabel is the world's first site dedicated to online booking for parties geared toward families with kids. This website has tools and resources for easily researching, planning, booking, and sharing parties. Taking the best from technology, Bananabel presents a revolutionized party planning solution.
Ticketrunner is a platform for event organizers that provides opportunities for convenient event management and ticket sales. It's also a place where fans and visitors can get a great customer experience thanks to easy ticket purchasing and lots of opportunities to receive free tickets and get official merchandise and access to exclusive event experiences.
Data Science
Statistics Simulation is a data science-based web application that unites students and instructors and provides them with the opportunity to generate test data for research. Statistics Simulation offers a free application for students that gives access to all features and services.
Telecommunications
Custom Communications is a premier technology solutions provider equipped with an end-to-end ERP system that offers commercial customers network services, coaxial cable connections for units will multiple dwellings, and more
Outro
We'd like to say thank you to our great clients and our inspired employees. Though 2017 was a great year, we here at RubyGarage are sure that the best is yet to come. We look forward to what's over the horizon in 2018.