How to Build a Food Delivery Marketplace Like UberEats: Features, Time, and Cost
17782 views
8 min
Oct 02, 2018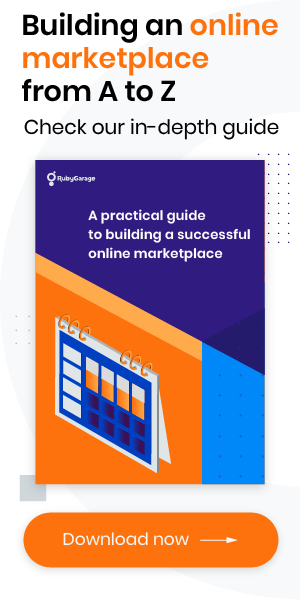 An online food marketplace is a promising business idea. Proof of this is the success of online food delivery apps like Uber Eats, Foodpanda, and Grubhub. Moreover, 20 percent of people in the United States use an online food marketplace once a week.
Revenue in the online food marketplace segment amounted to US$96.235 billion in 2018 and will only grow each year.
If you have an idea to make an app like Uber Eats, you should start your journey by considering this list of key features that a modern online food marketplace can't survive without.
Features of online food marketplaces like Uber Eats
An online food marketplace is a website or app that allows users to order food from many different sources. In general, a food marketplace allows third-party companies to sell food to consumers. The food marketplace concept is simple: bring together all types of food establishments in one place and allow customers not only to see menus and check prices but also let them place orders.
Apps like Uber Eats typically consist of two major parts: a customer app and a restaurant/vendor app. These marketplaces contain a standard set of features. One of the main features is login, which allows customers to create personal profiles and start using the app. Personal profiles also allow business owners to keep track of their customers and build strong bonds with them by personalizing their services.
One more vital feature for apps like Uber Eats is payment functionality. Customers should be able to choose from various payment methods and directly in the app pay for their orders.
There are also some special features to consider when you develop food delivery apps like Uber Eats. For example, you should let users search by restaurant or cuisine and offer filters.
This search feature shows nearby restaurants and information about them and allows customers to filter by cuisine, price, hours, and ratings.
Food delivery marketplaces should also allow customers to track orders. After customers complete payment, the app should let them set their locations and track their orders in real time.
This tracking feature increases the promptness and accuracy of food delivery by telling users the exact time when delivery will be made.
For a better understanding of what features are required for an online food delivery marketplace, let's consider the infographic below.
Things to bear in mind when developing an app like Uber Eats
Online food delivery platforms are extremely popular. Still, there are unique challenges when developing a food delivery system. Let's consider them so you can be prepared for development complexities.
Find your target audience
Many startups know that everyone likes delicious meals and the convenience of having them delivered to the door. But that's not enough to please customers. Defining your startup's target audience is much more than just a good business idea.
There are many types of food services you can offer: grocery delivery, meal delivery, curated menu delivery based on diet (vegetarian, gluten-free, kosher, etc.), and so on. Let's take a closer look at who exactly the popular food delivery platforms are focused on.
Every successful startup begins with a thorough analysis of its market. Knowing what the target audience needs and what problems they face will provide insights on what they expect from your product.
Formulate your value proposition
Another no less important step is gathering a lot of data-driven insights on the competition. If you don't know your competitors well, you can't stand out from the crowd.
The key to a successful online food delivery business is to offer something unique from competitors. Consider your value proposition carefully. For instance, Grubhub works with nearly every restaurant that does delivery and their value proposition is that they offer a wide variety of food.
Another example is Just Eat, whose value proposition is extra-fast food delivery, which is crucial for busy people like office workers and students. To fulfill their promise, Just Eat uses moving pavement droids to deliver food. These six-wheeled droids are, in fact, mobile lockers. When a droid arrives at its destination, the customer receives a link with which they can open it.
For more ideas on how to impress customers, read our article 7 Hot Trends That Will Change the Future of the Food Delivery Industry.
Provide a marketplace with a smooth UX
Today, customers are more demanding and more discerning than ever. Thirty-eight percent of online shoppers leave a website if they consider the design unattractive or inconvenient.
A food delivery marketplace is similar in most ways to a classic ecommerce marketplace. The main goal of a marketplace is to help users quickly find what they're looking for and effortlessly make a purchase. To make that possible, we suggest the following.
Make it simple to search for food. Categorize your restaurant offerings and your online marketplace performance will surely increase. The better the item categorization, the more smoothly your customers can browse through your online menu. Accurate product categorization can bring many benefits for your online food marketplace: increased conversions, a better user experience, and increased revenue. For example, Graze provides categorization that lets users sort menus by sections.
Provide quick restaurant search. Save your customers' time. Allow your customers to avoid dishes with undesired ingredients, such as those that contain gluten or are allergens. Conversely, let customers search for foods that include certain ingredients or restaurants that offer certain cuisines. Check out the example of Foodpanda search feature.
Allow groups to order even faster. A group order feature is a handy tool for placing orders when a user has company. To place such an order, a user can share a link with friends. For example, Grubhub provides team meals. This feature allows people to place orders for themselves and their co-workers.
Let's consider the design of the Uber Eats site. The Uber Eats platform contains a minimal number of elements, allowing customers to focus on the convenience and quickness of ordering. For instance, the main page contains only slides with food advertisements and an address line.
If you look at the restaurant selection page, there are no extra details so you can concentrate on places to eat.
Strive to prevent your customers from asking such questions as How can I order? or How can I pay?
How much does it cost to make an app like UberEats
The cost of developing an app like Uber Eats depends on many factors, including the number of features, development company rates, and whether the product is going to be developed from scratch. Take a look at our rough estimate for an MVP of an app like Uber Eats from scratch first.
Project management - 330h
Business analysis - 446h
UX design - 565h
UI design - 725h
Quality assurance - 560h
HTML/CSS development - 788h
Frontend development - 1,180h
Backend development - 1,850h
In total, you'll need 6,444 hours to develop an MVP of a food delivery platform like Uber Eats. Now, we need to find out the average hourly rates for the development services in different regions to see how the cost varies.
The total cost of the development of an app like Uber Eats in Central and Western Europe will be around $277,092. If you find a vendor from Ukraine, you'll need to pay around $161,100. 
The price for this app might be high for a startup if you decide to create it from scratch. To cut down development costs, we've created a white-label solution for fast and cost-efficient niche marketplace development that is completely suited to your business needs. Our solution has all the most necessary feature modules to build a food delivery platform much cheaper (starting with $40,000 for an MVP).
At the same time, our solution allows us to add custom features and unique design to make your product stand out.