3 Popular Food Delivery Models and Real Challenges to Be Aware Of
54144 views
6 min
Sep 10, 2018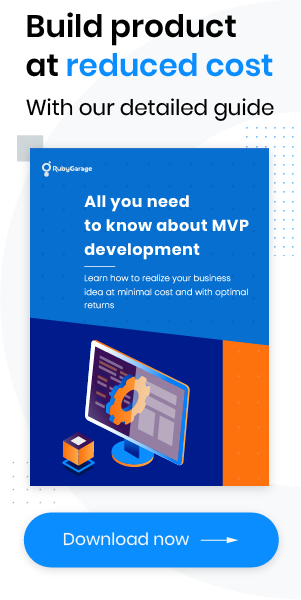 Over $96 million in revenue in 2018 makes food delivery a tasty morsel for any entrepreneur. If you've decided to invest in this industry, though, be ready for harsh conditions: intense competition, high operating expenses, growing demands of customers, and more.
So what challenges can you expect when lauфnching a food delivery startup? Everything hinges on the business model you choose. We've identified three major food delivery business models and considered the pitfalls you can face. Let's take a look at each of these models.
#1 Order only model
Food ordering apps connect customers with local restaurants and facilitate interactions between them. These apps aggregate offerings of standalone eateries that handle delivery themselves, thus helping eateries expand their market reach. For customers, food ordering platforms offer quick and easy search and order functionality. Order only platforms generate revenue by charging 7 to 15 percent commission to restaurants.
Zomato, for instance, provides users with a rich variety of filters by price, location, discounts, reviews, and more to help customers make food choices in more than 10,000 cities around the world. Otlob serves customers with an additional feature ‒ an in-app live status updater to track order progress.
Even though these platforms are highly scalable, they're still limited in their cuisine options and price points. Yet this isn't the biggest pitfall of the order only model.
Main challenge: creating a wide network of restaurants
Since commission is the major revenue stream for ordering platforms, they must put extra effort into reaching out to as many eateries as possible, including small local restaurants.
A wide network of restaurants can be a competitive advantage and a powerful stimulus for customers to use a service: better restaurant options is the number one reason for one-fifth of customers to use a particular food ordering app.
Attracting eateries to your platform might be hard and slow at the beginning. So you should figure out exactly what to offer and what to ask for. It's best to start with a small area and contact local restaurants personally. Then you can gradually increase your restaurant base in new areas.
An effective PR campaign is also powerful for attracting restaurants. You can market your idea via
social media networks;
inbound marketing;
affiliate marketing;
experiential marketing;
… and other channels.
Сonsider the example of Deliveroo. This online food delivery platform records TV ads, such as one with giant food items, offers generous promo codes for customers, hands out branded merchandise, and cooperates with food bloggers. These marketing techniques have helped Deliveroo to get traction and become a billion-dollar company.
#2 Order and delivery model
Order and delivery platforms handle logistics for restaurants, food joints, and home delivery services. A partnership with this these platforms is beneficial for any eatery as they don't have to search for and pay couriers or maintain vehicles.
Order and delivery services cut 20 to 30 percent on the cost of each order and may charge a flat delivery fee to customers. UberEats went even further: the company offers to make restaurants pop up at the top of search results for a marketing fee.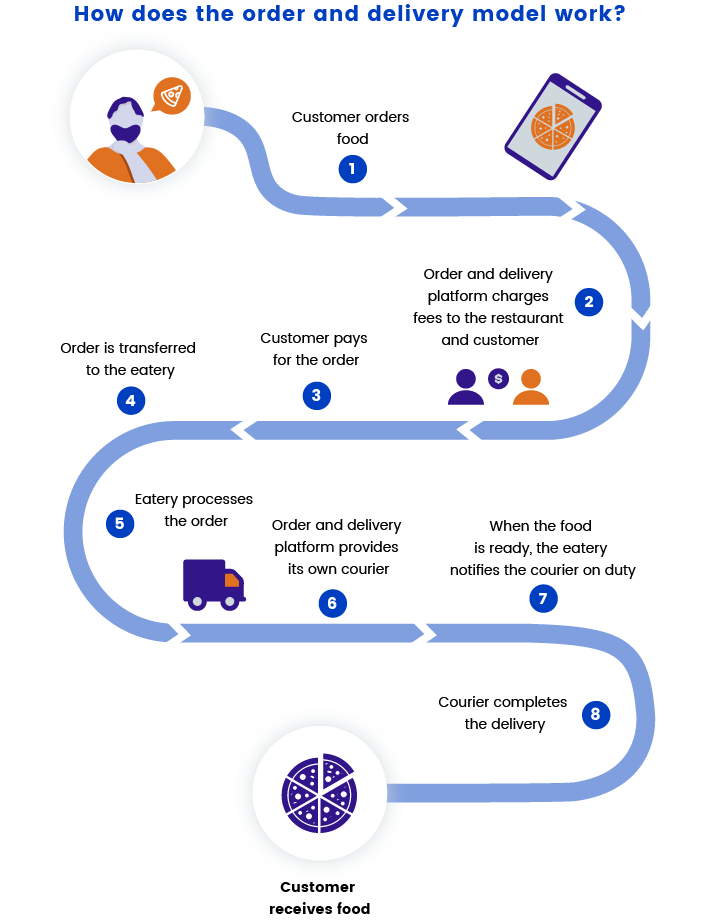 Main challenge: arranging an efficient delivery system
The delivery time matters most for customers. Delivery speed is a key factor of satisfaction for 60 percent of customers. Besides, food must be kept at a consistent temperature to stay fresh and tasty.
The time factor is especially critical for lunch orders, as working people usually have a limited lunch break. Delivery in under 30 minutes counts as great service. Wait times of one hour or more can upset customers and increase the churn rate.
Among common delivery types are milk run and point-to-point delivery. Each of the types has its own pluses and minuses.
Milk run delivery
With milk run delivery, a food delivery company has a base of couriers for regular deliveries. The company maps a fixed route for each courier that reaches all delivery points in one run.
Strengths: The milk run model helps a food delivery platform reduce operating costs.
Weakness: The milk run model doesn't work whenever someone requests a different delivery time or wants to make changes to their order.
Point-to-point delivery
With point-to-point delivery, a food delivery service uses a network of standby carriers and assigns a particular order to the carrier closest to the eatery. That carrier takes the food from the pick-up location and delivers it to the drop-off point.
Strengths: With point-to-point delivery, a company is able to provide flexible and efficient delivery services for customers.
Weakness: Sustaining a solid delivery network of motivated couriers takes lots of effort and investment. For example, DoorDash pays over $200 for each carrier recruited, and carriers typically stay with the company for only three to six months. To maintain a team of 25,000 carriers, DoorDash has to spend around $5,000,000 every few months.
#3 Fully integrated model
Fully integrated platforms manage the entire food cycle: they source ingredients, prepare meals, and deliver them. These platforms can cater to individual customers or corporate clients. Metabolic Meals arranges special corporate meal plans and delivers healthy delicacies right to offices.
Prepared meal services often partner with a celebrity chef. Eat Purely, for instance, delivers dishes made by Michelin Star chefs.
Main challenge: high operating costs
Many prepared meal services have been burned by enormous operating expenses, especially services that have tried to prepare their own food and deliver meals. These companies need to be equipped with refrigerated trucks, coolers, ice packs, heaters, and other costly investments.
Maple, for example, maintained a fleet of cars with food heaters inside them. The company was losing money on each dish, resulting in a $9 million operating loss for 2015. Their revenue only amounted to $2.7 million. The company eventually shut down.
A low customer retention rate along with operating losses on each meal made another food delivery startup, SpoonRocket, close its doors in 2016. Yumist and Sprig also became victims of this high-burn business model.
One possible way to lower operating expenses is to increase the density of orders to be able to make multiple deliveries at a time. This way you can at least lower logistics expenses.
Technological advances like self-driving delivery vehicles and drones can both reduce delivery time to 20 minutes and save money on carrier's wages. Ele.me, a Chinese food delivery platform, has already started using drones to cover 70 percent of all deliveries.
Which way should you go?
Offering a prepared meal service can give you an edge over your competitors, as you can focus on a specific niche like vegans, meat lovers, or people passionate about molecular cuisine. Yet this type of startup is the riskiest and can easily burn out.
Arranging a robust delivery system may be exorbitantly expensive as well. So if you're a newcomer to the food delivery market, you'd better start with the simplest business model ‒ order only ‒ and then move on once you have a solid base of partnering eateries.
If you want to know about the latest technologies to advance your food delivery business, subscribe to our blog.