Top Must-Have and Additional Features for Your B2C Marketplace
6108 views
15 min
Mar 25, 2021
The global B2C ecommerce market size and share value are estimated to reach almost $5,000 billion by 2026 compared to $780 billion in 2019. If you want to build your business-to-customer (B2C) marketplace but don't know what features it should possess, you've come to the right place. In this article, you'll discover features of B2C ecommerce platforms you need to implement to meet your business objectives and your customers' needs.
Let's start with must-have features without which your B2C marketplace won't survive.
Must-have features of a B2C ecommerce platform
These features are the core of your B2C marketplace, and you can't ignore them when creating your platform. If you don't include these features, you won't be able to cover the basic needs of your target audience.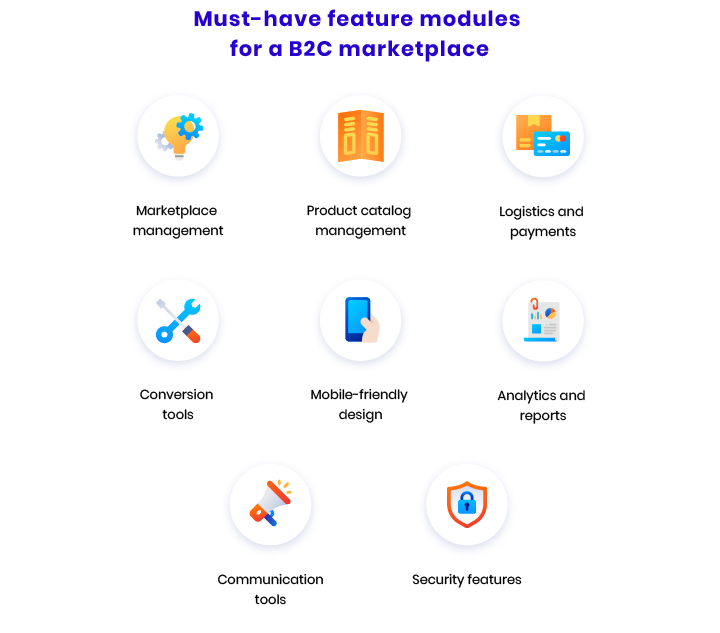 Let's have a detailed look at these compulsory features of B2C ecommerce marketplaces.
Marketplace management features
Marketplaces usually have three types of users: admins, sellers, and buyers. All users should be able to effectively manage their activity on your marketplace, and there are three feature sets that can make platform management flawless.
Admin panel 
An admin panel is a module for a marketplace owner or administrator. Without an admin panel, it's impossible to configure and adjust settings for the platform. You also need a powerful admin panel to manage users (both buyers and sellers) and processes. The admin panel should be user-friendly to allow admins to work with the marketplace even if they don't have a technical background. 
Seller dashboards 
A seller dashboard should give sellers the freedom to manage products, orders, returns, and refunds and allow them to adjust sales-related settings on their own, without the need for admins. Sellers should also be able to effectively communicate with buyers via a seller dashboard as well as track analytics and statistics. 
Buyer accounts 
Not all buyers want to register on a marketplace when shopping. However, for buyers who often return to a marketplace, it's convenient to have a personal profile where they can manage their orders and communicate with sellers.
In their personal profiles, buyers should be able to configure their personal and account information, change credentials, manage payment information, track orders, use a message center to communicate with sellers, and explore product reviews.
Product catalog management
In a multi-vendor marketplace, catalog management should be available for administrators and sellers. Both admins and sellers should be able to work with catalogs to ensure products are appropriately represented on the marketplace.
Catalog management
Marketplace admins should be able to set a catalog structure to ensure consistency in their marketplace. Once admins create catalog categories and subcategories, sellers can continue working with them on their own.
Product creation
This feature should allow sellers to manage their products, making it easy for them to create new products and provide product descriptions, images, options, option values, variants, dimensions, properties, and prices. 
Product sorting and filtering
Sellers should be able to quickly find a product to edit or delete it, set a new price, change the product category, or perform any other action. 
Listing moderation
When sellers create listings, admins should be able to moderate them hassle-free. It's important to have functionality to check and approve new products either manually or automatically. 
Restricted categories management
Admins need this feature to ensure that all products on their marketplace are of high quality. With restricted categories, admins can verify goods that need a license or special permission to be sold.
Logistics and payments 
Another functional layer that must be incorporated into your B2C marketplace is logistics and payments. This set of features is vital for sellers as well as buyers. 
Order management 
You need this feature to allow sellers to get comprehensive order information. Sellers should be able to export order information, print shipping labels, and cancel or edit orders from their personal dashboards. Sellers should also be able to see an order activity feed with data time tracking of all order activities.
Custom shipping management
With this feature, marketplace administrators can add multiple carriers to provide sellers and buyers with various delivery options. Moreover, the more carriers your marketplace cooperates with, the wider the geographic area you can target.
Shipping calculations
You can greatly enhance the buying experience by implementing automatic shipping calculations. With this feature, buyers will always know how much delivery will cost before their order is shipped. 
Product returns and refunds 
This feature set gives sellers an opportunity to automate customer returns and refunds. Through the seller's dashboard, it should be possible to track customers' return requests, communicate with customers, and approve or deny their requests. 
Payment gateway implementation
You should decide which payment gateway to choose for your marketplace to ensure automatic and secure payments for your sellers and buyers. With a reliable payment gateway, transferring and receiving payments, providing refunds, and paying marketplace fees becomes effortless. 
Credit card payments
Card payments account for almost 50% of all non-cash payments, so implementing a credit card payment feature is a must for ensuring a great user experience.
Single-page checkout 
Make sure buyers on your platform don't get confused when it's time to pay. The checkout page should be user-friendly to help buyers make purchases fast and conveniently. 
Guest checkout
By implementing guest checkout, you can make your marketplace more attractive for buyers. Guest checkout is a great option for people who come to a marketplace for a one-time purchase or for those who get frustrated with creating accounts.
Conversion tools 
These features are compulsory for your B2C marketplace if you want to attract more customers. Let's have a look at the functionality that will help you grow your customer base and create a loyal community around your marketplace.
Reviews and comments 
Allowing buyers to review products and leave comments has several advantages for your marketplace. First of all, reviews increase the trustworthiness of your marketplace in the eyes of new buyers. Secondly, sellers can analyze buyers' reviews and understand which products people like and don't like. Finally, as a marketplace owner, you can use reviews as a quality control indicator. 
Product ratings
Another way to get feedback from buyers is to implement five-star ratings. Although such ratings don't give comprehensive information on buyers' satisfaction with products, they're a fast way to see general opinions. 
Likes 
The ability to identify products buyers like is beneficial for buyers as well as for sellers. With likes, sellers will know what products are in demand while buyers will be able to quickly find popular products.
Wishlist
Letting buyers on your platform save products to wishlists will improve their shopping experience. If a buyer really likes an item but doesn't have the intention or opportunity to purchase it right away, they can add it to a wishlist and buy it when they're ready. 
Products on sale
Thanks to this feature, sellers can set promotional prices as well as indicate percentage discounts. As a result, sellers will be able to attract more customers to your marketplace.
Mobile-friendly design 
There's no choice but to make your marketplace mobile-friendly. In 2020, mobile ordering increased up to 250%, which means your marketplace must provide users with an opportunity to sell and buy on the go. 
Analytics and reports
Analytics and reporting functionality should be available for admins and sellers to get comprehensive information on sales numbers and should include the ability to generate, edit, and export reports. 
Communication tools
Sellers and buyers should have a straightforward way to communicate inside the platform and discuss questions that might arise. 
Live chats
Live chats allow buyers to contact sellers whenever they have a question or an issue. Whether a buyer needs to clarify something about an order or get any other valuable information, they should be able to do it right from their account. 
Buyer support 
In case buyers can't get appropriate assistance from sellers or want to learn general information about the marketplace, marketplace administrators should be able to help. Implementing a buyer support center will help you keep in touch with buyers.
Security features
You definitely should take care of your marketplace security to ensure peace of mind for sellers, buyers, and yourself. Let's have a look at the features that will improve security on your B2C ecommerce marketplace.
Database backups
By doing regular backups, you can be sure information on your marketplace doesn't get lost even if external factors interrupt your platform's operation. With backups, recent data can always be restored.
Compliance with personal data protection requirements
According to a 2019 report by Cisco, 84% of online users care about protecting their personal data. That's why complying with personal data protection requirements is a must for marketplaces. Make sure you comply with regulatory requirements in force in areas where your marketplace operates. 
The European Union requires GDPR (General Data Protection Regulation) compliance, American marketplaces must be CCPA (California Consumer Privacy Act) compliant, and Canadian marketplaces must comply with PIPEDA (the Personal Information Protection and Electronic Documents Act).
Features that add value to your B2C business
While must-have features of B2C ecommerce make your marketplace viable and able to satisfy the basic needs of sellers and buyers, additional features can help your platform stand out from your competitors and provide an exceptional customer experience.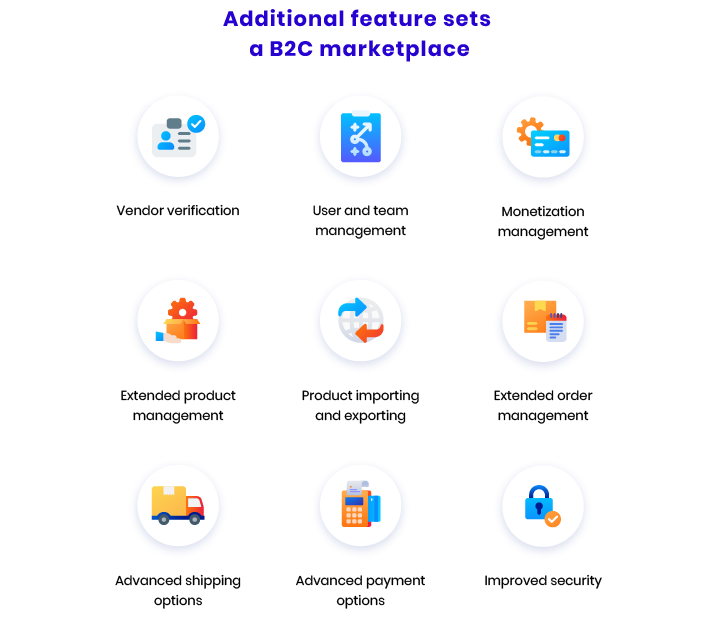 Let's discuss what features can add value to your B2C multi-vendor platform. 
Vendor verification 
To ensure you cooperate only with reliable sellers, you can think about implementing a vendor verification feature. This will help you pick the best sellers and increase the trustworthiness of your platform.
User and team management 
You can think about extending your and your sellers' functionality to make it easier to manage your marketplace and separate stores. Distributing roles and permissions allows sellers to work on a marketplace with their teams. Company owner, company administrator, and company manager are several roles you might want to provide for your sellers. 
Marketplace monetization management 
Providing your sellers with several monetization options can encourage them to choose your marketplace over others since they can opt for a monetization plan that best suits their business needs. 
Vendor fees
When setting vendor fees, you can choose the most suitable option for you: a fixed percentage of each successful transaction, a fixed price per successful transaction, or a percentage plus a fixed price.
Subscriptions 
By implementing subscriptions as a payment option for vendors, you can optimize your marketplace monetization model and give an opportunity for sellers to choose different subscription plans depending on their needs.
Extended product management
Sellers on your platform will be happy to have a range of instruments to work with their products faster and more conveniently. The list of features below will help marketplace vendors manage their products in a straightforward way.
Bulk product management
By implementing this feature, you allow sellers to edit, add, and manage several products in one go, saving time and boosting productivity.
Product options, variants, and types
This feature helps sellers present all product variations from a single product page, including different sizes, colors, dimensions, and materials.
Product prototypes
A marketplace administrator can effectively manage how products are represented on the marketplace using prototypes. Prototypes make it possible to create a universal product description form for sellers. This allows you to maintain uniform product presentation across marketplace sellers by providing "blueprints" for different types of listings.
Product drafts 
By implementing this feature, you'll allow sellers to save product descriptions and return to them as many times as needed. This will be extremely useful when sellers need to fill in a lot of information about a product. 
In-stock product management
It's sensible to provide automated product stock management to make sellers' lives easier. By implementing such a feature, you'll help your sellers avoid supply delays and always know when it's time to restock. 
Automated product inventory tracking
This is another feature that can save vendors time and make routine actions productive. By clicking on a product, sellers should know how many units remain.
Advanced catalog management 
This feature is aimed at providing admins with the ability to create even more product categories and subcategories on their marketplace. As a result, sellers will have more options when customizing their stores and product listings.
Coupon management 
This feature will help sellers boost their sales while buyers will be able to conveniently use coupons and get discounts.
Global search for vendors
Sellers will appreciate the ability to search for products, orders, and settings in one place.
Let your sellers find relevant search results when they start typing by implementing autocomplete or autosuggest and you'll multiply sellers' satisfaction with your platform.
Product importing and exporting
This set of features will improve the user experience of your sellers by allowing them to manage information on products, sales, revenue, etc. with maximum convenience. Moreover, such features can help you attract more vendors to your marketplace.
Templates 
Templates are a great way to let sellers import product information from other platforms. With templates, sellers can migrate from another ecommerce platform to yours hassle-free. 
Step-by-step importing 
You can make the importing process even easier by implementing a system of hints so sellers don't have to guess how to transfer information. 
Product mapping
By implementing this feature into your marketplace, you provide sellers with the ability to specify the CSV file structure. Thanks to this, product data will be organized correctly and importing will be successful.
Delayed importing 
You can make the importing process easier for sellers by providing an option to postpone product importing. This way sellers can transfer product information in several steps if product catalogs are large. 
One-click exporting 
If you or your sellers need to export information on sales, returns, companies, etc. for offline storage, you should think about implementing one-click exporting so users can download all reports as CSV files.
Extended order management
To make your B2C marketplace even more user-friendly, consider implementing more features that ensure smooth interactions with products and product catalogs. 
Order management system
You should provide your sellers with the ability to track order statuses and delivery details, contact buyers, print packing slips, and cancel orders in one place. This will increase sellers' productivity and enhance the user experience. 
Bulk order actions
You can implement bulk order actions to improve sellers' productivity and help sellers save time on order processing. 
Fast printing of packing slips
If you allow sellers to print packing slips easily, you'll simplify their daily routine. 
Order status and warehouse management 
Another feature that helps sellers save time is automated order and warehouse status tracking so sellers don't need to change the status of every order manually. You can also make warehouse tracking much easier by automating processes related to logistics.
Advanced shipping options
Make your platform even more satisfying for sellers and buyers with extended shipping functionality. Below, we list the features of B2C ecommerce platforms that can help you do this.
Numerous carriers 
Your marketplace should be able to manage as many carriers as possible to provide sellers and buyers with the most convenient shipping options. 
Shipping labels
Give sellers the opportunity to quickly and conveniently print shipping labels, making sure orders are always delivered to the right place.
Tracking IDs
You can implement tracking IDs so buyers on your platform can track their orders in a convenient way and save time on communication with sellers.
Advanced payment options 
In addition to must-have credit card payments, you might want to provide your marketplace users with advanced payment methods. This will help you meet the needs of buyers with different payment preferences and attract more buyers to your platform.
E-wallets
This payment option is becoming more popular, especially in Asia–Pacific countries. If you want to target the Chinese market, for example, you should consider adding an e-wallet payment method to your platform.
Autocomplete payment forms
This feature should add to the convenience of making purchases and shouldn'tt affect payment security. Autocomplete functionality remembers previously entered payment information and offers buyers to use it when they make their next purchase.
Multi-merchant checkout
This is an extremely convenient feature for buyers which allows them to buy from several sellers on a marketplace and pay for all purchases with one payment. 
Cash on delivery 
Cash payments are still around even with the increase in electronic payment options. According to the G4S Cash Report, for people in 75% of surveyed countries, cash payments still make up 50% of all transactions. If you provide a convenient way for customers to pay in cash, you'll be able to attract even more buyers to your platform.
Improved security 
Last but not least, you should take care of your marketplace's security to benefit you and your customers. For example, you can think about implementing data logs in your marketplace to see which admins make changes to your marketplace and when they make these changes. With this information, you can foresee security violations, performance problems, and other issues that might affect your platform's operations.
Recap
The list of must-have and optional features of B2C ecommerce platform is extensive and may look a bit scary. However, you should consider implementing the majority of them to make your marketplace as functional and convenient for your users as possible.
FAQ
The must-have features of a B2C marketplace can be divided into eight groups:

Marketplace management features include an admin panel, seller dashboard, and buyer accounts.
Product catalog features consist of catalog management, product creation, product sorting and filtering, listing moderation, and restricted categories.
Logistics and payments features are about order management, custom shipping management, shipping calculations, product returns and refunds, payment gateway implementation, credit card payments, single-page checkout, and guest checkout.
Conversion tools power reviews and comments, product ratings, likes, and product sales.
Mobile-friendly design
Analytics and reports
Communication tools with live chats and buyer support
Security features including data backups and compliance with personal data protection requirements

There are certain features your B2C marketplace can do without. However, it would be nice to include them in your platform, as they can improve the user experience for sellers and buyers. Here's a list of feature modules that can make your marketplace better:

Vendor verification
User and team management
Marketplace monetization management
Extended product management
Product importing and exporting
Extended order management
Advanced shipping options
Advanced payment options
Improved security