How to Attract Vendors to Your Marketplace: Top Seven Approaches
7397 views
7 min
Feb 25, 2021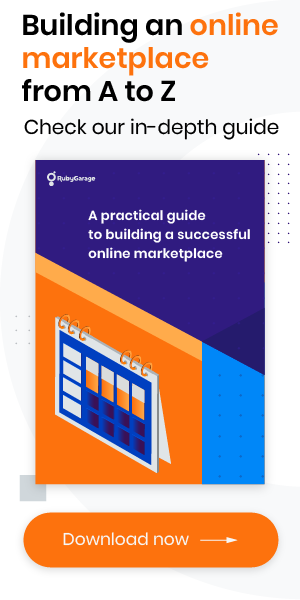 Every new marketplace faces the chicken and egg problem and has to decide whom to attract first: vendors or buyers. Of course, bringing both sides simultaneously would be an ideal scenario, but hardly any marketplace manages to do so. Thus, two options remain: get vendors first or get buyers first.
In this guide, we'll tell you how to attract vendors to your marketplace first and how you can benefit from it.
Why it's worth attracting vendors first
When choosing between attracting the supply or demand side first, marketplace owners might want to opt for the supply side for the following reasons.

Vendors are more motivated to join your platform
For vendors, joining a new marketplace is a more attractive option than for buyers. Buyers will hardly want to join an empty marketplace, while vendors risk nothing by joining if you offer them good conditions. 
A great example is Uber. When Uber started, it offered drivers fixed minimum pay until first ride requests started to appear. Thus, drivers didn't risk anything when joining the platform. 
Vendors can bring their customers with them
If vendors already have their own offline or online stores, they might have loyal customers who follow them. By attracting existing stores, you'll be able to kill two birds with one stone and get the supply and demand side simultaneously. 
Attracting a couple of big market players encourages others to join
If you manage to attract big market players with good reputations, the trustworthiness of your marketplace will grow. As a result, smaller vendors will follow the example of big ones and join your platform.
As long as you can provide beneficial conditions for cooperation with vendors, getting them to your marketplace before buyers is a winning option. Let's see how to get vendors for marketplace. 
How to attract vendors to your marketplace
There are numerous ways to nudge vendors to join your marketplace. We're going to discuss approaches that have helped world-famous marketplaces attract their vendors.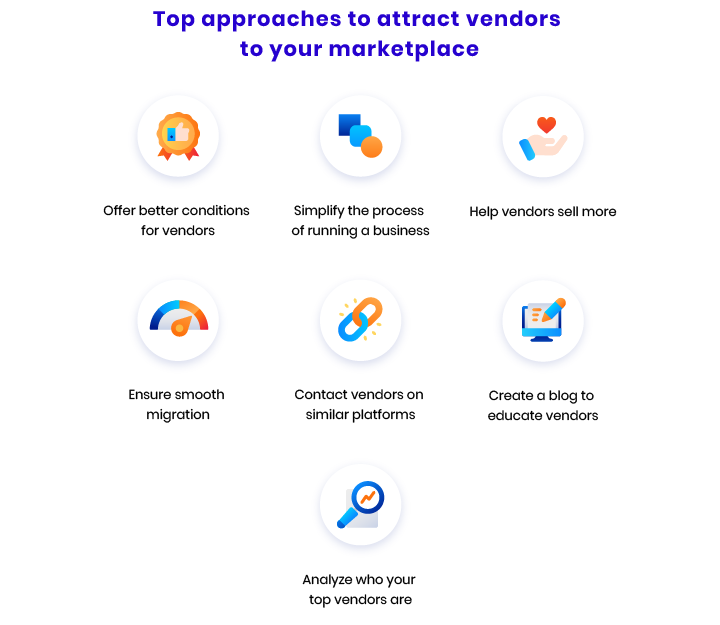 Approach #1. Offer better conditions for vendors
To understand what conditions are best for your vendors, you might start with competitor research. By looking at what your competitors offer their vendors, you can come up with ways to outperform them. Here are some ideas: 
Lower fees. Research your competitors' fees and think if you can lower yours. When choosing a marketplace among platforms with similar conditions, vendors might consider the one with lower fees the most favorable.
Offer more monetization options. Allow vendors to decide on what conditions they want to cooperate with you. Implement several monetization options for your marketplace and let your vendors choose the most convenient: listing fees, commission, subscriptions, etc.
Offer a free trial. Etsy used this approach to attract its first vendors. They not only offered one month of free product listings but removed sales fees for the first month.
Provide insurance or another appropriate offer that makes cooperation with your platform secure. For example, Alibaba integrated a system of escrow payments to protect vendors and buyers from fraud.
Approach #2. Simplify the process of running a business
Vendors who sell on marketplaces don't necessarily have technical skills and experience working with comprehensive software. It's your responsibility to provide them with understandable and straightforward functionality. Here are some aspects you should consider when building a marketplace.
Advanced vendor dashboard. Ensure your vendor dashboard has all the necessary functionality to help vendors sell with maximum convenience. Pay attention to the UX and make using a dashboard easy for your vendors.
Automated inventory management. With this feature, vendors don't have to track the number of available products manually, so they can save time and focus on more important tasks.
A team management feature allows vendors to add more team members to their dashboards and process buyers' order forms faster to provide better service.
A thorough catalog structure helps vendors list their products effortlessly and present them in the best light. 
These are only a small part of the features that can enhance the usability of your marketplace for vendors. Think through all features that can make using your marketplace desirable for vendors and try to implement them in your platform.
Approach #3. Help vendors sell more
For 93% of buyers, sales are an incentive to make a purchase. Consequently, vendors need the functionality to easily manage sales and give discounts. Here are some features that can help vendors on your platform sell more:
Sales labels allow vendors to mark discounted products or services to attract buyers' attention.
Bulk product management helps vendors save time when adding or editing product listings.
A mobile-optimized platform is a must in the modern market. Buyers tend to purchase more using their mobile devices than PCs or laptops, so you need to make sure your marketplace operates great not only as a web platform but as a mobile app.
Approach #4. Ensure smooth migration
If you attract vendors from other platforms, you want to ensure they can transfer all necessary data to your platform hassle-free. To do this, you need to create functionality that allows vendors to automatically move information on products, catalogs, and prices from other ecommerce platforms.
When you're sure your platform is packed with features that allow your marketplace to stand out among competitors, it's time to lure vendors to it.
Approach #5. Contact vendors on similar platforms
Looking for vendors on similar platforms is one of the most reliable ways to attract your target audience. You can prepare a list of platforms that operate in your business domain and offer their vendors to try out your platform. To arouse interest in your marketplace, tell vendors about your business and the benefits they'll get when cooperating with you.
You can reach out to vendors from other platforms using online forums and social media communities or by visiting offline events. As the example of Airbnb shows, you can find potential vendors even on ad websites that aren't directly related to your industry. When the Airbnb founders started looking for hosts who wanted to rent apartments on their site, they contacted people from Craigslist. By reaching out to Craigslist users and offering to work with them, the Airbnb founders managed to attract the first vendors to their marketplace.
Approach #6. Create a blog to educate vendors 
Another way to attract vendors is to show your expertise. You can do that by running a blog where you share educational content. On your blog, you can teach new vendors about the features of your marketplace. You can also show statistics on the number of buyers and revenue to encourage vendors to use your marketplace.
A blog is also a place where you can take advantage of SEO. By optimizing your blog posts, you can increase your position in Google search results, thus creating more trust in your marketplace.
eBay is a well-known marketplace that uses its blog to the fullest. On eBay, vendors can find seller news, a knowledge base, discussions, and more. The platform also has a tech blog where vendors can find news about technologies implemented on the platform. 
Approach #7. Analyze who your top vendors are
When you attract the first vendors to your marketplace, it's a sensible idea to analyze them to understand if they align with your initial idea of your target audience. You might have thought about one type of potential customer before advertising your platform. But your target audience could change when you get the first vendors. Collect information about your current vendors, determine their main characteristics, and retarget your audience if needed. This will help you make your marketplace focused and attract the right audience. 
Etsy is an example of a super-specific marketplace that managed to precisely define its target audience. Thanks to such specificity, Etsy is the largest global marketplace for craftspeople who want to sell their goods and buyers interested in handmade products.
Final thoughts
Attracting vendors to your marketplace first is a winning strategy that will help you organize the supply side and, in turn, attract buyers faster. Take advantage of the tips in this guide to get vendors for marketplace in an effective way.
FAQ
To attract vendors to your marketplace, you can use one or mix several of the following approaches:

Offer better conditions for vendors
Simplify the process of running a business
Help vendors sell more
Ensure smooth migration
Contact vendors on similar platforms and leverage press
Create a blog to educate vendors
Analyze who your top vendors are

You can consider different ways to attract customers to your marketplace. It's possible to attract vendors first, buyers first, or both sides simultaneously. However, getting vendors first has some advantages:

Vendors are more motivated to join your platform than buyers
Vendors can bring customers with them
Attracting a couple of big market players encourages others to join

Your marketplace should include features that make it easy for vendors to sell. An advanced vendor dashboard, automated inventory management, bulk product management, and a thorough catalog structure are only a few of the features you might consider to provide a great user experience for your vendors.

If you need to build a marketplace that will attract not only vendors but also buyers, we have a solution for you. Contact our team and tell us about your project!