How to Promote a Marketplace Before Launch and Why It's Worth Doing
8970 views
5 min
Jan 21, 2021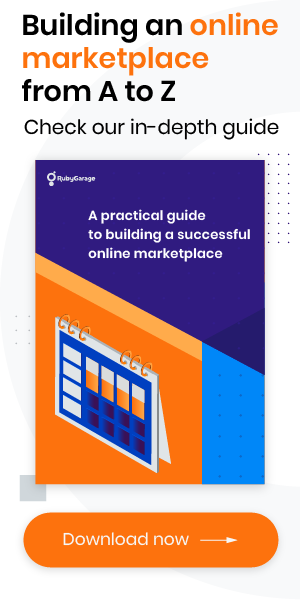 Penetrating the online market is more challenging than ever. However, there's always a way to stand out from the crowd. If you're just creating your marketplace and want to know how to promote a marketplace before its official launch, this blog post is for you. 
In our article, you'll find proven approaches that have helped world-known marketplaces attract customers before they officially launched their platforms. Let's go through each of these approaches to find out how you can leverage them.
Approach #1. Use the power of SMM
Social media marketing, or SMM, is a powerful tool you can use to promote your business as well as to learn more about your target audience. There are three main ways you can use social media to benefit your business prior to launch.

The first way you can use SMM for your business is to communicate with your target audience. By joining communities where your target audience hangs out, you can learn about their pain points, interests, and desires. More than that, when studying your potential customers on social media, you can collect information that will help you better communicate with them via your website content and ads. 
It's a sensible idea to write down the words your community members use when discussing their needs and desires. Later on, you can use this information to precisely address their pain points.
You can also communicate with your target audience, and once you get acquainted with them, you can start speaking about your ecommerce store or marketplace. This will help you take the first steps in promoting your marketplace. Moreover, you'll be able to understand if people like the idea behind your business. 
Another way to promote your business before its launch is to create social media pages to boost brand awareness. Appearing in people's news feeds will help you attract attention and warm up interest. You can post short descriptions of features in your upcoming ecommerce store or marketplace and analyze the reaction of your target audience. This can help you define the preferences of your potential customers. 
If you're starting a multi-vendor marketplace, you can use your social media pages to reach potential vendors. For example, you can contact vendors via LinkedIn and offer them to join your marketplace.
Approach #2. Look for potential customers on existing platforms
If you have no idea where to find your first users, look around and think whether you can attract customers from other platforms, no matter if they're online or offline. The example of Airbnb, whose founders contacted their first potential users via Craigslist, shows that this can be a working strategy.
You can also promote your ecommerce store or marketplace at offline meetings, just like Tinder did. At the very beginning of Tinder's existence, cofounder Whitney Wolfe would organize meetings with local college students and present them the app. She also asked every visitor who came to the meetings to sign up, which was how Tinder got its first 15,000 users.
Approach #3. Create a landing page
A landing page is a standalone page that aims at converting visitors to future buyers and vendors. Collecting emails of potential users is a core activity you should perform on your teaser landing page. Once you have a list of potential users in hand, you can create an effective email marketing campaign and efficiently promote your online business. 
To encourage landing page visitors to leave their email addresses, you have to offer them something in return. As a rule, upcoming ecommerce stores and marketplaces offer incentives. For example, Creative Market, an online marketplace that sells design assets, offered each user $5 in credit when the marketplace was launched.
A landing page can also help you better understand your target audience. By using Google Analytics to analyze traffic on your landing page, you can get information about your visitors to find out information about them. You can learn what devices they use, how often they visit your site, and how long they stay there. If you provide a cookie policy on your landing page, you'll also be able to track such metrics as visitors' age, gender, and geographic location. With this information in hand, you can discover another layer of potential customers you haven't thought about before.
Approach #4. Take advantage of email marketing
Once you've created a list of potential customer emails, you can use email marketing to the fullest.

With an email list of your potential users, you'll be able to establish and maintain effective communication with your users before and after your marketplace is launched. However, you should be very careful when communicating via email. You shouldn't send emails too often. Otherwise, your customers may find you intrusive. 
Approach #5. Create a sneak peek video
Video is a fast and effective way to convey information and provides more engagement compared to articles or other content. Moreover, 54 percent of consumers who took part in a 2017 HubSpot survey claimed they would like to get more video content from the brands they buy from. 
You might want to benefit from the increasing demand for video content and advertise your marketplace in a video. Its subject can vary from the main features of your marketplace to questions that might arise when using your marketplace.
Whatever subject you'll discuss in your video, it's a winning piece of content that you can promote anywhere: on your landing page, on social media, or in your emails. 
Wrapping up
Don't underestimate the benefit of promoting your marketplace before its official launch. Take advantage of a pre-launch marketing campaign and get enough potential customers to start your business.
FAQ
To promote your marketplace or an ecommerce store before it's launched, consider the following approaches:

Use the power of SMM
Look for potential customers on existing platforms
Create a landing page
Take advantage of email marketing
Create a sneak peek video

It's up to you to decide what approach or approaches best fit your business goals. Some might work better than others in your particular situation. However, the more opportunities you use, the more customers you're likely to attract.

By promoting your marketplace in advance, you have a better chance of gaining customers before launch. As a result, you can expect to get revenue from day one of your marketplace's operation.

Need help building your marketplace? Our professional team of developers can assist with your project. Contact us to share the details.