How to Successfully Redesign a Website
3501 views
8 min
Aug 06, 2019
Want to boost your conversion rate, retain users, and solve issues with your website? You might need to consider a redesign to make your website more appealing, attractive, and conversion-friendly. Let's see what it takes to redesign a website and how to make this process fruitful.
Signs that it's time for a website redesign
If you encounter any of the issues given below with your website, the reason might be in your website's design. Let's look at the top indicators that it's time to redesign your site. 
You don't see any business results
If you don't see an increase in sales and conversions, realize that the cart abandonment rate is high, or understand that your website isn't contributing to your business goals, then it's probably time for a redesign. 
Your visitors leave the site quickly
If visitors stay on your website for less than a few seconds, that means they're not interested in reading, buying, or whatever else. This results in a high bounce rate and a poor conversion rate. In this case, the problem might be poor design solutions that turn users away. 
Users get lost when visiting the website
When potential customers visit your website, they should understand what to do from the first glance. The navigation should be as easy as possible so users can find the information they're looking for in a couple of seconds. If visitors get lost when visiting your website and leave, pay attention to simplifying navigation. 
Your branding is outdated
Outdated design and outdated branding don't only influence aesthetics. These can be subtle signs to your users that your business isn't keeping with the times. On the other hand, fresh design solutions can keep people engaged. If your website was designed more than five years ago, it will look a bit outdated. 
Your competitors have redesigned their websites
Since brand competitiveness is essential for online businesses, it's important to analyze your competitors and improve on existing solutions. If your competitors have already redesigned their websites, you should keep that in mind. This can also be a sign that you should improve and update your website according to new trends. 
Your website doesn't bring value to customers
If a potential user visits the website once and doesn't find anything valuable, they probably won't return. In order to change this, you should probably rethink your business strategy and design. 
Your website isn't mobile responsive
People increasingly use multiple screens. This means mobile-optimized websites are important for users and for a website's success. If your website isn't optimized for mobile devices, this can result in valuable leads being lost and overall user dissatisfaction. 
How we redesign a website at RubyGarage
In this section, we'll share with you our website redesign process. RubyGarage is a research-driven design and development company, so before improving your website's functionality, we insist on conducting an in-depth UX audit. The process of website redesign contains the following stages:
UX audit
The RubyGarage design team reviews every website or app page for visual design cues and UX standards, measures product usability, and checks for compliance with common design principles and best practices. We believe that a quality UX audit of a digital product starts with in-depth research and analysis. 
Our designers begin with analyzing your competitors, market, and target audience. During this research, we compare your competitors' strong and weak points and pay attention to what features are lacking and what we need to avoid. We also investigate your product's market and niche. This helps us to be sure that you're bringing the correct value propositions to the right audience and that these values are relevant to your business objectives. At this stage, we create a sitemap that defines the current architecture of the website and serves as a guide for adding new features later.
Gathering and processing the data from the research is the basis for further product redesign phases. Here are some of the things we look at during a UI/UX design audit:
UX design
UI design

Information architecture
Navigation
Page hierarchy
User flow
Adherence to platform guidelines
Alignment with common design patterns
Misleading UX solutions
Missing/extra elements
System feedback issues and bugs
Usability problems

Design consistency
Alignment
Scaling
Contrast
Issues with mobile responsiveness
After we've evaluated your website's usability and functionality, our UX expert forms a written report that contains recommendations for fixing issues and improving the overall website usability. You'll get the following outcomes from a UX audit:
High-level recommendations regarding issues that impact overall product performance
An overview of issues according to their level of severity
A detailed list of UX issues with illustrative examples
Recommendations for solving the problems identified
Redesign process
When the UX audit is done and the organization of the new features is clear, we use the sitemap we built previously to create a revised product architecture. We create new wireframes that serve as a roadmap for designers and developers in building a new version of the product. 
Based on the wireframes, our designers create prototypes and mockups – key elements of any digital product. At the prototyping stage, project stakeholders can test the redesigned pages to uncover usability issues and ensure everything works as intended. 
Finally, when every detail has been reviewed and tested, the fresh design solutions are ready to be released. 
Now that you know what's behind the scenes of the redesign process, let's look at successful redesigns of websites we all know.
Сase studies of successful website redesigns
Walmart
The first and one of the most interesting website redesigns were done by the ecommerce giant Walmart. In 2018, Walmart redesigned its main website in terms of both aesthetics and functionality, taking a whole new approach to the buying experience. Walmart introduced a complete visual makeover and personalization elements to create an absolutely new look and feel. Let's compare the old and new versions of their website in detail and learn what they changed.
The Walmart website now is more vibrant, modern, clear, and personalized. Their new UI design features lots of white space, putting an emphasis on targeted products. 
Walmart now showcases items according to a user's region and individual preferences. After conducting a series of tests, Walmart realized that the regional basis for personalization works great with their customers. Shoppers in Miami, for example, tend to have similar preferences, which makes it easy for the website to provide a faster shopping journey. 
The new website design also includes a new hamburger menu, improved icons, a less cluttered UI, a clearer visual hierarchy, and improved typography. All of these changes make the Walmart website fresh and engaging. 
HubSpot
A few years ago, HubSpot realized they needed to redesign their website. Their main objectives were to increase conversions, get rid of design debt, and improve the overall user experience. Design debt is what happens to a website when the overall experience isn't that great but the website is still performing well. When such a situation happens, the website should be scaled and refactored to create a consistent and updated experience. 
In order to transform their website completely, HubSpot developers and designers decided to bring to life all their wild ideas even those that went against the style guide. They changed everything from illustrations and animations to the tone of voice and CTAs. And it worked. Due to deep preliminary research and creativity, HubSpot managed to get the following results after redesigning the website:
Doubled their conversion rate
Increased sales chat volume by 38%
Increased product signups by 27%
Increased demo requests by 35%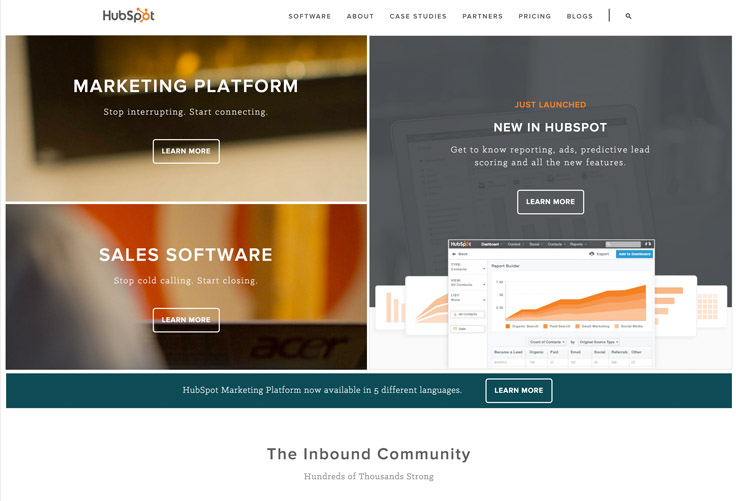 Slack
In August 2017, Slack undertook a major redesign of their website. They wanted to accomplish several goals at the same time: deliver consistent user experience, go international, and improve accessibility and performance. Their designers started with implementing a new responsive and modern CSS grid. They also added amazing illustrations, improved color contrast, and made navigation easier by adding a skip link feature. Slack promises more transformations even though they've already improved overall user satisfaction and the user experience. 
To sum up, the design is extremely important to accomplishing the goals of any business. It can influence your product's usability, conversions, and user satisfaction. Keeping your website up to date is essential for your business to grow and succeed.
Subscribe via email and know it all first!