How to Hire a Web Designer: A Guide for Choosing Freelancers, Employees, and Agencies
3206 views
12 min
May 31, 2022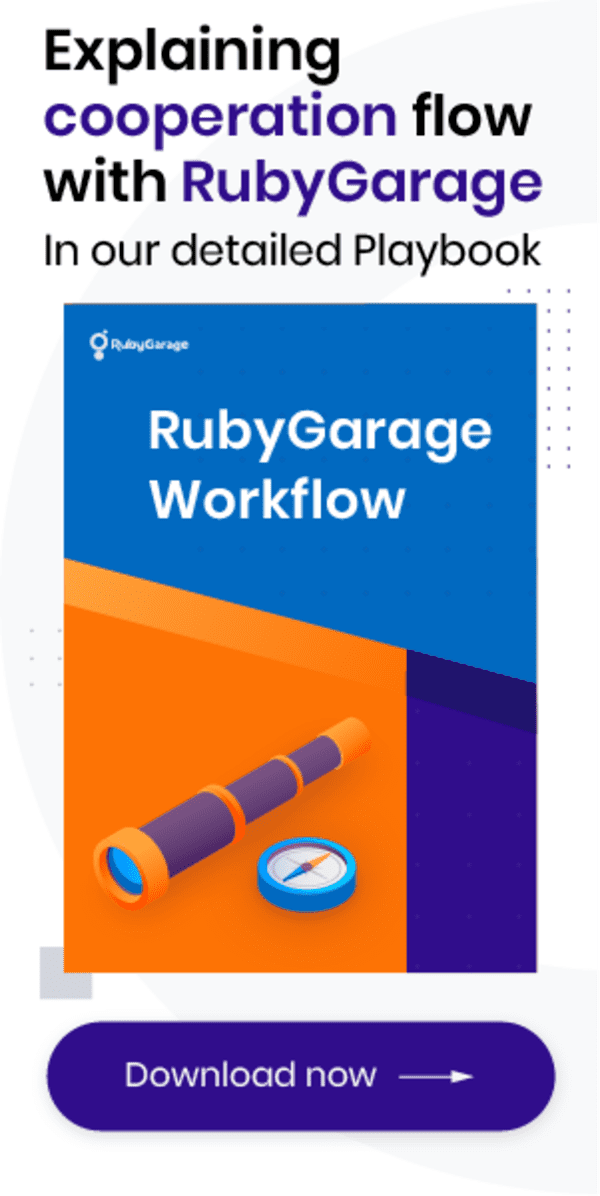 When you create a website for your business, it's crucial to make a flawless design so as to attract and retain customers. That's why you need to either hire a web designer or outsource this task. Basically, you have three options for who can design your website: a freelancer, an in-house employee, or a design agency. In this post, we look closely at each option and tell you how to choose and hire a web designer. 
Service provider

Pros

Cons

High quality 
Knows the product from the inside
Low to moderate pricing

You need to provide the rest of the team 
Limited skills
Requires constant oversight from employer 

Low to moderate pricing
Vast choice of candidates

Quality depends on the person
You need to provide the rest of the team
Team coordination is your concern 
Can be in a different time zone 

Deep expertise 
High quality
Can provide the full team
Requires little to no involvement 
Fast delivery

Price can be high
Can be in a different time zone 
In-house specialist
One option is to hire a web designer to your in-house team. In-house specialists are the best choice for ongoing projects that require changes throughout. If your project is continuous and you already have an in-house team working on it, go for this option. 
What to expect 
Pros:
High quality. Most in-house web designers do their best to deliver high-quality work, and their involvement is considerable.
Knows the product from the inside. Your employees know your product better than anyone, so they can consider all the details, leading to more precise results. 
Low to moderate pricing. The rates for in-house web designers in the US are about $29 to $36 per hour, which makes hiring an in-house specialist the cheapest option. Still, consider the paid vacations, medical insurance, and some perks you have to give your employees, and other things like taxes.
Cons:
You need to provide the rest of the team. One employee cannot design the entire product on their own, so you'll have to hire the whole team for designing your website.
Limited skills. Nobody can know everything, so you have to either provide education to your employees or scale the team to get all the required expertise. 
Requires constant oversight from employer. Your involvement in website creation is the highest when you hire an in-house team. You have to control all the work yourself and manage all processes.
Where to find an in-house designer
You can hire a web designer through platforms like Workable, Recruitee, and LinkedIn. These platforms allow you to both explore candidates and create a job post and wait for a response. The second option is more convenient and less time-consuming, especially when you have to do the recruitment yourself. 
Your job post should contain the following information: 
Job title — Whom are you looking for?
Job summary — What can a candidate expect from the job?
Location — Where is the employee supposed to work?
Responsibilities — What tasks will the employee have to accomplish and what goals do you want them to achieve?
Requirements — What knowledge and skills must the employee possess?
Benefits — What will the employee get from working for you?
Remember: The more specific you make the job description, the more relevant the candidates it will attract. 
How to choose an in-house designer
When you start getting responses to your job post, you have to go through the next steps with your candidates.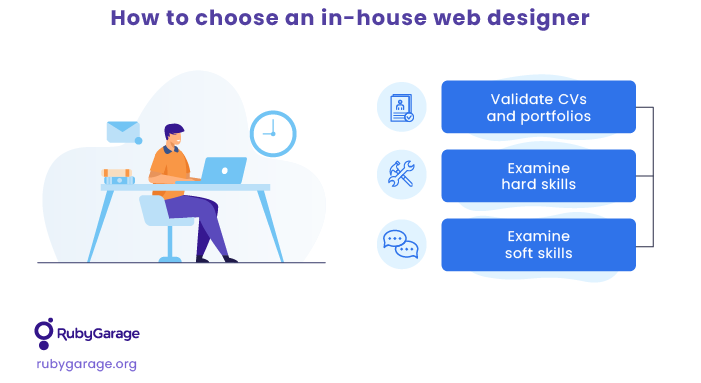 1. Validate CVs and portfolios 
Look through candidates' CVs and check if candidates have the necessary expertise, skills, and knowledge to join your team. Pay attention to portfolios to ensure candidates have enough experience and that it is proven with case studies. 
When a candidate's CV fits your requirements and the candidate's portfolio is sufficient, you can schedule an interview.
2. Examine hard skills
The skill set for an in-house employee comprises: 
Experience with design tools: Adobe Illustrator, Adobe After Effects, Adobe Photoshop, Figma
Knowledge of programming languages: HTML, CSS, JavaScript
Experience with web server management
Ability to create responsive designs
Familiarity with UX and UI design principles
Ability to create graphic design 
You can examine a candidate's hard skills in an interview, but this might be hard to do on your own. If possible, involve a technical specialist who will be able not only to ask questions but to validate answers. 
Another good idea for checking a candidate's skills is to give a test task. Try to make it related to your project to see the candidate's relevant expertise. 
3. Examine soft skills 
When you're looking for someone to join your team for an ongoing project, it's critical to provide a healthy work atmosphere. A candidate must have certain soft skills, including: 
Strong communication skills
Ability to work in a team 
Time management skills 
Critical thinking skills
Ability to understand feedback 
Patience 
Attention to detail
During the interview, pay attention to a candidate's communication, and ask questions about their previous teamwork experience. 
Freelancer 
A freelance web designer is a perfect match for short-term and not very difficult projects, when you have specific tasks and need someone to accomplish them. It's best to go for this option when you have a complete team and are lacking only a web designer.
What to expect 
Pros:
Low to moderate pricing. The average hourly rates for freelance web designers in the US range between $18 and $54. This makes freelancers if not the cheapest option on the list then at least rather affordable. 
Vast choice of candidates. There are many freelance designers to choose from. They come from various countries, offer various levels of expertise, and are ready to take on projects of any size. 
Cons:
Quality depends on the person. You never know how reliable a freelancer is, so you don't know what quality to expect. You can find a diligent freelancer who will deliver great results or someone whose work won't meet your requirements. 
You need to provide the rest of the team. Hiring a freelance web designer requires you to have the rest of your team either in-house or working on a freelance basis.
Team coordination is your concern. No matter if the team is in-house or freelance, you have to coordinate all specialists in order to get timely and quality results.
Can be in a different time zone. When you hire a freelancer offshore, you can face a huge time gap, which can cause difficulties in the work process. Still, there are technologies that help overcome this problem. 
Where to find freelancers
You can find freelance web designers on platforms like Upwork, Freelancer, DesignCrowd, and Toptal, where you can see freelancers' profiles, including client reviews and previous experience. Or instead of actively searching profiles, you can create a job description and wait for responses. 
When creating a job description for hiring a freelancer, you need to state: 
The term of the project — How long are you planning to work with a freelancer?
The project start date — When do you need a freelancer to start working on your web design?
The stage of your project — Does the designer need to brainstorm first, will you give basic specifications, or will you give detailed requirements?
Project details — What do you need the designer to accomplish? Describe the concept to work on, the goals to achieve, or the tasks to complete. 
The budget — How much are you going to spend on the project? Mention this to get candidates whose pricing falls within your budget. 
You can also look for freelancers on platforms where designers publish their work, such as Behance and Dribbble. 
How to choose a freelance designer
When you've found some candidates, it's time to validate them and choose the best one to contract with. Here are the steps you should take.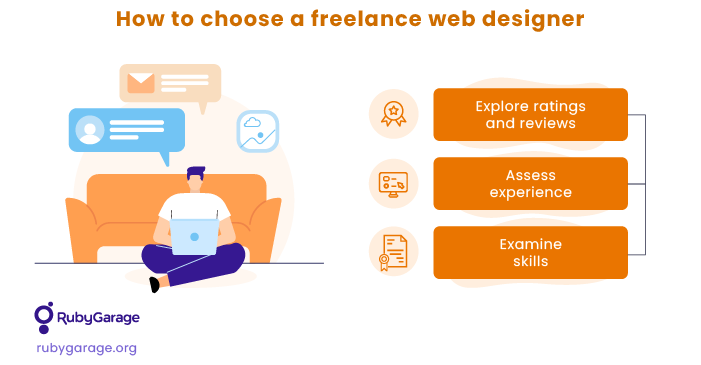 1. Explore ratings and reviews
Most freelance platforms offer customers to rate freelancers they've worked with. Explore these ratings and read reviews from previous clients to find out how diligent and involved a freelancer is.
2. Assess experience
You can either ask a candidate to write about their experience or ask about their experience during the interview. At any rate, in some manner, you have to find out a candidate's level of expertise and their experience with tasks and projects similar to yours. 
3. Examine skills
The skill set for a freelance designer is the same as for an in-house employee. You should not only ask if a candidate has a particular skill, but ask the candidate to provide examples of relevant work and comment on them. 
Also, you can give a test task to see how a candidate deals with particular challenges. 
Design agency
When you have a long-term project with a complicated structure and tasks but at the same time you don't have and don't want to hire an in-house team for all the work, you can outsource the website design to an agency.
What to expect 
Pros:
Deep expertise. You get the experience of hundreds of professionals and dozens of years in one place. 
High quality. Due to high expertise and vast experience, agencies tend to provide high-quality results at every step of the work process. 
Can provide the full team. An agency has all the necessary specialists to provide all the necessary expertise without any additional effort from you.
Requires little to no involvement. If you don't have time to spend controlling and managing web design processes, an agency can do it without your involvement. Still, if you want to take part in the process, the team will keep you updated.
Fast delivery. As all processes in an agency are usually thorough and highly adjusted, you can expect fast delivery of product increments at all stages and of the final result as well. 
Cons:
Price can be high. The price range for agencies reaches higher than for other options on the list; while hourly rates start from $20, they can reach into the hundreds. 
Can be in different time zone. You can find a great agency with affordable pricing offshore but experience a 12-hour time gap. Thankfully, there are lots of tools to help with this issue. 
Where to find a design agency
When looking for a website design agency, you have two options: 
Explore ratings platforms like Clutch, Trustpilot, and GoodFirms, where clients leave reviews and ratings of companies they've worked with.
Find and explore lists of web design agencies, where agencies are compared according to specific criteria.
How to choose a design agency
You will definitely have lots of options to choose from. We recommend paying attention to the following.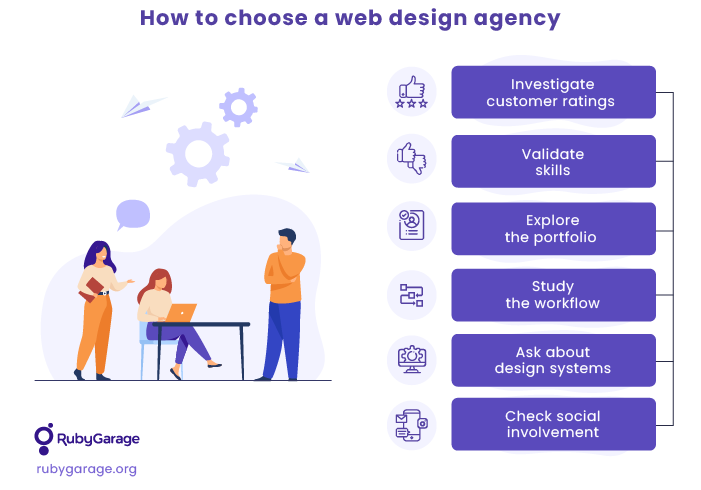 1. Investigate customer ratings
Review platforms like Clutch provide clients' ratings of agencies. They can tell you about the quality of work, pricing, and how timely the results were. This information will help you ensure the agency you'd like to contract with can meet your expectations. 
You can find more details about an agency's work in reviews that clients provide together with ratings. These reviews can also tell you what business problems an agency is able to solve successfully. 
2. Validate skills 
Even when you hire a well-known agency, you have to make sure the team working on your project possesses all the necessary hard and soft skills. The required skill set is the same as for an in-house employee.
3. Explore the portfolio
Check if the agency you'd like to hire has an accessible portfolio. If yes, explore case studies. You can visit websites an agency has designed and decide if you like the look. 
Try to find projects similar to yours or from the same industry, as this will give you an idea of what solutions an agency can offer you. 
4. Study the workflow 
The defined workflow helps provide better timing for delivery and an even higher quality of results than if the agency did everything as it happened. Clear stages help you avoid continuous work on the same issues and repetitive iterations without results. 
Some agencies show their workflow to visitors, some don't. If you can't find the information you need, contact the agency and ask for it. 
5. Ask about the design system 
Having a design system can help create a smooth user experience and reduce the time for designing standard modules or functionalities. For example, a login page doesn't have to be created from scratch, as is similar for all websites. A design system allows you to take a ready solution and customize it as desired. 
As a result, you can design your website faster while keeping it in your company's style and with a unique look. 
6. Check social involvement
You can also see if an agency has expertise by their social involvement. Sharing knowledge and experience for free is a sign that an agency is confident in the service they provide and has deep knowledge and skills. 
The simplest way to see if an agency has something to share is to explore their blog. Still, you can find many forms of social involvement, from conducting webinars and lectures to participating in technical events and tech communities. 
Summing up 
When you need to hire a web designer, you have three options: hire an in-house employee, a freelance designer, or a design agency. Each of these options is suitable for different projects and conditions. 
To choose a service provider, you need to explore hiring or ratings platforms, post a job or find candidates, and then validate each candidate in order to find the best fit. Hiring a web designer to your team or as a freelancer might require deep technical knowledge and expertise, so you'll have to involve experts. While hiring a company requires you to choose a service provider you are comfortable working with, the quality is guaranteed. 
FAQ
When you need a website designer, you have three options:

Hire an in-house employee — suitable for ongoing projects when you have the whole team in-house
Hire a freelancer — suitable for short projects when you have a team or are planning to manage freelance contributors for each task
Work with a design agency — suitable for difficult and long-term projects when you want to get the whole team from one place while avoiding hiring in-house

When you're looking for an in-house web designer, you need to pay attention to both hard and soft skills. Among hard skills are:

Experience with design tools: Adobe Illustrator, Adobe After Effects, Adobe Photoshop, Figma
Knowledge of programming languages: HTML, CSS, JavaScript
Experience with web server management
Ability to create responsive designs
Familiarity with UX and UI design principles
Ability to create graphic design

As for soft skills, pay attention to:

Communication skills
Teamwork
Time management skills
Critical thinking skills
Ability to understand feedback
Patience
Attention to detail

When you're looking for in-house employees, explore hiring platforms like Workable, Recruitee, and LinkedIn.

To find freelance web designers, visit Upwork, Freelancer, DesignCrowd, or Toptal.

If you're looking for a design agency, go to Clutch, Trustpilot, and GoodFirms, or explore lists of top companies.