Web Design Process at RubyGarage in 4 Simple Steps
40372 views
7 min
Jul 02, 2019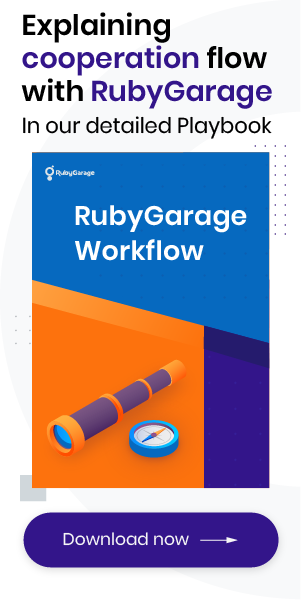 To design websites your users will love, it's essential to know what every phase of web design entails. A properly structured web design process can not only help you create intuitive products but can improve collaboration between you and your design team. In this blog post, we take you behind the scenes to see the web design process at RubyGarage.
So, web design process at RubyGarage includes four major phases: project discovery, ideation and information architecture, user interface design, and testing and evaluation after launch. Let's go deeper into what each phase includes and what deliverables you'll get. 
Phase 1: Project Discovery
Project Discovery starts with defining the project. At this phase, our design team and business analyst conduct a kick-off meeting and other activities to find existing problems and solutions in your particular niche or industry, define your product's unique value proposition, and learn about your customer segments. Based on this information, our business analyst creates a Lean Canvas to validate your business idea and avoid risks. 
Evaluating a business idea is vital both for a business owner and development team. It allows to get a full vision of a startup idea, create proper design and development strategies, and deliver a product the market really needs.
At this phase, we also conduct competitor analysis to find any basic and desirable features for your product. Data gathered during this phase helps us set project goals and define the project strategy. After that, our team proceeds to the Design Discovery stage. 
Design Discovery is a service that helps businesses and the design team clearly define project requirements and major technological drivers to achieve particular business goals. The main goal of the Design Discovery stage is to establish key project priorities that will guide the team through the entire design and development life cycle. Design Discovery usually involves the product owner, UX lead, business analyst, and technical lead.
At RubyGarage, we believe that the perfect product design can't be achieved without preliminary research. That's why we pay a lot of attention to Design Discovery. We start this process with this stage, getting a deep understanding of your business idea, values, and goals. We conduct a series of workshops within our team to define the main project requirements and create a project plan based on business goals and needs. After we've approved a project plan and other documentation with all stakeholders, our team moves to the Analysis & Research stage. At this stage, our business analyst together with a UX designer take the following actions to ensure your product is viable and has a competitive advantage:
Analyze project requirements
Define the target audience
Analyze the market and competitors 
Conduct UX research on competitors
Research design best practices
Why is Design Discovery important?
You might have wondered why you can't skip this stage and move directly to design. Poor design planning and choices can cost your business much more time and resources than conducting Design Discovery. This stage can prevent some drastic mistakes in the design of the product by:
Helping you understand the core problem a design has to solve
Aligning project goals and the needs of all stakeholders
Facilitating development
Building trust within the team
Learning major risks and assumptions
A deep understanding of a project's goals is key to successful design and development. That's why Design Discovery is a must before deciding on product design solutions.
What do you get?
By conducting Design Discovery, you get the following deliverables:
Established communication plan
Defined value chain
User personas
Feature breakdown list
Audit of existing functionality
Phase 2: Ideation, information architecture, and prototyping
What is it?
By this phase, designers are ready to generate ideas and turn them into prototypes. Based on our research findings, we generate as many design ideas as possible to decide on the best one. 
After that, our UX designer creates an Information Architecture (IA). An IA efficiently defines the structure of the product. The main idea behind this process is to arrange product components so users can understand how to use the product at a glance. At this phase, we create navigation labels, build a site map, and define a clear taxonomy of design. Based on the site map, our designer creates wireframes and prototypes. Wireframes are visual guides that show the organization of a website or app pages. A prototype demonstrates the design of the product itself. Wireframes and prototypes are major components of any website, allowing you to see how it's organized and how it will function
Information Architecture is important since it makes complex products clear. Our actionable insights and recommendations at the IA stage help clients meet business and user needs and maintain product consistency.
Why is Information Architecture important?
The importance of Information Architecture can hardly be overstated. Proper IA helps you avoid navigation and usability issues and maintain product consistency. A properly structured and search engine optimized IA guarantees a product's long-term success. Here are other benefits of IA for businesses:
Better knowledge of the context of existing content
Lower production costs due to increased content reusability
Simplified web design processes
More options to expand to new markets
What do you get?
You'll get the following deliverables from our Information Architecture service:
Content inventory
Recommended site map
User flows
Wireframes and prototype
Phase 3: User interface design
What is it?
User interface (UI) design is about creating visual components of a website. Solid UI design is not only about visual appeal; it also has a great impact on user acquisition and retention. Our UI design solutions establish your brand identity, making your product stand out. The process of UI design at RubyGarage looks like this:
We start the UI design process by defining the visual direction and layout. Our UI/UX designer decides on a preliminary product structure and considers what guidelines to follow. 
After that, we conduct a series of interviews with you to establish a visual language according to your business needs. 
Based on this information, our designer will create mockups and any other graphics (icons, banners, illustrations, animations, etc.) required for the visual language. The UI designer will also create a reference guide and comprehensive style for the project, which allows us to increase the speed of development and maintain visual consistency.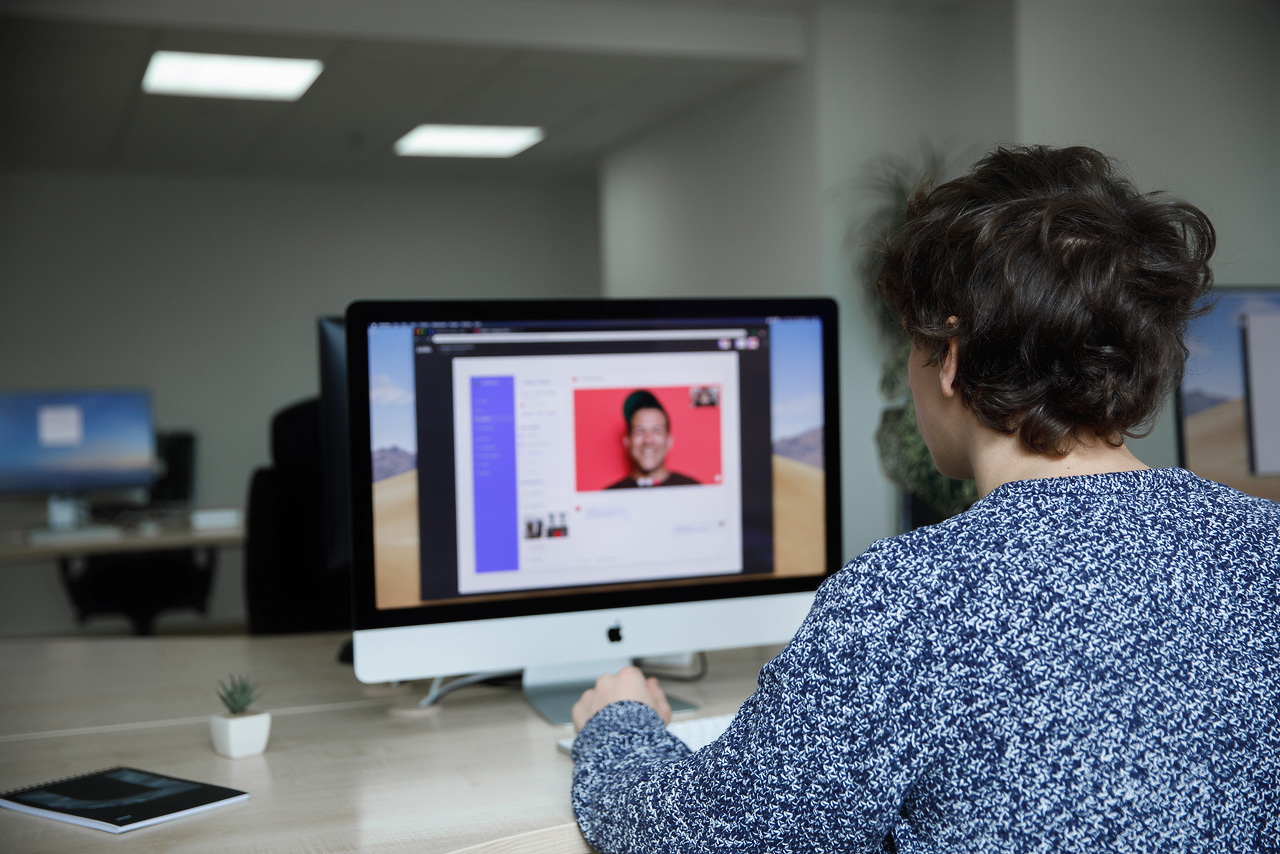 Why is UI design important?
User interface design is important for any digital product since the UI draws visitors' attention and keeps them engaged with your website or app. Besides being aesthetically pleasing, a great UI should be responsive and efficient. 
If a product has an attractive interface, it has a much better chance to turn visitors into customers. At RubyGarage, we believe the perfect UI is a blend of information architecture, visual design, and interaction design. 
What do you get?
At the UI design phase, we deliver the following:
Moodboard
Mockups for all resolutions 
Interactive prototypes
UI assets (icons, banners, patterns)
Illustrations
Animation and interaction assets
Design specification (style guide, UI kit)
Phase 4: Testing and evaluation
At the last phase of the web design process, we pay maximum attention to various tests. When the whole design of the product is ready, that means it's time to make sure the product works as intended and properly. 
At this phase, a UI/UX designer and QA specialist test the product to find any inconsistencies or bugs and provide feedback. In addition, we conduct user testing and gather data from these tests to learn how users interact with the product. If there are any inconsistencies in user behavior, we use this data to start new iterations and make the required fixes. 
Summing up
Now you know what's under the hood of our outstanding design solutions. Our approach, with thorough preliminary research and continuous testing, allows us to build complex products that cover all business and user needs.