Case Study: How Real Estate Agencies Can Reinvent Customer Relations With an End-to-End Social CRM
13375 views
12 min
Jan 19, 2018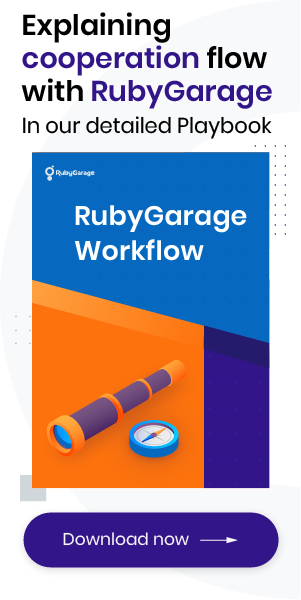 The worldwide explosion of social media use has pressured businesses to be where their customers are.
And while building effective customer relations through social channels is a challenge for any business, the challenge is somewhat different for a real estate agency rather than a brand offering electronics, beauty products, or some other item around which they can build a community of passionate fans.
The challenges that real estate agencies face require far more than a toolkit to present details of properties, handle accounting, and maintain a database of customers – though these components are useful.
The main issue for real estate agencies is to design customer experiences that deliver definite value in return for the customer's time, attention, and data. For this, a traditional customer relationship management (CRM) tool is not enough.
For the next generation of customer relationship management software, it's essential to shift the focus from technology to people. Recognizing that the role of a real estate business is not managing customers but facilitating collaborative experiences and providing value, real estate agencies are replacing traditional CRM strategies with Social CRM strategies.
One of our clients decided to reinvent customer relationship management to help Australian real estate agencies connect with their customers in a whole new way.
Reinventing the customer experience: Background story
Our client, Box+Dice, has been providing real estate agencies with leading technology solutions since 2005. Recognizing that social channels are game changers, Box+Dice came to the conclusion that "[the] secret to growth is when you put the customer at the heart of your business."
Acting on this belief, Box+Dice shifted their focus from building an operating system for real estate agencies to building a technology platform that would bring together people and processes.
Expressing a commitment to innovation, Box+Dice managed to integrate transaction, media, and customer relationship management in a complete end-to-end solution – a Social CRM.
So what's inside this new kind of Social CRM platform?
Social CRM as a new frontier in customer relationship management
Box+Dice is offering real estate agencies a solution that includes five components:
A Social CRM
An app for investigating customer preferences and communicating with customers
A comprehensive accounting module
A module with templates for creating property websites and real estate portals
An email marketing toolkit to engage with customers on their real estate journey
These components help real estate agencies build sustainable relationships with their customers, improve customer service and retention, personalize follow-ups, and better target customers with special offers.
The Box+Dice Social CRM platform also helps real estate agencies organize their teams, increase each agent's productivity, improve management and control of finances, and get better data insights.
Let's review each component and the benefits it provides.
Social CRM: A complete and flexible solution for managing transactions, media, and the customer relationship
The Box+Dice Social CRM platform allows real estate agencies to track and monitor each customer's history and preferences. This knowledge helps agencies deliver an excellent targeted customer experience.
Agents can easily communicate and schedule appointments with customers, plan loyalty campaigns, manage their workflow, access property data, and handle appraisal details and settlements all in the same application.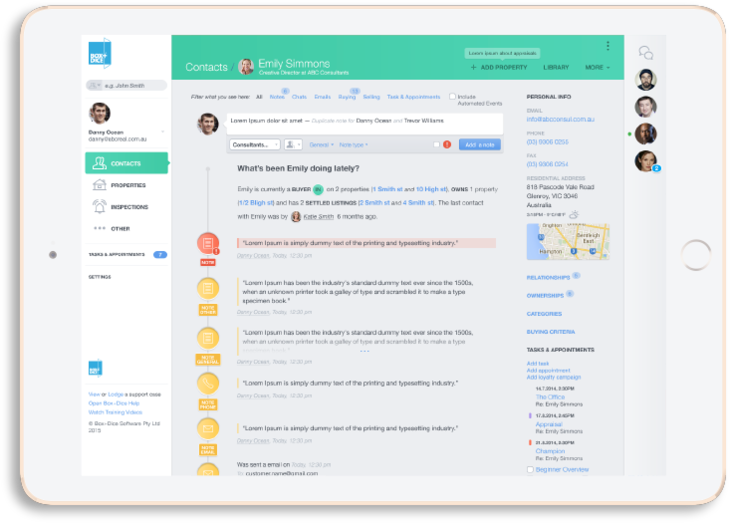 Websites: Preconfigured property websites and real estate portals
When looking for information about properties, the majority of customers start searching online. Therefore, a well managed and pixel perfect website is a crucial component of the customer experience.
Box+Dice offers real estate agencies a toolkit that makes it easy for them to design and build their own websites.
Since Box+Dice strives to improve the customer experience at each contact point, their managed content website service help customers find answers where they need them most.
Portals for buying, selling, and renting property
Along with a list of properties, detailed property information, and location details, a content-managed website provides many opportunities for both real estate agencies and customers. Preconfigured portals help clients easily find properties for sale and for rent as well as request an appraisal for their own property.
Smart multi-filter search to help customers find the right match
Smart search tools help customers find what they're looking for, automatically recommending the best option within search results that are filtered by property type, price, location, or facilities.
Agents section allowing for personalized communications
The website service allows agencies to add a sense of personality, which is also crucial for communicating effectively. Specifically, adding a personal page for each agent lets customers see an agent's background, testimonials from clients, properties offered, and contact information.
A content-managed website is not just a place to search for information but also a place to connect and engage with customers.
Real estate app: A new strategy for staying connected with customers
Adopting the best social media practices, Box+Dice provides real estate agencies with an application that enables their agents to connect and collaborate with customers on-the-go.
Agents can invite potential customers to join the app, schedule appointments, and see when and where their customers have dealt with the agency in the past.
What's packed into the Box+Dice app?
Live chat to connect faster
Live chat allows customers to connect with their real estate agents in real-time. Designed for mobile devices and looking like a messenger, live chat is easy to use. The live chat app stores all messages, which are integrated into the CRM and accessible to agents. Agents may check the dates and details of conversations so they're always ready for an appointment. Chat threads are also accessible to clients.
Easy appointment scheduling
Customers can check properties offered by any agent directly in the app. This is efficient and avoids additional phone calls. Along with showing the key characteristics of each property, the app also offers social features like adding properties to favorites, sharing properties with friends, and adding pictures or notes about visits.
Better understanding of customers
The app allows agencies to rethink their relationships with customers by giving them a better understanding of who their customers are. The app has a People section that confidentially stores information on clients' preferences regarding properties and venues. This data helps match customers to the right agents and helps agents better understand their customers.
Learning customer preferences
The app has a built-in artificial intelligence module designed to learn about customer preferences. Based on data gathered by the app, an algorithm recommends listings that most closely match a customer's preferences, leading to a better customer experience and more sales for agencies. All customer data remains private and is accessible only to the agency and the customers themselves.
Email marketing: Complete and customizable newsletters to keep clients updated
One more important way that real estate agencies can stay in touch with their customers is by sharing relevant content.
To help agencies keep their customers updated on new properties that fit their preferences and to share other valuable content, Box+Dice provides a newsletter module. This newsletter module is supplied with templates for quickly designing and sending content. On top of this, the newsletter module is integrated with the contacts section to manage and track email sending and opening statistics.
Accounting: Fully integrated solution for managing all accounting aspects of the business
Of course, maintaining compliance in accounting is as crucial for real estate agencies as delivering exceptional customer service. Box+Dice has supplied their Social CRM with efficient proprietary accounting software aimed at helping agencies manage their advertising expenditure, and funder totals.
The accounting software is an integral part of the Box+Dice solution, but also comes as an independent module that can be seamlessly integrated with any business operating system.
Rebuilt in 2016, the accounting module is implemented in the cloud, keeping data secure yet reachable from anywhere. Cloud technology makes it easy and cost-efficient to scale the amount of data and add any additional functionality that may be needed. Cloud technology also provides better access and improved collaboration for teams, eliminating double entry and conflicts when working on shared documents.
How RubyGarage contributed to the Box+Dice application rebuilding
Since Box+Dice entered the market over 12 years ago, the number of agencies and end clients they work with has grown dramatically.
To keep delivering innovative and efficient solutions to real estate agencies, Box+Dice needed some systematic technology changes. Particularly, Box+Dice decided to rebuild their application which would allow the company not only prevent occurring any issues but also be prepared for the future.
When it comes up to businesses that have already been on the market for quite a while and have a saturated market, any changes to the technical approach should be made carefully so as not to damage business relations or the reputation of the companies.
Preventing technical challenges that could cause business bottlenecks
Through Box+Dice history, its engineering team has gone through a phase of rethinking technical approaches and adopting of proven development best practices.
As passionate adepts of best practices ourselves, we at RubyGarage were glad to join a team that understands how important is building applications on a proper foundation. RubyGarage has joined application rebuilding process on the stage in work on Accounting section.
By this stage Box+Dice determined the number of technical challenges needed to prevent:
Difficulty in scaling the app architecture. Efficient application architecture scaling depends on the architecture model. If it's any kind of the database-centric architecture, the application can't quickly scale to meet the demands of a growing number of app customers and data.
Difficulty in scaling development. Once an application reaches a certain size, it's better to split the development team and let each subteam focus on one specific functionality of the app.
Slow feature implementation . Architecture model determines how easily development team can understand and modify the code. If there are no clear standards for implementing changes, the code quality decreases; if the app doesn't include hard module boundaries its modularity brakes down over time. All this together may result in slow development.
Difficulty extending technology stacks. Another crucial issue may occur as a result of a long-term commitment to a technology stack. Forcing the development team to be married to the technology stack may lead to the difficulties in regards to any changes needed. Thus if even a small component in an application needs to be changed, the entire application has to be repackaged and reassembled each time.
Time-consuming testing. The last major challenge determined by Box+Dice was testing. The larger an application, the slower it is to start it up. This is particularly critical for test environments and also depends much on architecture model. For instance, a database-centric architecture of the large-scale solution can significantly decrease developers' productivity and lead to slow testing.
Having analyzed the code and approach to development, together with a Box+Dice engineering team, we came up to the need to make changes to the application architecture as well as rearrange and systematize development standards and best practices, and automate key processes.
Solutions for efficiently rebuilding the Box+Dice application
On a global scale, new approaches offered were intended to lead to time-efficiency, less effort and expense for adding new functionalities, scaling the application, and delivering clean and quality code.
Here's which steps Box+Dice took to reach all above:
Scaling architecture as a profound durable foundation for an application. Preventing any further difficulties with Box+Dice application intended setting up of a domain-centric architecture.

A domain-centric architecture intends independent systems: frameworks, user interfaces, databases, and external services that allow you to develop, replace, and test each component independently without overloading its cache and decreasing performance or speed.

Systemizing development standards and processes for better cohesion. Rearranging and maintaining coding standards helped work with code and understand it quickly and easily. A well-structured code is not only convenient to work with but also ensures efficiency and security of the application.

Besides, together with the Box+Dice team, we restructured the development workflow. Our new development processes allowed the whole development team to stick to common standards and work more cohesively.

On the top of that, we contributed to implementing Scrum to ensure better management all development processes and to align communication within our development team.

Automating processes as a way to faster and better coordinated development. The third step taken was automating development processes. Automation allowed all the team to efficiently work with a large-scale application that has many contributors and helps to increase the speed of development.

To ensure fast development and efficient teamwork, Continuous Integration (CI) servers were set up. That helped to identify and predict code conflicts and eliminate them early, prepared automated tests, and implemented automated code analyzers. Another helpful solution implemented was Infrastructure-as-Code (IAC), an approach to automate infrastructure support.
Final thoughts
Just like our client Box+Dice, we're sure that the right customer-focused technology designed to empower real estate agents and delight clients can significantly improve customer relationships, which are the key to growing businesses, increasing sales, and closing deals.
Do you want to improve the customer experience in the real estate industry? Share your idea with us. We would love to help you bring it to life!