How to Create a Marketplace Like Etsy: Core Functionality, Marketing Tips, and Cost
28605 views
7 min
Feb 08, 2019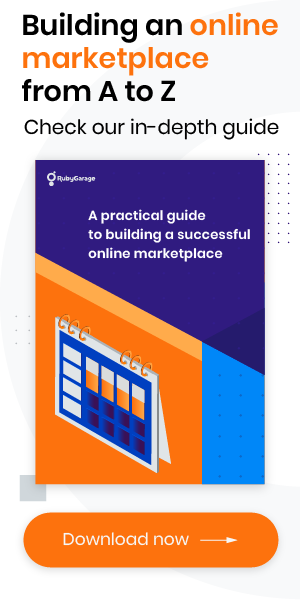 An online marketplace is one of the most profitable areas of modern business, and Airbnb, Amazon, and eBay prove it. Despite huge competition, an online marketplace is still a promising business idea.
One of the most fascinating examples is Etsy, an ecommerce marketplace that deals in peer-to-peer (P2P) selling of handmade and vintage items. The infographic below shows the success of Etsy.
Inspired by the success of Etsy? Keep reading to find out how to build a website like Etsy, learn how to create a product that the market really needs, and get marketing tips for making money with a website like Etsy.
What is Etsy?
Before thinking about how to create an online marketplace like Etsy, let's establish what this marketplace is like.
Rob Kalin, Chris Maguire, and Haim Schoppik launched Etsy in 2005. Their goal was to enable crafters and vintage merchants to earn a living selling their goods. Etsy's creators needed three months to launch the first version of the site, which later evolved into an online marketplace that allows people to sell and buy unique handcrafted products. Today, Etsy has more than 1.93 million active sellers and close to 33.4 million buyers, and the numbers keep growing.
Just like any other online marketplace, Etsy allows people to buy and sell goods online. The concept is simple: sellers can open online storefronts and buyers can browse the website and buy items. It's important to note that people can sell only handmade and vintage goods on Etsy.
We recommend that you start development of a website like Etsy from a minimum viable product (MVP). Bringing your product to market quickly means you can get early feedback so you can fix issues or add features. Moreover, early feedback allows you to validate your product hypotheses and your value proposition as soon as possible and attract new users to your service.
Let's define the core functionality of a website like Etsy.
What are the core features of Etsy?
Etsy has three types of users: admins, sellers, and buyers. Let's consider the core features these users require.
Admins:
Dashboard for real-time updates
Ability to set commission
Reports and analytics
Stock management
Customer management
Invoice management
Category management
Tax management
Sellers:
Create their own pages with vendor-specific store URLs
Order management
Stock management
Internal chat system
Chat system to discuss details with buyers
View upcoming/past purchases and shopping details
Transaction management
Reports and analytics
Buyers:
Manage personal profiles
Product search
View listings
Chat system to discuss details with sellers
Shopping cart to choose items and buy them
Manage payment methods and view transaction history
Leave reviews
We've just listed the core features that are necessary for the MVP version of a website like Etsy. Now we're ready to consider different ways to monetize a website like Etsy.
How do websites like Etsy make money?
Etsy is a bridge between buyers and sellers, and the marketplace takes some fees for this service. Let's consider the major sources of revenue for marketplaces like Etsy:
Sales fees. On Etsy, sellers pay 5% of the purchase price in commission for every sale.
Listing fees. Etsy charges sellers $0.20 to list one product on the website for four months.
Order fees. Etsy charges sellers a flat fee for processing payments. This fee per sale depends on the location of the seller's bank account. Here you can see a complete list of order fees per country.
Advertising. Etsy provides sellers with two types of advertising: promoted listings and Google shopping.
Promoted listings allow sellers to show their items in front of interested shoppers more frequently to get more visibility.
Google shopping allows sellers to reach new buyers outside of Etsy. Etsy submits promoted listings to Google.
A Business Model Canvas for an Etsy-like marketplace
The Business Model Canvas is a strategic management template that comes in handy for developing a business model and validating your startup idea.
Let's take a look at a Business Model Canvas for a marketplace like Etsy. This canvas breaks down the business model into easily understood components.
What are the challenges of building an Etsy-like website?
Let's take a look at the challenges you may face while building a website like Etsy.
It's hard to compete with the giants of online retail
Nowadays, to rank high in a competitive niche is a complex task, since there are global leaders like Alibaba and eBay. Every marketplace has its competitors – even Etsy. Recently, Amazon launched its own site for handcrafted goods called Amazon Handmade. Etsy had to face that challenge.
How did the company deal with it? Etsy is a one-of-a-kind marketplace with handmade goods and delivers a completely different service from competitors. See for yourself. Etsy's personal touches have made it a force in the ecommerce market. Etsy offers unique seller storefronts, a large product catalog with unique items, and local events to share knowledge and increase local commerce. All these help it to come out on top.
Dealing with counterfeit goods
Online marketplaces like Etsy that sell handmade and vintage goods can have problems with fake goods. If one seller copies the item of another seller, the original seller should report the counterfeit product. Etsy will take down listings of copied goods.
It's difficult to engage and retain both sellers and buyers
When you run an online marketplace, you face the challenge of how to engage both buyers and sellers and make them come back. Etsy decided to play the role of matchmaker to make buyers and sellers come together.
Etsy knew what items buyers were searching for and what search terms were driving traffic. So they decided to give hints to sellers about what to offer and share their data about demand. This satisfied sellers, since they now know what items are in demand and know what to produce to make more money. Buyers, in turn, get a large product catalog and know that everything they want will be available on the marketplace.
How much does it cost to create a website like Etsy?
The estimate for building a minimum viable product like Etsy from scratch will look as follows:
Project management - 335
Business analysis - 447
UX design - 564
UI design - 729
Quality assurance - 563
HTML/CSS development - 788
Frontend development - 1,175
Backend development - 1,842
The total duration of the project development is around 6,400 hours. To find out the final cost of the product, we need to multiply the project's duration by the hourly rate of your vendor. Below are the average hourly rates for the development services in different regions. 
As we can see, the development from scratch of a project like Etsy in Central or Western Europe will cost approximately $277 thousand. This project in Ukraine can cost around $154 thousand 
RubyGarage has worked with a lot of startups and knows that the majority of them are on a tight budget. More than that, they usually need to launch their products fast. Having considered the demand, we've created a white-label solution to help our customers reduce the time and cost required to create a marketplace like Etsy. 
We combined all the most necessary feature modules in our custom-made solution to build marketplaces for product sales, booking, and consulting services starting with $40,000 for an MVP. 
At the same time, we clearly understand that your product should be unique, so we can add any unique features to your product, as well as a work on custom design.