How to Choose a Winning Marketplace Business Model
24471 views
10 min
Jan 10, 2018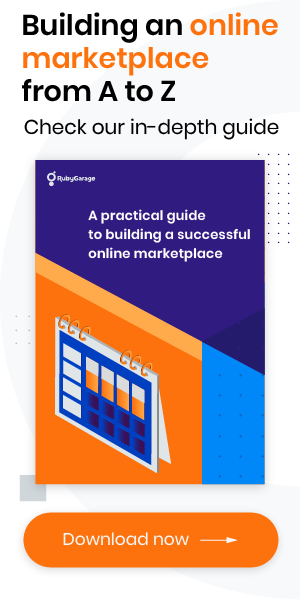 Are you having a hard time figuring out the right business model for your marketplace? If so, then this article is for you. Learn about monetization flows and best monetization practices – along with their pros and cons – and then choose one for yourself.
Let's discover the first marketplace business model.
Commission-based
The commission-based model is probably one of the most popular monetization strategies among marketplace owners. This model brings real benefits for all marketplace participants: a commission model attracts both users and value providers (people that sell goods or services via marketplace), as they don't need to pay anything until they get some value from the marketplace.
From the perspective of a marketplace owner, this approach lets you capture money from all the value that passes through your platform and start gaining profit even at a relatively low level of activity. Besides, a commission-based model scales very well.
Commision varies depending on the type of marketplace, the target audience, and the value provided. For instance, commission on products is typically lower than commission on services.
There are two main types of fees: fixed fees, also known as flat fees, and variable fees. If you opt to use a fixed fee, consider the example of TaskRabbit. This marketplace deducts 30 percent of a tasker's hourly rate (but only 15 percent from taskers with repeat clients) no matter what kind of services they provide.
If you don't want your fee to be constant, try a variable fee. You can base it on:
Amount of the order ‒ For all sales of $15 or more, Poshmark takes 20 percent commission; Fiverr sets a 5 percent fee on purchases above $20.
Product category ‒ Newegg charges 13 percent commission for products from the Arts category, 12 percent for appliances, and 14 percent for bags.
Seller/vendor type ‒ Your sellers may have different levels of activity on your marketplace: e.g. seller A might make about 700 transactions per month while seller B makes just 70 transactions. You might stimulate sellers to carry out more transactions on your marketplace by lowering the commission for sellers completing 500 transactions or more per month.
Yet it's still not clear how large of a fee you should take from users in your marketplace.
How much commission should I charge?
"How much commission should I charge in my marketplace: 20 percent, 7 percent, or a fixed $3 per transaction?" you may ask. Can't choose the amount of commission? Take into account the following factors:
Competition within the market ‒ Are you aiming at a horizontal or a vertical market? As a newcomer, we recommend starting with a vertical market, meaning focusing on a single niche. Don't spread yourself over a variety of products or you'll have to fight with the established leaders and balance between earning profits and keeping low fees. If you're lucky enough to find a sparsely inhabited niche, you can greatly reduce the competition and set a higher commission.
What your competitors are doing ‒ Of course, you can't just copy the whole pricing structure of your competitor, but you can account for the tendencies in your sector, look at what works for your niche and what doesn't work, and take this data as the starting point in forming your fee structure. Suppose you're launching a marketplace where people can search for jobs and companies can search for contractors. In this case, you can learn from Freelancer, Upwork, and 99designs.
Transaction size ‒ There's a different demand for products and services. Usually, low-cost items (e.g. soft drinks, snacks, toiletries) are purchased again and again over a short period. So you can impose a higher fee on these types of products. Amazon takes a 45 percent cut from each device accessories sale but a mere 6 percent from personal computers which are considered luxury goods.
Marginal costs ‒ The marginal cost is the cost of producing one additional unit of a product or service. Marginal cost directly influences the net profit of value providers. This is why you can't charge high commission for products with a high marginal cost, as the profit remaining will be so small that providers will abandon your platform. Etsy recognizes that the marginal cost for handmade and vintage items is generally quite high and takes only a 3.5 percent transaction fee.
These factors are all decisive while building your commission model; still, it's quite important to know who you should charge fees to.
Who should I charge?
You may say "Hey, Airbnb is a successful marketplace and it takes fees from both hosts and guests. Probably I should use the same system." But that isn't seeing the whole picture. Though Airbnb charges both hosts and guests, it imposes most of its fees on guests (between 5 and 15 percent). Why? Because Airbnb is a supply-constrained marketplace.
This means that the supply side has more influence on the marketplace than the demand side. It's harder to convince hosts to rent their houses to strangers than it is to get guests to knock on those doors. OpenTable, on the other hand, is a demand-constrained marketplace and charges providers accordingly.
The approach is simple. You just need to determine whether your marketplace is demand- or supply-constrained and reduce the friction for this side: Need buyers? Then charge sellers. In the initial days of your marketplace, however, we advise that you impose commission only on one side, gain a client base, and then add more fees.
Even though a commission-based business model seems quite beneficial, there are several aspects you need to be aware of. Firstly, you need to provide enough value to both customers and providers. If you don't, your users will find a way to avoid your payment system and you won't get money at all.
You can also hardly apply the commission-based model to huge transactions, e.g. car or real estate sales. Moreover, this business model doesn't work for marketplaces where money transactions aren't the main activity. If your marketplace is for dating, bartering, or hiring, forget about commission and think of another monetization strategy – listing fees, in particular.
Listing fees
The listing fee is one of the most common marketplace business models when it comes to non-monetary transactions. Listing fees are good when no money is transferred within the marketplace, such as with classified ads and directory websites.
Such marketplaces aggregate a considerable volume of listings and guarantee lots of visibility. ArtFire displays offerings for handmade arts and crafts and takes a $0.23 fee per item listing for a standard shop.
If you want to apply this business model, though, you need to be sure that your marketplace has enough site traffic and a vast customer base. Who would pay to post their listing on a dead marketplace?
Another challenge for marketplace owners is that a listing fee doesn't guarantee providers that their product will be sold. For this reason, the listing fee can't be too high, as that could result in a low revenue stream.
Nevertheless, a listing-based monetization strategy offers more chances for marketplace owners to earn extra profit – namely, to provide premium listings.
Premium listings
Some marketplaces earn money for highlighting listings and making vendors' offerings more visible. Using this tactic, marketplaces let vendors post listings on their website for free but take fees for listings featured on the homepage or at the top of a category.
Zillow offers featured listings for premier agents, charging agents based on the zip code and number of times their ad is viewed.
For example, since homes sell for more than $5 million in Malibu, agents will pay more to advertise there than they will in Charleston, South Carolina, where homes cost around $260,000.
Are you reluctant to wait for someone to post listings on your marketplace? Do you want more regular income? Maybe you need to set up monthly subscriptions.
Subscriptions
One of the main advantages of the subscription-based marketplace model is steady monthly revenue: you acquire a customer not for a one-off purchase but for the longer term. In light of this, you don't need to spend a lot to retain users via display retargeting, social media, and email, as they're already buying from you each month.
Usually, marketplaces offer several membership tiers, the fee for which varies based on the set of features provided. eBay provides membership subscriptions for Basic, Premium, and Anchor stores, for instance.
Another example is Bonanza, which lets users choose between Gold, Platinum, and Titan membership plans.
As with listings, you can also create a premium subscription system in your marketplace. If you need extra inspiration, check out Avvo's subscription service called Avvo Pro, which allows lawyers to remove advertisements from their profile for $49.95 per month.
Lead generation fees
Lead generation is a popular business model for marketplaces in the home improvement category. For a lead fee, a marketplace provides contractors with a specified number of leads per month via email, text, or phone call. For instance, Home Advisor charges service professionals a variable fee, usually between $15 and $60 per new customer.
The lead fee is typically variable. Hipages bases its lead fee on the competitiveness of a category and the region in which a contractor is looking for clients.
The final monetization option is to provide additional services in your marketplace.
Providing additional services
As a marketplace owner, you have ample opportunities to cater to your customers with extra products that may or may not be directly related to the core offering in your marketplace. Here are some prominent examples:
Via offers luxury rental options at low prices to its drivers.
Uber provides car financing for its drivers.
Amazon loans funds to sellers to increase sales on its marketplace.
Just Eat, Takeaway.com, and Delivery Hero sell supplies and are negotiating to give discounts for restaurants.
By providing additional services you not only acquire a supplementary revenue stream but also improve the overall customer experience and enhance loyalty within your marketplace.
Have you chosen a business model for your marketplace?
You can look at famous marketplaces to learn from them, but don't just copy their strategies. You should understand your niche and the values you offer, then adopt a pricing model that aligns with your business goals.
You can leverage several of the monetization strategies we've mentioned at the same time. If you're new on the market, however, we recommend picking only one revenue stream and basing your entire marketplace flow on it. And remember that the perceived value of services should always outweigh their costs.
If you want to get more insights on how to successfully launch a marketplace, check out the Pindify project that we delivered.