Benefits of B2B Ecommerce: 5 Reasons to Start Your Own Multi-vendor Marketplace
5514 views
7 min
Dec 10, 2020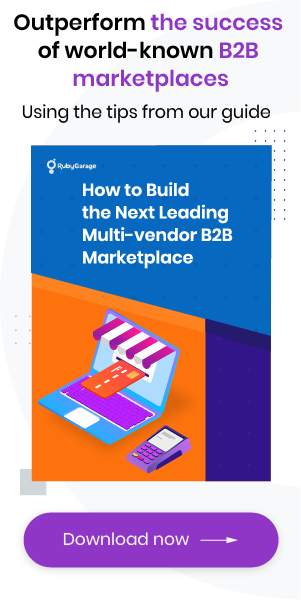 The worldwide pandemic has changed the way entrepreneurs run their businesses, and the B2B industry is also undergoing some changes. Thankfully, these changes are rather more positive than negative. If you have an ecommerce business or want to move your offline store online and transform it into a multi-vendor marketplace, this post is for you. Read on to learn about the benefits of starting a multi-vendor B2B marketplace in 2021.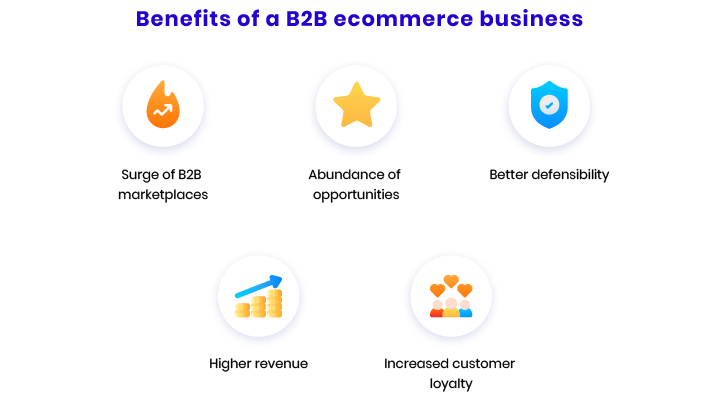 But before we get into benefit of B2B ecommerce, let's distinguish between a B2B ecommerce store and a B2B multi-vendor marketplace.
Difference between an ecommerce store and multi-vendor marketplace
A B2B ecommerce store is a single-vendor store or a service provider that sells products or services to other businesses. Ecommerce stores have been online for quite some time and are common in many business domains.
Multi-vendor B2B marketplaces are two-sided platforms where B2B sellers and buyers meet. Unlike ecommerce stores, multi-vendor marketplaces are a new trend and their popularity is growing. 
Now it's time to look at the benefits of B2B ecommerce in terms of running a multi-vendor marketplace.
Surge of B2B marketplaces 
The COVID-19 pandemic has changed the way businesses are run, including the B2B sphere. According to recent research by McKinsey, more than 75% of B2B buyers and sellers prefer online interactions over face-to-face interactions. 
Moreover, the majority don't want to return to the usual way of running their business. Convenient self-service, time saved on commuting, safe payments, and a fast way of closing deals are among the most significant benefit of B2B ecommerce that add to their desire to continue growing online B2B businesses.
Another benefit B2B multi-vendor marketplace brings is that buyers are ready to spend from $50,000 to $1 million online when it comes to B2B purchases. 

Finally, the latest trends in the B2B industry show that small manufacturers are shifting online and looking for ways to sell their products and services on the internet. This creates room for entrepreneurs to start opening B2B multi-vendor marketplaces.
Abundance of opportunities to find your niche 
In consumer-focused marketplaces, many categories already have competition. This means that business-to-consumer (B2C) newcomers need to combat existing network effects with an innovative marketplace product that is exponentially better than previous ones. In the realm of B2B, many categories still have no dominant marketplace players. That leaves plenty of opportunities for emerging platform businesses to be the first mover.
Unlike the B2C and C2C spheres that went online much earlier and have already gained stability, B2B marketplaces are starting to move online only now. This is one of the reasons why there are a lot of opportunities for finding your niche in the B2B sphere.
Let's have a look at ways you can find your niche in the B2B sphere:
Detect current issues that are acute for offline B2B businesses and solve them when building your B2B marketplace. For example, if offline enterprises take a long time to close deals because of bureaucracy, make simplicity the core feature of your marketplace.
Find a niche that doesn't have online analogs and become a pioneer who brings this sphere online. One bright example is Transfix, a B2B multi-vendor marketplace that brought shipping services online.
Find transactions that aren't happening today and think about how you can make them happen. Look for spheres that don't make money but have the potential to. If you manage to find such a sphere, you may hit a real gold mine.
Better marketplace defensibility
Defensibility refers to a marketplace's viability and competitiveness on the market. There are three main factors that influence defensibility.

Network effect
The network effect works in the following way: when a new user joins a marketplace, the marketplace becomes more valuable for current and potential users. The network effect allows you to start generating revenue fast to cover expenses associated with running your business as well as to get more profit. Let's consider Alibaba as an example. In 2018, Alibaba had 630 million users worldwide, and they brought in $39.3 billion in revenue. In 2020, the number of users grew to 960 million and increased annual revenue to more than $1 trillion. 
Since the B2B industry is only starting to move online, achieving a network effect in B2B can be easier than in the B2C or C2C industries. Once you create a B2B marketplace that solves the problems of your target audience, you'll have an opportunity to attract a large number of users to join your platform. 
Visibility and brand awareness
Creating a brand can greatly add to your marketplace's defensibility. When choosing between a well-known platform and a new market player, users are likely to choose the well-known platform. 
Right now, while the B2B sphere still hasn't gone online completely, you have the opportunity to work on your brand and think of a unique way to present your business to your customers.
Scalability
The more users you attract to your marketplace and the more traction you get, the more chances you have to scale your business. And scaling means new opportunities and more revenue.
Scaling is a significant benefit B2B ecommerce business brings thanks to the absence of geographical limits. Once you manage to build a successful business in your country, you can start scaling and reach foreign customers.
Higher revenue
One of the distinctive characteristics of B2B multi-vendor marketplaces is that they tend to bring huge profits. According to a report by Digital Commerce, B2B sales are estimated to bring in $3.6 trillion in revenue by 2024 compared with $680 billion in 2018. Large revenue is determined by two main factors:
High-priced transactions. B2B purchases are often large. B2B customers often buy in bulk or make expensive purchases that are necessary for their businesses. For example, if an entrepreneur is going to open a restaurant, they'll have to buy a lot of equipment, starting with cooktops and ending with kitchen utensils. 
Frequency of transactions. While customers can come to B2C and C2C marketplaces occasionally, users of B2B multi-vendor platforms are aimed at long-term cooperation. A B2B marketplace that can offer high-quality products and is easy and safe to use wins customer loyalty. Once B2B buyers find such a marketplace, they're ready to keep using it. LemonCat is an example of a B2B multi-vendor marketplace that receives frequent orders. This catering marketplace has service providers and customers in almost 300 German cities and has daily orders from business customers.
Increased customer loyalty
You can win customer loyalty by making your B2B marketplace convenient and straightforward to use. As the latest trends show, customers of B2B marketplaces expect them to be intuitive and user-friendly. 
Self-service is one of the characteristics a B2B marketplace should possess. To make business purchases fast and convenient, it's important to make your platform simple. Process automation and self-service will add to your marketplace's convenience. 
Another way to keep B2B customers on your marketplace is to develop a mobile application. It will definitely help you win customer loyalty. According to research by McKinsey, purchases made on mobile devices increased by 250% in 2020 compared with the previous year. Once you give your customers a chance to run their businesses from their smartphones, they won't switch to another platform.
Final thoughts
B2B businesses are moving online with amazing speed, and this is opening up new opportunities for entrepreneurs who want to penetrate the B2B market. Now that you know all the benefits of a B2B ecommerce business, you can start your multi-vendor marketplace with confidence. 
FAQ
Surge of B2B marketplaces
Abundance of opportunities to find your niche
Better marketplace defensibility
Higher revenue
Increased customer loyalty

Starting a multi-vendor marketplace has a lot of advantages, including better defensibility and higher revenue. Moreover, it affords you more opportunities for business growth compared to the ones offered by an ecommerce store. The thing is that running a multi-vendor marketplace gives you a chance to cooperate with an unlimited number of other businesses.

A surge in B2B marketplaces, an abundance of opportunities, defensibility, high revenue, and increased customer loyalty show how promising the B2B industry will be in the near future. If you've already been thinking about launching your own B2B multi-vendor business, it's time to start. With all the benefits, your marketplace has all chances to succeed.


If you need an expert team to help you develop your B2B multi-vendor marketplace, contact us to get started.