10 Hot B2B Ecommerce Trends That Will Shape the Industry in 2022
10483 views
9 min
Apr 13, 2022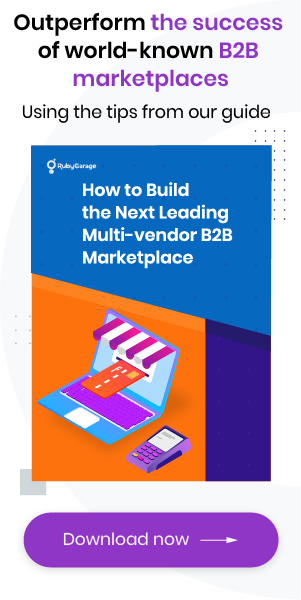 COVID-19 has influenced many aspects of the B2B ecommerce market and caused drastic changes. This article presents trends that have emerged in B2B ecommerce as a result of the COVID-19 pandemic and that will reshape the industry in the near future. Learn how your company can benefit from them.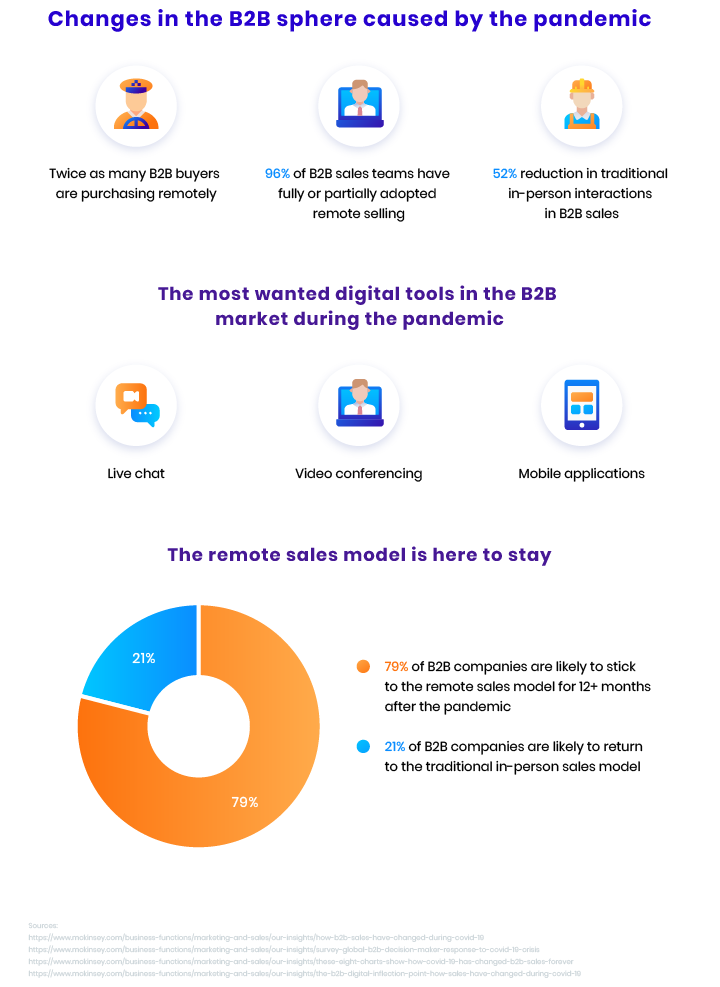 Multi-vendor B2B ecommerce trends
The trends we describe in this article have begun a new era in the B2B ecommerce market. The following B2B ecommerce trends and statistics can help business owners adjust to the "new normal" and bring new opportunities to both those just starting their path in B2B ecommerce and those who want to continue growing in this sphere.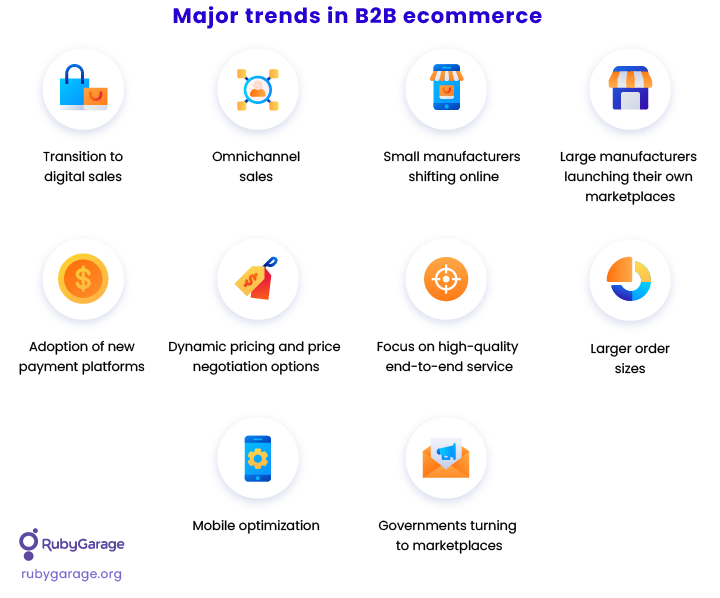 Let's dive into each trend in today's B2B ecommerce market.
#1 Transition to digital channels
The digital sales model is the future of B2B ecommerce. B2B decision-makers that used to complete sales in person have started to make purchases remotely. According to McKinsey, by the end of 2021, only 30% of B2B ecommerce buyers still preferred traditional in-person interactions with salespeople, while everyone else preferred interacting through digital channels: remote (33%) and self-service (36%). This suggests that the digital sales model is a strong trend.
The mix of traditional, remote, and self-service B2B sales has been called the "rule of thirds" and has boosted customer satisfaction. More than 90%of B2B companies say their current go-to-market model is as efficient or more efficient than it was pre-pandemic. The proven effectiveness of the omnichannel experience is forcing more and more manufacturers to search for ways to sell their products and services online. And that's why there's growing demand for online B2B marketplaces.
If you're planning to develop your own product in the niche, check out our step-by-step guide on how to launch your B2B marketplace.
#2 Omnichannel sales
B2B market players are actively adopting more and more channels for marketing and sales. This strategy is called omnichannel sales, i.e. providing customers with a seamless shopping experience through multiple channels of operation, including online desktop and mobile experiences, mobile shopping, and brick-and-mortar stores. By the end of 2021, 94% of B2B market players claimed that new omnichannel sales models were just as effective or more effective than before the pandemic. In April 2020, only 65% of surveyed respondents had the same opinion.
From the other side, B2B customers have doubled the number of sales channels they use over the past five years. Currently, B2B customers interact with vendors via an average of ten or more channels, compared to five channels in 2016: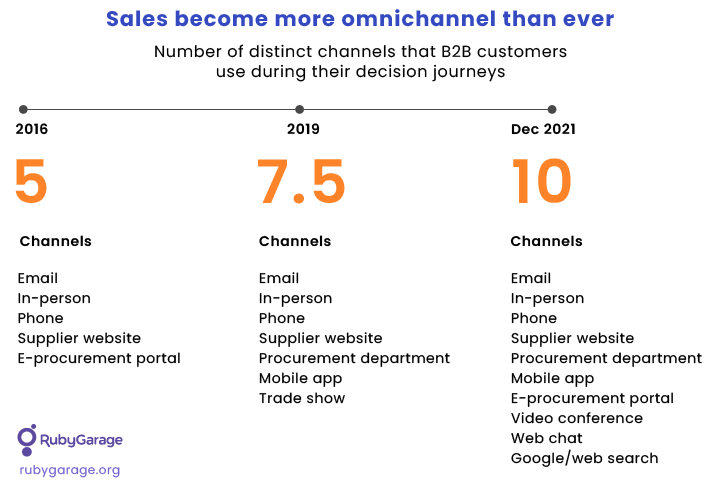 #3 Small manufacturers shifting online
Businesses will be using digital commerce to "bridge through the pandemic and into the next decade."
Small manufacturers can no longer provide their products or services in a traditional way. In the context of quarantine, they either have to adjust to new conditions or leave the market. To keep the lights on, they try to increase their online presence by joining marketplaces. ShopZio, an online B2B marketplace, claims to have more than doubled the number of vendors in April 2020 after introducing a special onboarding policy in response to COVID-19.
#4 Large manufacturers launching their own marketplaces 
Massive marketplaces such as Amazon Business and Alibaba allowed manufacturers to quickly react to the changes brought by the pandemic. However, after several months, large manufacturers started to create their own marketplaces.
Opting for massive marketplaces is no longer a long-term solution for large manufacturers. The reason is that selling on Amazon Business and Alibaba doesn't provide an option to stand out from similar manufacturers and makes all manufacturers seem alike. Among the companies who have launched their own marketplaces, 72% reported growth in market share in 2021.
Although it requires more time and effort, launching their own marketplaces helps vendors get a competitive advantage over those selling products on third-party marketplace platforms.
#5 Adoption of new payment platforms
Since the pandemic has negatively impacted the revenue and paying capacity of many businesses worldwide, new payment platforms have appeared to let businesses postpone payments or pay in installments. 
An example of such a system is the credit-as-a-service platform introduced by MSTS Inc. Currently, Alibaba offers Payment Terms – a new payment option implemented through a credit-as-a-service platform that allows qualified businesses in the US to pay for their orders within 60 days after they receive an invoice. This postponement is available for businesses without any interest or fees.
The adoption of new payment systems and the introduction of innovative payment options help B2B marketplaces attract new business players and improve the customer experience on their platforms. 
#6 Dynamic pricing and price negotiation options
Research by Bain & Company shows that top B2B performers are nearly twice as likely to use dynamic pricing as their competitors. Dynamic pricing lets vendors adjust their product and service pricing to their business and market needs in several ways. For instance, vendors can establish prices for goods or services after analyzing each customer's profile. Or they can change pricing depending on the demand for certain goods or services. Thus, if particular items are low in stock, vendors can increase their prices; if items are in low demand, they can lower the prices. 
Dynamic pricing can not only protect sellers from losses due to changes in the market but can help them take advantage of those changes.
Before the pandemic, buyer–seller interactions could involve several cycles of price negotiations before a sale. Today, marketplaces try to fully address the need of business buyers to request a quote from vendors and manufacturers and negotiate the price.
Price negotiations, in turn, can bring transparency to buyer–seller relationships on a marketplace and build customer loyalty.
RubyGarage has helped businesses launch over 90 successful marketplaces. Learn about how we enhanced the performance of an online fashion marketplace.
#7 Focus on high-quality end-to-end service
Removing friction in the purchasing process will increase conversion rates and cart size.
B2B buyers now strongly prefer self-service channels to research, evaluate, order, and reorder goods. However, decent self-service is not enough to please customers. After the exceptional experience they've received as consumers on B2C or P2P marketplaces, B2B buyers expect a corresponding level of service from B2B marketplaces. 
B2B marketplaces have to provide exceptional service to their customers from placing an order all the way through getting the order delivered. Alibaba started cooperating with Freightos to let their buyers arrange bulk shipments, choose from multiple carrier options, book, manage, and track ocean and air freight shipments, and check shipment statuses.
Marketplaces that provide buyer- and seller-driven experiences will not only result in customer loyalty, but also increased conversions for B2B sellers.
According to McKinsey, B2B decision-makers are more than twice as likely to choose suppliers who provide outstanding digital performance than those who provide fair performance.
One of the major challenges that marketplaces and vendors face is delivering on three aspects decision-makers value the most: speed, transparency, and expertise. To meet expectations, B2B marketplaces should provide buyers with a variety of shipping options, a comprehensive and intuitive search and checkout process, and support at every stage of the buyer journey.
For instance, by implementing a live messaging feature, a marketplace can deliver on all three major buyer requirements: getting a speedy response, receiving transparent communications, and validating a vendor's expertise.
One more way to increase buyers' loyalty is to solve their biggest pain points. Among the most frustrating issues buyers face on B2B marketplaces are lengthy ordering processes, difficult search functionality, and technical glitches while shopping.
#8 Larger order sizes 
In the context of the COVID-19 pandemic, B2B buyers are no longer afraid to purchase large consignments of costly products online.
The McKinsey survey rom February 2022 shows that 7% of respondents are ready to spend more than $5 million on B2B purchases fully online. Another 20% are ready to spend between $500,000 and $5 million on a single purchase via digital channels (remote or self-service), which is 4% more than the year before.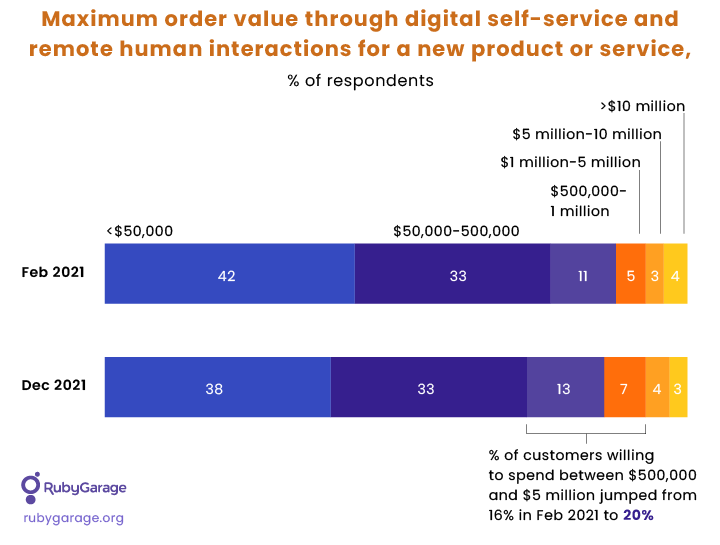 The readiness of businesses to order and spend opens up new possibilities for marketplace owners. In response to the high demand for large consignments of costly products, marketplace owners can widen their lists of items presented on their platforms, invite more vendors to join their marketplaces, and increase revenue. 
#9 Mobile optimization
The COVID-19 pandemic caused a 250% increase in mobile app ordering on the B2B market. A study by McKinsey shows that the number of customers who prefer placing orders in mobile apps increased by 30% compared to pre-pandemic period. Thus, the convenience of marking purchases on mobile devices is a vital aspect for buyers when deciding what supplier to cooperate with and what marketplace to buy from. A mobile application contributes to the end-to-end service provided to customers on your marketplace and is a must if you wish to stand out from your competitors. 
#10 Governments turning to marketplaces
Governments are starting to make use of online B2B marketplaces. In June 2020, the US General Services Administration (GSA) signed contracts with Amazon Business, Thermo Fisher Scientific, and Overstock.com within a pilot program. According to these contracts, the GSA is going to order various products ranging from furniture and office products to laboratory supplies.
If the cooperation between the GSA and ecommerce marketplaces meets the government's expectations, the GSA will make government procurements totalling up to $6 billion a year through ecommerce marketplaces. This fact can encourage governments of other countries to cooperate with B2B ecommerce marketplaces in the future as well.
Summing up
Emerging B2B ecommerce trends can open the door for a powerful start and lasting growth of your own business. However, it's crucial to use these trends the right way. Today's B2B customers demand full performance guarantees (the possibility of a complete refund), real-time customer service, freedom to purchase through any existing channel, and a consistent experience across all channels. These are the musts for a modern B2B marketplace to outperform competitors.
FAQ
Transition to digital sales
Small manufacturers shifting online
Large manufacturers launching their own marketplaces
Adoption of new payment platforms
Dynamic pricing and price negotiation options
Focus on high-quality end-to-end service
Larger order sizes
Mobile optimization
Governments turning to marketplaces

The most drastic change in the B2B ecommerce market caused by COVID-19 has been a shift from traditional in-person sales to digital remote sales. This shift, in turn, has caused a boom in building new B2B marketplaces.

The emerging trends such as a willingness of businesses to spend more on ecommerce marketplaces and governments' readiness to cooperate with digital ecommerce platforms open up promising new opportunities for those who decide launch their own B2B marketplaces.

If you're searching for a team to help you launch a B2B marketplace, contact RubyGarage.