How to Build a Multi-vendor Marketplace: Everything You Need to Know to Start Your Business
9224 views
15 min
Sep 11, 2020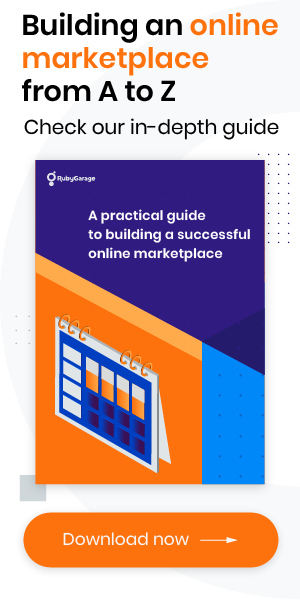 Building an online marketplace can be a real challenge. Entering a competitive market and offering something that your target audience will like isn't an easy task. But if you've already decided on this direction for your business, you've come to the right place. In this article, we shed light on multi-vendor marketplaces and the main things you need to keep in mind during their development. 
Keep reading to learn about:
Types of marketplaces
Monetization strategies
Development approaches
Common challenges of building an online marketplace
But first, let's start with the differences between single- and multi-vendor marketplaces.
Single-vendor vs multi-vendor marketplaces
Single-vendor marketplaces are platforms where only one company sells its goods, while multi-vendor marketplaces allow numerous sellers to do so.
Let's consider the differences between the two using the examples of IKEA as a single-vendor marketplace and Amazon as a multi-vendor marketplace.
| Characteristics | IKEA | Amazon |
| --- | --- | --- |
| Number of sellers | One | Many |
| Types of users | Seller, buyers | Admins, sellers, buyers |
| Advantages of starting such a marketplace | Full control over business processes, lower administrative costs | More sellers bring more revenue, fewer management efforts |
Besides the advantages listed in the table, you might want to consider developing a multi-vendor marketplace for the following reasons:
No need for managing inventory and making big investments. If you don't normally act as a seller yourself, you can avoid the necessity to rent warehouses, track the availability of goods, deal with shipping issues, and handle other routines associated with selling.
Attract more buyers. Consumers are likely to choose large marketplaces over small ones since large marketplaces seem more reliable and offer a better variety of goods. The more buyers come to your marketplace, the more revenue you'll receive.
Focus on business growth. You can concentrate on strategies to grow your business instead of on controlling processes connected with inventory, storage, and logistics.
If you think a multi-vendor marketplace will work better for you than a single-vendor marketplace, it's time to consider different types of multi-vendor marketplaces.
Types of multi-vendor marketplaces
Multi-vendor marketplaces can be divided into numerous types depending on different criteria.
| Criterion | Marketplace type with examples |
| --- | --- |
| Target market | Vertical (Etsy), Horizontal (Thumbtack) |
| Goods offered | Physical (Amazon), Digital/services (Airbnb) |
| Relationships | B2B (Alibaba), B2C (Flipkart), C2C (Letgo) |
| Purpose | Selling (eBay), Auctions (eBid), Crowdfunding (Kickstarter) |
Let's have a closer look at every group of marketplaces united by one criterion.
Target market criterion
This criterion determines what market is targeted by a multi-vendor marketplace.
Vertical marketplaces
A vertical marketplace provides specific goods or services and targets a narrow customer segment. Etsy is an example of a vertical marketplace that targets people who create and buy handmade products. 
Horizontal marketplaces
This type of marketplace offers numerous goods and services to a wide audience. Thumbtack can be regarded as a horizontal marketplace, since it offers 1,100 services to its customers.
Goods offered criterion
Depending on the types of goods or services provided by a marketplace, one can distinguish two multi-vendor marketplace types. 
Physical goods marketplaces
These marketplaces sell material things. The most well-known examples are AliExpress, eBay, and Amazon.
Digital goods/services marketplaces
These marketplaces offer services including online courses and hotel bookings as well as digital goods including stock photos and videos and website templates. Coursera, Template Monster, Pindify, and Airbnb are bright examples of this type of marketplace.
Relationships criterion
By this criterion, we mean how users on different sides of a marketplace interact with each other.
Business-to-business marketplaces
Business-to-business (B2B) marketplaces allow companies to exchange wholesale commodities and services. Take a look at Alibaba, where businesses sell goods to other businesses.
Business-to-customer marketplaces
On business-to-customer (B2C) marketplaces, companies offer their goods or services to end customers. Amazon and Flipkart are well-known B2C marketplaces. Once Alibaba (currently Alibaba Group) saw the opportunity in this niche, it created a new platform called AliExpress where sellers can set up retail businesses and sell their goods to individual customers.
Customer-to-customer marketplaces
Customer-to-customer (C2C) marketplaces allow customers to interact with each other. Traditionally, marketplaces establish a model where a business (seller) lists products and customers explore the catalog and buy goods from business (sellers). In the C2C model, the marketplace facilitates an environment in which customers sell services or goods to each other. Letgo is an example of a C2C marketplace.
Purpose criterion
Except for common selling which customers often associate with multi-vendor marketplaces, these platforms can serve different purposes.
Auction marketplaces
eBid is a famous auction marketplace on which buyers bid for a product until the auction ends. eBay, the world-known product marketplace, started with such an approach and functioned purely as an auction site in its early days.
Crowdfunding marketplaces
Marketplaces don't necessarily have to sell things. Crowdfunding platforms are also marketplaces that provide users with the chance to raise money and implement their (usually) business ideas. Kickstarter is an example of a crowdfunding marketplace.
How to build a multi-vendor marketplace
Before actually starting to build a multi-vendor marketplace, it's crucial to take some preparatory steps to determine the direction of your business and overcome challenges on your way. Let's have a look at things you should deal with first. 
Decide on the MVP feature set
To launch your marketplace fast, you should consider starting with a minimum viable product (MVP). An MVP has only those features that meet your customers' basic needs. At the same time, it should work flawlessly and provide a great user experience.
Starting your product development with an MVP gives a lot of advantages, such as:
testing business concept to understand if the idea is viable;
verifying market demand;
working out a monetization strategy;
testing UX and usability by collecting early adopters feedback;
understanding if the user roles defined in the very first stage of development are the right ones.
Multi-vendor marketplaces host several types of users, namely admins, sellers, and buyers. Let's consider what features each of these groups needs. 
Features for admins
An admin panel is the feature that differentiates a multi-vendor marketplace from a single-vendor one. In a multi-vendor marketplace, an admin panel allows you to manage sellers and customers by tracking their activity and ratings, add and delete users if necessary. An admin panel also allows you to manage the contents of your website as well as its overall operation.
Another functionality that the admin panel can provide is the ability to create product listings for your marketplace. In other words, you can determine and control the types of products sold in your system. This may be helpful if you decide to take the approach of "unique product listing" when the marketplace admins define the catalog, and the sellers specify the inventory and pricing of available products. 
Features for vendors
Registration allows vendors to create an account and sell their products via your marketplace. To make sure all your vendors work legally, you can ask them to indicate not only the names of their companies but also their business registrations, tax IDs, reseller's licenses, etc.
Personal profiles should include information about sellers such as a company name, location, and product or service category. It's important to allow vendors to display quality certificates to prove their professionalism.
A seller dashboard is a tool for vendors to offer their goods for sale, manage their offers and inventory, track shipments, etc. Along with search tools and navigation options, sellers can use a dashboard to conveniently manage their online stores and orders. You should create a similar dashboard but with different functionality for service providers if your multi-vendor marketplace focuses on service supply. 
Vendors need an analytics feature to track their business progress, generate reports, and calculate their revenue. 
Features for customers
Registration usually allows customers to create personal profiles where they can track their activity, add goods or services to a list of favorites, and manage orders. Registered users might also be able to get special offers from your marketplace.
Order forms simplify and improve the customer experience. Depending on the type of goods or services your marketplace provides, the interface of these forms can vary.
Product images and descriptions allow customers to learn more about products or services.
Booking features are a must for marketplaces that provide services such as tutoring, healthcare, property or car rentals, dog walking, and other services that need booking. 
Search tools and navigation allow customers to find items in no time. 
Transactions via the site make your marketplace even more convenient for your users. In addition to providing a fast method of payment, on-site transactions are safe. By allowing your users to pay online, you can increase trust in your marketplace.
Reviews and ratings allow customers to assess a vendor's or service provider's performance and encourage fair competition in the marketplace.
Depending on the type of marketplace you're going to build ‒ product or service, B2B or C2C ‒ the feature set can vary. Thus, you should prioritize features or add more to this list as needed.
Select a development approach
Once your MVP feature set is ready, you need to think about what development approach will help you bring these features to life. There are four main approaches you can consider. 
#1 Open source solutions
Open source solutions allow you to create your own site even if you don't have technical knowledge. All you need to do is choose templates and plugins that meet your business needs and reflect the essence of your marketplace. 
Magento is one of the most popular open source marketplace solutions. With existing templates and plugins, Magento offers users a good choice of features for multi-vendor marketplaces including for hosting, shipping, payments, taxes, performance, and content management.
Pros of open source solutions
Compared to other development tools, open source solutions are relatively cheap. It's even possible to use free solutions, but they usually don't offer great let alone secure functionality. Thus, if you choose a free solution but need to expand the functionality of your marketplace, you'll have to reach out to your service provider and ask for paid options. Nevertheless, even in this case, the price will be attractive.
Another benefit of open source solutions is that their code bases are frequently updated. Developers who update and improve existing templates and plugins compete with other similar service providers. Thus, they're motivated to provide high-quality open source solutions. 
Cons of open source solutions
Since open source platforms offer template solutions, your marketplace is likely to lack uniqueness. Even if you choose the latest templates and plugins, you won't be able to make your marketplace completely different from others.
Another downside of this approach is that you don't own the code. This might not seem like an issue at first glance, but if some plugins stop working, it will negatively impact the operation of your site. In this case, you won't be able to fix the issue on your own and will have to wait until the problem is solved by the software provider.
#2 Software as a service (SaaS)
Software as a service (SaaS) platforms allow you to use all their features to fulfill your business goals. As a rule, such platforms are subscription-based. For example, Sharetribe has different subscriptions for different purposes and at different prices.
Pros of SaaS solutions
A SaaS solution is usually a fully fledged product with a great range of features, so it's possible to start working with it quickly. All you need to do to use a SaaS platform is register and subscribe.
You might also want to consider a SaaS solution for your business because these solutions often have rich functionality. SaaS owners integrate dozens of features that allow their customers to get the maximum benefits from their platforms.
Cons of SaaS solutions
You pay for everything. With a SaaS platform, you pay a fixed fee no matter how many features you use. 
There's no way to easily switch SaaS platforms. Some SaaS platforms can completely meet your business needs, while others may lack certain functionality to reach your business goals. If you decide to change your SaaS platform, you'll hardly be able to move all your data automatically. It's more likely you'll have to enter it into a new platform manually. 
#3 White-label solution
A white-label solution is software with the features that are typical for a certain type of product. Unlike with SaaS platforms where you rent software, when you purchase a white-label solution you get the product's source code and are free to use it the way you want.
Pros of a white-label solution
Rapid development is one of the outstanding upsides of a white-label approach. Since the majority of features are prebuilt, creating a marketplace can take just a couple of months.
Additionally, there are no unnecessary expenses. When opting for a white-label solution, you pay only for those features you're going to use. Even if you need to extend your product's functionality with additional features that need to be developed from scratch, it will still be more cost-effective than building the whole product. 
Consequently, there's a chance to customize your product. Whether you need to add or remove some features, or even create new ones, the functionality of white-label solution allows for these changes.
Unique interface is another benefit you can expect from a white-label solution. Moreover, a product developed with this approach has thought-out UX that is aimed to increase conversion rates.
Finally, you can further develop a white-label solution. If your business needs or goals change, you can customize the software to meet them without purchasing another product. And if your business grows (which is quite expectable for a multi-vendor marketplace), there's a chance of seamless scalability of the existing software. 
Cons of a white-label solution
If you want to expand the functionality offered by a white-label solution and add some unique features to your product, it might take more time than simply collecting prebuilt features. But even in such a case, development time tends to last several months.
Choose a monetization strategy
There are several monetization strategies for multi-vendor marketplaces. Have a look at the most common and choose the one that will best suit your business.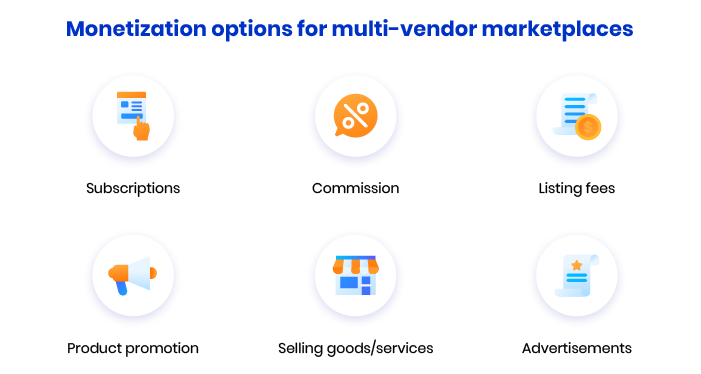 Let's consider each monetization approach in more detail. 
Subscriptions can give sellers the right to use the full range of functionality you provide and give you constant revenue even if vendors don't sell a lot on your site. Couchsurfing is one of the marketplaces that use this approach.
Commission is a percentage charged by a marketplace for every transaction carried out on it. TaskRabbit and Poshmark are representatives of this monetization strategy.
Listing fees, an approach used by ArtFire, are charged to vendors for placing goods or services on your marketplace. Unlike subscription fees that are charged monthly, listing fees are charged only when a product or service is posted. Thus, if sellers have nothing to offer customers, they don't need to pay.
Product promotions or premium listings allow vendors to place their goods or services on the first page of your site or make them visible to potential customers in another way. Zillow, a real estate marketplace, sticks to this monetization strategy.
Selling goods/services yourself is a great way to make a profit at the beginning of your startup journey. By selling goods or services on your own, you'll be able to make money as well as solve the chicken and egg problem ‒ just like eBay did at the time.
Advertisements are a common way to monetize almost any online business. However, too many ads can irritate your users, so keep this in mind when choosing this monetization approach.
Build trust
Trust in online marketplaces is one of the core determiners of their success. In 2017, online marketplace users stated there were 10 conditions that ensure trust, including the ease of contacting other users on the platform, transparency about the use of personal information, social responsibility, and reliable company representatives. 
On-demand task marketplaces like TaskRabbit build trust within their communities by carrying out background checks on every service provider who works via the platform.
Financial guarantees can also increase the reliability of your marketplace. By promising a money-back guarantee, insurance, or a return policy, you can win your customers' loyalty. Numerous product marketplaces like Amazon and AliExpress provide money-back guarantees. 
Solve the chicken and egg problem 
The chicken and egg problem is one of the greatest challenges when creating a marketplace, and there are different ways to overcome it.
One way is to attract sellers first by providing an economic incentive. This is how Uber started. In the beginning, the company promised drivers a fixed fee even if they didn't get orders.
Another way is trying to attract customers, also with the help of an economic incentive. Creative Market offered its first buyers $5 they could spend on the marketplace. 
It's also possible to act as a seller on your own marketplace at the very beginning of your business journey ‒ just like eBay did when it launched. Initially, eBay founder Pierre Omidyar sold his belongings and only then started to attract more sellers to the platform. 
Summing up
Building a multi-vendor marketplace requires a lot of research and analysis as well as the right development approach. However, if you have a team of professionals by your side, you can implement your business idea within several months. 
Our white-label solution is a reliable approach to building your multi-vendor marketplace. It incorporates tried and proven technologies and allows for fast product development.
FAQ
It depends on the types of users on your marketplace. An admin panel is a must for an administrator.

Vendors should have the following features:

Registration
Personal profiles
Seller dashboards
Search tools and navigation
Analytics

Customers should have these features:

Registration
Order forms
Product images and descriptions
Bookings
Search tools and navigation
Transactions via the site
Ratings and reviews

Your monetization strategy is up to you. Make sure you choose a strategy that works for your business. There are several common ways to profit from your marketplace:

Subscriptions
Commission
Listing fees
Product promotion
Selling goods/services
Advertisements

Before you actually start creating your multi-vendor marketplace, it's important to follow some preparatory steps such as:

Decide on the type of a multi-vendor marketplace
Prioritize MVP features for your product
Choose a monetization strategy
Find ways to build trust within your marketplace community
Solve the chicken and egg problem
Select a development approach


Our RubyGarage team offers its white-label solution as a fast and reliable approach to building your multi-vendor marketplace. Contact us to start cooperation.