How to Create a Review Website Like TripAdvisor: In-depth Guide with Valuable Tips
12441 views
7 min
Nov 05, 2019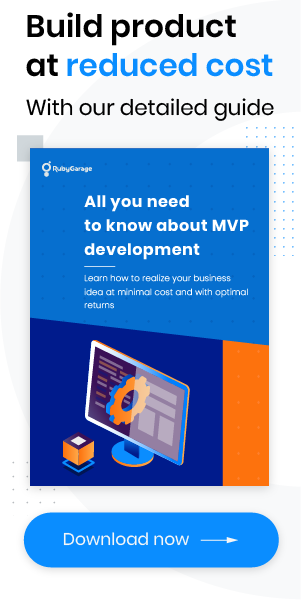 Most of today's travelers start their trips by booking tickets, accommodation, and other things online. Marketplaces for online bookings have been moving travel agents to the back seat for a while now. There's no doubt that online bookings are in great demand. 
In this article, we go over how to create a review website like TripAdvisor and provide possible monetization strategies. Find out how to make a review website like TripAdvisor in four simple steps!
What's TripAdvisor?
Ultimately, the power of community and the scale of TripAdvisor's global reach helps make travel for everyone better in the long term.
TripAdvisor is a well-known (and the world's largest) travel site. It provides travelers with features useful for trips as well as information about booking the perfect trip, reviews of hotels and travel activities, hours of operation for tourist attractions, and more.
The site enables people to travel with the wisdom of the crowd. Namely, by relying on reviews, travelers can find out where it's better to stay, compare prices and choose cheaper plane tickets, and see which sites to visit and where to have a good meal. With over 630 million reviews, TripAdvisor operates in 48 markets and in 28 languages. The statistics below prove its success:
Now it's time to talk about how to create a review website like TripAdvisor. For starters, let's define the essential features of a review website like TripAdvisor.
What are the core features of review websites like TripAdvisor?
The cost of building a website like TripAdvisor is comprised of multiple factors, including the number of features. We suggest looking at the basic feature set of a review website like TripAdvisor for travelers and service providers.
For travelers
Signup
Authorization is an essential part of any online marketplace. Registration enables travelers to create personal accounts and leave reviews. TripAdvisor provides a simple signup process: users can register via Google or Facebook or by entering an email address. On Yelp, for example, users are able to log in with social media accounts such as Facebook. As a result, people can start using the app quickly, skipping the potentially daunting registration process.
User dashboard
A personal dashboard allows users to view their bookings, reviews, and other personal information. With the help of a dashboard, users can add and update information in their accounts.
Search
Once travelers are authorized in the app, they can start searching for trips. TripAdvisor provides a smart search system with more than 100 filters for different categories of listings. Travelers can define their preferences in terms of price, taste, location, atmosphere, etc. What's more, all this information is based on users' reviews. 
Booking.com offers one more example of a great search system. The search bar on Booking.com allows travelers to narrow their search with the help of filters such as destination, date, and number of travelers and rooms. Such filters help users retrieve more precise results.
Geolocation functionality and map integration
Geolocation and location-based search enable travelers to find nearby places. TripAdvisor and Booking.com use IP addresses to identify travelers' locations and provide personalized suggestions. In addition, review websites often provide map integrations that allow users to find addresses of specific places or choose accommodation near a certain location.
Review and ratings system
TripAdvisor is primarily a review website. Travelers should be able to search other users' reviews, view them, and add their own. TripAdvisor's ratings and reviews feature allows travelers to leave feedback and thus makes it easier for other users to choose top places.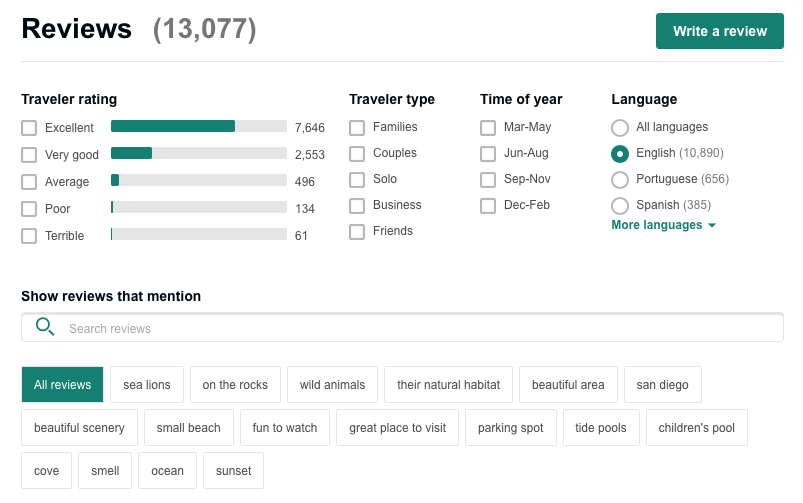 Another popular website for travel reviews, Expedia, also has its own reviews system that gathers feedback only from verified users. This helps travelers get an objective assessment of locations they want to visit.
For service providers
Property management
Property owners should be able to create personal profiles and list properties they want to rent. In their personal profiles, property owners should be able to add property details, photos, availability, and other information.
Booking management
Service providers should be able to manage, cancel, and track all of their bookings on the website.
Notifications
Once a traveler makes a booking on the website, the service provider should be notified about it – for example, via email.
We've just listed the core features that are necessary for the MVP version of a review website like TripAdvisor. Now we're ready to consider different ways to monetize this kind of review website.
How to monetize a travel website like TripAdvisor 
There are three main monetization strategies to consider when deciding how to make money with a review website like TripAdvisor:
Advertising
Subscriptions
Transactions
Advertising
On TripAdvisor, service providers can place their banners and sponsored ads in the top-viewed placements. This revenue model is based on cost-per-click (CPC) advertisements. Put simply, TripAdvisor takes a fee from an advertiser when users click on a link and goes to the advertiser's page.
Subscriptions
Although the bulk of the company's revenue comes from advertising, TripAdvisor also earns money through subscriptions. TripAdvisor offers service providers a Premium Subscription that enables them to promote their services and enhance their business profiles. For example, service providers can pay a regular fee to advertise the top three reasons to choose their restaurant, highlight their favorite reviews, or post special offers.
Transactions
Another popular revenue source for a review website like TripAdvisor is a commission from each transaction. TripAdvisor takes a commission from partners (restaurants, hotels, travel attractions, rental agents, etc.) for each paid booking. This source of revenue is valuable for TripAdvisor, as it amounts to 12 to 15 percent of the booking price.
Now let's take a look at the challenges you may face while creating a review website like TripAdvisor.
Challenges of creating a review website like TripAdvisor
When creating a review website like TripAdvisor, some common challenges may arise. It's crucial to be aware of potential risks to wisely and promptly avoid them.
Demand for high-level personalization
Modern travelers expect exclusive experiences and high-level personalization. That's why websites that offer more personalization will win. 
Let's take TripAdvisor as an example. The company is actively involved in making their services more personalized according to users' preferences. They offer travelers social, inspirational, and personalized travel itineraries. Moreover, customers can follow friends and even share impressions with them, pin locations they want to visit, and more. Taking personalization into account is a significant step towards creating a successful review website like TripAdvisor.
Paid and fake reviews
The main goal of any review website is to provide feedback from travelers about places they've visited. Travelers share their impressions, advise on great locations, or warn others about listings that don't meet the description or match the photos provided on the website. This is why fake reviews are one of the biggest challenges for travel websites. Paid and fake reviews can confuse users and cause them to no longer trust your website.
To prevent fake reviews, developers need to check the identities of registered users, identify and flag suspicious activity, and blacklist emails associated with fake reviews. TripAdvisor, for example, implements special algorithms to check reviews for suspicious patterns. The website can recognize paid reviews and biased positive or negative reviews.
Seasonality
Tourism is a seasonal industry. Usually, tourist activity increases in the period from April to October, as well as during global events and holidays.
To compensate for the reduced number of tourists during the off-season, some service providers offer discounts and special offers.
How to validate your travel review website idea
When launching a startup, you face many risks. To prevent potential challenges, we recommend starting with a Business Model Canvas. This strategic management template allows startup owners to validate their startup ideas by breaking down the business model into easily understood components.