The Most Significant Digital Transformation Trends in the Travel Industry for 2019
17492 views
7 min
Jan 09, 2019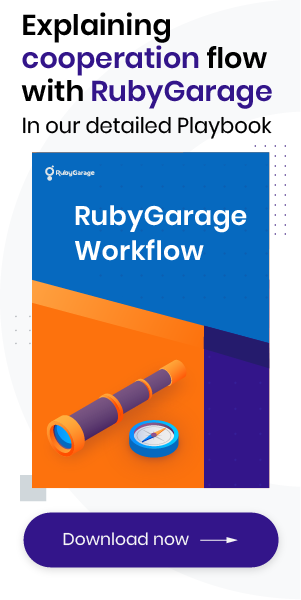 It's important for all of us to realize the world is changing and embracing the technology. And I think if you embrace it and you're ahead of the curve, you can find a lot of opportunities.
Brian Chesky is right. Innovation and new technologies can help travel businesses solve their most urgent problems. Digital transformation trends in the travel industry open new opportunities to overtake competitors and attract and retain customers. In this article, we shed light on the most common issues in the travel industry and find out how travel bands can solve them using modern technologies.
Problem #1 – No online presence
Traditional travel agencies are lagging behind online travel agencies in the race for customers. Among travel agencies in the United States in 2018, online travel agencies took the top places by index ranking according to Statista.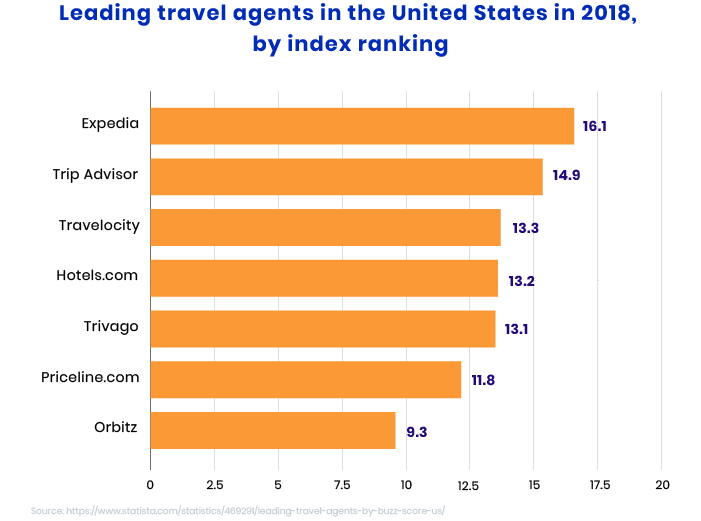 And there's an obvious reason for that. People prefer online to offline services. A survey conducted in the United States in January 2017 revealed that 88 percent of adults prefer to use an online channel to book a hotel for a vacation.
In the chart below, you can see that more than 80 percent of all travel bookings in 2018 were made via a website or mobile app, without consultation with agents.
How to start your online business
The solution is simple: a modern web or mobile app.
A shift to the internet gives travel agencies countless advantages like automation, cost savings, more customers, and better customer experience.
But which should you build: a website or a mobile app? That's a tricky question. On the one hand, travelers still prefer to research their journeys with a desktop, with 76 percent of travelers saying they use their desktop to research accommodation. On the other hand, mobile apps are unquestionable leaders during trips.
Problem #2 – Customer engagement and retention
Customers come back to service providers that meet their needs. If a provider amazes customers, they'll recommend them to their friends and family. This is exactly what modern travel brands are encouraging. Travel companies improve the customer experience and create a wow effect to provoke word of mouth. Here's how they do it.
#1 Personalized services
Customers don't like generic letters and offers. They want something more, something tailored specifically for them. Research by American Express in 2015 revealed that 83 percent of Millennial travelers agree to let travel brands track their digital patterns if it helps them receive a more personalized travel experience. And 85 percent of respondents of all ages preferred personalized tour packages to general offerings.
Moreover, according to Google, 36 percent of travelers are ready to pay more for services to those brands that provide highly personalized travel packages based on personal preferences or past behavior.
How to improve personalization
Digital trends in tourism like big data, artificial intelligence (AI), and machine learning can help you personalize your travel services.
The data from your website, mobile app, or CRM plus information from social networks can tell you a lot about your customers, including their experiences, wishes, and dreams. Gathering lots of data is essential to get to know your customers better and provide them with the services they truly want.
A combination of valuable insights from big data, AI, and machine learning is even more beneficial. These technologies can help improve the customer experience and save you a lot of money. How? AI chatbots are a great example. A chatbot remembers every conversation with a customer and provides all relevant information in a digestible format, helping people make fast decisions. AI chatbots offer better personalization than human operators. Gartner predicts that 25 percent of customer service operations will use virtual customer assistants powered by artificial intelligence and machine learning by 2020.
#2 Unique experiences
The TrekkSoft Travel Trend Report 2019 named unique experiences as the most crucial customer demand for this year. The report claims that customers are looking to pay for experiences rather than products. Tour operators are now receiving requests for unique experiences from travelers who want to do something that's once-in-a-lifetime. This is becoming more common among Millennials, who want to explore the world and share their stories with others. That's why travel agencies have to create moments that exceed expectations and that travelers will remember and share.
How to provide unique experiences
Virtual reality (VR) and augmented reality (AR) are two of the most promising digital trends in the tourism sphere. These technologies allow customers to travel to different places without going anywhere. With VR and AR tours, hotels and tour operators can show rooms, bars, restaurants, halls, and other interesting places.
Qantas, an Australian airline, regularly posts 360-degree virtual tour videos on YouTube about fantastic places around Australia, making you immediately want to visit.
#3 Abundance of information
While booking trips online, travelers have to look through thousands of different options. They have to choose a type of hotel, a location, and amenities. They also need to keep in mind the cost of all these options as well as the price of flights. Of course, some people love planning every detail and choosing everything on their own. However, other travelers hate all the planning and would be happy to get some help.
How to help customers search for information easier and faster
To simplify decision-making without phone calls and visits to the agency's office, travel companies are actively adopting voice search technology. Voice search provides travelers with accurate real-time information in accordance with their personal preferences so they can make fast decisions.
In a survey of 16,000 travelers from 25 countries conducted by travel commerce platform Travelport, 69 percent of those surveyed said they use voice search while planning their trips.
The Dutch airline KLM launched a voice-controlled KLM Smart Pack assistant for Google Home. This service tells travelers the weather at their destination and helps them pack.
Another example is the Expedia skill for Amazon Alexa. This assistant provides customers with all details on their flight reservations and can help them rent a car. Right now, customers can't book a flight or a hotel room using Alexa, but the developers promise to add this functionality soon.
Problem #3 – Lack of brand awareness
To maximize financial results, hotels and other businesses in the tourism sector need to work on their brand awareness and make themselves recognizable and trustworthy.
How to improve brand awareness
To become recognizable, travel companies need to learn to communicate with their target audience and existing customers. Social media now has more influence over traveler decision-making than ever. In fact, more than 50 percent of travelers from the US, the UK, Canada, and Australia say that content, promotions, and deals on social media influence their travel plans.
Here are a few tactics and digital trends popular in the tourism industry, you can employ to improve your brand awareness:
Content marketing. For many people, it's not easy to choose where to spend their next vacation and handle food preferences, budget, and visas. A blog can help readers choose the perfect destination and, of course, offer some great deals. The Travel Talk Tours company has a blog that shares insights on planning trips, has lots of educational materials, and offers packages to readers.
Social media. Accounts on social networks work as an additional touchpoint in your marketing strategy and help you keep followers updated by sharing your company's news, special offers, and discounts, spreading the word about your brand, and attracting followers with the help of promotional activities and giveaways. For instance, Explore Minnesota launched an advertising campaign in 2014 using the hashtag #OnlyinMN on all their posts on social accounts and encouraged their customers to do the same. To date, #OnlyinMN has been used more than 1 million times.
Experiential marketing promotions. Usually, these are offline events aimed at generating the interest of a large number of people. For example, Marriott Hotels used VR tours to attract just-married couples and encourage them to book vacation packages right in front of the registry office.
The bottom line
Trends in the travel industry are changing every day: from family to solo trips, from traditional package tours to gastro-tourism and ecotourism. Digital transformation helps travel brands keep up with the times, study their customers, and offer them something absolutely remarkable. That's why adopting new technologies is so important for companies in the travel industry.
If this article was useful for you, don't forget to subscribe to our blog and get more great insights from us!