How Much Does It Cost to Create an App? Pro Tips to Reduce the Project Cost
4201 views
19 min
Feb 09, 2022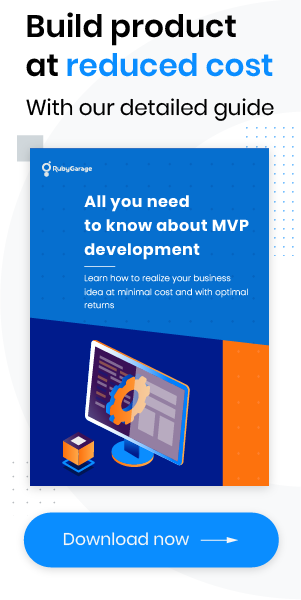 Apps account for 90% of all mobile internet traffic. That means 9 in 10 customers from your mobile target audience prefer apps over websites. To engage these users and generate revenue for your business, you need to create a mobile app. There are many options to choose from. In this article, you'll learn how much does it cost to make an app, what factors form this cost, and how you can optimize your budget.
Why do you need a mobile app?
CNBC reports that 72.6% of internet users will access the web solely via smartphones by 2025. Today, people spend around 90% of their mobile internet time in apps, which is more than four hours a day compared to 24 minutes in web browsers. On average, each smartphone user has 46 or 47 mobile apps installed. According to a 2021 report from Sensor Tower, between 2019 and 2021, US mobile customers began using finance, business, food and drink, education, news, and medical apps more actively: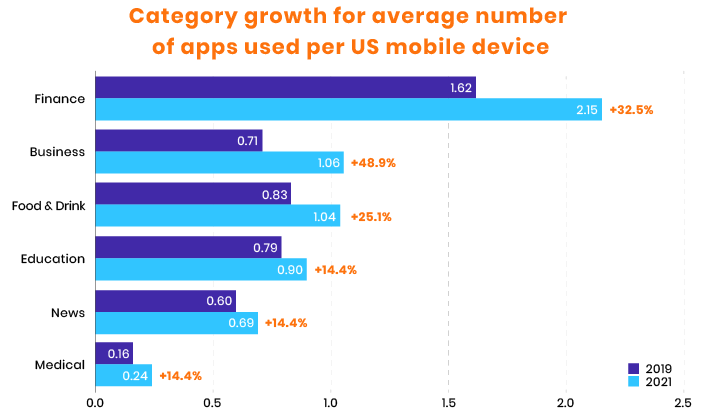 The demand for game applications in 2021 decreased by 3% compared to 2020: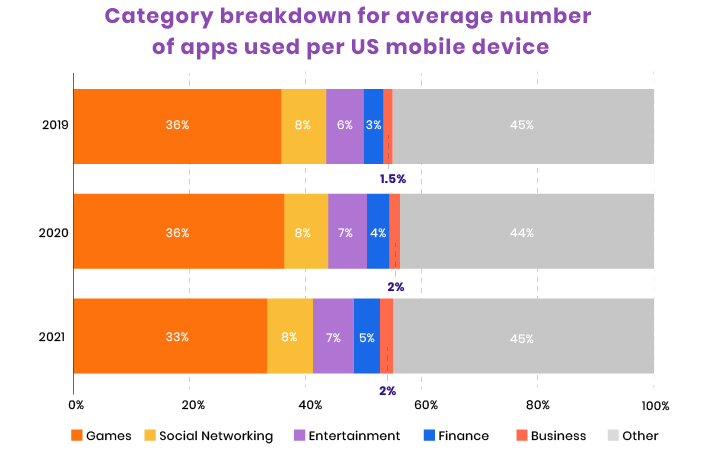 The numbers speak for themselves: people use smartphones extremely actively. They do most of their shopping and get most of their entertainment through apps. Mobile apps have become an essential channel for interacting with customers. Other benefits of mobile apps for business include:
Enhanced customer experience: With a mobile app in their pocket, customers can access your services 24/7, regardless of your business hours, location, and other constraints. AI, chatbots, push notifications, and other technologies help companies service customers effectively in real time, increase customer loyalty, and boost sales.
Enterprise mobility: Mobile applications help organizations connect with their clients at any time and from anywhere, improving business productivity and efficiency.
Personalization: Mobile apps help you collect customer data for analysis and to provide personalized services. Users want to get relevant personal offers, minimize time spent solving their problems, and stay informed with updates that matter to them.
Higher operational efficiency: By automating customer service and order processing through a mobile app, your staff can focus on fulfilling core functions and invest their effort in business development.
Better marketing: Analyzing user behavior helps you generate personalized offers and show relevant ads with high conversion rates. 
Better brand recognition and awareness: A mobile app is the face of your brand. Unique aesthetics, features, or services make products recognizable and popular, promoting brand loyalty.
Higher ROI: 24/7 availability, accessibility, and convenience of using your services through an app enhance ROI.
Higher competitiveness: An app is a great tool to bring unique competitive advantages to the market.
What affects the app development cost?
When you decide to develop a mobile application, you may ask potential contractors to estimate how much it costs to create an app with the required functionality. You might get some estimates that are twice as high as others — or even higher — and it's essential to understand what forms the price. Here are the key criteria:
Business model
Features and complexity
Expected time to market
Development approach
Team location
Team size
Team expertise
Hiring model
How does the business model define the development cost?
Your choice of business model should be based on your industry and the nature of your service. If you choose the wrong business model to enter a highly competitive market, you're risking failure.
For example, say you plan to create a new CRM system while the market is already filled with powerful, recognizable, and convenient alternatives. The end customer who's been using a specific CRM system for years is unlikely to switch to a brand-new product, even if it has killer features that don't exist in the system they currently use. In this case, it would be reasonable to reconsider creating another type of product that can easily be used together with existing CRM systems and effectively covers their functional gaps.
One of the most effective ways to launch a startup is by finding a narrow market niche that's still not occupied by big industry players, develop a solution that solves a critical customer problem, win recognition, and then extend the product's functionality to continually drive competitors out of the market.
How do app features and complexity affect the project cost?
The number and diversity of features, number of screens, number of buttons, and amount of logic behind the front end are the key determiners of how much it costs to build an app for mobile devices. They define the time and effort required for development. The longer it takes, the more it will cost.
The budget estimate for every single project is different. Let's go through rough estimates for the world's leaders to get an idea of how much it may cost to develop a specific type of app. We've picked the categories of mobile games, booking apps, dating apps, ridesharing services, social networks, and messengers.
How much does it cost to build a game app like Pokémon Go?
Pokémon Go was first released in 2016 by Niantic Games (USA) in collaboration with Nintendo (Japan). It is a mobile game with augmented reality (AR) elements that uses GPS to track the player's location and virtually place Pokémons in the real world. The goal is to capture these Pokémons and train them to fight other players to become the Pokémon master.
Key features:
Geo-based AR gameplay
Editable userprofile
Multiple characters for user's choice
Pokestops and Lure Models: places to collect baits for Pokémons
Gyms: training Pokémons, fighting other players
Event notifications
In-app purchases
Pokémon Go is based on the Unity game engine. The budget for creating a similar app includes:
client app development and game design from $30k, 
UI/UX design from $6k, 
backend development from $50k, 
animated game models from $50k, 
sound creation from $10k, 
QA services from $30k, 
and project management from $5k.
Total cost: starts from $240,000
How much does it cost to develop a booking app like Airbnb?
Airbnb released its mobile apps in 2012, while the idea of this booking service was born five years earlier, in 2007. Airbnb helps landlords (real estate owners) rent out their apartments, houses, and rooms. At the same time, tourists can find a comfortable and affordable place to live while traveling.
Key features:
Log-in / sign-up, profile settings
Catalog of listings and multi-option search filters
Chat and push notifications
Bookings
Payments
Wish list
Maps
Coupons
Help center
Ratings and reviews
Sharing via social media
Here is a rough project breakdown to define how much it costs to make an Airbnb app. For each platform version, you may roughly need:
Discovery phase from $3k;
UI/UX design from $10k;
Frontend development from $12k;
Backend development (a single backend part for both app versions) from $20k;
Quality assurance from $10k.
Total cost: starts from $90,000 (native iOS and Android versions).
How much does it cost to make a dating app like Tinder?
Tinder is the most popular dating app globally that helps online daters find the perfect match based on their preferences.
Key features:
Authorization
GPS integration
User profiles
Matching functionality
Discovery settings
Notifications
In-app communication
Monetization (paid subscription plans, premium features, etc.)
Push notifications
The budget for a project like Tinder app development includes:
Discovery phase from $5k;
UI/UX design from $10k;
Frontend development from $15k;
Backend development (a single backend part for both app versions) from $15k;
Quality assurance from $10k.
Total cost: starts from $85,000 (native iOS and Android versions).
Get a detailed time and cost breakdown for a Tinder-like application in our blog post.
How much does it cost to create a taxi app like Uber?
Uber, released in 2011, is the most popular ridesharing application. It is currently available in 785 cities around the world, offering an average trip cost of $1 per mile. The service is focused on user preferences: you can choose a silent or non-smoking driver or order a specific car type. In addition, anyone can become an Uber driver and earn extra money after quick registration.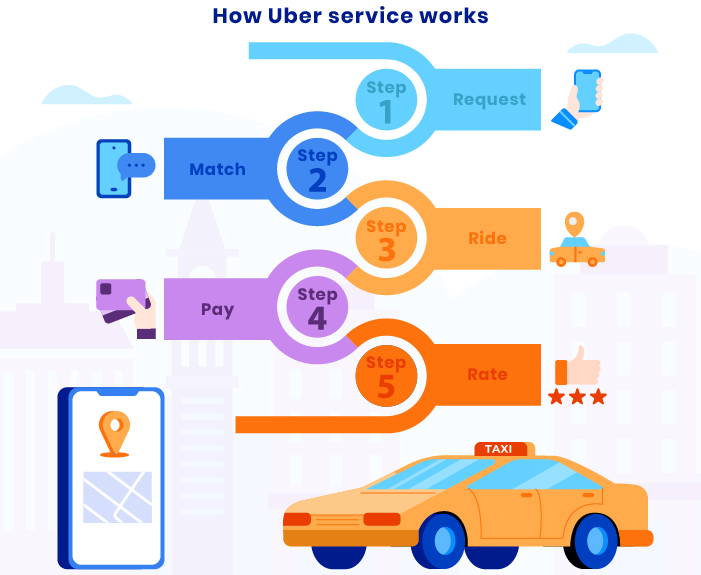 Key features:
User registration and profiles
Geolocation
Ride scheduling
Ride cost estimates
In-app payments
Push notifications
Car tracking
Review system
Separate apps for passengers and drivers
The budget for creating a single-platform native app like Uber includes:
Discovery phase from $3k;
UI/UX design from $5k;
Frontend development from $10k;
Backend development (a single backend part for both app versions) from $15k;
Quality assurance from $7k.
Total cost: starts from $80,000 (for native iOS and Android versions)
How much does it cost to build an app like Instagram?
Instagram is the fourth most popular social media platform globally and is focused on photo and short video sharing. It was originally launched for iOS in 2010, and now there are more than 1 billion Instagram users.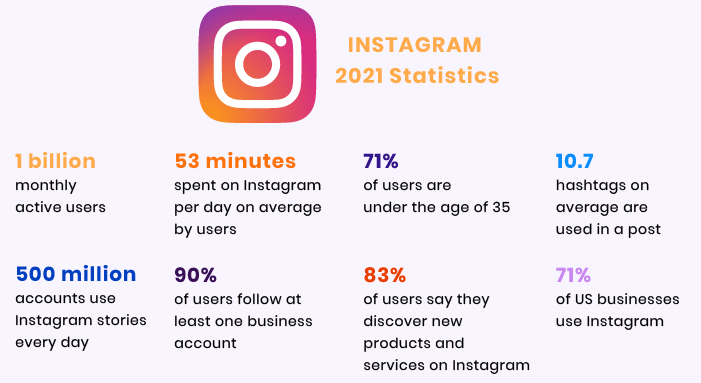 Key features:
Photo and video uploading, editing, and tagging
Stories
Shoppable tags in stories
Geotagging
Likes, comments, sharing, saving to favorites
Effects and filters: cropping, rotation, adjustable filters, manual graphic settings
Profile registration, login, and editable settings
Social login (via Facebook)
Settings: UI language, disable notifications
Direct messaging
Push notifications
Instagram live video
IGTV
The budget for creating a single-platform native app like Instagram includes:
Discovery phase from $5k;
UI/UX design from $15k;
Frontend development from $15k;
Backend development (a single backend part for both app versions) from $40k;
Quality assurance from $20k.
Total cost: starts from $95,000 for a single-platform app, or from $130,000 for both iOS and Android native apps, assuming a single back end.
How much does it cost to make a chat app like Snapchat?
Snapchat is a mobile messenger that lets users share photos, videos, and stories with captions. A key feature of Snapchat is that pictures and videos disappear a few seconds after being viewed. This app appeared in 2011 as a powerful alternative to Facebook, Twitter, and Instagram.
Key features:
Taking and sharing snaps (photos and videos)
Lenses (like masks in Instagram)
Geofilter (filters available for users from specific locations)
Add friends with personal QR code
Regular text messenger
Video and audio calls
Stories
Discover (like a newsfeed displaying stories from big companies, magazines, portals, etc.)
The budget for a project like Snapchat app development includes:
Discovery phase from $5k;
UI/UX design from $10k;
Frontend development from $15k;
Backend development (a single backend part for both app versions) from $30k;
Quality assurance from $15k.
Total cost: starts from $100,000 for native iOS and Android apps
The type of app and complexity of required features affect the development cost. If you need a cost-efficient solution, you should analyze and prioritize the entire project scope. Choose features that are sufficient to deliver your product's core value to customers and generate revenue. The rest can be added later after you check your product's viability on the market.
Cost of creating an app with different development approaches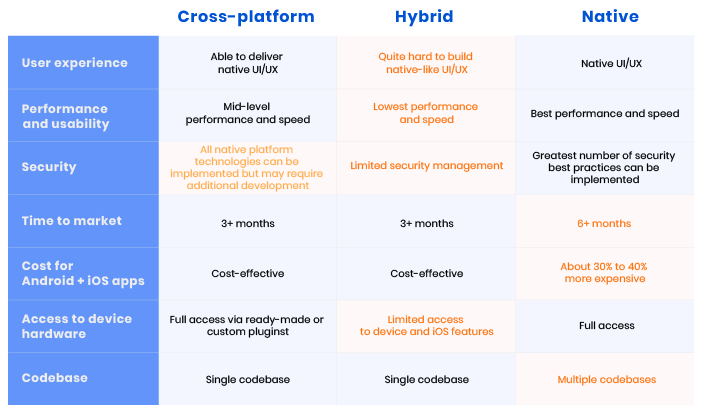 There are three main approaches to mobile app development:
Native development: creating a separate app version for each platform
Cross-platform development: creating a single codebase using special frameworks (React Native, Xamarin, Flutter) that is further compiled and optimized for Android, iOS, and other mobile platforms (still requires some purely native code to support cross-platform functionality)
Hybrid development: using standard web technologies like HTML5/CSS and JavaScript to create shared code and further wrap it into native containers for all supported mobile platforms
Developing native apps for each supported platform is the most expensive approach, yet the best in terms of providing rich functionality, stable performance, access to platform-specific features, security, and a slick UI/UX. It is the best approach to develop fast and highly functional mobile applications.
Many clients choose cross-platform or hybrid development, which involves encapsulating a web app into a native container if the planned app is relatively simple. If these approaches are enough to satisfy your technical requirements, your app may cost 30% to 35% less compared to a native app. To choose a suitable development approach, you'll need to consult with an experienced technical expert.
Read more about mobile development approaches in our dedicated post.
How much does it cost to create an app based on your team's location?
If you opt for hiring remote developers, consider that a team's location factors into the cost. For example, the same project ordered from a remote outsourcing team in Eastern Europe can cost half what it would cost when developed by a team from the USA with the same level of expertise. Here is a brief comparison of average hourly rates for mobile app development in different regions: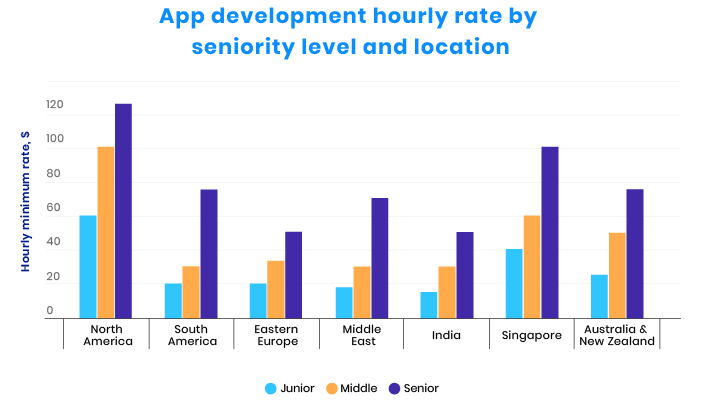 The correlation of team size and project cost
The average development rate should not be the only factor you consider when choosing a development partner. The size of your team also defines how much it costs to make an app: the more specialists you need, the more you will pay. It's common to think that hiring two developers instead of one guarantees you can halve the delivery time. But that's not actually true. A certain percentage of the project time is spent on team coordination and management. Hiring two specialists instead of one can potentially speed up the delivery by 1.5 to 1.8 times.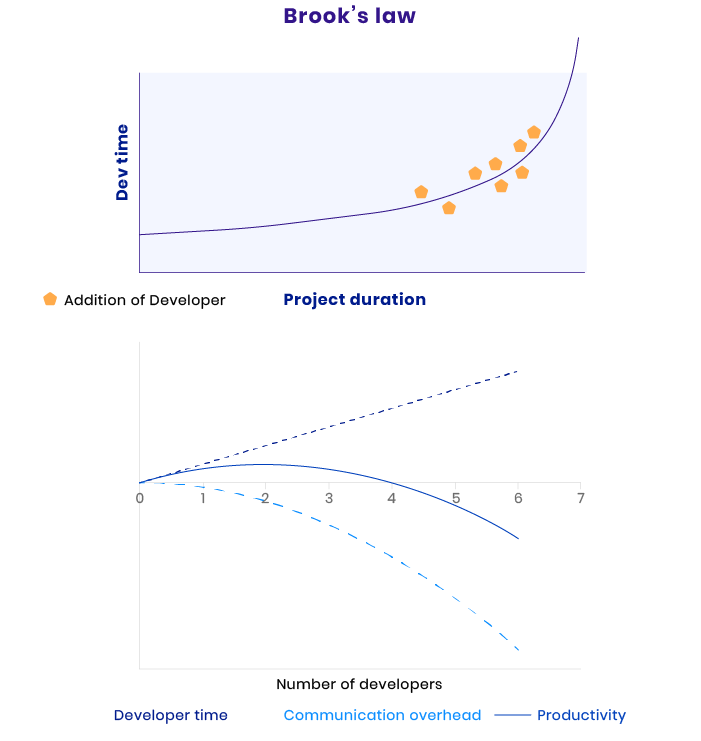 According to Brook's Law, the time required for project development is not directly proportional to the number of developers involved (though the cost is). By paying twice as much, you won't get twice the scope delivered. Take this into account if you have a tight deadline for project completion.
Expected time to market vs project cost
The time factor defines how much it will cost to develop an app. The faster you need it to be delivered, the more developers you'll need to hire to keep up with the deadline. To minimize the quality and delivery risks, you should consider hiring more experienced specialists. Higher expertise means higher developers' rates.
As a result, you should either extend the budget or decrease the scope to fit in a shorter deadline.
Team expertise also matters for the app development cost
Your team's skillset and the experience also affect the project cost. The more experienced your developers, the faster they deliver and the higher their hourly rates.
A junior developer needs more time to understand the task and find and implement the right solution. Less experienced developers deliver poorer quality and need more iterations to fix their code. If the quality assurance process is correctly organized and integrated, junior coders redo their work until they deliver the required quality. Otherwise, you risk releasing a buggy, non-viable product.
Experienced developers require less supervision or no supervision to complete their tasks successfully. They also charge higher rates for better service. Yet higher development rates do not directly translate into higher total project costs. More experienced and talented specialists can deliver the job faster.
If you hire a remote outsourcing team to complete your project, it would be reasonable to have a mix of junior and senior developers for different types of tasks. Less expensive specialists can do the routine work, while higher-ranked developers can work on more complex parts of the project. This way, you can optimize the budget and maintain the appropriate quality of deliverables.
How can you decrease the cost of app development?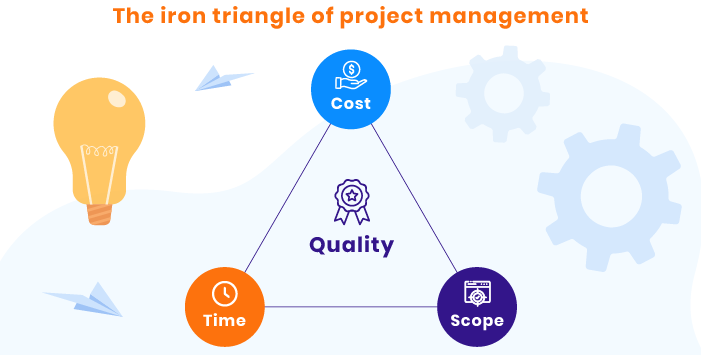 Reducing the cost of development without sacrificing the quality of the end product is possible. Here are a few tips on how to do it.
Business model
Choosing the wrong business model for a digital product leads to extra development costs with no clear business goal and no plan for reaching it. It's essential to correctly define your place in the market based on the existing competition, customer problems that are not solved by existing solutions, and the unique competitive value your startup can offer to the audience. 
Consider these questions to choose a suitable business model for your product:
How competitive is the market niche you're going to enter?
What are the functional requirements on the market to keep the product viable?
What specific customer pains can you relieve with a new solution? (What is your unique value proposition?)
All these aspects are clarified during the product discovery phase. Don't skip this pre-development phase. In-depth analysis of project requirements, business goals, market conditions, and competitors is an effective way to prioritize desired product features, optimize the development scope, and therefore reduce costs. To understand the market and your place in it and to form a realistic product vision, we also recommend using a business model canvas.
Features and complexity
You can optimize the project cost by reducing the set of features and their complexity. We recommend that you:
Create an MVP instead of a full-fledged product, focusing on the features most important for customers. It's reasonable to extend functionality with perks and scale the project according to the growing customer base, growing amounts of data, market evolution, etc. Check out our guides on how to prioritize features for an MVP and reduce MVP costs.
Start with a simple design that won't complicate development and take too much time. You can always add complexity after a successful launch. Often, startups pay too much attention to an app's look in order to make their new product outstanding. However, this should not be your priority on a limited budget.
Start simple and progress continually to reduce the financial risks. Validate the product first and then think about how to retain customer interest with upgrades.
Expected time to market
If you don't have hard deadlines, we recommend not speeding up the delivery by hiring more developers. As you already know, doubling the number of developers won't double the delivery speed.
Say you have one developer working on a project that requires 120 hours of work. That developer is able to finish it in three weeks. But you'd like to speed it up. Two developers are able to complete the same task in two weeks, but that same task would take them 140 hours combined, as part of the time would be spent on communication and coordination.
As a result, you will move the release date a week earlier. However, you'll have to pay for 140 hours instead of 120. In short, you'll pay more for the same scope of work.
If you need to get your app ready sooner than your contractor has estimated and have no ability to extend the budget, look towards reducing the project scope by eliminating low-priority features and simplifying the app's infrastructure and UI/UX design.
Development approach
To reduce the project cost, consider a cross-platform or hybrid development approach. Consult technical experts to define if these approaches cover technical requirements for implementing all desired functionality.
If you have plans to scale your mobile app in the future and extend its features to use mobile hardware capabilities and platform-specific functionality, most likely hybrid technology will be unsuitable for your project. In this case, it makes sense to start by building an app for one platform, either iOS or Android. For instance, Instagram released an iOS version in 2010, and only in 2012 was the app launched for Android users.
Choosing the right platform to start with requires some research. Over 70% of mobile devices globally are Android-based, but that doesn't mean this should be your choice. If your product is targeted at specific regions, you should consider the more prevalent platform in your target markets. In addition, iOS users have greater purchasing power in many markets. Choose wisely after matching your target audience's behavior and your business goals.
Team location
Choose remote contractors from regions with more favorable development rates. Keep in mind the convenience of communication and cultural fit. Outsourcing partners from Eastern Europe offer the optimum mix in terms of price, quality, and communication.
Team size
Minimize the number of specialists on the team to deliver your app within the set deadline. Smaller teams are more productive than teams of 10+ specialists due to less time being spent on communication and management.
Hiring more developers makes sense only if you need to accelerate the delivery and have the budget for extending the team.
Team expertise
To optimize the project budget, consider mixing developers with different levels of expertise:
Senior developers should work on complex strategic problems and the app's architecture, and they should develop complex app elements.
Middle and junior developers should work on more routine tasks under a senior developer's supervision.
This way, the quality will be controlled by senior specialists, while less expensive developers will maintain the required development pace. Focus on finding a development vendor with relevant experience in your industry and with your specific type of product.
Project management and quality assurance play an important role in speeding up the entire development process, ensuring timely and high-quality deliverables. Don't skip these roles in your team, as doing so may lead to delays and unacceptable app quality and performance. A team with effective project management spends significantly less time on coordinating teamwork and communication. Less time spent on these tasks means less money spent from your budget.
Hiring model
Aim to hire an outsourcing development team specialised in developing software for your industry. Despite higher development rates compared to the ones offered by outstaffing, the total project cost is often lower due to effective self-management. Additionally, outsourcing development teams commit in a contract to delivering high-quality software on time. With the outstaffing model, you get no such commitment.
Key takeaways
Developing a mobile app is a necessary step to conquer your mobile target audience. It brings multiple benefits for optimizing customer service, boosting revenue generation, and increasing customer engagement and brand recognition. Having a clear vision of your project idea helps you understand how much it will cost to create an app for your business. RubyGarage mobile app development experts are ready to analyze your business needs and propose a reasonable, cost-effective solution.
FAQ
It depends on the app type, required features, the number of supported platforms, and the chosen development approach. Therefore, it is impossible to get a precise budget estimate without an in-depth analysis of your project requirements.

Here are the approximate range of costs:

the one-platform MVP development costs start at $30,000
a simple cross-platform iOS/Android app development begins at $50,000
a medium complexity native application for iOS and Android will cost you from $80,000
A complex native app for iOS and Android may cost from $110,000.

As a rule, native app development for Android takes around 30% longer. It is primarily due to a broader device range support, a wider variety of screen sizes and OS versions that are currently in use.

Some free mobile app builders help construct a basic mobile application without writing any code. These app builders are limited in the available features and customizability. You can use them to sketch the future solution for evaluation. To create a full-fledged mobile application for commercial use, you'll need professional mobile software developers.