How Much Does It Cost to Build a Website Like Airbnb from Scratch?
111079 views
7 min
Jan 03, 2020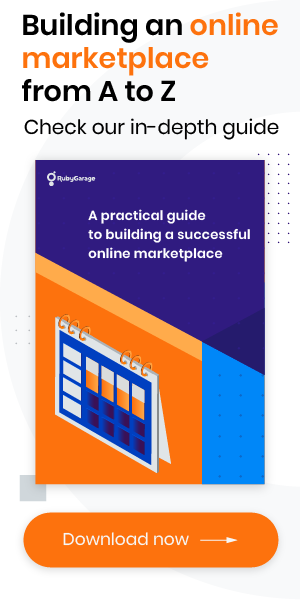 For many savvy travelers, the question of where to stay in a foreign city is obvious: Airbnb. Since its launch in 2011, Airbnb has gained a reputation as a convenient app that allows users to save money on trips, meet hospitable people, and live like a local. 
Airbnb's success didn't happen overnight. To prove that, we've prepared an infographic with key milestones for Airbnb from its launch to the present:
Want to replicate the success of Airbnb? Keep reading to find out how to build a website like Airbnb and get marketing insights on how to make money with a vacation rental marketplace.
What is Airbnb?
Before thinking about how to develop a website like Airbnb, let's find out how this marketplace got started.
Brian Chesky and his partner Joe Gebbia came up with the idea for Airbnb when they couldn't afford to pay their rent. They decided to transform their living room into a bed and breakfast – with a nice homemade breakfast – for three guests. They raised some money this way, then started looking for investors to fund their startup.
Today, Airbnb describes itself as a peer-to-peer marketplace. But to put it simply, Airbnb is just an accommodation-letting service. It provides the same basic functionality as any booking site, but with one major difference. While most booking sites aggregate offers for hotel and motel rooms, Airbnb connects people who are looking for accommodation with people who want to earn some money by letting their own private living spaces. 
Airbnb has two types of users: travelers (or guests) and hosts. Oh, and of course admins, who ensure that all interactions between guests and hosts go smoothly.
Now it's time to talk about how to make an online marketplace like Airbnb. Let's define the essential functionality of a website like Airbnb.
What are the core features of an Airbnb-like marketplace?
Authorization
Both travelers and hosts must sign up and provide their names and email addresses to start using the platform. A social media login feature is practically required for a website like Airbnb, since users prefer to use quick login via their Google or Facebook accounts instead of filling out long signup forms. 
Host listings page
This page allows hosts to easily manage their listings. With searching and sorting, hosts can update information across multiple listings at once.
Accommodation search
This feature allows travelers to choose accommodation with convenient search functionality, intuitive filtering, and simple cards.
Geolocation
This feature provides an interactive map that allows travelers to search for destinations, which adds to the website's convenience.
Accommodation view
This page provides travelers with a detailed description of an accommodation and multiple images to let them see the space from different angles with all details.
Payments
A payment gateway handles all transactions between travelers and hosts. This feature allows travelers to pay for rentals using credit/debit cards or PayPal and allows hosts to withdraw their money effortlessly.
Messaging
Airbnb has its own messaging system. This feature allows users to discuss all details of bookings directly in the marketplace. In order to avoid negotiations on the side, Airbnb has come up with mechanisms that validate data like phone numbers and links so users can't exchange their contact information. 
Users' reviews and ratings
Reviews and ratings let travelers express their views on spaces, allowing other travelers to be confident in the quality of their accommodation.
What is the Technology Stack for Building an MVP for Websites Like Airbnb?
As we know, selecting the right technology stack is extremely important. A technology stack not only affects your budget, but also makes a difference in terms of scalability and development time. As we previously mentioned, the current Airbnb website uses quite powerful technologies and an extensive number of tools. But keep in mind that for your MVP you may need another stack of technologies. These are some of the options we would offer for the technology stack for an MVP version of a website like Airbnb:
Programming languages — Ruby, JavaScript, HTML5, CSS3
Application Framework — Ruby on Rails
JavaScript Framework — React.js
Automation Frameworks — RSpec, Capybara, PhantomJS
SQL data storage — PostgreSQL
Key-value storage — Redis
Web server — Nginx
Web application server — Puma
Hosting — Amazon Web Services (AWS)
This technology stack is a good choice for an MVP as well as for further development of your product. Keep in mind that, while Airbnb uses many technologies, they're still running on the Ruby on Rails framework. Rails can help you build your product MVP quickly and affordably, but it can also make your product secure, fast, and scalable.
How do websites like Airbnb make money?
Now that we've determined the core features, it's important to figure out how to generate revenue from a rental marketplace like Airbnb. 
Airbnb is doing so well mainly due to its versatile revenue models. Let's consider different ways to monetize a website like Airbnb:
Host сommission. Airbnb charges hosts a flat 10 percent commission for every booking through the platform.
Transaction fees. Hosts are also charged a 3 percent fee to cover the processing of payments on Airbnb.
Service fees. Airbnb charges travelers a service fee of between 5 and 15 percent of the reservation subtotal.
Promoted listings. Hosts can pay for their listings to be shown above others to get more visibility.
Lean Canvas for an Airbnb-like marketplace
Let's take a look at a Lean Model, a strategic management template that breaks down a business model into easily understood components for validating a startup idea.
How much does it cost to create a website like Airbnb?
Given the information we've provided, we can calculate the approximate cost of developing an online marketplace like Airbnb from scratch.
We estimate the total duration of the project at 6,437 hours. However, the cost of development depends on the hourly rate of the development company. Below are the average hourly rates for development services in different regions.
As you can see, developing a project like Airbnb from scratch in Central or Western Europe will cost you approximately $276,791. Developing this same product from scratch in Ukraine can cost you $160,925. 
But let's admit it: both price tags are considerable, especially for startups with a limited budget and a need to launch faster than their competitors. To solve this problem, our team has created a white-label solution for reducing the cost and time required to build an online marketplace like Airbnb.
Our custom-made solution provides the most essential modules to develop marketplaces for product sales and booking and consulting services. And the best part is that the price starts at only $40,000 for an MVP. Moreover, our development team can build unique features for you and create a custom design to help your product stand out.