What It Costs to Create a Marketplace Like Poshmark: Practical Advice from Our Team
20708 views
8 min
May 02, 2019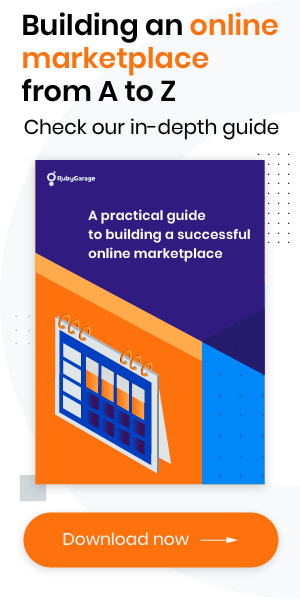 Poshmark is the largest social commerce marketplace for buying and selling used clothes. This popular marketplace raised an $87.5 million round of funding in 2017, valuing the company at $537.5 million.
Here's an infographic with some key milestones that show the path of Poshmark from its launch to the present:
Inspired by the success of Poshmark? Keep on reading to find out how to build a website like Poshmark and get insights on how to make money with it.
What is Poshmark?
Poshmark is a social marketplace where people in the United States can buy and sell clothing. This marketplace is focused on fashion, accessories, and luxury goods. Poshmark allows customers to browse the marketplace and search according to specific criteria. Users can find everything from everyday items to exclusive designer couture; from middle-market brands like Michael Kors to high-end fashion brands like Chanel and Louis Vuitton.
Moreover, users can not only buy items but also sell their unwanted or unworn clothing and accessories. Secure purchasing is implemented with PayPal, credit cards, and Apple Pay.
Now it's time to talk about how to create a website like Poshmark. We recommend beginning from a minimum viable product (MVP). An MVP allows you to validate your idea at an early stage so you can get feedback from real users and make improvements as soon as possible.
Let's define the essential functionality of a website like Poshmark.
What are the core features of a Poshmark-like marketplace?
Authorization
Both shoppers and buyers must sign up and provide their names and email addresses to start using the platform. A social login feature is needed for an online marketplace like Poshmark since users don't like to fill out long signup forms but are willing to use their existing social login credentials from Google or Facebook to sign up for the platform fast.
Seller page
This page provides buyers with information about sellers: recent comments received and given, brands they follow, average shipping time, last activity, start date on the marketplace.
Seller listings page
This page allows buyers to view all products listed by a particular seller and sort them using filters like size, color, and price.
Item search
This feature allows shoppers to choose items with convenient search functionality, intuitive product filtering, and simple product cards.
Product view
This page provides buyers with a detailed product description and multiple images to let them see the product from different angles with all details and in all colors.
Payment
A payment gateway handles all transactions between buyers and sellers. This feature allows buyers to pay for their purchases using credit/debit cards or PayPal and allows sellers to withdraw their money effortlessly.
Marketplaces like Poshmark use escrow payments, which means a third party regulates the payment of funds between the two parties involved in the transaction. The escrow payment method makes transactions more secure since the escrow provider keeps the payment until all terms of the agreement are met. In terms of Poshmark and similar marketplaces, this means that payment is withheld until buyers are satisfied with their purchase and accept the goods.
How do websites like Poshmark make money?
Now that we've defined the core features, it's important to figure out how to generate revenue. Poshmark's annual revenue in 2018 was 150 to 200 million US dollars, up from 50 million in 2016.
So why is the company doing so well in such a competitive space? This is mainly due to its business model. Let's consider how to make money with an online marketplace like Poshmark:
Seller fees. Charging seller fees is common practice on marketplaces of any type. Poshmark takes a $2.95 commission on all sales under $15 and a 20% commission on any sales above $15.
Adding listings. To list products on a marketplace, sellers have to pay fees. For example, Etsy charges sellers $0.20 to list one product on the website for four months.
Shipping. Poshmark's flat-rate shipping fee is $6.79 per package, which is paid by the buyer.
Payment processing fees. eBay generates revenue from 2.9 percent transaction fees on the total sale amount when people use PayPal to transfer money.
Promoted listings. Sellers pay fees for their items to be shown above others to get more visibility.
How to build a successful website like Poshmark
To build a successful marketplace like Poshmark, you should give careful thought to each product development move.
We've come up with a few useful tips to help you build a successful marketplace.
Provide a positive customer experience
The customer experience is one of the most important areas to focus on. A positive customer experience not only results in happy customers; it can also lead to additional revenue, as it did for Poshmark.
Poshmark provides quick shipping with PoshPost – a collaboration with USPS. PoshPost allows sellers to avoid stamps and hassle. When people buy items, Poshmark offers a pre-paid, pre-addressed label ready to be stuck on the box. After the purchase has been packaged, the seller can drop it off at a USPS mailbox or even have it picked up for free from their home!
Build a community
Poshmark is a bright example of a marketplace with a wide community. It isn't only a fashion ecommerce website but also a community where people share their views, opinions, and love for fashion.
Poshmark provides Posh Parties: real-time virtual shopping events that allow people to meet up in the Poshmark app to shop, share, and sell clothing and accessories. Posh Parties are a great opportunity to find new Poshers and listings and to gain more followers.
Moreover, Poshmark organizes events called PoshFests where people can meet their so-called Posh friends, listen to industry experts, learn how to grow a business, and gain insider tips.
People enjoy being part of a community. Events and a community can remind your customers that you're engaged with them. Let's look at how Poshmark benefits from its social elements.
Prevent scams and inauthentic items
Online marketplaces that sell fashion items from exclusive designers can have problems with fake goods. That's why Poshmark doesn't release payment to a seller until the buyer indicates they've received their order as described. Buyers have three days to return a product to the seller in case an item is misrepresented. If no claim is made within three days after delivery, payment is automatically released to the seller. After that, all sales are final and buyers can't get a refund.
How much does it cost to build a website like Poshmark?
In view of the above, we can calculate the approximate cost of developing a social commerce marketplace like Poshmark. The cost is comprised of multiple factors, including the number of features, development company rates, and whether the project is going to be developed from scratch. 
Let's consider how long it will take to develop an MVP for a social commerce marketplace like Poshmark. 
Project management - 335h
Business analysis - 482h
UI/UX design - 406h
Quality assurance - 574h
Frontend development - 347h
Backend development - 574h
The development from scratch of a Poshmark MVP requires approximately 2,718 hours. Now let's find out the average hourly rates for the development services in different regions to estimate the final price.
The development of a social commerce marketplace like Poshmark in Central and Western Europe will cost you around $116,874. To create a similar project in Ukraine, you'll need to pay approximately $67,950. That's the cost of a custom development from scratch.
So, how to reduce the project cost and maintain high quality? We recommend checking our white-label solution that allows for fast and cost-efficient niche marketplace development. The solution has all the necessary feature modules to build marketplaces for product sales, booking, and consulting services, starting with $40,000 for an MVP. 
At the same time, our solution allows us to customize your marketplace: add new, unique features and come up with a custom design.