A Deep Dive into the Best Outsourcing Countries
12243 views
12 min
Jun 25, 2019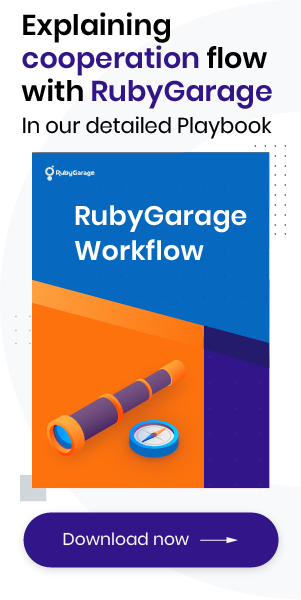 Researching where to outsource software development can be a long and tedious procedure. In this post, we consider the top countries for outsourcing software development to help you make the right choice.
We've used the following metrics and resources to analyze the most popular outsourcing destinations:
Hourly rates are based on Clutch data for 2019.
The EF English Proficiency Index measures the average level of English knowledge based on test results. The index is based on a total of 1.3 million results and not less than 400 per country. A score of 1 is the highest and 88 is the lowest.
The HackerRank position is based on test results in different programming domains for about 5 million IT specialists from 50 countries; 1 is the highest rank and 50 is the lowest. 
Overlapping hours with New York and London.
And other useful data.
Eastern Europe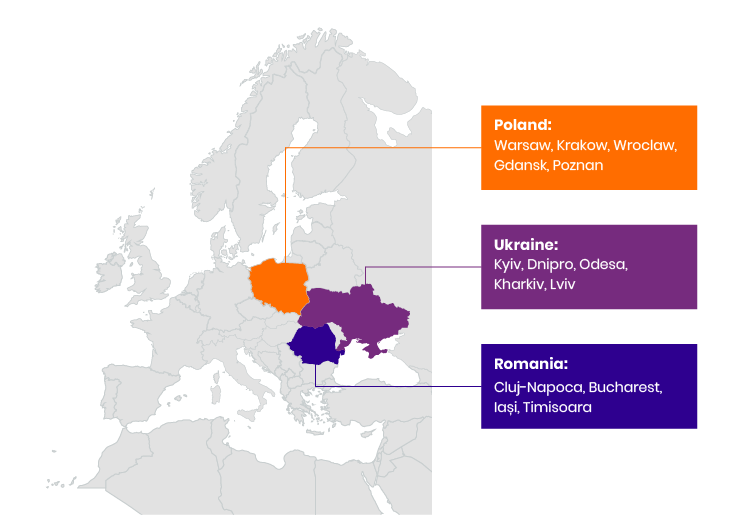 Outsourcing companies in Central and Eastern Europe (CEE) are especially favored by clients in Western Europe for their proximity and strong programming skills. Clients from the US choose partners in these countries too due to their Western mindset and high level of English. Let's take a closer look at Poland, Romania, and Ukraine as outsourcing destinations. 
Poland
Poland seems to be the champion among these three countries in terms of programming proficiency and level of English. The country placed 15th in the Tholons Services Globalization Index Top 50 Digital Nations ranking in 2019, and Krakow was ranked 8th among the Top 20 Super Cities. There are about 254,000 developers in Poland, mostly located in Warsaw, Krakow, Wroclaw, Gdansk, and Poznan. The most popular programming languages in Poland are Java, JavaScript, .Net, PHP, and Python. Overall, Poland is on the path to success as Europe's growth champion.
Romania
Romania is not only a famous destination for tourists but an attractive country for outsourcing. It takes third place among CEE countries by number of software developers. There are about 118,000 IT specialists in Romania skilled in PHP, Java, JavaScript, C#, C++, and other languages. The main IT hubs are Cluj-Napoca, Bucharest, Iasi, and Timișoara. Romania also ranks highly for programming and English proficiency, making it a destination worth considering. 
Ukraine
Ukraine is in second place among CEE countries by the number of developers, with over 165,000. Most of them work in the biggest IT hubs: Kyiv, Lviv, Kharkiv, Dnipro, and Odesa. An average Ukrainian IT specialist is relatively young (21–35 years old) and has 3 to 5 years of experience. About 57% have a degree in a STEM field (science, technology, engineering, and mathematics). 
The level of English among Ukrainian developers is also high: the latest research conducted by the local developer's community Dou shows that more than 69% of specialists have an intermediate level or higher, which makes communication easy. As a result, Ukraine is gaining popularity both as an outsourcing destination and an attractive investment location. There are over 100 research and development (R&D) centers for international companies and over 2000 startups in Ukraine. Ukrainian startups including Grammarly, GitLab, and BitFury got about $350 million in investment between 2017 and 2018. 
It's important to note that although Ukrainian rates are still lower than in Western Europe, they're growing because of the high quality of service. Today, rates in Ukraine are pretty close to rates in Poland.
| Country | Average hourly rate | English proficiency rank (out of 88) | HackerRank position (out of 50) | Overlapping hours with NYC | Overlapping hours with London |
| --- | --- | --- | --- | --- | --- |
| Poland | $25–99 | 13 | 3 | 3 | 6 |
| Romania | $25–99 | 16 | 20 | 2 | 5 |
| Ukraine | $25–99 | 43 | 11 | 2 | 5 |
Here are some more specific numbers on hourly rates in Eastern Europe: 
Hourly rates
Project manager
Business analyst
Software architect
Graphic designer
Mid-level developer
Mid-level QA
$45–70
$40–63
$50–77
$35–56
$35–56
$20–30
The bottom line
As you can see, these countries are just slightly different in pricing and quality. In Eastern Europe, you'll definitely find a knowledgeable team that can develop a product of any complexity from scratch and support it for you.
 Latin America
Latin American countries are often chosen by US companies due to these benefits:
Almost fully overlapping working hours
Good English skills and cultural similarities
Proximity
Software outsourcing to Mexico, Brazil, and Argentina has grown a lot in recent years. The workforce capacity in these countries is pretty impressive. According to Stack Overflow, in 2018, there were about 457,000 developers in Brazil, 223,000 in Mexico, and 114,000 in Argentina. Companies such as Google, IBM, Microsoft, Oracle, and Adobe have IT operations in these countries. 
Mexico
Mexico is investing a lot in STEM education and is ranked 8th among the Top 50 Digital Nations by Tholons in 2019. The main IT hubs are Mexico City, Guadalajara, and Monterrey. Mobile and web developers as well as specialists in IoT, blockchain, and analytics are available at moderate rates. Mexico can be a beneficial outsourcing destination for Northern American companies due to its proximity and the opportunity for real-time cooperation. 
Brazil
Brazil is the most populous Latin American country and 2nd in the Top 50 Digital Nations. São Paulo, Rio de Janeiro, Belo Horizonte, and Florianopolis are the main tech hubs. In 2018, three Brazilian startups became unicorns: 99Taxis, PagSeguro, and the mobile wallet Nubank. At the same time, the country is known for not being the most business-friendly destination. It was rated 109 among 190 countries for ease of doing business. While the taxation system and bureaucracy stop some businesses from coming to Brazil, its IT professionals make it an attractive country for outsourcing software development. 
Argentina
Argentina made a big leap in 2019 and came in 10th out of the Top 50 Digital Nations, up from 14th in 2018. It has the highest level of English proficiency among Latin American countries and invests a lot in education to extend the country's talent pool. The biggest tech hubs are Buenos Aires, Cordoba, and Mendoza. Argentina provides services in web and mobile development, blockchain, and big data. As reported by the Coursera Global Skill Index, Argentina is the #1 country in these technologies. Speaking about programming languages, it's easier to find Java, PHP, JavaScript, and C developers in Argentina, while Python, C++, Swift, and Ruby aren't popular there. While the country is wading through economic instability, it's surely an attractive destination for software development.
The prices can be higher than those in Eastern Europe but are still affordable compared to the rates in the US. 
| Country | Average hourly rate | English proficiency rank (out of 88) | HackerRank position (out of 50) | Overlapping hours with NYC | Overlapping hours with London |
| --- | --- | --- | --- | --- | --- |
| Brazil | $25–99 | 53 | 38 | 7-8 | 4-5 |
| Argentina | $25–99 | 27 | 39 | 7-8 | 4-5 |
| Mexico | $25–99 | 57 | 33 | 7-8 | 4-5 |
Outsourcing hourly rates in Latin America:
Hourly rates
Project manager
Business analyst
Software architect
Graphic designer
Mid-level developer
Mid-level QA
$55–66
$45–55
$60–72
$40–50
$30–52
$35–44
The bottom line
Overall, Latin American countries have a wide pool of skilled IT specialists and the costs are affordable. The only concern can be the level of English, but management is usually skilled enough to get on well.
 Asia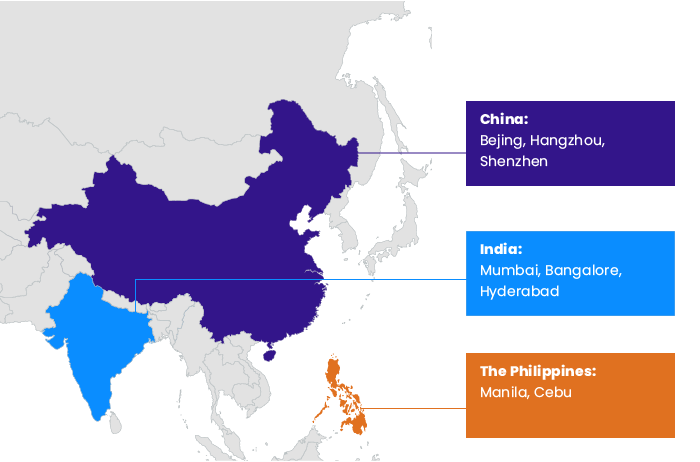 Asia is home to a huge pool of talented developers at competitive prices. Many IT giants such as IBM, Google, and Cisco outsource software development to these countries. However, cultural aspects may cause some difficulties. Still, it depends on the company you choose. Many go all out to be Western-oriented. 
China
China is doing its best to develop into a tech-driven country and overtake Silicon Valley. In 2018 alone, 37 Chinese companies became unicorns at a total cost of $84 billion. The country is no longer copying its competitors' technologies but is becoming one of the world leaders in AI, VR, AR, and data science. If your project is connected with these technologies, China is well suited. The three biggest tech clusters are Beijing, Hangzhou, and Shenzhen. China has some of the most skilled developers at moderate costs, but the location itself and the level of English can cause some difficulties.
India
India is the number one outsourcing destination according to the Offshore Location Attractiveness rating in 2019 by A.T. Kearney. Over 500 companies from India offer their services worldwide. India's main IT hubs are concentrated in Mumbai, Bangalore, and Hyderabad. The country is famous for low prices. However, you should keep in mind that Indian developers are often accused of delivering unreliable and unmaintainable code. Other countries offer higher quality services, which outweighs the cost advantages. 
Philippines
The Philippines is becoming an attractive destination for outsourcing IT software development due to affordable prices and high quality. It has a Western-oriented culture, and over 92% of the population speaks English. The country was ranked the 10th most attractive outsourcing destination by A. T. Kearney in 2019. Despite the lack of overlapping working hours with the US, it's possible to get connected around 8 to 9 in the morning in the Philippines and 7 to 8 in the evening in the US.
| Country | Average hourly rate | English proficiency rank (out of 88) | HackerRank position (out of 50) | Overlapping hours with NYC | Overlapping hours with London |
| --- | --- | --- | --- | --- | --- |
| China | from $25 | 47 | 1 | none | none |
| India | $25–49 | 28 | 31 | 1 | 4-5 |
| Philippines | from $25 | 14 | 46 | none | 2 |
Average rates:
Hourly rates
Project manager
Business analyst
Software architect
Graphic designer
Mid-level developer
Mid-level QA
$35–48
$30–42
$35–48
$25–36
$24–35
$20–30
While India is a well-known outsourcing destination, China and the Philippines are strong players that are worth investigating.
US & Canada 
The US
The US has the world's largest and most innovative economies and was rated 3rd in the Top 50 Digital Nations by Tholons in 2019. Silicon Valley still remains an icon of software development quality. US IT specialists are the highest paid globally. According to Global Knowledge, in 2018, an average developer salary in the US was $87,333, which is 36% more than the global average. Extremely high prices for education, high expenses in US IT hubs, and a shortage of software developers make the rates one of the highest in the world. This, in turn, makes a lot of American business owners prefer outsourcing to hiring local IT specialists. In 2017, the US initiated about 84.2% of all Information Technology Outsourcing (ITO) contracts globally and outsources all over the world. It is, however, interesting to note that businesses from many developing countries hire specialists in the US due to a lack of local talent. Since American developers have a proven track record, plenty of businesses outsource to US companies despite the high prices. 
Сanada
Canada is a popular nearshore destination for the US since the time difference is only up to two hours, Canada is largely English-speaking, and the countries have similar mentalities. Canada ranks 6th the Tholons list of the Top 20 Digital Nations. In Canada, average hourly rates are $50–200, while in the US rates go up to $300 per hour. Taken all together, the price, quality, and proximity make Canada a valuable partner for the US companies.
Western Europe and the Nordics
Although Western Europe and the Nordic countries are always ranked among the top digital countries, they might have a shortage of about half a million software developers by 2020. The Nordics, the Benelux countries, Switzerland, Germany, and Italy are projected to have the largest deficit of IT specialists. The main reasons for this are a lack of STEM graduates, aging populations, and an over-complicated procedure for hiring expats. 
Sweden, Denmark, Finland, and the Netherlands are famous for being the home of top-notch startups like Spotify, Corti, No Isolation, Choose, and HostAway. But being a highly innovative digital country has its price. In Amsterdam, foreigners make up about 70% of the workforce at tech startups. Nexten.io states that Finland will need about 15,000 developers by 2020 and that Denmark will lack about 19,000 IT specialists by 2030. Sweden is predicted to have a deficit of about 70,000 developers by 2022. There is expected to be increased demand for web and app developers as well as IoT, big data, enterprise resource planning, and business intelligence specialists. 
Many Nordic companies outsource to find a way out of this situation. And the solution seems to be successful. According to NASSCOM, About 90% of Nordic companies that outsource software development are satisfied with the quality, and about 50% say they're going to outsource even more. Companies mention reduced costs, lack of local staff, and the desire to deliver their products to market faster as the main reasons for outsourcing. 
Summary
Asian countries are full of skilled professionals but can be more difficult to work with due to time differences and cultural aspects. Latin America and Eastern Europe can be the optimal solution thanks to competent specialists, English proficiency, and a comfortable location. Yet there's no one-size-fits-all solution when choosing the best outsourcing country, and you should do a bit of your own research as well. The main challenge is to find a dedicated team with whom you can be on the same page! We hope we've provided comprehensive insights on this topic that will make your choice easier.
If you have any questions, you're welcome to contact us.