An Overview of Essential Features For a Successful Banking App
51677 views
12 min
Jul 12, 2018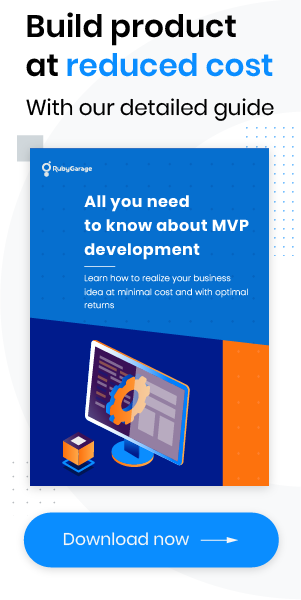 Everything is going mobile. If you don't have an app, it's as if you don't exist! A modern bank can hold a leading position on the market only with a well-designed mobile application that's smart and handy, allowing users to do the same things they would on the website — or even more. This approach has a lot of benefits not only for customers but also for banks.
The first and most essential step after you've decided to create your own banking app is to choose the set of functionality that will turn your app into a versatile tool for all your customers. In this article, we tell you what features of an online banking app are fundamental and which you can add to make your app even more appealing and engaging. Let's start with the basics.
Essential features for a mobile banking app
This list is a minimal set of functionality that has to be present in your mobile application. You can choose different approaches to implementing this functionality, but we highly recommend that you pick the latest technologies and tools. To help you out, we've collected a lot of case studies to demonstrate how existing banking apps solve the issue.
Simple yet secure sign-in
Multi-factor authentication is a secure but time-consuming technology that in most cases irritates users, especially when we compare this method to authentication based on biometric data.
Biometric authentication technology checks physical metrics to recognize and verify a person. This technology can recognize a person's voice, typing rhythm, and even gestures. Yet many other characteristics can be used too.
For instance, Wells Fargo has launched an eye scanning verification feature in its mobile app for corporate customers. To be recognized, a user has to look at the camera. The program doesn't scan the iris, as you might think; instead, it focuses on the pattern of blood vessels in the eye, which is also unique for every person.
Bank account management
With a bank account management feature, users can monitor their cards and bank accounts, check their balances and transaction histories, and make money transfers.
This list could be extended. ABN AMRO, a large bank in the Netherlands, added some unique features to their accounts tab along with the usual ones:
Set a saving goal — User can set a desired amount and a time by which they want to save it.
Make an investment — User can place an investment order if they have an investment account.
Make repeat payments — If Users have already sent money to a friend or family member, they can tap on a previous transaction and send money again without entering any recipient data.
This advanced functionality lets users do more with the app without a need to use the web application.
Intelligent chatbot for customer support
Providing the most personalized approach to your clients is the key to your success. You need to make sure that your customers have 24/7 support and can get professional consultation or advice anytime they need it.
An AI chatbot is the best option here. A smart chatbot can easily answer hundreds of customers at the same time without making them wait in line. Chatbots work around the clock, are always polite, and never get tired. Wells Fargo Bank has benefited from its customer support chatbot.
Now, Wells Fargo users can get assistance anywhere and anytime without going to the website.
ATM locator
An ATM locator may seem like a very basic feature, but you shouldn't neglect it. The small things show your care for customers. Besides, if you add new technologies to make your app more interesting, you can achieve some great results. Royal Bank of Canada has demonstrated how this works.
RBC has added a unique feature to its mobile app that allows users to find the nearest branch or ATM with the help of Virtual Reality technology. The bank spokesperson claims that about 90 percent of users updated to get this feature of the mobile banking app and that there have been about 25,000 new downloads of the application since the new feature was added.
QR code payments
Scanning QR codes directly from a mobile banking app is an easy, fast, and convenient way to pay for goods and services. Besides, all that users need to scan QR codes is a smartphone.
Although QR codes aren't a new technology, only a few bank apps have implemented payments via QR code so far. Dutch banks ING and Rabobank were among the first with their mobile app Payconiq. Released in January 2018, Payconiq simplifies online and in-store payments with the help of a QR scanner built into the app.
Alerts and notifications
There's no need to remind you how important notifications are for a mobile app. They can help you keep in touch with your customers, engage them, and promote your services effectively.
The only thing you have to remember is that clients hate intrusive notifications. That's why users should be able to easily set up notifications to control what information they receive, when, and how often. This way they will get only information they really care about.
What extra features should you consider to make a competitive app?
The features that we've listed above form the core of your app. With such an application, you can attract some of your existing customers, but that's all. You can only grab the attention of a larger audience when you offer something unique and very helpful. That's why we recommend that you consider the following additional features to make your app innovative, appealing, and interesting not only for existing customers but for non-customers too.
Tracking spending habits
Users can get more control over their finances and reach their saving goals by using mobile budgeting apps and spending trackers. Why not consider adding such functionality to your banking app?
We've selected the most essential features for your mobile banking app to compete with the most popular products in this niche:
Saving goals. Users should be able to choose among predefined goals, add their own, and set a timeline for fulfilling them.
Customized reports. Analytical charts are a great way to demonstrate personal progress and motivate users. Users should be able to indicate what information they want to receive and in what form.
Budgets. Include a lot of spending categories and the ability to add new ones. Customers should be able to set an amount for each category for a week, month, or year and see how much money they've spent and how much is left.
Notifications. Notifications can remind users to input data about spending in the evening, show reports, and remind about upcoming payments.
Scheduled bills and payments. Make sure that customers can schedule bill payments to individuals or businesses and choose the frequency of money transactions, for instance weekly, monthly, or yearly.
To understand how these features work, check out Simple. It's a banking app that helps clients to meet their saving goals.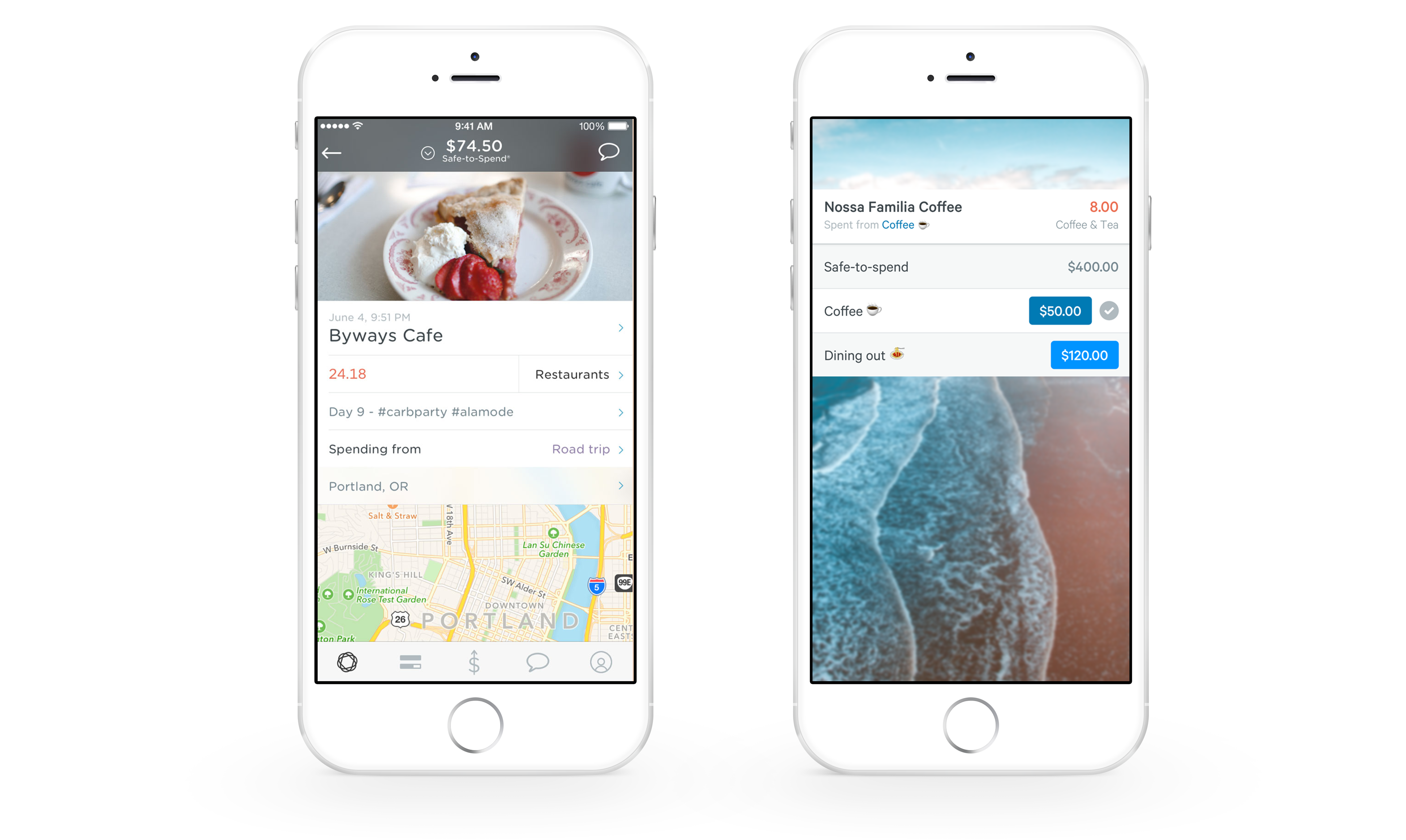 The Simple app has a feature that tracks spending habits, assists in budget planning, and shows how much a user can save on every expenditure.
Cash back
Some banks believe that offering a cash back service in their web apps is enough. Yet this online banking feature is also important for mobile apps.
According to Statista, the transaction value of global m-commerce sales rose from $50 billion in 2014 to almost $300 billion in 2017. For 2019, Statista predicts revenue of almost $700 billion.
These figures show that customers now prefer mobile phones to PCs and tablets for shopping. And it would be nice if they used your banking app to make purchases online. Besides, cashback mobile banking application feature can also become part of a loyalty program, offering customers a higher cash back percentage when they spend more or make more transactions.
Special offers
Mobile apps are considered extremely powerful marketing tools. Since 2016, people have started accessing the internet using mobile phones and tablets more than desktops. The average mobile phone user in the US spends about 2 hours and 35 minutes a day using their device. Zenith, an ROI agency, predicts global growth in mobile ad spending to more than $72 million by 2020 while spending on desktop internet ads simultaneously declines by $2 million.
With the help of highly personalized offers, discounts, and coupons that customers receive only via your mobile banking app, you can build a viable engagement campaign to attract even non-customers interested in these offers.
Zions Bank has launched its Zions Cash Rewards app, which collaborates with thousands of establishments from restaurants and shops to hotels and educational courses. The network covers the whole US and provides users with coupons and cash back rewards.
This approach leads to higher customer engagement and gives users an extra reason to open your banking app.
Apps for wearables
People love smartwatches because they save time. Users don't need to take out their phones from their pockets or purses to read notifications or answer phone calls. We love smartwatches because customers carry them everywhere they go, making them reachable all the time.
Some banks have already noticed this and decided that paying for goods, getting notifications and alerts, and managing money from the wrist could be a very attractive market. One of the first banks to launch a smartwatch banking app was the Australian Bank of Melbourne.
The app supports iOS and Android and has such features as secure balance checks, a nearest branch and ATM locator, and the ability to receive push notifications and alerts.
Non-traditional services
A banking app today can extend its functionality to become even handier and more productive. Some of the newest online banking features include purchasing tickets, hailing taxis, booking tables, and ordering flowers. Through a banking app, customers can make secure payments without logging in anywhere else.
Bank Zachodni WBK in Poland has attracted a lot of new customers by offering non-traditional services like paying for public transport, shopping, and ordering taxis in its mobile application.
Non-traditional services are very effective if these features of a banking application work correctly and help people get things done in a few clicks.
Shared finance features
As Visa suggests, if you want to attract Millennials, you need to focus on budgeting tools. Apart from the budget planning features that we've mentioned above, you can also consider bill splitting functionality to attract more younger customers.
As an example, you can check out the Liv. mobile banking app from Emirates NBD. The app offers a simple yet convenient feature to split bills among friends. All a user has to do is input a sum and indicate the number of people they want to split the bill with.
The Liv. app allows users to send money requests via several social channels. What's more, it also informs users when friends have paid, making it even more convenient.
Comparison of mobile banking apps
Competitor analysis is one of the most vital steps when you're making a list of features for your application. One option is to apply SWOT analysis — one of the most effective techniques to inspect your competitors. This approach helps you to find the strengths, weaknesses, opportunities, and threats of each application to make yours better.
For that, you need to know exactly what features your competitors' apps have. To help you with that, we've compared the functionality of five prominent mobile banking applications from Bank of America, JP Morgan Chase, Capital One, Wells Fargo, and HSBC.
| Feature | Bank of America | JP Morgan Chase | Capital One | Wells Fargo | HSBC |
| --- | --- | --- | --- | --- | --- |
| Biometric authentication | + | + | + | + | + |
| Transfer funds and pay bills | Zelle | Zelle | Zelle | Zelle | HSBC Easy Pay |
| Receive alerts and notifications | + | + | + | + | + |
| Display balances | + | + | + | + | + |
| Scheduled & automatic payments | + | + | + | Scheduled | + |
| ATM locator | + | + | - | + | - |
| Report/block a stolen card | + | - | + | + | + |
| Wire transfers | + | + | + | + | - |
| Personalized offers | - | - | - | - | + |
| Spending/budgeting | Cashback | - | See spendings | - | Bill splitting |
| Card-free ATM access | + | + | + | + | - |
| QR payments | - | - | - | + | - |
| Investment/stock features | - | - | Has another app for that | + | + |
| 24/7 chatbot support | Erica chatbot | - | Eno chatbot | Chatbot in Facebook | Amy chatbot |
| Non-traditional services | - | - | - | - | Insurance purchasing |
As you can see, the most basic functionalities present in all apps are money transfers, bill payments, balance checks, and notifications. In addition, all banks pay attention to security: biometric authentication is present in all these apps as it allows for efficient, fast, and secure log-ins.
AI chatbots, the new big thing in the customer support sphere, are getting more and more popular, which is why three banks have already launched chatbot projects in their apps. Wells Fargo has a Facebook Messenger chatbot, and only JP Morgan Chase doesn't have a bot for customer support (but it has an AI chatbot, COiN, to streamline routine back-office tasks).
Wrapping up
A well-designed application with some really smart and unique features directly impacts your success, helping you attract new customers, get a competitive edge, and create a positive customer experience.
To make the right decision, talk to a development team with relevant experience. They can advise you on modern technologies and approaches to improve your plan. If you're ready to discuss your banking app feature list with us, contact our team and let's get started.