How to Build a Car Rental Marketplace: Core Features, Challenges, and Monetization
17489 views
10 min
Mar 12, 2019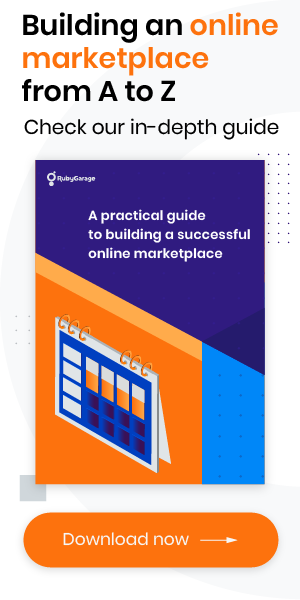 Renting a car is one of the most popular approaches to shared mobility in the US, Canada, and Europe. According to a report by Zion Market Research, the global car rental market is expected to reach about $125 billion by 2022. The increasing popularity of shared mobility means that carsharing marketplaces will be in high demand. In this article, we share useful tips on how to build a successful carsharing marketplace and become a leader.
Types of car rental marketplaces
There are two basic types of carsharing marketplaces: B2C (business to consumer) and P2P (peer to peer).
B2C car rental marketplaces like Rentalcars.com offer their services directly to consumers. Their carsharing model includes flexible one-way trips (free-floating), round trips from and back to a fixed location (station-based), and trips from point A to point B (A–B).
P2P car rental marketplaces like Turo connect owners of personal vehicles with consumers who rent them. The P2P model focuses mostly on station-based and A–B types of carsharing. Let's consider the differences between these two business models in detail:
As P2P carsharing is getting more popular in the US and Europe, we'll focus on the P2P car rental marketplace model in this article.
Features of a P2P car rental marketplace
We'll look at a basic feature set for a car rental marketplace. We've divided this list into two categories: features for car owners and features for renters.
Features for owners
Registration and login. Registration and login allow users to access the system for the first time and helps the system to remember every visitor as a unique user.
Personal profile. Users have to add their personal information, choose the subscription model, add a car with the description and photos, add pricing details and availability details. 
User dashboard. Car owners can change the availability of their cars, add or delete car photos, and see some analytics concerning their car rental business.
Reviews and ratings. Car owners can rate renters and leave feedback about them. It allows other car owners to make information-driven decisions about whom to let their cars out and whom to refuse.
Chat. Via the cat, car owners can communicate with drivers, discuss details and ask all questions to assuage all doubts.
Features for renters
Registration. User can register via email, social media accounts like Facebook and Google, and phone number.
Personal profile. Users add their personal information and driving license details. 
Search filters. Users can search a car by its type, price, category and some extra facilities, like an air conditioner, GPS, and so on.
Booking system. A user can search for a car, view pick-up details (availability chart, car location, time and date) and send a request to owner for booking confirmation.
How it works section. This feature shortens the user's journey dramatically. It includes a detailed explanation of how things work on your car rental marketplace. 
Payment system. A user can pay via the app using a secure payment gateway.
Chat. Users can quickly get answers to all their questions much faster than if using email. 
What are the challenges for car rental marketplaces?
Safety concerns
Car owners are often afraid of sharing their vehicles with unknown people because of safety concerns. Who knows whether a driver is a leisure traveler or a car thief. In addition, vehicle owners never know how responsible and experienced a driver is. To ensure a safe car rental environment, marketplaces should verify users by checking their driving license, driving history, and insurance score.
Turo takes responsibility for assuring safe carsharing between marketplace users. The company conducts driver identity verification and runs complete background checks. Turo also protects vehicle owners by providing them with insurance against any damages. One more great example is the Drivy marketplace, which has age limitations for drivers. Drivy doesn't allow young and inexperienced drivers to rent a car.
Some carsharing marketplaces use do not rent lists of users with poor driving history or who have been in an accident with a rental car. Carsharing apps may also create a review section in driver profiles and require login via social media networks to avoid fake accounts and build a trustful community.
Driving challenges for foreign travelers
For most car rental marketplaces, especially in big cities and popular tourist destinations, dealing with foreign customers is the biggest challenge.
People from other countries may find it difficult to follow local traffic rules. For example, British drivers in the US can face problems with driving on the right side of the road. Or Europeans who are used to driving down narrow streets may be confused when driving on huge highways.
A skewed understanding of traffic rules in a country may cause more accidents and, as a result, financial losses for the marketplace. To deal with this problem, carsharing marketplaces can provide foreign travelers with short in-person training or short onboarding directly in the app. This is a good way to inform drivers of local rules, roads, and norms.
High competition
There are so many car rental marketplaces and companies on the market that it's getting extremely difficult to gain recognition. Lots of new companies are entering this niche with fresh ideas and advanced technologies. The best solution to this problem is to work on your core values, keep an eye on your competitors, and validate your business idea before starting to develop your marketplace.
For example, the core value of Turo is helping car owners use their vehicles to get additional income instead of just leaving them in the garage. On average, owners can earn $500 per month for renting out their vehicles. For renters, Turo offers the biggest selection of cars, thousands of locations, and lower prices than rental companies. All this makes Turo the leader in its niche and gives the marketplace a competitive advantage.
Another major player in P2P carsharing is GetAround. This platform connects renters and car owners according to their location. For drivers, getting a vehicle from the car owner takes a lot of effort and time, so GetAround helps drivers rent a car from someone close to them. The value proposition of Car2Go is free parking, no surge pricing, and no refueling. The Car2Go app allows drivers to just grab any available car, park it at the end of the ride in any legal spot, and go.
To sum up, high competition is a real obstacle for car sharing startups. But if you clearly define and communicate your core values to your target audience, your app's chances of gaining its first users and eventual popularity will increase.
How to monetize a car rental marketplace
Monetization is the trickiest point for any P2P marketplace. The problem is bringing in revenue without hurting the customer experience.
If a car rental marketplace enables transactions directly in the app, then the commission is the most popular method of monetization. An advantage of the commission-based approach is that it's scalable and can work at a relatively low level of activity. For example, the Turo car rental marketplace takes a commission of up to 15 percent of the total cost of each transaction. In addition, they charge extra for delivery, additional mileage, and protection plans.
Business Model Canvas
Since the car rental industry faces some challenges and obstacles, we advise entrepreneurs to validate their business ideas by filling in a Business Model Canvas before starting development. Take a look at our Business Model Canvas for a Turo-like car rental marketplace:
What's the future of car rentals?
Peer to peer carsharing continues to grow to meet customers' needs. Technological progress will also influence P2P car rental marketplaces in several ways. Let's consider P2P car rental trends in detail.
Flexible sharing
In a standard P2P carsharing setup, car owners have to meet with the driver in person to give the keys. On the one hand, this allows owners to make sure the driver is real and the vehicle will be in safe keeping. But on the other hand, it takes time for both owners and drivers to share the car. P2P car rental marketplaces like Drivy and Turo are already introducing a keyless access option. This allows car owners to save time, rent out the vehicle a few more times, and make more money. For drivers, it becomes more convenient and time-efficient to rent a car. For the marketplace itself, keyless access engages drivers and car owners and results in more transactions.
Telematics
Telematics refers to the long-distance transmission of computerized information. How can this technology be used in the carsharing industry? Let's find out.
Telematics provide various possibilities to expand the scope of P2P carsharing. For example, most car rental marketplaces charge fuel costs with extremely low accuracy, resulting in poor customer experience and complaints. To solve this problem, car rental marketplaces may use telematics. By adding special in-car hardware to vehicles, trip fees can be calculated based on actual usage.
Telematics can also automate some routine and time-сonsuming activities for owners and drivers. For example, returning a car to its owner is a complex process because of the visual inspection of the vehicle. This process can be automated by implementing a telematics system that reports the fuel level, odometer reading, and any damage.
Green vehicles
With the growing demand for oil, an increase in petrol and oil prices seems inevitable. This increase will influence the car rental industry too. As fuel costs rise, the price of car rental services will rise proportionally. Some may say that car rental marketplaces can do nothing about this economic factor, but we believe there's a great solution: green vehicles. Green vehicles can not only be a great response to higher fuel prices but can reduce harm to the environment.
According to a study by Greentech Media, sales of electric vehicles increased 21 percent in the US between 2017 and 2018. Toyota, General Motors, Volvo, and Ford have all announced plans to electrify some of their vehicles by 2019 or 2020. In total, about 127 battery electric vehicle models will be introduced in the next five years. These statistics show that eco-friendly vehicles are a real upcoming trend that will shape the automotive and carsharing industry.
How to save time and money creating a car rental marketplace
The development of a car rental marketplace can be very expensive if you decide to go with the development from scratch. The cost can reach $100,000 ‒ $150,000. 
The price tag may be terrifying for startups with a limited budget. That's why the RubyGarage team has created a white-label solution for fast and cost-efficient car rental marketplace development. The solution allows us to reduce the cost of such a project to $40,000 for a minimum viable product.
What is more, to make your product unique and branded, we can also develop some additional features and custom design of your web app to help your product stand out.