A Guide to Multi-vendor B2B Ecommerce Payment Methods
5342 views
7 min
Jan 05, 2021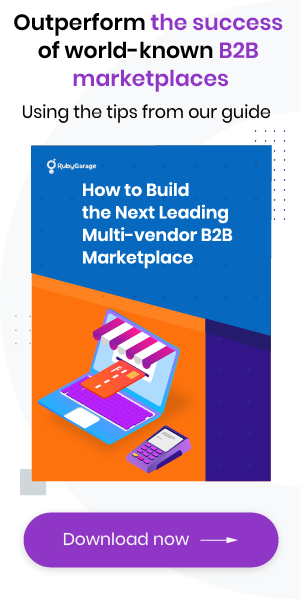 B2B ecommerce is on the rise, and one area in which it holds outsized promise is marketplaces. Even before the pandemic, B2B marketplaces were expected to generate $3.6 trillion in sales by 2024. COVID-19 restrictions have further increased demand for these kinds of platforms. 
The success of a B2B marketplace often depends on how smooth payments are. Age-old B2B payment methods like paper checks aren't good enough for the job. It's high time for digital solutions. 
In this article, we'll take a look at the most popular and thriving B2B ecommerce payment methods. The insights you gain will help you choose the right payment system for your marketplace. 
Payment options for B2B marketplaces 
When it comes to remittance options, marketplaces are spoiled for choice. We'll take a look at the most popular methods employed by prominent platforms. 
1 Credit/debit cards 

Credit and debit cards are a well-known and straightforward method of paying for B2B transactions. A buyer pays with a card during checkout by entering the card number, expiration date, and CVV code.
Credit cards work well all around the world, even in countries with limited banking infrastructure. Besides, they're a secure and convenient payment method, as spending can easily be tracked with bank statements. On the flip side, sending big sums might be challenging because of bank limitations for high transaction amounts.
The majority of B2B platforms embrace debit and credit card payments. Amazon Business accepts all major cards. The same is true for Upwork (except for virtual cards). Zageno users must place their first order using a credit card. 
2 ACH payments

ACH, or Automated Clearing House, is a network for electronic financial transactions that can be used to remit money to any United States (US ACH) or international (Global ACH) bank account. ACH payments are transferred in batches (groups) to an Automated Clearing House and sent on to the bank of the receiver. The clearing house acts as an intermediary. 
This method works well for recurring B2B ecommerce payments, as it's convenient and more cost-effective than wire transfers. ACH, however, is not the fastest method, and ACH transfers can take several days. Besides, when opting for this payment option, buyers should remember the cutoff time for ACH payments. This is a point in the day before which payments must be submitted to enter the clearing system.
Not many ecommerce marketplaces use ACH payments. Among those favoring its benefits are the Upwork freelancing platform. 
3 Wire transfers 

Wire transfers, commonly known as SWIFT transfers, dominate large payments between businesses, providing a direct connection from one bank to another. 
This method is often praised for its security and safety. It's widely used, especially for international payments, and is fast as a batch system is not used (as it is for ACH transfers). When money lands in the receiver's account, it's available at once. A disadvantage of wire transfers is that they can be expensive for both senders and receivers.
Some marketplaces like Zageno prefer wire transfers. Platforms like Alibaba and Packhelp also use SWIFT payments.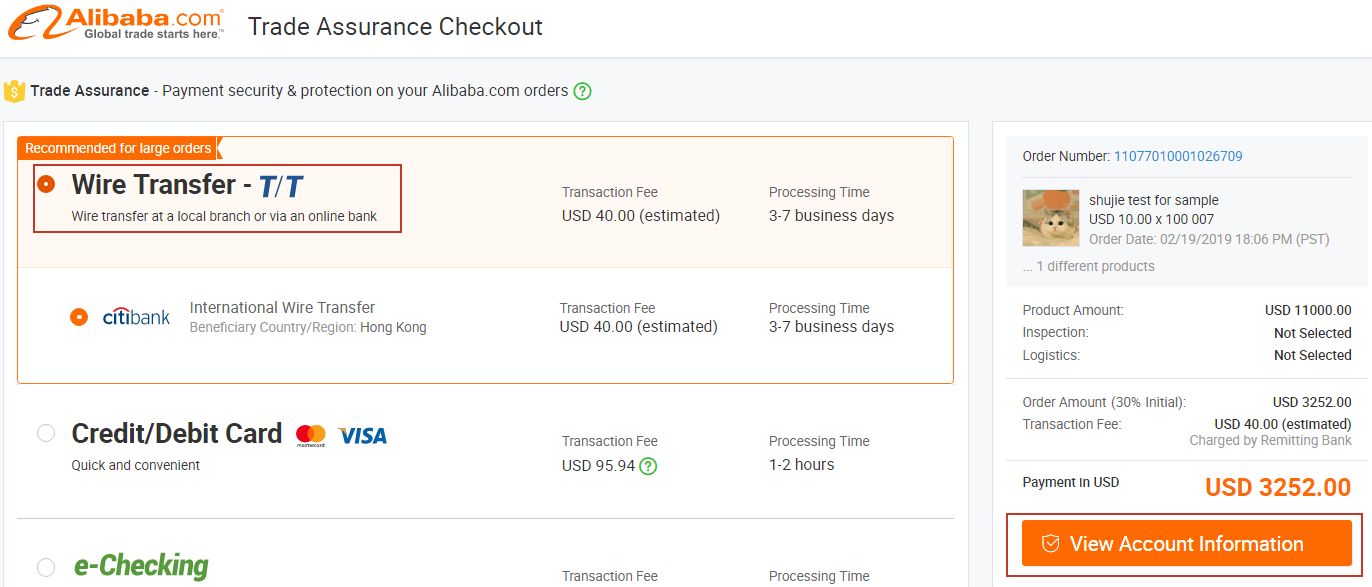 4 Digital payment platforms

There are a plethora of popular online payment platforms including Venmo, PayPal, Payoneer, Dwolla, and Google Pay. All of them enable money transfers between businesses with no need for dipping into bank accounts (however, they're connected to bank accounts). 
This method is fast, and most of the payment platforms work all around the world, dealing with a variety of currencies. Marketplaces gravitate towards digital payment systems because they offer exceptional fraud protection. 
However, not all of them are convenient and some are only available on specific platforms. For example, Venmo can be used on mobile devices only, which might not be convenient. Another drawback is that the fees for money transfers can be high. 
Marketplaces that use digital payment platforms include GorillaSpace and Cargo. 
5 Cryptocurrency

As ecommerce business models become disruptive, they're paving the way to bringing cryptocurrency into the mainstream. Digital currencies are still in their infancy; however, they're already attracting much interest, and blockchain infrastructure has the potential to make payment processes as smooth as possible. 
Bitcoin, Ethereum, and Litecoin are the most common cryptocurrencies, and each has its pros and cons as a marketplace payment method. Moving Bitcoin, for example, is less expensive than wire transfers. It's also faster than ACH and provides a way to avoid bank fees, as it isn't dependent on third-party services. 
However, while crypto transfers are considered more secure than traditional currency transfers, they are still regarded as exotic, which impedes their further adoption.
6 Third-party financing
Third-party financing is not a method of transferring money but rather the way payments are made. However, it's worth mentioning here because it's an option B2B marketplace owners can opt for if they want to diversify their payment options. 
Third-party financing allows customers to make purchases using lines of credit offered by particular marketplaces. It's convenient for customers because they don't have to pay for everything at once. 
The reason businesses choose this payment option is that it's usually smooth and transparent. There are often no transaction fees, but since it's basically a loan, a marketplace charges interest.
Amazon Business Line of Credit serves as an example. This is a pay-in-full line of credit underwritten by Synchrony Bank with 55-day terms and no annual fee. The Alibaba marketplace offers a similar solution called Alibaba Pay Later. 
Payment options popular B2B marketplaces use 
Now, let's list some payment options popular ecommerce platforms use. Note that this list is not exhaustive and may not contain all the B2B ecommerce payment methods a particular marketplace provides. 
| Marketplace | Payment method |
| --- | --- |
| Alibaba | Credit card, Online transfer (Trustly, Ideal, Sofort), Alibaba Pay Later (line of credit), Wire Transfer (T/T), AliPay Escrow |
| Amazon Business | Credit card, Business Line of Credit, Checking accounts, Pay by invoice |
| Global Sources | Credit card, Wire transfer |
| Packhelp | Credit card, PayPal, Bank transfer |
| Zageno | Credit card, Bank transfer |
| Upwork | ACH, PayPal, Payoneer, Wire transfer |
| GorillaSpace | Credit/debit card, PayPal |
| Faire | Credit/debit card |
Why diversity matters
As you can see, there's no all-in-one method that's fast, convenient, and suitable for everyone. The obvious solution for B2B marketplace owners is to provide businesses with a variety of payment options.
According to Research and Markets, offering diverse B2B ecommerce payment methods is a strong trend in B2B ecommerce. It speeds up the purchase process and lowers shopping cart abandonment rates. 
Wrapping up 
Experts say B2B marketplaces will be the next billion-dollar ecommerce startups. However, to get ahead of the game, it's vital to provide platform users with a variety of swift and convenient payment options. These may include credit cards, PayPal, wire transfers, ACH transfers, and even crypto payments. 
The choice of B2B ecommerce payment methods will depend on the whereabouts of the suppliers and customers as well as the expectations of both sides. The goal is to customize payment offerings and streamline the payment process.
FAQ
The main payment methods offered by B2B marketplaces are credit cards, wire transfers, US and Global ACH transfers, PayPal and other digital payment platforms.

Wire transfers, ACH transfers, and online payment systems like PayPal are the safest payment methods for B2B marketplaces. Some digital payment platforms and cryptocurrencies provide the fastest ways of paying suppliers.

Diversity allows you to meet the expectations of customers and suppliers. It speeds up the purchase process and lowers the shopping cart abandonment rate.

RubyGarage has a team of seasoned developers that have released more than 90 marketplaces. If you would like us to assist you in your success and create your own B2B ecommerce platform, send us a message.