How to Start a B2B Marketplace: Five Steps You Should Take
6665 views
12 min
Nov 06, 2020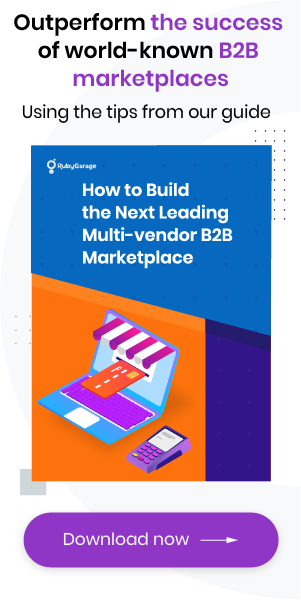 Taking into account the impact that the pandemic has had on the business world, B2B marketplaces are one of the most lucrative spheres nowadays. Worldwide online B2B sales are estimated to reach $3.6 trillion by 2024, and it's no wonder you might be interested in starting a B2B marketplace.
Read our article for key details about B2B multi-vendor platforms, including:
what a B2B marketplace is
the main steps you should take before developing a B2B marketplace platform
the challenges you should be aware of when starting a B2B marketplace
Let's start with the definition of a B2B marketplace.
What is a B2B marketplace?
A B2B, or business-to-business, marketplace is a two-sided platform where businesses sell goods or services to other businesses. B2B platforms are aimed at building long-term relationships between participants on the supply and demand sides. Such marketplaces are also characterized by their wholesale nature and large transactions.
How to start a B2B marketplace
When starting a B2B marketplace, you should have a well-thought-out business plan. In order to become a competitive player, build your B2B platform by taking the following steps.
Step #1. Find a problem to solve
There's no point in starting a marketplace if it isn't going to tackle an existing problem. To create a B2B marketplace that will be in demand, you should first find a problem your marketplace will solve and make sure this problem is severe enough for a lot of businesses.
I think that's the opportunity: when there's massive amounts of commerce happening in a very, very inefficient way. That's where a good B2B marketplace can come along and streamline all of that activity.
The first step to defining a problem is conducting market research. This should include niche capacity research, competitor analysis, SWOT analysis, and persona research. The results of this research will help you understand the current market situation as well as opportunities for your business.
As an additional approach to detecting problems, you can look for inefficiencies in running an offline business. One way to identify such inefficiencies is to explore the field in person. By this, we mean spending time in a company of interest watching work processes at a managerial level. These observations can help you understand what problems exist and what solutions your marketplace can offer.
Things I look for in marketplaces are really large markets that have not yet been technology-enabled.
Another problem that can be an opportunity for your B2B marketplace is the lack of online platforms in a particular field. Transfix, an American B2B marketplace that brings together shippers and suppliers to ensure simple freight transportation services, is in a field where there aren't many similar online platforms. 
Let's have a look at some other marketplaces that have penetrated the B2B sphere by solving acute problems. 

Lemoncat, a German B2B catering marketplace, became the first catering platform in Germany in just one year. This was possible because founder Doreen Huber noticed there were no similar services in the country. Her personal experience showed her that although there were a lot of pizza and sushi delivery services, Germany lacked catering services for companies. So she decided to work on this particular problem. Nowadays, Lemoncat also operates in Austria, and its founders plan to go worldwide.

Alibaba, the world-famous B2B product marketplace, started as a Chinese ecommerce website at a time when there were no Chinese online stores doing business with companies outside China. Its founder, Jack Ma, discovered this fact by chance when he was surfing the internet in the 1990s. By being the first businessman to move selling business online behind Asian countries, Ma managed to raise funds from investors and grow his business to an international scale. Today, Alibaba is the largest Chinese ecommerce business, and it continues to expand by acquiring equity stakes in other businesses.
Once you identify a problem to solve, it's time to think about how you'll attract the supply and demand sides to your marketplace.
Step #2. Think through how your business will operate
One way to think through how your business will operate is by creating a business model canvas. This one-page document usually has nine sections and includes information about customers, key activities, revenue streams and distribution, and more.
Below, we provide an example of a business model canvas for Alibaba so you can see how one looks when it's filled out.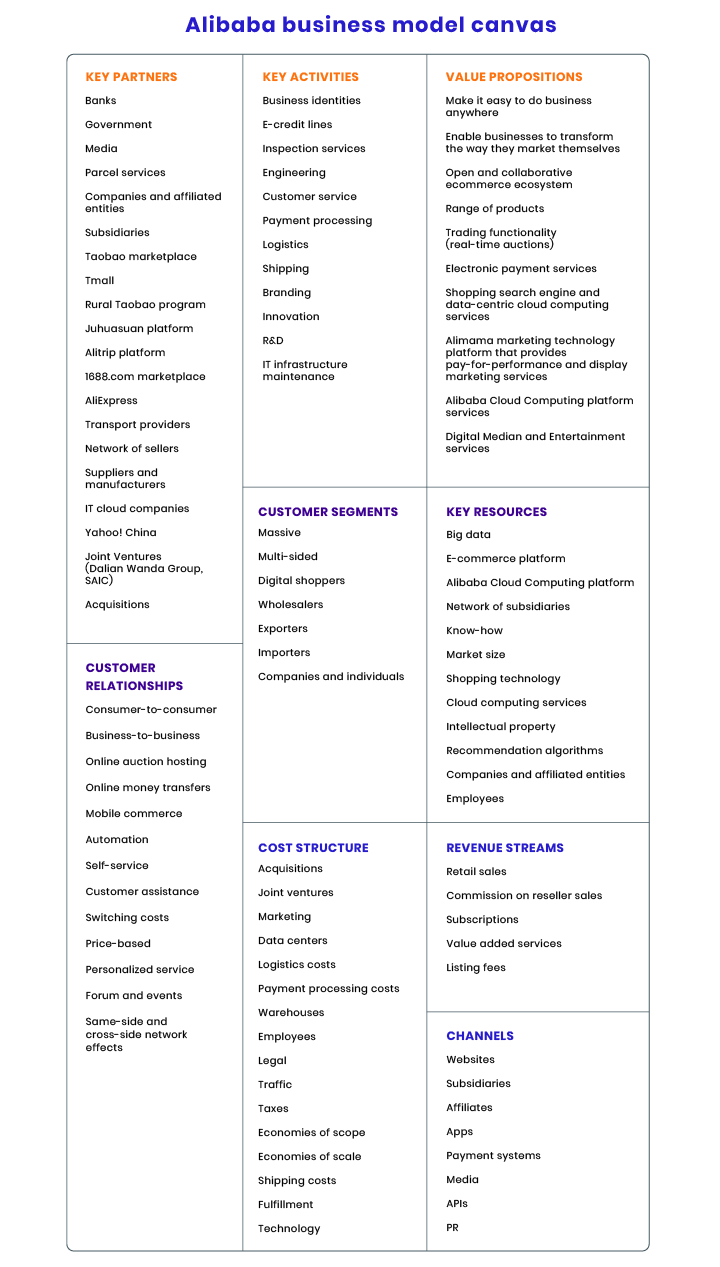 Step #3. Build supply and demand
When it comes to deciding what side to attract to your marketplace first, the experience of successful marketplaces (Uber, OpenTable, and many more) shows that suppliers usually have a bit more motivation for joining a platform. But before attracting suppliers, you should decide whether your marketplace will provide homogeneous or heterogeneous supply. 
Homogeneous marketplaces, also known as matching marketplaces, offer very similar products or services in terms of characteristics and price. Thus, customers simply opt for the most convenient offer. Uber is a nice example. The platform connects users to several nearby drivers, and users choose the one that's most suitable for them.
Heterogeneous marketplaces, or search marketplaces, provide various options, so it often becomes a challenge for customers to make a choice. For example, Airbnb has many options for travelers, who need to compare all conditions and prices for listings in their destination. 
Once you understand the supply type that will work for your marketplace, you can start contacting service and/or product providers and invite them to join your platform.
Step #4. Ensure liquidity on your B2B marketplace
Liquidity is a marketplace metric that helps you understand whether suppliers and customers can get what they need on your marketplace. To ensure liquidity, you should keep track of three indicators: density, demand-and-supply ratio, and category concentration.
Density is the number of marketplace users within a particular area. Density directly affects liquidity: the higher the density, the higher the liquidity. To increase the density on your marketplace, you should determine what geographical area you want to target and work on acquiring users in that area. 
Example: If Thumbtack gets 100 new service providers in Nevada and 100 new customers in Ohio, Thumbtack's liquidity won't increase. However, if 100 new service providers and 100 new customers join the platform just in Nevada, its liquidity will go up. 
To achieve a balanced demand-and-supply ratio, you should prioritize planning. It's important to take into account criteria such as customer demand, customers' shopping habits, factors that influence consumption, and so on. Once you have this information, you can forecast the supply you need to attract to your marketplace. You should also be able to attract enough customers so suppliers make a profit.
Category concentration is about the way demand is distributed in relation to supply. For example, if your marketplace provides suppliers in ten categories but there's demand only in two categories, liquidity will suffer. That's why you should make efforts to balance your demand concentration in all categories.
Step #5. Gain defensibility
Defensibility is a characteristic of a marketplace that determines its viability and compatibility on the market. The defensibility of a marketplace is determined by three factors: the network effect, branding, and user-friendliness.
Network effect. The idea of the network effect is that when a new user joins a marketplace community, the value of the marketplace increases for all users. For example, if a new supplier joins the Alibaba community, companies will have a greater choice of goods. The same goes for new buyers: each new buyer is another potential customer for suppliers.
To me, it's not about being first to market, it's about being first to brand. Consumers — both as individual consumers and as enterprise consumers and commercial consumers — give a lot of value to brand.
Powerful branding helps you build an emotional connection with your users ‒ both suppliers and customers. Once you're able to provide this connection, you can build a community around your marketplace. This is important since a new user will opt for a platform with a good reputation. Airbnb is famous for its powerful community that advocates the platform's services. 
User-friendliness. You can make your marketplace user-friendly with a well-thought-out UX. By investing in a user-friendly marketplace design, you'll be able to provide a unique user experience and your customers will want to stick with your platform.
Challenges when building a B2B marketplace
Besides understanding the core steps you should take before launching your B2B marketplace, you should be aware of the challenges you're likely to face.
Let's have a look at the main challenges of building a B2B marketplace and ways to overcome them. 
Changing the mentality of offline entrepreneurs
It may be challenging to attract the first users to B2B marketplaces because of the established system that has existed for years. Not all business owners are ready to switch to an online model even if the old model is archaic and ineffective.
Your task as a B2B marketplace owner is to persuade entrepreneurs that carrying out business via your platform is more convenient, safer, and faster. To start with, it might be enough to attract two or three powerful industry players to your marketplace who will become your brand advocates and attract other businesses.
One good tactic to use when advertising your marketplace to your target audience is to visit conferences in your field. At conferences, you'll be able to speak about your product and the advantages it can bring to your potential customers.
Maintaining quality while scaling
Once you've launched your marketplace and gained enough traction to move forward, the next step is scaling. Scaling gives a lot of new opportunities to your business, but it's important to scale wisely in order to benefit from this process. Here are some tips to consider when scaling your marketplace to keep the quality high:
Monitor customer matching. It's not always a sensible idea to let the supply and demand sides choose each other on their own. During his cooperation with Upwork, Josh Breinlinger noticed that when new suppliers worked with new customers, both sides were often unsatisfied. That's why he advises controlling the matching process to ensure customer satisfaction on your platform.
Ensure objective ratings and reviews. Standard 5-star ratings don't always reflect the real situation in your marketplace. Neither do reviews that are displayed on the platform. To add more value to reviews, you can ask open-ended questions. By answering them, users will provide you with realistic feedback. It's also important not to display the answers to these questions to other platform users. By keeping this information private, you encourage survey participants to be honest when answering your questions.
Retain the best users. The more high-quality users are on your platform, the better the quality your platform can provide. Consequently, it will attract more potential customers. Josh Breinlinger, the managing director at Jackson Square Ventures, suggests selecting the best users by frequency of transactions, high quality of supply, and timely deliveries. Once these users are identified, marketplace managers should incentivize them to use the platform more actively. For example, you can offer them to view new orders one hour before other users. It's also important to get rid of users who spoil the platform's reputation.
Building a strong brand and community
We've already mentioned that brand plays a vital role when it comes to attracting customers. Moreover, a brand helps you retain customers and turn them into brand advocates who will promote your marketplace to their partners.
To create a strong community around your brand, you can:
Maintain communication with customers. Use Google Analytics or another convenient instrument to track your customers' activity. Send notifications about special offers to both suppliers and buyers. Send emails and follow-ups to those who don't use your platform often, and do your best to retain customers. 
Give customers a chance to contact you anytime. Make sure your customers can easily contact you if they have a question or concern to discuss, whether they're suppliers or buyers. You can implement a chatbot in your marketplace or provide 24/7 support to be there for your customers whenever they need assistance. 
Create how-to content to help users navigate your marketplace. Helpful tips can improve the customer experience and make your platform easier to use. You might also consider starting a blog to add value to your marketplace.
Provide forum boards on your marketplace where customers and suppliers can exchange experiences. Although a lot of people think forums are an outdated form of communication, Josh Breinlinger from Jackson Square Ventures advises creating one on your marketplace to keep in touch with users and strengthen the community. 
Ready to start a B2B marketplace?
In light of the current situation caused by the coronavirus pandemic, B2B trade is moving online faster than ever. This is a nice opportunity for starting a new business. If you've decided to build a B2B marketplace, now is the time to act.
FAQ
To start a B2B marketplace, follow these steps:

Find a problem to solve
Think about how your business will operate
Build supply and demand
Ensure liquidity on your marketplace
Gain defensibility

There are many challenges you'll have to handle, including:

Changing the mentality of offline entrepreneurs
Maintaining quality while scaling
Building a strong brand and community

Taking into account the current situation with the coronavirus pandemic, businesses are forced to move online, including in the B2B sphere. B2B sales are expected to grow up to $3.6 trillion by 2024. For this reason, you might want to consider starting a B2B marketplace.

If you already have some thoughts about a B2B marketplace but don't know where to start, contact our team for expert advice.