What's Voice Commerce and Is It The Next Big Thing in Ecommerce?
26527 views
7 min
Nov 07, 2018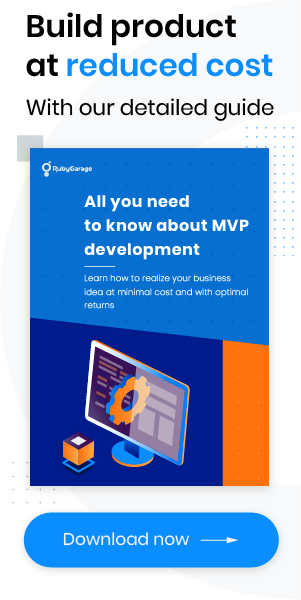 While voice technology is evolving, it's having an impact on many spheres, including ecommerce.
In this article, we'll take a close look at how voice search is changing online shopping, what voice commerce is, and why it has the potential to become the next big thing in ecommerce. You'll see that voice recognition technology is already changing the way we shop online.
What is voice commerce?
Voice commerce is a technology that provides an alternative to using a keyboard and mouse to order and purchase products online. All the customer needs to search and buy something online using voice commands is a virtual assistant such as Google Assistant or Amazon Alexa—and, of course, a voice. Voice commerce is not limited to finding the product itself but also ordering and buying it.
With the help of voice commerce, completing a purchase becomes faster and can be accomplished at any time throughout the day—even while taking a shower, if your Assistant can hear you.
According to a voice shopping consumer adoption report, top reasons why consumers like voice shopping are:
It's hands free
It's possible to do it while doing other things
It's faster to get answers and results.
If you're a retailer and you're not preparing for this significant trend of ecommerce going toward v-commerce, then you won't be around.
How is voice commerce used?
To make purchases online using voice technology, customers need a mobile device or a smart speaker and a virtual assistant. Today's most popular brands of smart speakers using voice-controlled virtual assistants are Amazon Echo (powered by Alexa) and Google Home (powered by Google Assistant).
Voice-activated intelligent assistants are used for a variety of purposes: listening to any type of music, searching for particular information on any topic, executing a home automation function, and even ordering food. Let's take a look at how virtual assistants are used for online voice shopping.
In the case of Amazon, customers can use an Alexa-enabled device to search for, order, and buy products from Amazon using voice. The wake-up word "Alexa" activates the device. For example, a customer would say "Alexa, order" and the name of the product they want to purchase. Alexa checks a shopper's stored buying history and suggests products based on the past data. If the past data shows no previous requests like the current one, Alexa then first suggests 'Amazon Choice' products. Alexa next announces the product price and asks if the shopper would like to buy the product. If the answer is yes, Alexa places the order; if the answer is no, Alexa might suggest other options.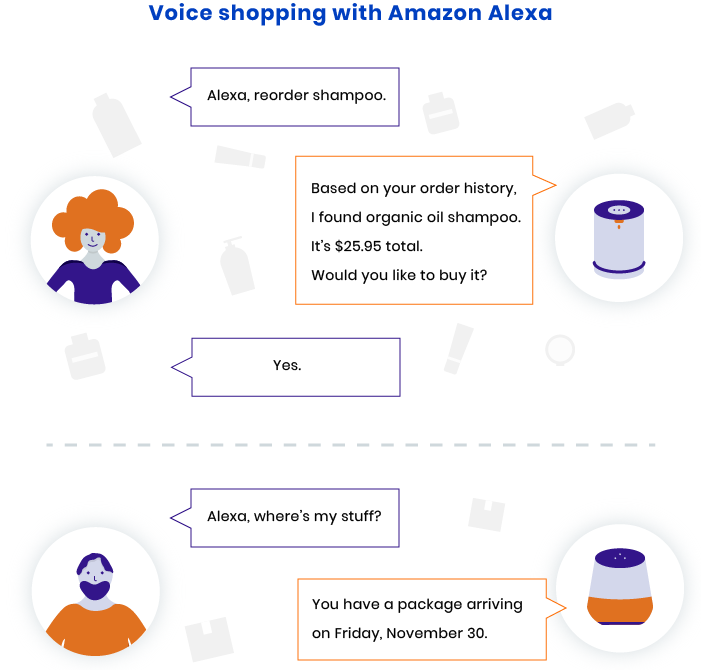 Google lets customers buy products using voice from Google Express. Retailers, including Walmart, Costco, and Target, have partnered with Google to let customers buy their products by voice using Google Assistant. Walmart shoppers can even link their Google Express and Walmart accounts giving Google access to a shopper's stored history of Walmart product purchases. Customers can then easily reorder products they've already bought in the past. If, when ordering, a shopper refuses a suggested item, Google Assistant, just like Alexa, will then recommend another option.
Marc Lore, CEO of the ecommerce division of Walmart, says that voice-controlled virtual assistants help companies gather customer data to provide more personalized services.
Voice is the next big way for us to be able to leverage data from a person's car, home, or device. It will allow them to shop in a very conversational way with a robot, in the same that they would with a specialist on a showroom floor of a retailer.
Other companies that have partnered with Amazon and Google include Dunkin' Donuts and Starbucks. Dunkin' Donuts lets customers use Alexa-powered devices to place orders, and Google Assistant on smartphones to reorder past purchases, by voice. Starbucks customers can use the voice ordering feature on the Starbucks app, or reorder something with the help of Alexa.
Virtual assistants are constantly analyzing and learning a consumer's shopping patterns. Reordering products via voice can take a matter of seconds. What is the current top product category for voice commerce? Groceries!
What are the challenges of voice commerce?
Lack of trust
As voice commerce evolves, companies are focusing on improving personalized recommendations. According to current data, 39 percent of shoppers trust the product recommendations they get from virtual assistants. As Jeff Bezos notes, Alexa is "good for reordering consumables." As a result, consumers often purchase the products they're already familiar with. When people want to discover new products, they switch to traditional online shopping via web and mobile. Most customers want to see a new product before they buy it. The online challenge is to give an exhaustive and compelling product description, even with dimensions noted and photos included, so that a customer can make a choice even with the absent realtime feel.
Natural language processing
The words we use in a typed search query differ from the way we might speak the same query in realtime. Consumers communicate with virtual assistants naturally, as they would speak to a real person. This brings challenges. It requires artificial intelligence built specifically for ecommerce. If a customer wants to return a product—for example, a backpack—they are likely to refer to it as "the backpack I bought" without saying the specific product name.
The fact that users speak to virtual assistants naturally also means that businesses need to adapt their SEO strategies for voice search. When creating content, it's important to take into account that when using voice search, customers ask questions in a natural way. That means search queries will be more specific as customers are likely to speak in longer, fuller sentences. Thus with voice search, user's intent becomes clearer, and search engines can show more targeted relevant results. It's important to understand the difference between the words people use when typing a query versus when speaking a query and how that difference influences the search results. Companies need to make sure their product descriptions include words that will match up with how people use voice search to find items they are interested in.
Privacy concerns
Voice-controlled devices bring up the issue of privacy. These smart devices are waiting for voice commands and so are on alert, listening to what is said around them. According to Statista, 36 percent of people are worried that smart speakers are always listening. The privacy issue is one of the top reasons people don't want to have a smart speaker in their home.
What are the future prospects of voice commerce?
Voice technology is going to play a significant role in ecommerce. EMarketer forecasts that the number of people using smart speakers in the US will grow from 16 million in 2016 to 76.5 million by 2020. That's a rather significant adoption rate.
According to a study by OC&C, the number of homes in the US that use smart speakers is expected to grow from 13 percent today to 55 percent by 2022.
That number has been going up incredibly rapidly over the last two years. That's clearly a big driver in the overall potential in voice shopping. We then expect household spending with smart speakers will increase also.
Voice commerce isn't just about searching for products using voice-activated assistants, and it's also not limited to simply buying things. Voice commerce lets customers compare, buy, return, and exchange products as well as track their placed orders. Many of these options are already available today.
The bottom line
Voice commerce is available today—and is in its early stages. We may expect it to become the next big thing in ecommerce. Virtual assistants that can help us find products online using voice search are already making shopping easier for many consumers.
While there are some concerns about voice search, this technology is improving. Experts are becoming increasingly convinced that voice search will make a big impact on ecommerce. Ecommerce business should keep in mind voice search technology when building their strategies.
Want to know more about the latest technologies? Subscribe to our newsletter!