What Is RegTech? A Must-Have Guide for 2020
11480 views
8 min
Feb 18, 2020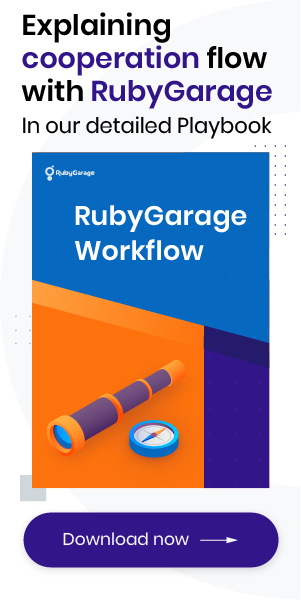 RegTech is no longer just for early adopters. We're starting to see the actual, tangible benefit these technologies can provide.
RegTech companies, or companies specializing in regulatory technologies, offer some of the most comprehensive and advanced tools for managing regulatory compliance. What does the term RegTech refer to? What advantages can organizations get from RegTech? In this article, we give answers to these and other questions.
Definition of RegTech
RegTech is a combination of the words regulatory and technology. It's a modern sphere that provides a range of regulatory services for companies in the financial, healthcare, insurance, and other fields. 
RegTech has become possible because of the emergence of certain advanced technologies. Before RegTech, organizations had to maintain compliance manually. This process could be quite time and money consuming. 
Today, RegTech companies offer services and technology solutions to cover such matters as regulatory monitoring, data analysis, risk management, identity control, and regulatory compliance. But when and where did RegTech appear? And what was its predecessor? 
When did RegTech emerge?
In 2015, the UK's Government Chief Scientific Adviser on FinTech published a report claiming that "FinTech has the potential to be applied to regulation and compliance to make financial regulation and reporting more transparent, efficient and effective – creating new mechanisms for regulatory technology, 'RegTech'."
At that time, more and more companies were unable to keep up with constantly emerging compliance requirements and enhanced data protection measures. They couldn't hold off a growing wave of cyber threats.
These organizations needed a fast, technological solution to help them deal with the following issues:
The high cost and complexity of regulatory compliance;
Complicated automation processes; 
Risky money transactions;
Human actions resulting in unpredictable mistakes.
Ayasdi, Forter, Sift Science, Elliptic, Chainalysis, and other FinTech giants were the first companies to start working on a solution not only for themselves but for other organizations. 
These companies kick-started the era of RegTech. In 2018, the RegTech industry already employed 44,000 people globally. That same year, the sector's annual revenue reached $4.9 billion, and RegTech companies attracted about $9.7 billion in external funding.
The increasing popularity of RegTech
Since 2018, more and more companies have been relying on RegTech solutions. They use advanced regulatory technologies to handle data analytics, risk management, reporting, regulatory compliance, and fraud detection.
Check out what Dejan Kusalovic, the Global Head of FinTech Enabling at Intel, and Nate Storch, the CEO of Amenity Analytics, think about RegTech and its future:
Technologies RegTech is based on
RegTech has been made by modern technologies such as cloud computing, machine learning, biometrics, big data, and the blockchain. Let's take a look at how RegTech companies use these technologies. 
Cloud computing 
RegTech companies use cloud computing to offer their products using a software as a service (SaaS) distribution model. These SaaS solutions assist businesses in keeping up with regulations. 
Cloud computing reduces the cost for hardware and software, making data-storage more affordable for RegTech companies. With cloud computing, RegTech companies can use cutting-edge technologies for compliance.
Using cloud computing technologies, RegTech companies can find any data in a matter of seconds. All information is kept on a cloud that provides data backup and disaster recovery in case of cyber attacks or human errors.
Machine learning
In the RegTech sphere, machine learning (ML) plays a significant role. RegTech companies use ML to analyze intricate patterns across diverse datasets to identify anomalies. Furthermore, machine learning helps to spot fraud and improves risk management. 
ML systems can also analyze tax reports and warn corporations of tax issues (aiding in legal compliance and helping companies avoid fines), help companies do business internationally, and provide detailed country localization complexity (CLC) rankings based on the latest data. Some ML algorithms can even disclose parts of a company's software landscape that need improvements. 
Blockchain
Thanks to blockchain technology, RegTech companies can assure that financial transactions are executed securely and promptly. 
Blockchains have a lot of applications in the RegTech industry. For instance, RegTech companies use blockchains to automate document and information collection. Blockchains allow RegTech companies to immediately validate records, increase the security of digital signatures, and guarantee the safety of data due to the blockchain's distributed nature.
Big data
RegTech companies use advanced analytics and cloud computing to detect hidden sequences, new tendencies, unauthorized users, and suspicious activities based on large datasets. 
Due to the implementation of big data in RegTech companies, it has become much easier to control all the data together in one storage. 
Biometrics 
RegTech uses biometric data to enhance identity management processes. The main goal of biometrics is to control all entities and track suspicious activities. 
The most well-known biometric approaches include fingerprint scanning, iris scanning, face scanning, and voice recognition. These identification methods are more convenient and secure than passwords.
Here are some additional benefits biometrics offer to RegTech companies: 
Access to speedy and precise user verification and authentication;
Possibility to build strict entity and identity models within an organization;
Installation of a precise audit trail for transactions;
Decrease in identity fraud;
Security of customer identities.
Biometric technologies even allow RegTech companies to bring in new potential customers by employing automated identification and monitoring brands on social media channels such as Facebook, Instagram, and Twitter.
Core сharacteristics of regulatory technologies
Before RegTech offered its convenient technological solutions, companies took a manual approach to compliance. But this took more time and was less effective. 
RegTech has improved the situation. RegTech solutions add value due to their core characteristics:
Agility 
RegTech companies use the extract, transform, load approach to organize databases quickly and effectively.
High speed 
Big data and cognitive analytics allow RegTech solutions to process information and generate reports in real time.
Easy integrity
The software as a service distribution model allows RegTech companies to easily integrate solutions with the software systems of organizations they cooperate with. 
Enhanced analytics 
RegTech companies heavily rely on the ability of their solutions to to collect, process, and analyze large data sets and even real-time data flows. They use sophisticated analytics solutions to provide customers with relevant data.
What are RegTech services?
According to Deloitte, there are five primary services the RegTech industry is focused on.
Compliance
One of the main priorities of RegtTech companies has always been regulatory compliance. 
RegTech companies employ technologies such as robotic process automation, machine learning, natural language processing, biometrics, the blockchain, artificial intelligence, and predictive data. They use them to prevent money laundering, reduce cyber risks, improve regulatory reporting, review credit loan applications, and verify identities.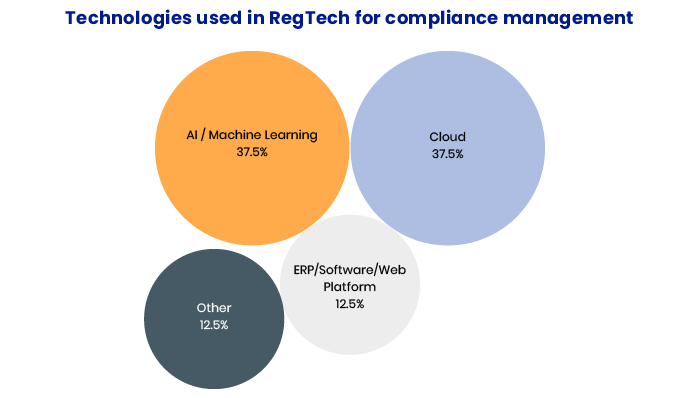 Transaction monitoring 
Another service RegTech companies offer is data monitoring. In 2018 alone payment fraud affected 82% of organizations. Efficient transaction monitoring is a powerful tool to reduce fraud and prevent scams.
"The big banks are looking into this area (transaction monitoring) because at the end of the day they want the process to be effective and efficient." 
Maarten Ligthart, respected Dutch accountant and financial forensics expert
RegTech solutions improve transaction monitoring by offering:
Intelligent email protection;
Transaction-based regulatory reporting;
Market surveillance solutions based on contextual data analytics to prevent risks of market abuse, fraud, and operational shortcomings;
Risk management tools to track entities involved in every transaction;
Innovative financial products based on cryptographic technologies, cryptocurrencies, and the blockchain.
Here are the main technologies used in the RegTech sphere to monitor transactions: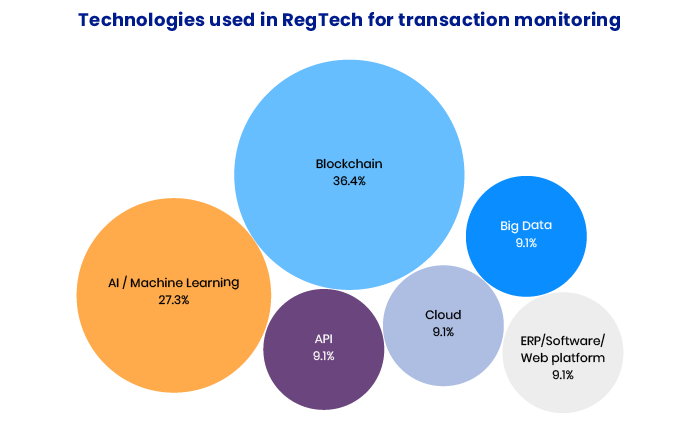 Regulatory reporting 
RegTech allows organizations to significantly reduce the time needed for making reports using automated and streamlined processes. Such processes don't require human intervention and eliminate all possibilities for human error.
If specific regulatory data is correct, investors, depositors, and bankers can assess the financial condition of banks faster.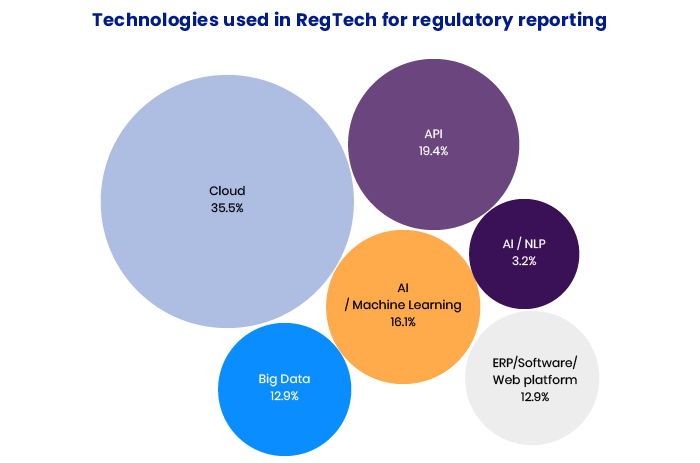 Risk management 
Here are the approaches RegTech uses to improve risk management:
Providing customized offerings with easy-to-adopt service models for risk identification;
Real-time tracking to identify possible identity theft and money laundering;
Analyzing suspicious transactions using machine learning and robotic process automation;
Collecting data from various sources;
Regulating structured and unstructured data.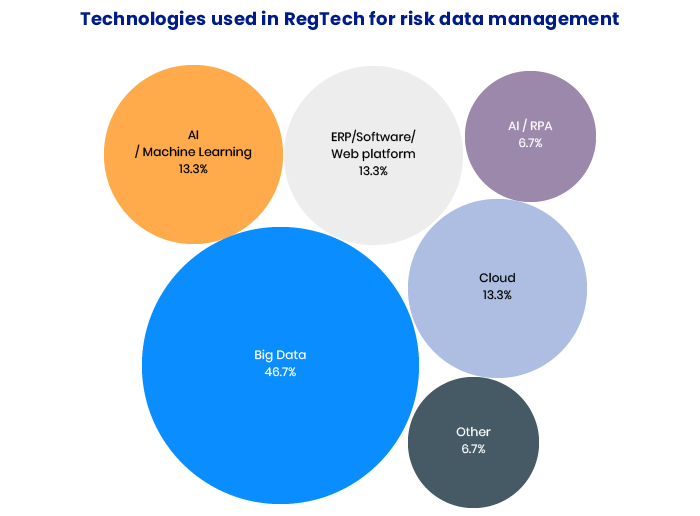 Identity management and control 
To identify users and possible fraud, RegTech companies use Know Your Customer (KYC) systems as well as machine learning, artificial intelligence, and biometric technologies.
The main goal of identity, and access management is to make sure that only authorized users can get access to particular data or systems. RegTech offers solutions for quick and highly secure identity management.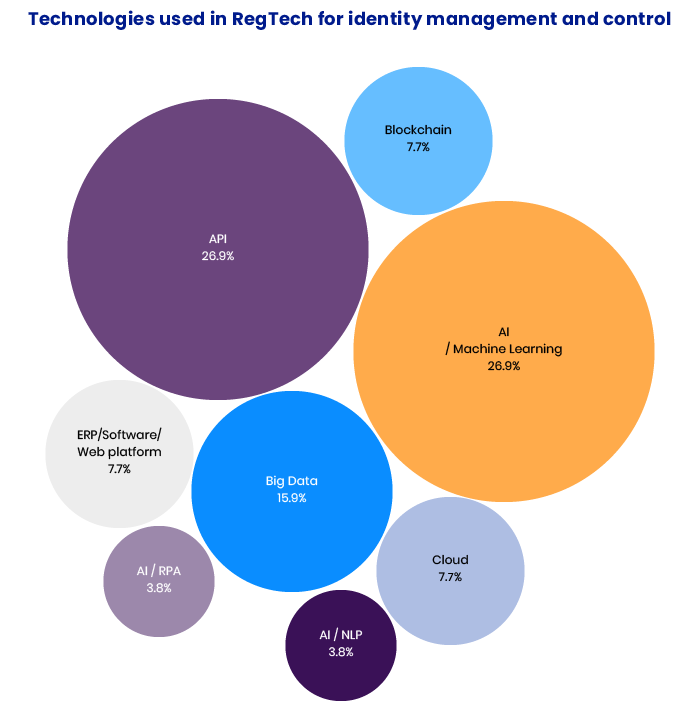 What to expect from RegTech in the near future 
The RegTech industry is going to boom in 2020. The latest numbers prove it. 

Final words
The Ponemon Institute has calculated that the cost of non-compliance (fines, penalties, etc.) is almost three times higher than the cost of compliance. RegTech companies offer tools and solutions that not only reduce the cost of compliance but make this process faster and more efficient. 
In this article, we explained the main characteristics of RegTech, services that RegTech companies offer, and technologies RegTech is based on. 
FAQ
RegTech has been made by modern technologies such as cloud computing, machine learning, biometrics, big data, and the blockchain.

The main characteristics of the RegTech industry are agility, high speed, easy integrity, and enhanced analytics.

RegTech offers regulatory compliance, transaction monitoring, regulatory reporting, risk management, identity management and control, and more.

RegTech offers regulatory compliance, transaction monitoring, regulatory reporting, risk management, identity management and control, and more.