Build a custom multi-vendor marketplace fast and cost-efficiently using our MarketAge solution

Launch a custom B2B marketplace for any type of products with MarketAge

Launch a unique, custom-functional B2C marketplace at minimum effort with MarketAge white-lable product

Reduce costs to build an easy-to-use and reliable C2C marketplace using our MarketAge solution

Create an online store with unique design and features at minimal cost using our MarketAge solution

Get a unique, scalable, and cost-effective online marketplace with minimum time to market

Get a cost-efficient, HIPAA-compliant telemedicine solution tailored to your facility's requirements

Get a customizable chat solution to connect users across multiple apps and platforms

Improve your business operations and expand to new markets with our appointment booking solution

Adjust our video conferencing solution for your business needs

Scale, automate, and improve business processes in your enterprise with our custom software solutions

Turn your startup ideas into viable, value-driven, and commercially successful software solutions

Discover our software engineering culture, what principles we follow to make our clients succeed

Our BA office helps clients choose the right development strategy and get maximum value at minimum risk

Find out how we manage development risks, ensure on-time delivery, and prevent budget overruns

We create clear, intuitive, and functional designs to solve specific business problems of our clients

See what techniques and principles we follow to engineer top-tier software products at RubyGarage

See how our QA office ensures zero usability and functional issues in every product we deliver to clients

Discover more of RubyGarage's culture, values, and strengths

Develop your product in a clear workflow aimed to save your time and budget and boost the quality

Join our team to build a successful career in software development. See open positions at RubyGarage
Should You Hire Web Developers From Ukraine?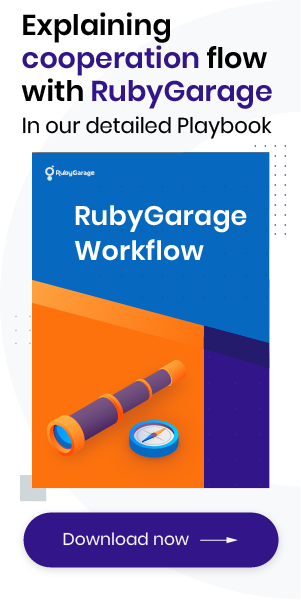 No matter how great is an outsourcing team you are considering to hire, there's always a factor of the country they're located in. We are located in Ukraine, and it's OK if you ask yourself: Is it safe to work with a web development company from Ukraine? Why should I prefer Ukraine over other countries? Are there any pitfalls I should know about? What's with the political situation there?
In this post we'd like to help you create your own understanding of Ukraine in terms of business opportunities and figure out its current reputation on the IT market (as of 2016).
Risks
Let's imagine you want to work with an offshore development company, but why Ukraine? Here's TOP 5 reasons:
Ukraine's #1 country in whole Europe by the number of IT professionals. Over 1,000 IT companies currently operate in the country, and the total number of startups launched in Ukraine exceeds 2,000.
Ukraine's has been outsourcing its IT services worldwide for years. The export volume for software development services reached $2.5 billion in 2015, and 80% of that amount comes from the US market.
100+ global companies in the telecom, gaming, ecommerce and software industries have R&D offices in Ukraine. Those include Ericsson, NetCracker, Magento, Oracle, Upwork, ABBYY, Ubisoft, Crytek and many others.
Ukraine has long history of tech innovations. It is here that the first signal processor and the largest airplane in the world were designed and created. Nowadays Ukrainians brings innovations everyday, starting with Petcube and iBlazr, and ending with rescue capsules and plastic zippers able to save lives.
During the last two years Ukrainian government has been making efforts to introduce new reforms and optimize the ways business is done in the country. Although there's still very much to do, Ukraine has already gone up in a few international business venue rankings and we can offer relatively low taxes for IT-related businesses.
If speaking about current political situation, you might have heard of military operations taking place in Ukraine for over two years. However, you should not worry about it because: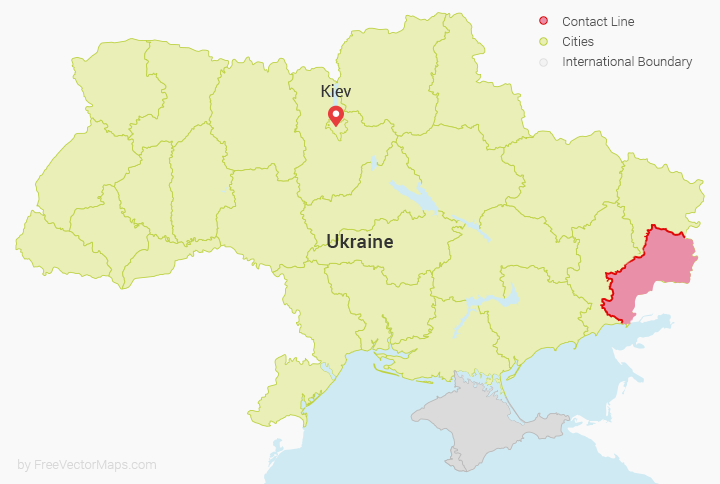 The conflict has been involving only 3% of Ukrainian territory and less than 2% of total population (including both soldiery and civil people), and currently there are no reasons to expect the situation will take a turn to the worse due to continuous ceasefire
Most IT companies in Ukraine did not suffer from that conflicts, others have already moved their offices to the safer areas and continue to operate
Despite the military crisis, the country's GDP is expected to start growing again in 2016 thanks to lots of reforms and initiatives.
Turning back to risks, you may still care about whether a particular team is reliable enough to work with, if it will keep your projects details in secret and stick to deadline, but that already depends on that team, not on the country.
People
According to the annual report of the Developers of Ukraine community, the overall number of IT specialists here has increased to 90,000 people in 2015, which automatically makes it a leader in Central and Eastern Europe by the number of engineers.
It is expected to increase the number of IT specialists to 200,000 and make the IT sector the number one export industry of Ukraine by 2020. To achieve that, many industry players, non-governmental organizations and foreign agencies create schools and courses to help boost that growth. RubyGarage also offers Ruby on Rails courses in its home city, Dnepropetrovsk.
Speaking of Dnepropetrovsk. Thanks to its historical traditions of innovations the city stands out in its number of R&D centers and software development companies. It's a place where many discoveries in rocket science have originated, and nowadays a few local companies are well-known for their innovative products in security and virtualization.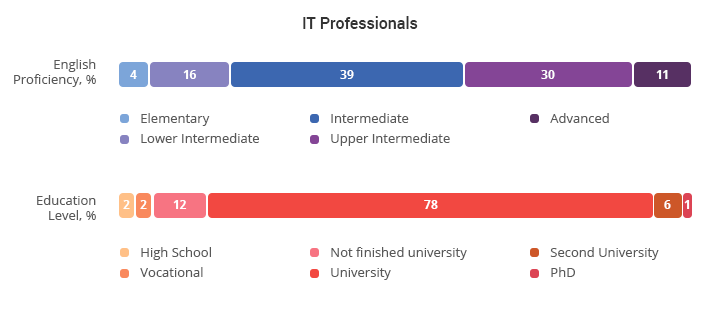 IT companies in Ukraine hire over 80% of specialists that have higher education and know the language well enough to express their thoughts and read the documentation, and the situation gets better every year thanks to having English taught in every educational institution. Moreover, the best online service for English grammar checking called Grammarly has an R&D office in Ukraine with over 80 engineers working there. The same amount of people sits in the company's headquarters in San Francisco.
It may seem like people in the country work effectively only within teams, but actually Ukraine is also the top country in Europe by the amount of money paid to its freelancers according to Upwork, the most popular site for finding and hiring freelancers.
What we want to say here is that Ukrainians know how to clearly communicate in English, how to perform given tasks right and how to satisfy clients in the best manner. Regarding our methods of work, you may want to check Our development workflow blog post as well.
Expertise
Everything said above proves that Ukraine is a great choice when it comes to software development. But that sounds too trivial. How great is it? Are Ukrainian web developers able to cope with your extra-advanced and technologically innovative product?
Well, our outsourcing companies sign contracts with leading fintech companies to deliver cross-border payments as a services, partner with biotech startups to change the ways cancer can be treated, and government-funded institutions hire Ukrainian developers to allow mobile devices run multiple operating systems concurrently.
In addition to that, sports in our country is one of the most advanced and quickly growing startup communities in Europe. We have DepositPhotos, Grammarly, PaymentWall, Looksery, Starwind Software, MacPaw and many other companies building their own products in various industries from fintech cloud services to virtualization solutions and gaining top shares on their markets.
That happens due to a number of a reasons, but most frequently thanks to the fact that developers need to constantly learn new technologies in order to have up-to-date skills. And it's most easy to learn by practicing.
For instance, when we've been working on Exposure, the real time analytics system processing over 10,000 of data entries per seconds to calculate people's movements during events, we learned the capabilities of ElasticSearch and gained expertise in big data. Working on investment platform also allowed to see how the financial markets work under the hood, and here's our fintech expertise. We're learning fast because we understand that's one of our country's core advantages among other countries.
Pricing on the cake
If Ukrainian web developers are so skilled and smart, why they're so cheap?
Indeed, according to stats Ukrainian labor force is the cheapest in Europe. The average developer salary equals to only $1,600.
But don't worry. That takes place due to the dramatic fail of the national currency against the dollar that took place in 2014-2015.
As a result, the current Cost of Living index made by Numbeo equals to 28-30 in different Ukrainian cities (New York's index equals 100 as a reference). That allows Ukraine to offer a remarkable price/quality ratio.
Software development is one of the most appealing ways to build a career here because currently Ukraine can't offer similar wages in any other industry. But things have started to change here, and the local IT market grows very rapidly. Who knows, maybe in a few years Ukrainian web developers will be much more expensive to hire. So don't miss a chance to build a great software product with us for a decent cost!
Subscribe via email and know it all first!