Top 10 Product Design Agencies for Startups: List and Criteria
2104 views
12 min
Feb 17, 2022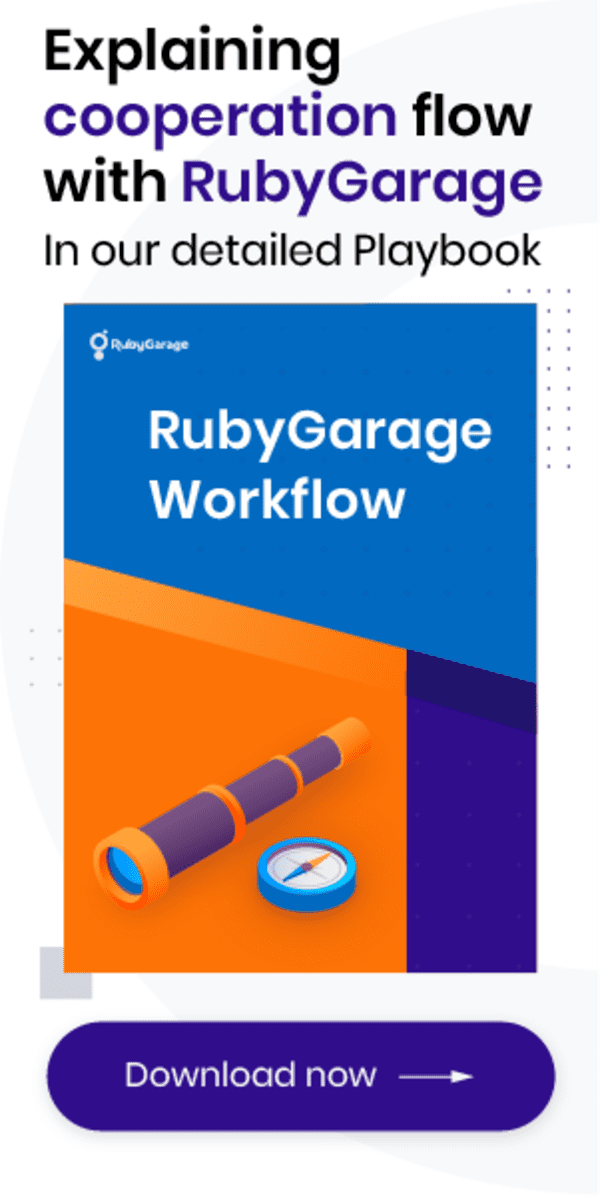 When you have limited resources and a viable idea, you have to find a reliable technical partner for designing your product. Here is an overview of top companies to help you find the most suitable digital product design agency. In this article, you'll also find a guide on how to choose a design partner and what to pay attention to.
Here is a comparison of top product design agencies for startups. Keep reading to see criteria for making a decision and find the product development agency that best fits your needs and capabilities. Also, we've prepared a bonus for you: the definition of ready for contracting with a digital product design agency. 
| Company | Quality | Schedule | Price | Portfolio accessible | Clear workflow | Design system | Social involvement | Total |
| --- | --- | --- | --- | --- | --- | --- | --- | --- |
| Lazarev | 4.9 | 4.9 | 5.0 | Yes | Yes | Yes | N/A | 4.9 |
| Neuron | 4.9 | 4.9 | 4.8 | Yes | Yes | Yes | N/A | 4.9 |
| RubyGarage | 4.8 | 4.7 | 4.7 | Yes | Yes | Yes | Yes | 4.8 |
| Digital Natives | 4.9 | 4.7 | 4.8 | Yes | N/A | Yes | Yes | 4.8 |
| The Software House | 4.8 | 4.7 | 4.7 | Yes | N/A | Yes | Yes | 4.7 |
| Camber Creative | 4.9 | 4.8 | 4.8 | Yes | N/A | N/A | N/A | 4.7 |
| Emerge | 4.9 | 4.6 | 4.6 | Yes | Yes | N/A | Yes | 4.7 |
| Softermii | 4.8 | 4.8 | 4.7 | Yes | N/A | N/A | Yes | 4.7 |
| Lighthouse | 4.9 | 4.7 | 4.8 | Yes | N/A | N/A | N/A | 4.7 |
| Supercharge | 4.8 | 4.6 | 4.8 | Yes | N/A | N/A | Yes | 4.7 |
How to choose the right digital product design agency
Let's look at the criteria taken into account in the table above to help you make a decision.
Reputation and ratings
There are many lists and ratings platforms for web development companies and product design agencies — Clutch, GoodFirms, Behance, Dribbble — where you can see how clients and other independent organizations rate companies. Such resources highlight companies' strengths and weaknesses, helping you prioritize potential vendors.
We've prepared our rating system based on customers' reviews and considering the most important factors. Here are the ratings we cover: 
Quality — shows how satisfied an agency's clients are with the services received 
Schedule — indicates how good an agency is at managing time and following deadlines 
Price — how reasonable pricing is considering the quality the agency delivers
Portfolio 
A portfolio is one of the most informative website components for product design agencies. In a company's portfolio, you can find examples of what problems the company solves and how they do it, what instruments they use, and how many resources it takes to complete particular tasks. In our rating, we've considered the accessibility of an agency's portfolio.
Tip: Check out case studies for clients in your industry and look for completed projects that are similar to yours. Then you'll know what to expect when working on your product with particular product design agencies. 
Design system 
If an agency has a design system, it can help you save resources on development and ensure a consistent product design. A set of best practices and solution kits make the design process faster and more efficient.
A design system doesn't mean your product will be just like others. What it does mean is that you won't waste time on creating solutions like login page and that your product will offer a solid user experience. 
We've checked if the agencies on the list have their own design system and best practices.
Defined workflow 
A clear workflow helps an agency to conveniently organize design and development processes, reducing idle time and increasing effectiveness and efficiency. Without a defined workflow, a product design might turn into a mess. 
We've considered whether the agencies on the list have a clearly defined workflow and if users can easily learn it. 
Tip: Don't limit yourself to one service. Consider other services an agency provides. If you need not only design but also development and can't do it yourself, it's convenient to get both services from the same vendor. 
When one agency handles both design and development, for instance, the transition between these stages is smooth, the development requires a minimum of organizational effort, and the result is much better and more timely than if you coordinated different teams to complete different tasks. You can read about all the steps in the web design process in one of our previous posts. 
Social involvement 
Another way to check an agency's expertise is to check the agency's social involvement. When you're an expert at something, you can easily share your expertise with others and explain the subject in simple words. 
Designers can share their knowledge in professional communities by giving free access to design systems or by publishing guides, checklists, and other valuable materials on their website or on social media. We've checked if the product design agencies reviewed give something to the community and considered that while giving ratings.
Top product design agencies 
Let's now jump into the details of top product design agencies. We look closely at each agency and see what types of business it best fits.

#1 Lazarev
Country: Ukraine
Founded: 2015
Rating: 4.9
Lazarev is one of the highest-rated product design agencies. This Ukrainian design company doesn't have many reviews but has stunning ratings from customers. 
The company's expertise covers design and development for both mobile and web solutions. 
Lazarev focuses on some particular industries. Though the agency doesn't have too many case studies in its portfolio, the number of projects the company has completed is quite high for the company's age.
Lazarev focuses on small and midsize businesses, though their prices aren't the lowest, so make sure your funding is sufficient.

#2 Neuron
Country: USA
Founded: 2016
Rating: 4.9
Neuron is the youngest agency on the list, but they still have great experience. This design company focuses on the midmarket, with corresponding prices. The company's portfolio includes big brands like Sony and Bosch. 
Neuron has no particular industry specialization or product limitations. The company takes on all sorts of projects, from apps to enterprise software. 

#3 RubyGarage 
Country: Estonia
Founded: 2011
Rating: 4.8
RubyGarage is a full-cycle software development and consulting company with more than ten years of experience. 
The RubyGarage team focuses on working with startups and has vast experience in product ideation and development. In the company's portfolio are many small companies and successfully launched startups. 
Industries on which RubyGarage focuses include retail, FinTech, education, and healthcare, but the company can quickly acquire expertise in other industries. 
RubyGarage aims to transform your idea into a demanded and valuable product that is profitable both for owners and users, whether it's a website or an app. 

#4 Digital Natives
Country: Hungary
Founded: 2006
Rating: 4.8
Digital Natives is a full-cycle development company that focuses on a broad audience without a particular industry specialization. 
Although the Digital Natives team is just 30 people, there are many case studies in the company's portfolio. Digital Natives promises to take any project as its own and aims at developing successful products.

#5 The Software House 
Country: Poland
Founded: 2012
Rating: 4.7
The Software House is a full-cycle software development company working with clients from startups to enterprises, mostly focusing on the midmarket. 
With ten years of experience, The Software House has completed many projects in various industries, including web and mobile development. The company aims to help businesses develop products through all development stages.

#6 Softermii
Country: USA
Founded: 2014
Rating: 4.7
Softermii is another full-cycle development company aiming at a general audience, from startups to enterprises. The company develops various digital products and has expertise in multiple industries. 
Softermii claims to offer one of the cheapest and fastest development services, though their pricing isn't the lowest. 

#7 Emerge
Country: USA
Founded: 1998
Rating: 4.7
Emerge is the oldest company on the list, with many world-famous brands in its portfolio including Nike, HPE, and Mercedes-Benz. 
The company's focus is on UX design, without a particular industry specialization. Emerge creates customer experiences for websites, mobile applications, and other digital tools for midmarket companies and enterprises. 
The goal of Emerge is to create value for clients and their customers, and the cost of this value reflects the company's experience.

#8 Camber Creative
Country: USA
Founded: 2014
Rating: 4.7
Camber Creative is a young full-cycle web development company focusing on enterprises, though their pricing is still affordable for midsize businesses.
The company doesn't have a large portfolio. There's no particular industry focus at Camber Creative, and the products they develop include mobile applications and web apps.

#9 Lighthouse
Country: UK
Founded: 2008
Rating: 4.7
Lighthouse is a design company working with businesses of all sizes but mainly focusing on enterprises. 
The company's portfolio includes case studies in various industries, but there's no particular industry specialization. 
The goal of Lighthouse is to create beautiful solutions for any business, though the pricing is not the most convenient for small businesses and startups.

#10 Supercharge
Country: UK
Founded: 2010
Rating: 4.7
Supercharge is another full-cycle development company without a particular industry focus that targets businesses of any size but primarily enterprises. 
The company helps businesses develop ideas and create digital tools. Their portfolio includes products from well-known brands. 
Supercharge calls itself an innovation partner that takes businesses into the future. With Supercharge, you can go through all development stages for a reasonable price.
Bonus: what to do before hiring a design agency
If you hire a digital product design agency without a definition of ready, the team assigned to your project might stay idle, though you'll likely still be charged for the team's time. To avoid unnecessary questions and downtime, ensure you've done all of the following before hiring an agency:
Create a product vision
First of all, you must have a clear product vision that will help you and all stakeholders stay focused on your main goals and prioritize your ideas accordingly. We've created a guide to creating a product vision that might come in handy at this step. 
A clear product vision will also help the agency you work with understand your product idea. Even if you can't explain your idea in technical terms, try to clearly convey it in simple words and provide as much detail as possible about your product's aim, the desired feature set, and your target audience. 
Validate the idea
Ensure that your idea has market demand, there are interested users, they are willing to pay for your solution, and you will potentially profit from it. Otherwise, you'll either pay an agency to develop an unnecessary product or your agency will find out that the product likely won't work and spend much more time on its design. This activity requires thorough market and user research. Here's a guide to all the steps of product validation that will help you ensure your idea is worth investing in.
Define the feature set 
After conducting research, you'll be able to define all the features needed to develop your product. Define the user roles and list the feature set for each of them so your product design agency knows what product you're building and how to structure it. A proper informational architecture helps you create a better user experience for your product. 
Study the product's feasibility 
Finally, study the feasibility of your desired feature set. There's no point in looking for a digital product design agency if your product isn't possible to build. Ensure there are technologies for realizing your product and that you have enough financing to hire an agency. Moreover, ensure there are no legal or compliance restrictions that will complicate or make impossible the development of your product. Here are the steps of conducting a feasibility study.
Summing up
When you first open a list of product design agencies, you see many top-rated and promising companies. Choosing one from the list might be a tough task unless you know what to look for. We recommend starting by stating all your needs and then analyzing companies according to specific criteria:
Ratings — ratings that customers give an agency based on their impression of the company
Portfolio — information about projects the agency has completed that demonstrate the agency's expertise 
Design system — tools an agency has to speed up development and ensure better results
Workflow — defined and clear approach to work
Social involvement — agency expertise and ability to share something with the community
FAQ
There is no straight answer to this question, as the choice will depend on your business needs. For example, if you have a limited budget, look for agencies that don't charge a lot but deliver solid solutions. If you need to create a specific product, pay attention to a company's portfolio and look for solutions similar to yours to ensure the agency has enough expertise to fulfill your needs.

When choosing a product design agency, pay attention to the following criteria:

Company's portfolio: look for companies that have already worked with similar products
Customer reviews: check what real people say about their experience working with your potential partner and how they evaluate this cooperation
Company's workflow: look broadly and think about what other services you might need and whether it's possible to have all jobs done by the same vendor
Company's experience: check if the company has any kits or best practices to enhance the design process
Company's expertise: explore if the company shares their expertise openly and provides useful data for free

Define what criteria are of the highest priority for you and choose an agency that meets them.