All about the Product Discovery Process at RubyGarage
2285 views
16 min
Mar 25, 2022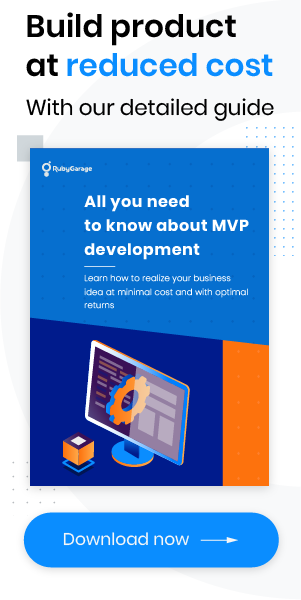 Products that have well-researched and tailored business models are more likely to succeed than their counterparts that do not. In addition, an in-depth analysis of a product helps remove uncertainty for clients. Consequently, product owners can determine if their startup will be successful before the development process begins.
Below, you will learn about the product discovery steps we take at RubyGarage. They will help you turn your idea into a blueprint with step-by-step instructions for launching a successful product.
What is the product discovery process?
In a nutshell, the product discovery and ideation process help clear up uncertainty when launching a product. It consists of a set of actions designed to create a clear vision for further development. Besides that, it allows CTOs, managers, and product owners to get a thorough understanding of how to bring their ideas to life.
Indeed, there is a vast gap between a new idea that arises in your mind and a detailed plan. Product discovery steps can help you create a research-backed blueprint for achieving your goals. At RubyGarage, the product discovery process is the following: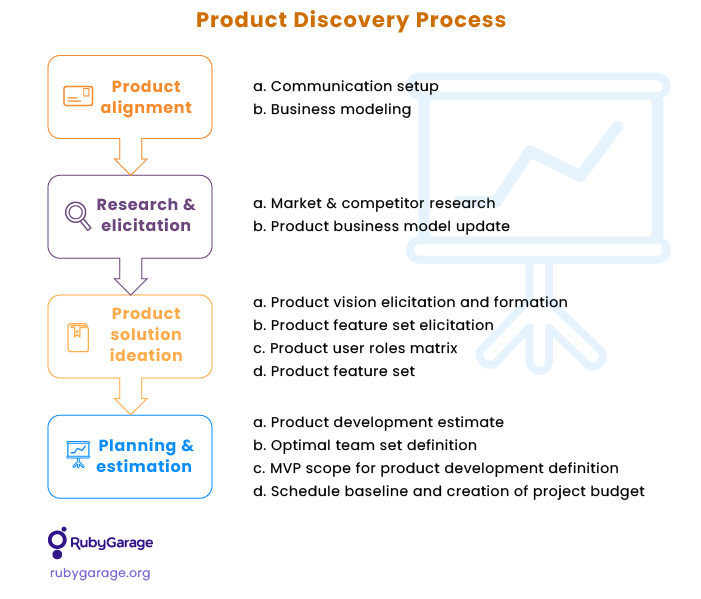 Why the product discovery process is important
Unfortunately, it's a challenging task to turn an idea into reality. There are a lot of obstacles that need to be resolved by product owners to develop a fantastic product. If you want to launch a successful project, the product discovery process is vital.
Product discovery will help you understand what to do to make your product idea reality. Most importantly, it will help you avoid failure. Skilled analysts can forecast all the development paths to avoid. Here are the main advantages of product discovery and concept development.
Estimate the cost of development
It's vital to understand how much you will need to spend to develop a product. Skilled specialists can help you launch a product on the market. They anticipate all the details, so you won't get a bloated budget because of unexpected launch expenses. With the help of the product discovery process, you will get a step-by-step guide and an estimated cost to market your product.
Save money
There's always a chance to pick a suboptimal development path when launching a new product. Data-backed research helps minimize the risk of wasting your budget. Moreover, the product discovery process can help keep your budget safe in the long term.
If you don't have a thorough plan for launching, advertising, and scaling your product, you will likely need to spend a lot of money developing new (and adjusting existing) business plans. A detailed roadmap will lead you to success in your niche and eliminate most pitfalls.
Get a better understanding of the product
It's vital to have a product vision to avoid misconceptions. The discovery process aims to help product owners understand all the product's benefits. At RubyGarage, we help you define the features that a product will have. We also help you pick the best technologies to use. They need to be cost-efficient, fast, reliable, and scalable.
Dive deeper into problems that need to be solved
Any product development process needs experts to cope with many challenges. Thanks to the discovery process, product owners can figure out how to solve potential problems that may arise.
Minimize risks
The product discovery process helps you analyze the market and customers' needs to develop a minimum viable product (MVP). Consequently, all product discovery actions help to significantly shrink the risk of failure.
Enhance your strategy
There are always ways to improve good product development and advertising strategies. Skilled specialists can help analyze your plans. They can also offer suggestions on improving particular processes.
Launch your product faster
You must consider the time spent on product development. However, by having a robust plan on how to turn an idea into a refined product, you will be able to market it faster. A blueprint can help you avoid the need to redo anything or start over from scratch.
Scale development
Your plan should be scalable to maintain high-paced product growth. Blueprints developed by our experts always include scale-up strategies. We strive to use the most promising technologies that will remain popular for many years. Consequently, if a product becomes viral, managers already have detailed plans to boost sales. Meanwhile, they won't be required to compromise on product quality or develop new solutions from scratch.
Team roles involved in product discovery at RubyGarage
A startup development team needs to comprise many different experts who have various roles. At RubyGarage, we involve the following team members in the product discovery process.

All participants have particular responsibilities and are involved in different phases of the product discovery process. Let's review the roles of the experts who conduct product discovery at RubyGarage.
Permanent roles. Particular experts are involved in all phases of the discovery process. They monitor progress, make decisions, delegate tasks, and maintain communication.
Business analyst. This expert is responsible for all internal and external processes we conduct when providing product discovery services. They adjust the business model, define user roles, come up with solutions, and organize the team.
Client/product owner. These two roles are similar. The primary responsibility of the client or the product owner is to help the business analyst grasp the correct product vision. Also, they need to review all artifacts shared by the business analyst at every stage.
Account manager. This is the person responsible for the client's satisfaction. The account manager has to monitor all phases of the product discovery process. The account manager works closely with the client/product owner.
Sales manager. This specialist works with the business analyst and client to establish smooth communication. The sales manager helps the business analyst to form an understanding of the client's business and product ideas.
Temporary roles. We involve a lot of experts in different niches to develop thorough product roadmaps. These niche experts only participate in certain phases of the product discovery process.
UI/UX estimator — Estimates user experience and user interface development tasks in the feature breakdown list (FBL)
Frontend estimator — Helps to evaluate the time and resources needed to build a web interface
Backend estimator — Analyzes requested features and estimates the time and cost required for their development
QA estimator — Responsible for assessing quality assurance tasks in the FBL
Product discovery steps at RubyGarage
The product discovery process is complicated and involves a lot of essential steps. Let's take a deeper dive to discover how our experts help clients develop product launch roadmaps. Below, you will find detailed descriptions of all stages and outputs.
1. Alignment
Inexperienced business analysts focus on the features their product will have at this stage of the product discovery process. Their intent is to develop a top-tier product. But in reality, they dedicate most of their time to creating a visually appealing product.
The number of features and the product's design is not essential. These factors won't draw customers' attention and persuade users to try a new application, tool, or service. More to the point is to focus on identifying the problem to be solved. The workflow at this stage is the following:
Kick-off meeting. This is an interview that aims to erase any uncertainty before the product discovery process begins. Our experts define clients' needs and offer actionable steps to meet all client goals.
Establishing communication. It's vital to establish smooth communication between all parties. This helps to avoid delays and misunderstandings. Therefore, we identify all roles involved and their responsibilities. Also, we install a communication tool and guide all team members on how to use it.
Task management tool setup. To stay in charge of all processes and effectively delegate tasks, you need to have a good tool. Our specialists will configure a task management tool for you. They will also organize the document flow.
Business modeling. After clarifying all questions and developing a scope of tasks, we begin the business modeling process. At this stage, we identify stakeholders and create a lean canvas. This is a one-page business plan with information about goals, problems, solutions, metrics, and other important information.
Outputs
Alignment is the initial phase in setting up the product discovery process. At the end of the alignment stage, you will get a lot of outputs.
Documents:
Stakeholder register
RACI matrix (responsibility assignment matrix)
Communication plan
Lean canvas
Tools:
Team outputs:
Set up regular communication with the project's stakeholders according to the communication plan
Set up team-working framework for the product discovery phase according to the developed RACI matrix
In essence, you will get a comprehensive set of tools for communication and task management. It's vital to manage all processes professionally to create a top-tier product.
2. Research and elicitation
Research is one of the essential product discovery steps. After nailing down the problems to solve, we collect and analyze a lot of data. At this stage, our experts find customers' behavioral patterns. We analyze main competitors to help our client hit the market after launching their product. In addition, we thoroughly examine the target audience to understand if potential customers will switch to using a new product or service. After this product discovery phase, you will get a report on data-backed research.
Market research. Our specialists gather and gauge a lot of information. Also, they perform target audience segmentation and research.
Competitor research. We analyze the market along with competitors and provide detailed reports. Our experts define competitors, including direct and indirect. Also, we conduct a functional decomposition of competitors.
Customer research. We assess product metrics collected, conduct interviews, gather focus groups, and analyze the behavior of potential customers. The feedback we collect helps us understand customers' needs.
Target audience research. Using the information gathered, we analyze the target audience. Our experts will create an ideal customer profile (ICP) and design the product's buyer personas.
Business model update. We update the existing lean canvas according to new data collected.
Outputs
Research and elicitation help us take a deeper dive into the product and its ability to hit the market. First, we deeply analyze the market. This is a crucial stage that helps our specialists learn more about potential customers and competitors. Second, we determine current trends and features to focus on. You will get the following items as the result of our research:
Updated lean canvas
Market and competitor analysis report
Functional competitors report
Target audience analysis report (ICP & buyer persona documentation)
3. Solution ideation
At this stage, we gather feedback and suggestions from the client, define a product vision statement, and specify all roles. Also, we work hard on creating a feature breakdown list. It's vital to focus on the best features first to create a successful MVP.
Software engineers, UX designers, and business analysts have different expertise. By working together, they can use best practices to come up with innovative solutions that eliminate the struggles of potential customers.
Product development teams can utilize different techniques. Unfortunately, there is no one-size-fits-all approach to get a top-notch solution. The most common techniques are:
Brainstorming. Indeed, this is the most successful and popular way for teams to come up with creative ideas. Brainstorming requires everyone to gather together and pitch their ideas quickly. They don't need to apply limitations before sharing their thoughts. In exceptional cases, crazy ideas lead to significant innovations.
Analogies. Sometimes, reliable solutions already exist. All you need to do is define them. The best way to do that is to find analogies in real life. For instance, aircraft engineers frequently analyze the shapes of birds. Analogies to your problem from other spheres may lead to great existing solutions.
Mind mapping. This is a widespread practice that involves visuals. Ideally, a manager needs to write the main issues in the center of a whiteboard. Then, team members need to write possible steps to reach a solution. It's vital to link all stages in hierarchical order. Consequently, you can develop several reliable plans to solve the stated problem.
Worst idea. This is a supportive technique that can help enhance the product discovery process. The worst idea method won't help you reach a solution. However, it can be a source of inspiration. Using this method, all participants come up with the worst possible ideas that definitely won't lead to success. Then, they think about the opposite of those worst ideas.
The discovery process involves a lot of brainstorming. All the product discovery and ideation steps are listed below.
Elicitation meetings are required to help business analysts discuss business cases. Also, they define accepted solutions and gather all ideas from the product owner. This helps to erase any misunderstandings before the solution elicitation process begins.
Product vision definition. Our specialists document how they see further product development. Also, they approve the product vision document with the product owner.
Consideration of user roles is required to understand customers' needs. We build a matrix of product users' roles. This helps us understand what type of customers will use the product to offer the best solutions for them.
Feature set creation. After defining the needs and struggles of potential customers, we define the core features that will attract customers, listing all ideas and approving them before further work begins.
Outputs
Since clients/product owners are involved in the product discovery process, we keep them updated about the progress at every stage. We gather all documents and share them with clients. The product owner gets a list of documents to check and approve.
Feature breakdown list
User roles matrix
Product vision statement
Presentation with onboarding information
4. Planning and estimation
This is the final stage, when we offer estimates for successful product development. We gather great ideas on how to solve the struggles of potential customers and offer the most optimal solutions. Then, we deliver a ready-to-go roadmap. By following it, you will get a ready-to-launch product with the most optimal features defined by our experts.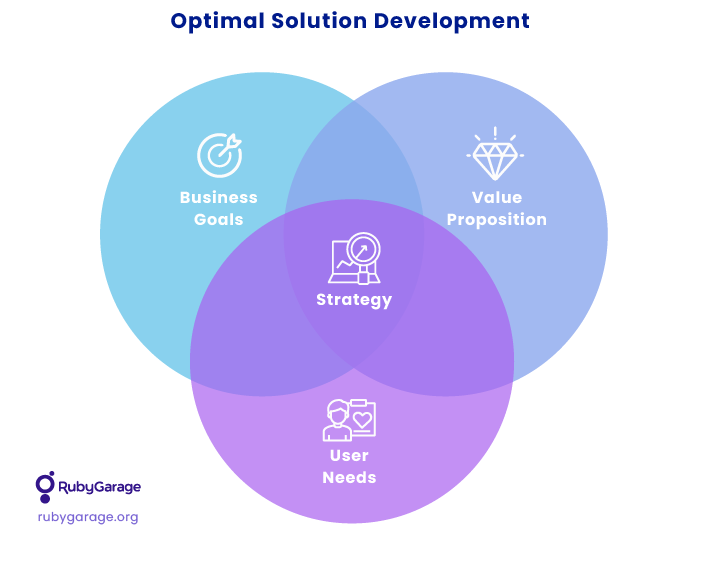 At RubyGarage, we take the following steps during the final product discovery process phase.
FBL estimation. Our experts estimate the feature breakdown list by conducting high-level meetings with functional office leads.
Team creation. We create an optimal list of roles and their responsibilities. Moreover, we define the time experts need to spend on the project. The schedule includes the start and end dates for every specialist.
MVP scope building. We analyze the importance of features according to the product value. This helps us build an MVP that fits the majority of clients' needs. Consequently, we help our clients minimize risks and spend money efficiently. If there's no need to build an MVP, we find the best SaaS services for our clients.
Schedule baseline. It's vital to have a detailed schedule when building a product. Our specialist creates a plan that defines all stages of product development.
Technology stack definition. To build a top-tier product, you should use the best technologies available. We help our clients pick the best technology stack to succeed based on our significant experience.
Hosting proposal. Our experts will help you choose the best hosting for your product to make it live online while balancing computing power and price.
Proposal presentation. Finally, we create a detailed presentation and share it with the client/product owner.
Outputs
Planning and estimation is the final stage of the product discovery process that leads to a comprehensive roadmap for launching a product. It results in research-backed estimates and recommendations for optimal solutions. In essence, we deliver a step-by-step guide to product development. When this phase ends, you will get the following artifacts:
Estimated FBL
Team composition plan
MVP scope
Schedule baseline
Technology stack proposal
Hosting proposal
Ideas are cheap. Ideas are easy. Ideas are common. Everybody has ideas. Ideas are highly, highly overvalued. Execution is all that matters.
Mistakes to avoid in the product discovery process
Unfortunately, some mistakes can lead to startup failure. You can find the errors most commonly made by inexperienced business analysts below.
Starting development without a roadmap
If you have no plan for launching a product, there's a high chance of failure. Clearly defined product discovery steps help you anticipate pitfalls. At RubyGarage, we find the most optimal solutions to launch your product seamlessly.
Ignoring customers' needs
Many startup owners with a lack of product development experience tend to focus on features to overcome their competitors. They think that outstanding functionality will help them stand out from the crowd and attract clients. However, the ability to benefit from using a product is the selling point. Therefore, it's vital to focus on the customers' needs when developing a product. It should help users solve particular problems.
Not involving developers
Business analysts rarely involve software engineers in the product discovery process. However, developers can be beneficial in coming up with innovative solutions. They have professional backgrounds and different product development visions. Also, they can highlight potential bottlenecks that may appear when developing a product.
Not asking fundamental questions
Sometimes, team members skip asking basic questions. This is a severe mistake that can lead to fundamental misunderstandings or an improper product vision.
Wrapping up
The key to success in the product discovery process is simple. Business analysts need to focus on the people they are crafting a product for. Ease of use, visual appeal, and the number of features are not as essential. Also, BAs need to collect and analyze large scopes of data to develop optimal solutions.
Nevertheless, a professional approach and expertise in the field are also vital for success. At RubyGarage, we have a team of skilled professionals with a vast background in the startup launching niche who can take product discovery steps to help you build a successful product. Our portfolio contains more than 1,000 successful products, and we know how to provide top-tier product discovery services.
FAQ
Product discovery helps business analysts and developers be confident about the path they need to follow. The discovery process helps get a step-by-step plan on launching a successful product.

The main steps of product discovery are:

Product alignment
Research and elicitation
Solution ideation
Planning and estimation

Usually, a lot of people are involved in the product discovery phase. However, the product owner is the only role responsible for the discovery process.