Top Mobile App Design Agencies: Ratings and How to Choose One
1444 views
11 min
Apr 04, 2022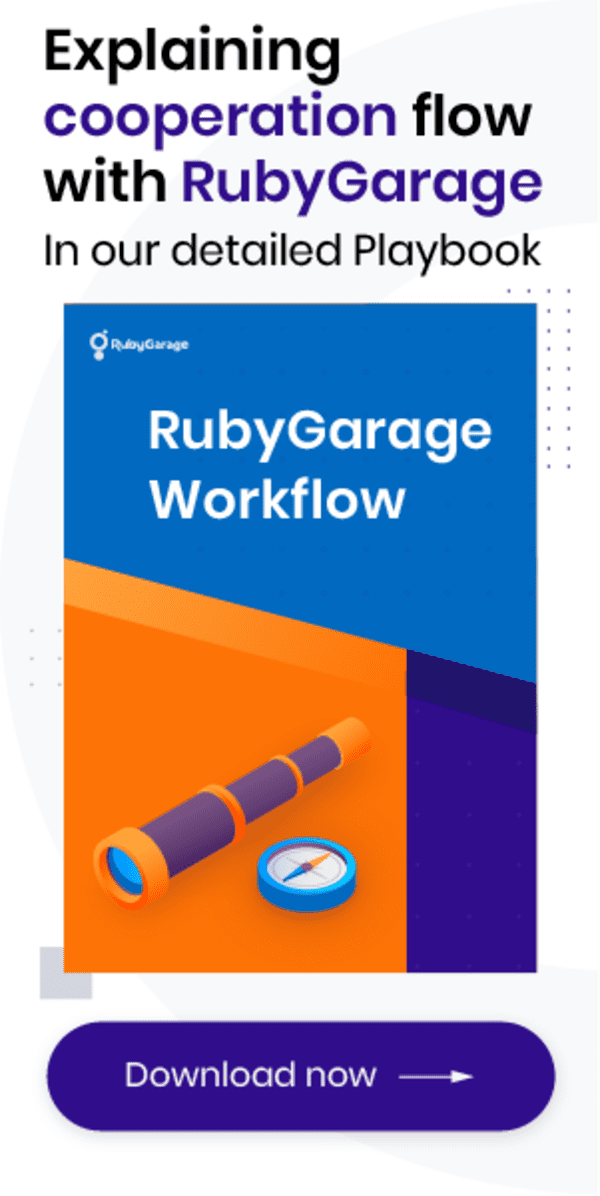 When developing your first mobile app, you face the tough task of choosing a vendor to bring your plan to life. It's crucial to find an agency that will take you through all the required processes, help you minimize risks, and create the best solution. Here's a list of top rated mobile app design agencies, followed by a detailed explanation of the criteria considered for this ranking and advice on what to pay attention to.
| Company | Quality | Schedule | Price | Portfolio accessible | Clear workflow | Design system | Social involvement | Total |
| --- | --- | --- | --- | --- | --- | --- | --- | --- |
| Geniusee | 5.0 | 4.9 | 5.0 | Yes | N/A | N/A | Yes | 4.9 |
| Andersen | 4.8 | 4.8 | 4.7 | Yes | Yes | Yes | Yes | 4.8 |
| Algoworks | 4.9 | 4.9 | 4.9 | Yes | N/A | N/A | Yes | 4.8 |
| RubyGarage | 4.8 | 4.7 | 4.7 | Yes | Yes | Yes | Yes | 4.8 |
| Techahead | 4.7 | 4.7 | 4.8 | Yes | N/A | Yes | Yes | 4.7 |
| Sidebench | 4.9 | 4.8 | 4.7 | Yes | N/A | N/A | Yes | 4.7 |
| Cheesecake Labs | 4.8 | 4.7 | 4.6 | Yes | N/A | N/A | Yes | 4.7 |
| Altoros | 4.7 | 4.6 | 4.4 | Yes | N/A | N/A | Yes | 4.6 |
| STRV | 4.8 | 4.7 | 4.4 | Yes | N/A | N/A | Yes | 4.6 |
| Blue Label Labs | 4.8 | 4.5 | 4.6 | Yes | N/A | N/A | Yes | 4.6 |
How to choose an agency
Let's discover some essential points to pay attention to while looking for an app design company.
Reputation and ratings
When you start searching for mobile app design agencies, you might be overwhelmed with the number of options. Fortunately, there's a perfect filter to narrow the choices — clients' reviews and ratings.
Platforms likeClutch, GoodFirms, Behance, and Dribbble allow customers to leave reviews of vendors they've worked with. Such reviews include estimates of quality, timing, pricing, and other points as well as descriptions of the job done and the customer's impressions.
We've analyzed all customer reviews and prepared estimates of quality, scheduling, and price for each mobile application design agency:
Quality — the level of client satisfaction with the quality the agency delivered
Schedule — clients' estimates of an agency's ability to work in a timely manner
Price — clients' opinions regarding an agency's pricing relative to the quality delivered
Portfolio 
Explore the portfolio of the companies you're interested in. This doesn't mean just looking at case studies and comparing them, however.
Most agencies make available lists of their clients, so it's possible to download some apps they've built, explore them, and analyze them. We've done this and included the results in our assessments. 
Our list also includes the accessibility of companies' portfolios so you can test products and ensure you like the job a company does. Remember that design and development might be done by different vendors. Judge each company by their work, not someone else's. 
Design system 
A design system is a technique that helps you more quickly and affordably create your app's design by incorporating best practices along with readily available universal solutions and UI kits. App stores have their own restrictions that also should be considered during design creation. Additionally, the platform where the app will be used introduces certain constraints you'll have to consider. 
Design systems help the company avoid wasting time building standard solutions from scratch for each individual client. Thus, clients can save money. 
Of course, not all companies have their own design systems, as this requires additional analysis and work. A high degree of expertise and vast experience might not be enough when it comes to creating a flawless user experience, especially in mobile applications. That's why we've checked if companies on the list have their own design systems or kits. 
Workflow
We've explored the processes and steps that the companies take while designing an application. It's crucial that a company adheres to all modern standards and requirements. 
For example, human centered design is a proven approach that treats the user as the main stakeholder. Following this approach requires that the design process go through some fundamental stages: UX research, wireframing, prototyping, user testing, and UI design. 
If the app design company doesn't have an established procedure for designing mobile apps and working through defined stages, the design process is going to be a mess. That's why the agency's workflow is an important factor to consider. 
Tip: Additional services can be the deciding factor between two seemingly similar candidates. For example, if you want to build an app from scratch you might find a mobile application design agency to execute the design stage, then look for another vendor to proceed with development. Or you can find an application development agency that will handle all the tasks with established procedures and management practices.
Social involvement 
When a mobile app design company has a high level of expertise in some field, they can share it with others and help the whole design community grow and develop. This can be through freely sharing design systems or UI kits, participating in the community and helping others solve problems, or sharing knowledge and experience through a blog. 
Any of these contributions demonstrates an agency's proficiency and expertise. That's why in our rating, we've considered whether a company shows any social involvement.
Top app design agencies
Now let's look at top agencies on the list.

#1 Geniusee
Country: Ukraine
Founded: 2017
Rating: 4.9
Geniusee is a young Ukrainian software and product development company that focuses mainly on midsized businesses though also works with small businesses and startups. 
Despite their relative youth, the company has plenty of cases in their portfolio. They specialize in working with companies in the FinTech, education, retail, and other industries. 
Geniusee promises to bring all creative ideas to life. 

#2 Andersen
Country: USA
Founded: 2007
Rating: 4.8
Andersen is a mature American software development company with a vast number of team members. The company works with businesses of all sizes, from startups to enterprises with a focus on the latter. 
Andersen's portfolio consists of many projects in various industries, which you can learn about from their case studies. The company's aim is to guide every business into a digital future. 

#3 Algoworks
Country: USA
Founded: 2006
Rating: 4.8
Algoworks is another American mobile design and development company that leads clients through all stages of mobile development. 
While the main focus of the company is on enterprise clients, they work with smaller businesses too. The company's portfolio includes projects in various industries. 
Algoworks promises to simplify the lives of their customers with the help of technology. 

#4 RubyGarage 
Country: Estonia 
Founded: 2011
Rating: 4.8
RubyGarage is one of the most affordable mobile application design agencies, with high ratings and vast experience. 
The company offers not only mobile app design but also full-cycle mobile app development from ideation and human-centered design to launch and support. 
You can find many case studies in the company's portfolio, as RubyGarage works with various industries. The company claims to have expertise in retail, FinTech, education, and healthcare, but you can find successful apps in several other industries as well.
RubyGarage focuses on startups, as they have vast expertise launching products from scratch. 

#5 Techahead
Country: USA
Founded: 2009
Rating: 4.7
Techahead is a full-service company that promises to hold your hand through all the development stages for any product, including mobile app design. 
The team is located partially in the USA, partially in India, which is probably the reason for the company's comparatively affordable pricing. 
Techahead doesn't focus on any industry in particular, and thus the businesses they serve also vary. Their portfolio has many case studies, including about some popular brands. 

#6 Sidebench
Country: USA
Founded: 2012
Rating: 4.7
Sidebench is another highly rated full-cycle agency that has won many awards. Their portfolio includes Facebook, Microsoft, and other famous brands. 
Sidebench doesn't claim to have particular industry expertise, and the projects they complete are rather diverse. 
The company focuses on serving enterprises, as evidenced by their portfolio and pricing. 

#7 Cheesecake Labs
Country: USA
Founded: 2013
Rating: 4.7
Cheesecake labs is a software design and engineering company with almost ten years of experience. The company's business focus is midmarket, but they work with small businesses too. 
The company doesn't have any particular industry focus. Their portfolio showcases several successful case studies from different industries. 
The Cheesecake Labs motto is building delightful user experiences.

#8 Altoros
Country: USA
Founded: 2001
Rating: 4.6
Altoros is a software development company that offers multiple services, including mobile app design. 
With no particular industry specialization, the company's portfolio includes many different case studies with some mobile apps among them. 
The company targets mainly large and medium-sized businesses. 

#9 STRV
Country: USA
Founded: 2004
Rating: 4.6
STRV is another American software design and engineering team without a particular industry specialization that targets mostly midsize and small businesses. 
In the company's portfolio, you can find many case studies for a wide range of products. STRV promises to build next-level solutions and aim for their clients' success.

#10 Blue Label Labs
Country: USA
Founded: 2009
Rating: 4.6
Blue Label Labs is a software development agency that promises to transform your business through its services.
The target market for the agency is enterprises, and in the Blue Label Labs portfolio you can find a couple of related case studies. Regarding industry focus, the agency doesn't claim to have specialization in any particular field. 
Now you know what the best options are when choosing a mobile app design company, but are you really ready to start designing your app? 
Bonus: before you choose a mobile application design agency 
There are some tasks to do before you start choosing and contracting with a mobile application design agency. These steps will minimize the risks that may occur later during the design and development stages and prevent the agency from idling. Here is what you need to do:
Create a product vision. Highlight the details about your product and ensure you have a reliable business model. Here's a guide on how to create a business model so that you can check you have everything ready. Determine the type of mobile app you need to develop. This might be a web app, native app, or hybrid app. Each of them has certain design restrictions and peculiarities, so it's necessary to choose the type of app before you even start working with an agency. 
Estimate the feature set. Identify what features your app will include. Consider the users and their needs. 
Validate the product. Ensure your idea fits a particular need and that your product will bring benefits to you and your customers. Without doing so, you risk developing an unnecessary product and will spend much more money making adjustments going forward. 
Ensure the feasibility. Study if your product is possible to create. You need to have the technologies available, sufficient budget to implement the idea, and all the legal restrictions figured out. Otherwise, your product will never reach the market. 
When you're done with these preparations, you can proceed to hiring one of the top mobile app design agencies. 
Summing up 
There are hundreds of mobile app design agencies, most of them offering not only product design but also further development. When choosing one to carry out your mobile application design, we recommend looking at these criteria: 
Reputation: How is the company perceived by its clients and how do they rate the company's work?
Portfolio: How do you evaluate examples of the company's past work? Does the company demonstrate experience in your industry? 
Design systems: Does the company have any solutions that can help deliver better results in less time?
Workflow: Are the processes in the company defined and well managed?
Social involvement: Is the company experienced enough to share their knowledge and experience?
FAQ
These are some of the steps you have to take when choosing an app design company:

Ensure your idea is feasible and prepare a business plan
Explore the ratings or rankings of top mobile application design agencies
Pay attention to the agency's pricing policy, clients' reviews, portfolio, and workflow
Check if the agency has a design system
Explore the agency's social involvement if possible
Select some candidates and ask them about what they can offer you
Compare offers and choose the best mobile app design agency for your needs

The price for mobile app design will differ depending on the rates an agency provides for designers, the agency's experience, peculiarities of the app you want to design, and whether the company has a design system to optimize their work. Contact us and we'll estimate your project.