How to Develop a Product Strategy for a Startup
6488 views
12 min
Mar 30, 2022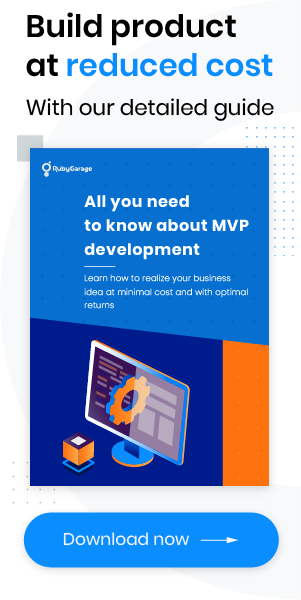 Startups often focus on product development and skip the research and planning phase because of their limited budget and resources.Yet investigating the market and target audience as well as building a product strategy and roadmap helps you successfully launch a product that will stay commercially viable in the long run. In this post, you will learn how to develop a product strategy to make your startup a market winner.
What is a product strategy?
A product strategy is a high-level plan for achieving your business objectives for a particular product. It answers these critical questions:
Whom will the product serve?
How will users benefit from it?
In what ways will the product bring value to customers?
How will the product bring value to its owner throughout its lifecycle?
A product strategy helps you prioritize your product roadmap and ensure the effective use of available time and resources.
The strategy aligns your business objectives with the future product and helps you create a how-to plan for achieving your desired outcome.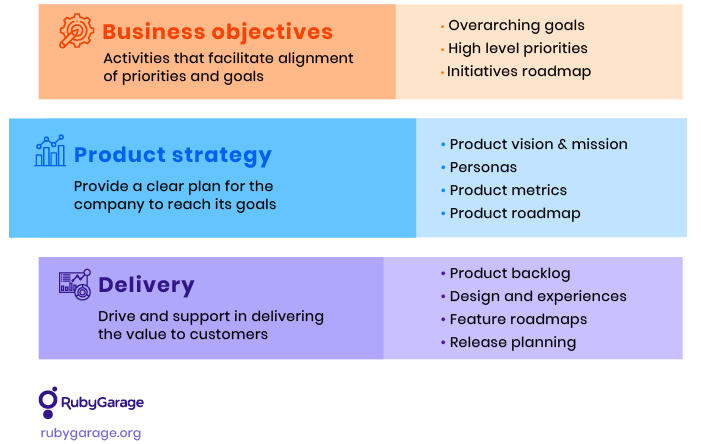 What makes a great product strategy?
An excellent product strategy has an unwavering vision but allows for flexibility with details. Your product strategy should be clear about the business goals you're going to meet and the customer problems you're planning to solve. However, your strategy should also be flexible enough to cater to market changes, product scope, and timing.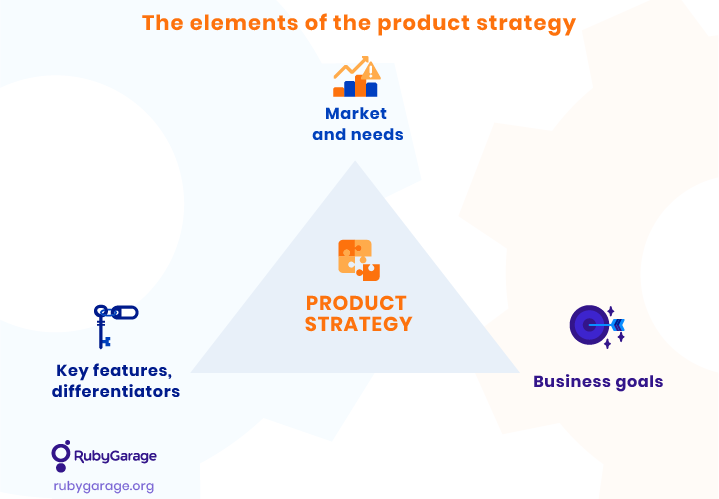 A great product strategy:
Aligns your business goals, ensuring the company spends time and resources efficiently.
Defines the product's place in the market, considering customer needs and competition.
Communicates to the delivery team what you need to build, what metrics you want to move, and how.
Outlines the resources required to support your product during its lifecycle.
Why is the implementation of a product strategy important?
In 70% of cases when a company has to make a decision about a product, they refer to a product strategy. Therefore, it needs to be detailed and well-structured.
A product strategy defines how the product will benefit consumers and the company. After creating a clear product strategy, the team can then decide on the product features, business model, value proposition, pricing, etc.
Making strategy-directed decisions helps mitigate the risk of failure when developing a product concept and increase the alignment between a product and its market.
When to start building a product strategy?
In general, it would be wise to build a product strategy whenever you've decided to validate a new product idea. While creating a strategy, you can analyze whether a solution has potential for market success. For a startup, formalizing and implementing a product strategy should be placed after the idea validation phase and before creating a product roadmap.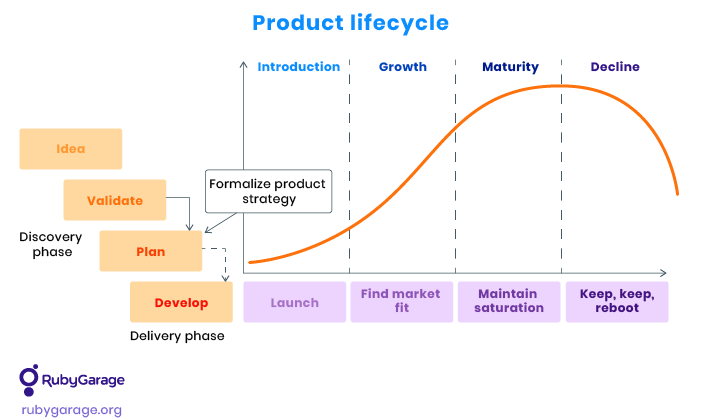 How to develop a product strategy effectively?
Assuming that the strategy, in its broadest sense, is a path from your current point A to your desired point B, you can simplify its content into the three core parts: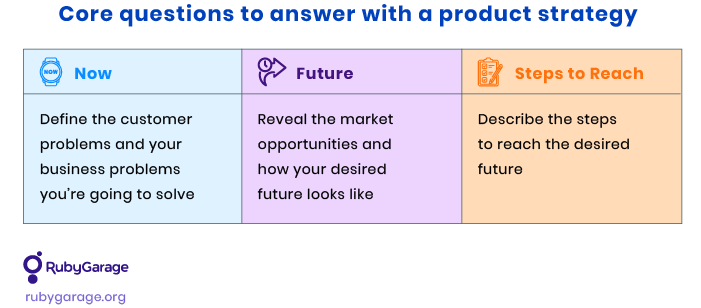 To describe the now state, you should define:
The target audience and customer personas
Specific user problems you're planning to solve
Competition and your unique value proposition
Opportunities to bring value to customers
To describe the future state, describe your desired outcomes, including:
Business goals
Product vision
Product mission
Success metrics
The steps section of your product strategy will be a complete product roadmap that visualizes how to implement the product strategy to achieve your goals.
Step 1: Define your market
The best way to develop a product strategy is to investigate your target market:
Who are your customers?
What do they need?
What do they want?
What issues do they have?
Are they willing to pay to resolve these issues?
Steve Blank, the author of the customer development methodology, recommends defining a market through the Jobs-to-be-Done lens. This approach perfectly fits startups that have a specific product idea but need to find their consumers. According to this approach, your market is a group of people trying to get a particular job done.
Defining the market through the Jobs-to-be-Done approach helps reveal target customers and describe their needs (jobs to be done). It also provides you ideas on how your customers can be satisfied and what your product's competitors are. Therefore, it perfectly fits the current state section of the product strategy.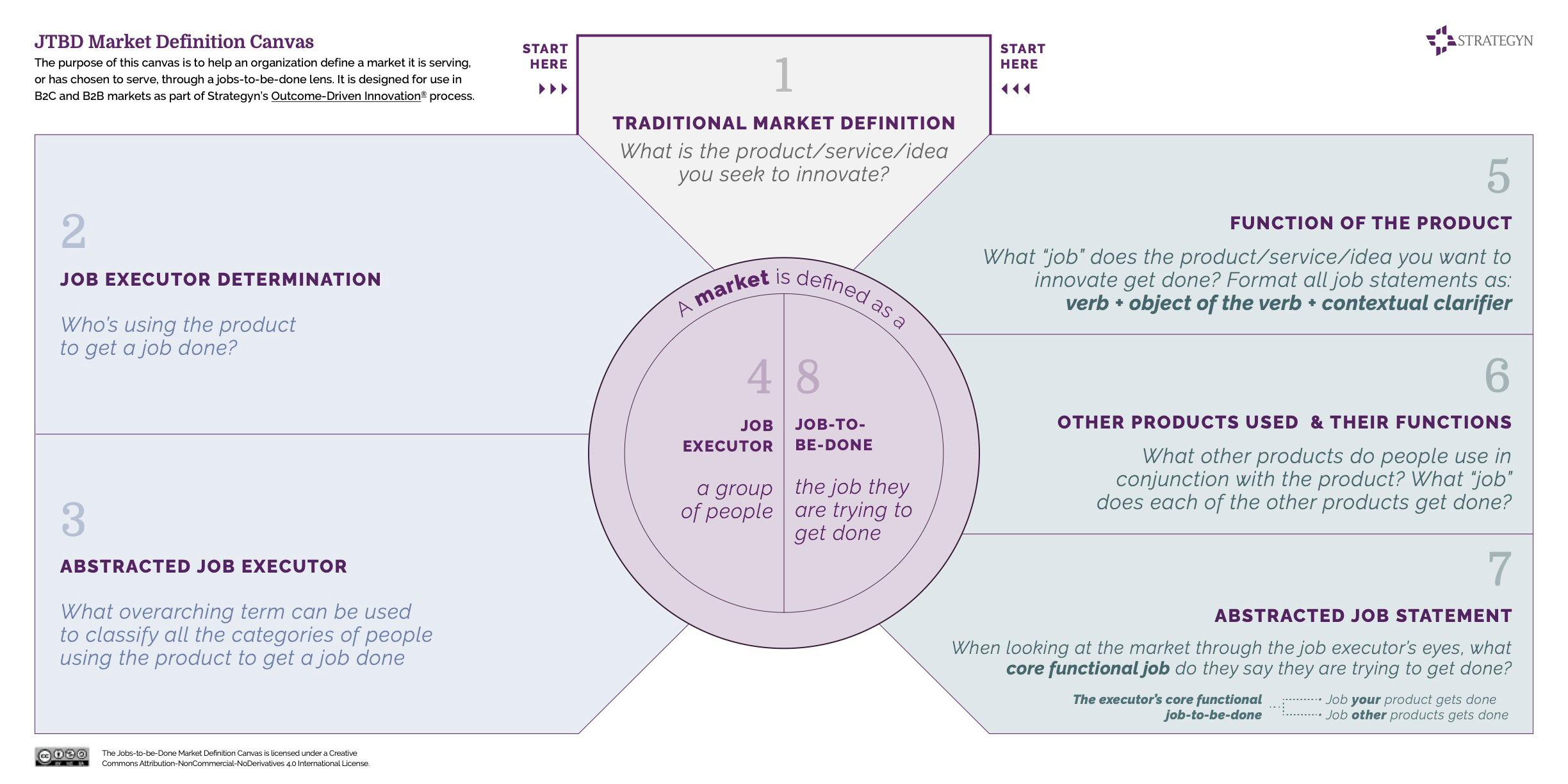 Fill in Steve Blank's JTBD market definition canvas to define your market and understand your target customers.
Step 2: Define customer personas
While filling in the JTBD Market Definition Canvas, you define who will use the product and how to classify all customer categories. To formalize your customer portraits, create customer personas for each category.
A customer persona is a fictional character that describes how a target user looks, thinks, and acts. Find a detailed guide on creating a customer persona in Step 2 of our customer journey map guide.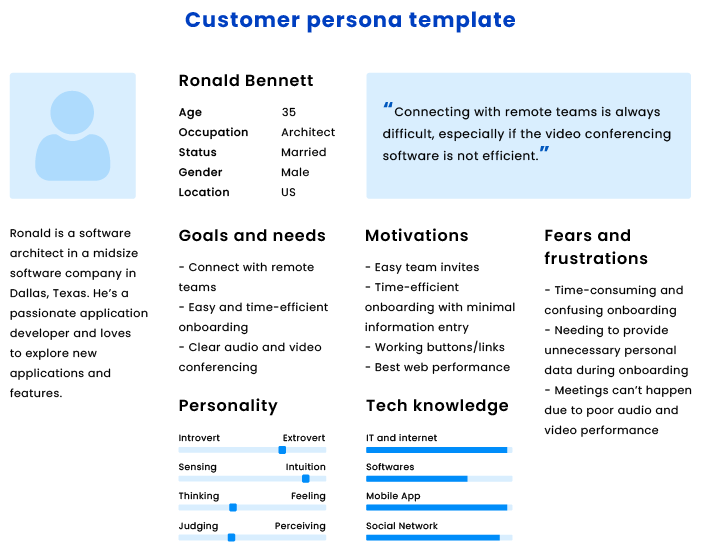 The above template reveals what information your personas should include at a minimum. How do customer personas help you write a product strategy? By understanding who you are creating for, you can build a product that satisfies user needs and, therefore, make your product successful after launch.
Step 3: Outline the problems
Once you know your target customers and their pain points, it's time to understand and define the core problem(s) to solve with your product.
If I had an hour to solve a problem, I'd spend 55 minutes thinking about the problem and 5 minutes thinking about solutions.
Too often, startup teams are solution-focused. Yet problems need more attention. A startup needs to consider customer problems from their business's point of view: determine a solution to which problem has more significant commercial potential.
​Alt: User goals vs business goals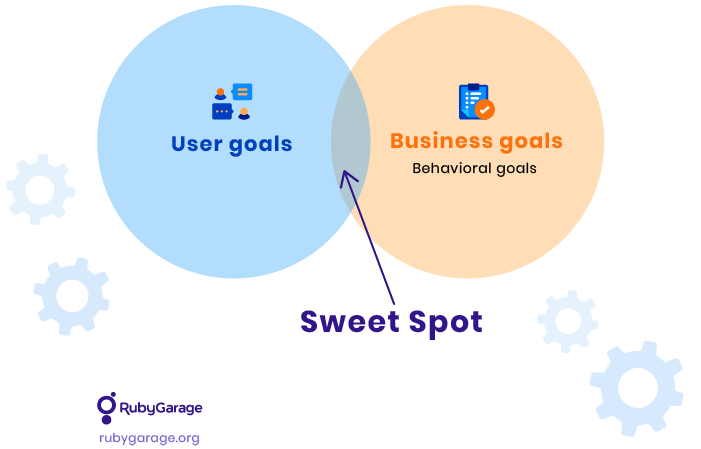 List users' problems you'd like to solve with the future product and ensure they are worth solving. Next, evaluate them in terms of the potential conversion (the amount of value solving a problem brings to users). Then, rank those problems by their potential for your commercial success. This process will help you match user and business goals and create an optimized feature set.
Step 4: Define product goals
Product strategy implementation is impossible without defining key objectives. These are specific goals you'd like to achieve by building a product. We recommend setting SMART goals. SMART stands for specific, measurable, attainable, realistic, and time-based.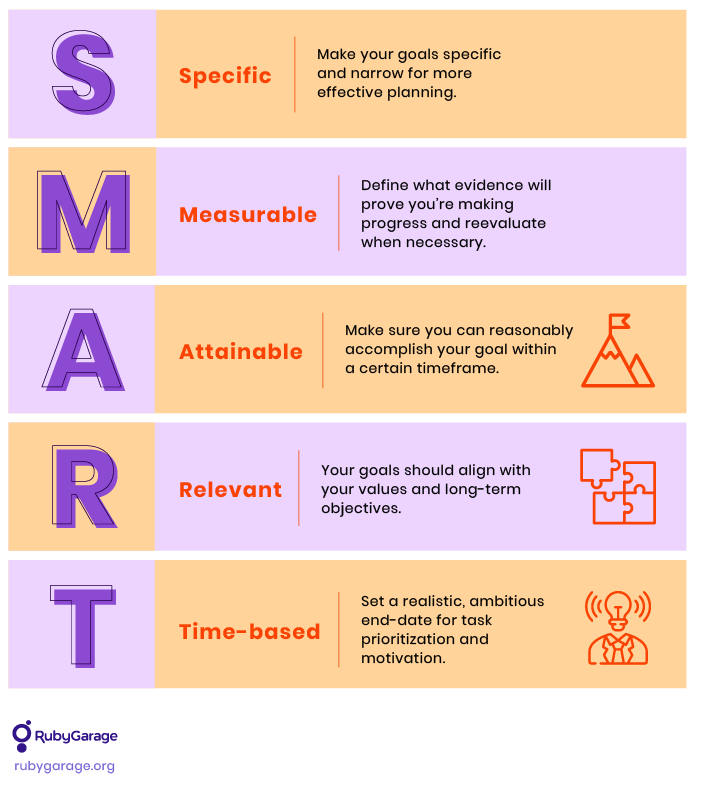 For instance, a product goal may sound like "get 1,000 subscribers in 3 months after launch" or "expand to the Canadian market by the end of the year." Goals like "become the best product in the niche" or "pay off the investments" won't work. Such goals don't have the timeframe or measurable criteria to evaluate success. Be precise, and check that every goal satisfies all five measures of the SMART approach.
Step 5: What are your product's differentiators?
Differentiators are what make your product stand out to the target audience. They define your ability to surpass competitors and opportunities to generate profits in the long run. There are a few main factors of product differentiation:
Quality: Your product surpasses competitors in quality and reliability.
Pricing: Your product's price and pricing model are more attractive to customers than competitors.
Design: Your product's design is more usable, more stylish, more fashionable, more innovative, etc.
Service and interactions: You provide faster support, conduct personalized interaction with users, and offer a new way for processing customer requests that results in higher customer satisfaction.
Features: Your product does something your competitors' can't, works faster, or is the only one that provides specific features to this particular audience.
Customization: Users can customize your products for their needs at a level that no existing products provide.
Considering today's competitiveness in the digital market, it's essential to have unique competitive advantages for any new product. Your solution must be different in a good way to succeed. Outline the benefits you can bring to users and make them happen.
Step 6: Set success metrics
To evaluate the actual results of your product, you should define actionable metrics (key performance indicators) to track. Your KPIs will depend on the type of product and its goals. For example, paid subscription apps need to track the number of new subscriptions per month, monthly active subscribers, and the number of unsubscribed users. However, websites that utilize ad monetization are more likely to track the number of page views, unique visits, ad clicks, etc.
Follow your SMART product goals when choosing suitable KPIs and OKRs (objective and key results). Check out our detailed guide on key startup KPIs to track product success.
Step 7: Set a strong product vision
Your product vision describes the positive change your product should bring. It answers why the product should exist and guides you in how to develop a product strategy aligned with your company values.
Usually, a vision is a short statement or a slogan. The vision statement should be clearly articulated and fit a few criteria:
It must be easy to understand and remember.
It should be aspirational, giving your team a bigger picture of why they're working on.
It should be actionable but not tactical. Your goal must be real yet achievable in many possible ways.
The vision should not dictate a particular path, as it is about why instead of how. Here are a few examples of well-articulated vision statements:
At IKEA, our vision is to create a better everyday life for the many people.
To organize the world's information and make it universally accessible and useful.
To be Earth's most customer-centric company.
You can start building a product strategy from a vision statement if you have a strong product idea and understand your product's core value. However, avoid falling into the trap of defining your vision before knowing your market and user personas. It's critical for a new product to deliver something to the market that competitors don't. Your vision statement will guide the entire implementation of the product strategy and define the tactics for achieving your business goals.
Step 8: Create a feature breakdown list
After defining the market, value proposition, differentiators, and business goals, it's time to create a feature breakdown list (FBL). An FBL document reveals the essential features for the first product release.
We suggest starting with epics that can be further broken down into features. An epic combines features related to a specific job to be done (user case):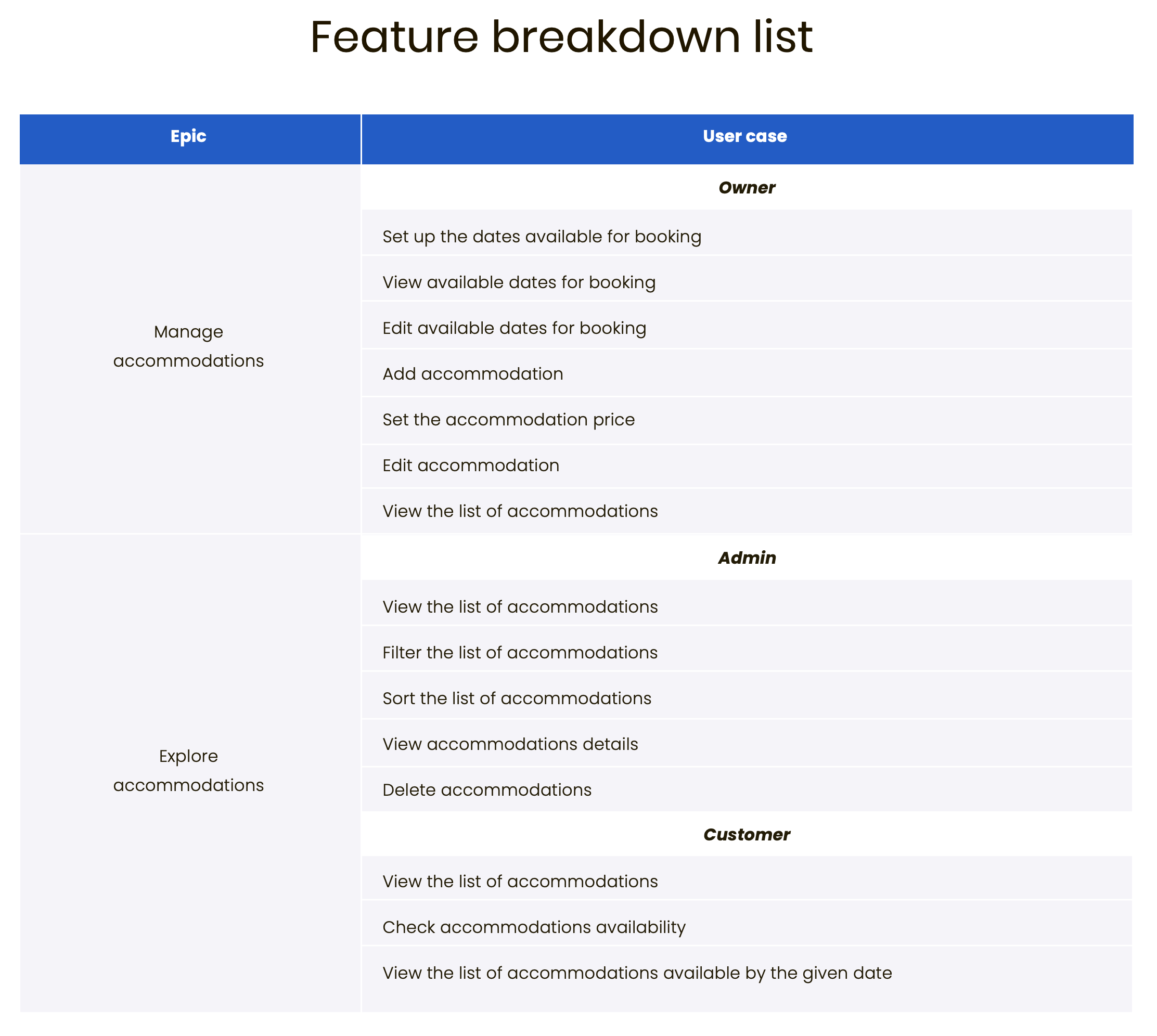 Notice that each epic contains separate cases for different user roles. The document structure can be changed based on the project complexity and required level of fidelity. You can add more levels to organize the features from bigger to smaller items.
The feature breakdown list shows how you move from the product vision to a specific development scope. Based on that, you'll be able to plan the product implementation and delivery.
Step 9: Visualize your product strategy
Summing up all findings and ideas in a compact, digestible format matters for communicating your product strategy to stakeholders. Here is how to develop a product strategy canvas so that it can be easily understood: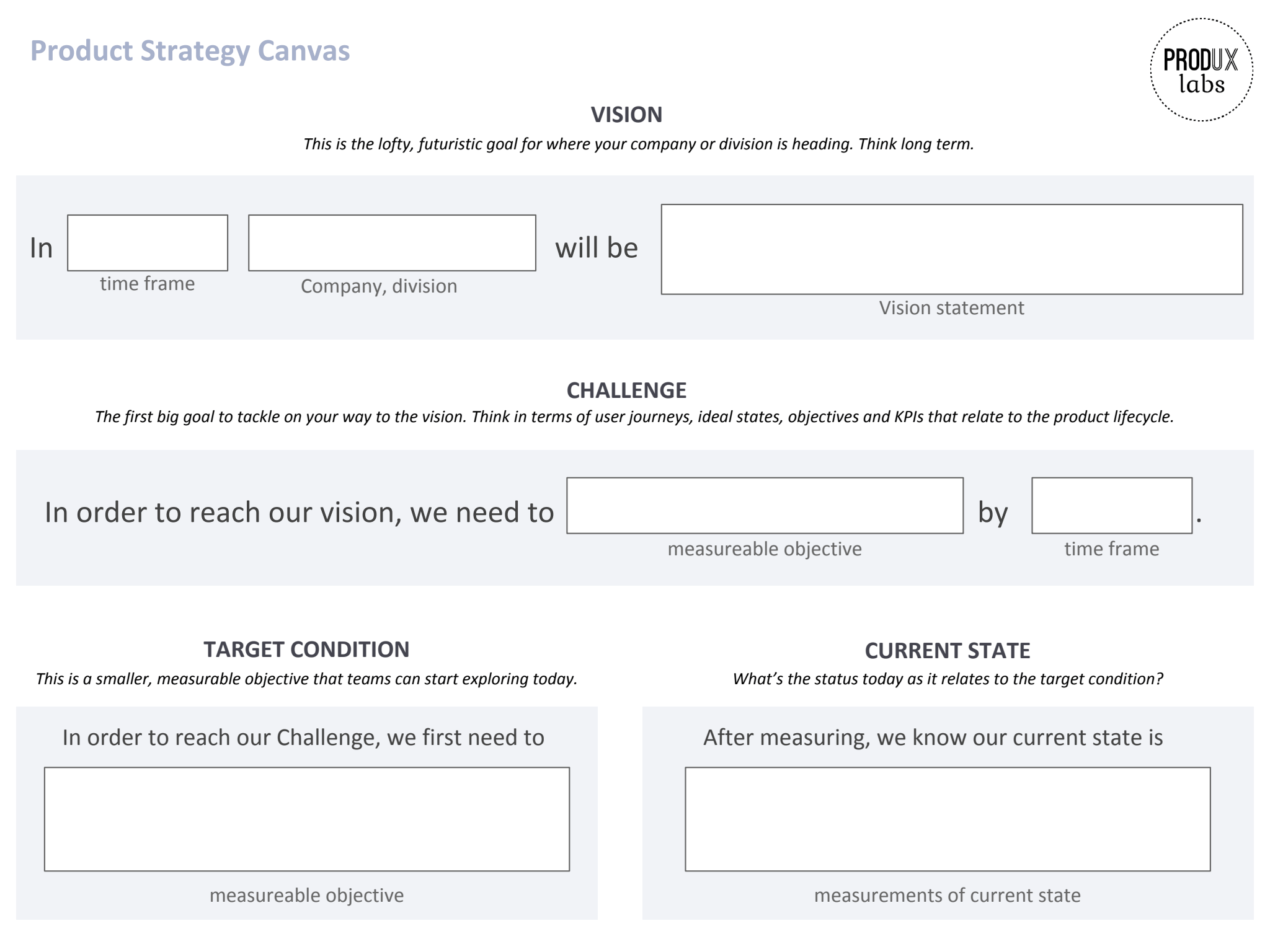 This canvas, designed by Melissa Perri, shows how you will solve your customers' problems to reach your business goal. It's is always a strong point to demonstrate to the team, stakeholders, and investors. The product strategy canvas is a basic framework that can be filled in with more information depending on the required level of detail.
What's next? Create your product roadmap
A product roadmap is a visual plan of the product strategy implementation. It is an action plan to achieve your startup's business goals and carry out your product's mission.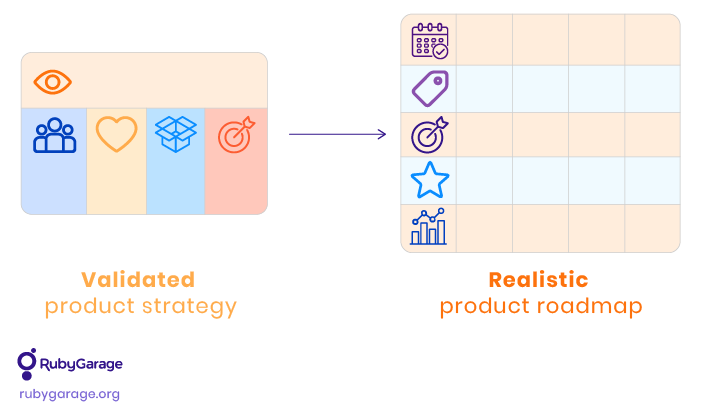 A roadmap makes things clearer for the internal team and external stakeholders. It outlines the product's goals with actions, deadlines, and projected results. We recommend using a GO Product Roadmap template offered by Roman Pichler, a renowned product management expert: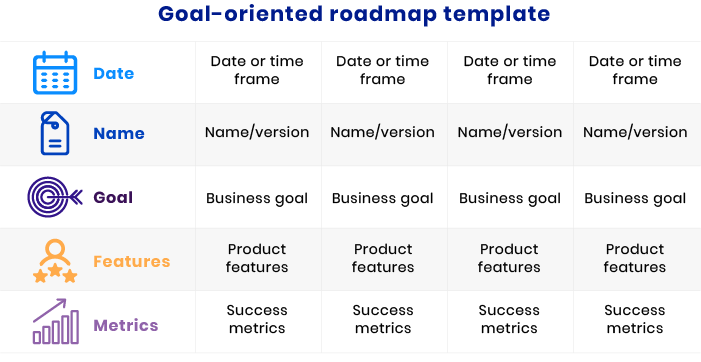 A product roadmap connects each business goal to specific product features, as you can see from the template. Therefore, moving from a high-level product strategy to a product development plan is essential. Check out our guide to creating a product roadmap to see more details.
Now, with a product strategy, feature breakdown list, and roadmap in hand, you can communicate your product idea to key stakeholders to get buy-in. The next step is planning the budget, development scope, and delivery backlog.
Final thoughts
Knowing how to write a product strategy is a strong starting point for any digital startup. Writing your product strategy is a key step to finding your market fit, streamlining the path to customers, and avoiding wrong decisions. RubyGarage product managers know how to develop a product strategy for a startup and help you become a market leader instead of just replicating competitors. We'll also help you investigate and eliminate potential risks in the early stages of product design.
FAQ
A product strategy is a high-level plan for achieving your business objectives for a particular product. It aligns your business objectives with the future product and helps you create a how-to plan for achieving your desired outcome.

A strategy explains the approach you take to implement your product and get to the desired 'future' state. A roadmap is a tactical action plan to realize that.

According to Roman Pichler, The three core elements of an effective product strategy include customer needs, business goals, and product features. To build an effective strategy for your startup, you should analyze the market, identify your customer needs, define product goals, find differentiators (unique competitive advantages), set a product vision, and create a list of features for the first product release.