How to Make a Product Roadmap for Your Startup
12510 views
11 min
Jun 17, 2021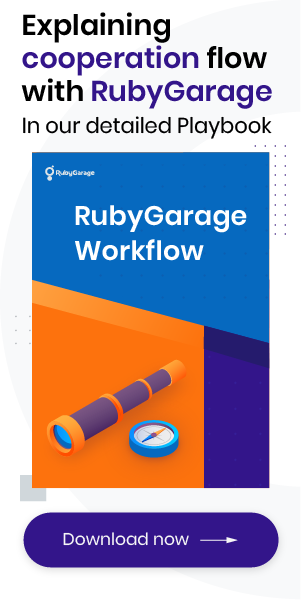 When bringing your digital startup idea to life, it's critical to direct your company's resources and your team members' efforts towards accomplishing a single mission. A tool that perfectly copes with this task is a product roadmap. In the article, we'll describe how to make an appropriate product roadmap for your digital startup.
What is a product roadmap and why is it important?
A roadmap is a high-level visual summary of how to implement your product strategy. The roadmap guides all stakeholders in achieving the startup's goals and carrying out the startup's mission.
Creating a concise product roadmap is advantageous for startups. The major and most crucial functions of a product roadmap are as follows:
Simplifying product strategy communication among stakeholders
Providing an understanding of the business strategy implementation plan at a glance
Indicating high-level project goals in one place 
Aligning business goals with the technical solutions you're going to implement
Simplifying the tracking of goal achievement
Coordinating activities within and across teams
In turn, without a clear and comprehensive product roadmap, each member of your team may interpret your product vision differently. This may result in your team's failure to work together towards the implementation of your product strategy. 
Goal-oriented roadmap
Startups often need to reduce their time to market and check the viability of their business models as soon as possible. That's why in this article, we'll show how you can create a goal-oriented product roadmap that fully aligns with the Lean Startup methodology. 
A goal-oriented roadmap indicates five key elements of product strategy implementation:
Date – A deadline or time frame for achieving a certain product goal
Name – The name of the digital product version you're developing over a particular time frame 
Goal – An achievement your product should accomplish over a specific period of time 
Features – A list of high-level features you need to implement to meet the product goals 
Metrics – Success and performance indicators used to check if a certain goal was met
Here's a template you can use to create a goal-oriented roadmap for your own digital startup.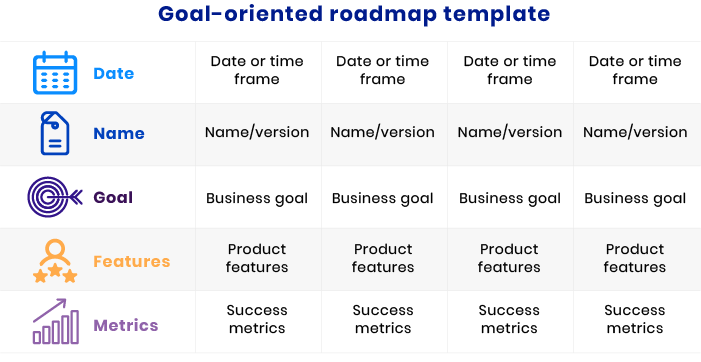 Now that you're aware of the importance of a product roadmap and have a template in place, let's review the steps you need to take to create your own lean startup product roadmap. 
How to make a startup product roadmap
Even if you have an appropriate roadmap template, you can't just fill it in without preparation. We recommend you dive deep into the matter and review each stage of the roadmap creation process you need to fulfill to develop a proper roadmap. 
Define your product vision
First of all, you should clearly understand your product vision. This helps to show your team why you're creating your product, what you wish to achieve with its help, and how the product will help potential users.
A product vision is a statement that outlines the mission your product strives to achieve in the long-term perspective. It serves as the basis for all the decisions you and your team make during your project. 
Your product vision statement should include information on who your product is for, what needs it covers, what benefits it offers, and what differentiates it from similar products. To state your product vision, you can use the following fill-in-the-blank template: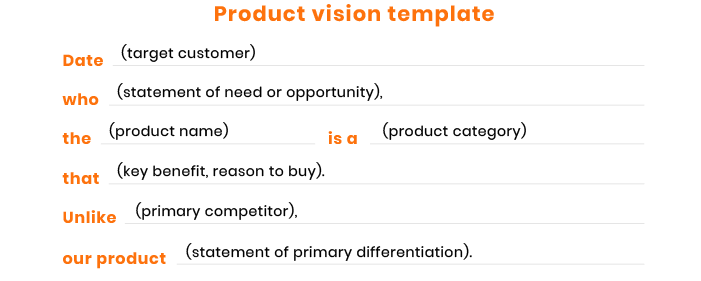 Since your product can target several different types of customers, you may need to develop several product vision statements. When these statements are ready, it's time to figure out how to realize your vision.
Build your product strategy
As soon as you have your product vision in place, you need to consider a plan (a product strategy) for realizing your product vision. Your product strategy shows the big picture of what your product will become and defines the direction of your company's activities.
You can create your product strategy in three steps:
Research your target market
Draw up a business model
Validate your hypotheses
Step #1. Research your target market
First of all, you'll need to carry out market research to see whether there's demand for the product you'd like to create. During this research, you need to find answers to the following questions:
What are the current market needs and requirements for the type of product you want to build?
How will your product solve your target audience's problems?
What characteristics can make your product competitive?
You can reach out to your potential customers with the help of customer research surveys to get qualitative or quantitative information about your target market. Ask your potential customers about the problems they're solving and the outcomes they want and don't want to achieve. 
Step #2. Draw up a business model
Now it's time to use your research results to create your business model. A Lean Canvas is an effective tool for determining principal aspects of your product's operational flow that will assist you in this task. Here's the Lean Canvas template we use at RubyGarage: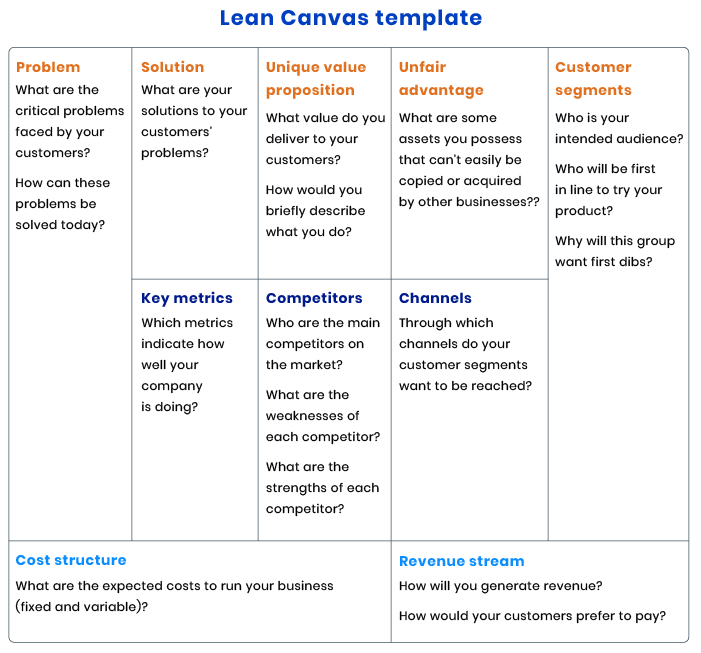 This template consists of ten sections, each devoted to specifics of your business. Let's take a close look at each section to understand what your business model should include:
Problem – Indicates the major problems of your users that your product is going to address. 
Solution – Demonstrates how exactly your product will help users solve their problems. 
Key metrics – Enumerates the specific metrics against which you will check the state of your business and the strength of your solution. 
Unique value proposition (UVP) – Indicates how your product solves problems or fulfills customers' needs. Your product should also offer a distinctive feature that sets it apart from your competitors' products and motivates your customers to choose your product over similar products on the market. 
Competitors – Lists your competitors as well as the strong and weak sides of their products. 
Unfair advantage – Illustrates a sustainable competitive advantage that is difficult for your competitors to copy or achieve. 
Channels – Shows the distribution channels you're going to use to deliver your product from your company to your customers. 
Customer segments – Demonstrates your customer archetypes or personas as well as their geographic, social, and demographic characteristics. 
Cost structure – Points out the expenses needed to run your business, such as staff, equipment, and building fees. In this section, you need to indicate the costs that are the most important for operating your business, identify the resources and activities that are the most expensive, and distinguish between fixed and variable expenses. 
Revenue streams – Specifies how your company will make money. Your revenue streams show the value your customers will pay for your product and how you'll capture this value. 
Drawing on the results of your market research, you can easily fill in the gaps of the Lean Canvas to create your business model and update it if needed. 
Step #3. Validate your hypotheses
You need to understand that your business model comprises a set of unproven assumptions you make about your product, or so-called hypotheses. To check the feasibility of your business model, you need to validate the hypotheses that are most crucial for your business success. These are the hypotheses about your customer segments, your product's UVP, and the solution your product offers to customers' problems. 
That doesn't mean that the remaining aspects of your business model aren't important or don't require validation. However, unlike customer segments, your product's UVP, and your solution, other aspects of your business model can be validated later. 
To validate your customer segments, UVP, and solution, you can conduct in-depth interviews with potential customers. In-depth interviews are one-on-one conversations with representatives of your target audience that aim to elicit attitudes towards the solution you're proposing. 
The results of in-depth interviews will show if your hypotheses about your business model are valid. If your hypotheses are indeed valid, you can continue to the next step of product development and start implementing your product strategy. Otherwise, you'll need to return to the first step of product strategy development and repeat the procedure until you find valid hypotheses. 
Select product features 
As soon as you've determined your product strategy, it's time to decide what functionality your product needs to work it out. 
When choosing features for your product, don't forget to take into account the results of your customer research surveys and in-depth interviews with potential customers. Although you don't necessarily need to build all the features your potential customers ask for, interviews are an invaluable source of information about what solutions your target audience expects from your digital product. 
Selecting the right features also involves a detailed analysis of your direct and indirect competitors' products. Your task, of course, is not to create a product with the same features but to learn from your competitors' experience. Find out what customers like and don't like about your competitors' products and use this knowledge to your advantage. 
You and your team may come up with plenty of great features for your product, but you definitely won't need to develop them all straightaway. Prioritization helps you determine what features to build first. 
To prioritize features, you can use various prioritization techniques. For instance, you can apply the MoSCoW prioritization method: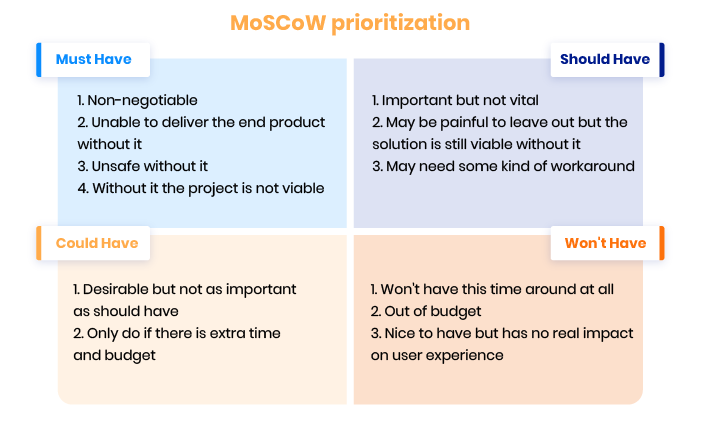 This method involves distributing product features into four groups:
Must have – Features with the highest priority
Should have – Significant features that you'd better implement right away, though your product will still be viable without them 
Could have – Nice-to-have features you can postpone
Won't have – Features with the lowest priority 
By using this or any other prioritization technique, you can create a list of prioritized features that you can feature in your lean startup product roadmap. 
Estimate and plan the scope of work and project budget
A prioritized feature list allows you to proceed to the next step. Indicating a timeline on the product roadmap requires you to define and assess the scope of tasks you need to perform to implement your chosen features. 
To estimate the scope of work, you need to involve subject matter experts such as UX designers, QA engineers, and programmers. You can closely cooperate with them to decompose your product features into tasks, estimate those tasks in hours or story points, and thus determine the scope of work. 
Together, you'll be able to define the number of specialists you'll need for the project as well as their skills and competencies. 
Next, you need to create a project release plan based on the number of specialists you're going to hire. Each release should be assigned a certain goal and deadline. 
Drawing upon the preceding stages of the estimation process, you can now calculate the amount of resources, such as money and equipment, that your project needs. 
Create a visual representation of the roadmap
The major purpose of a roadmap is to let your team members catch the essence of your product strategy implementation plan at a glance. If you store your startup product roadmap in a long text-packed document or presentation, it fails to perform its function. 
That's why it's critical to present your roadmap to team members in a concise, high-level, and visual way so that it's easy to grasp. You may use a range of means to create a visual roadmap, from spreadsheets to paid digital tools. 
Don't be afraid to experiment with color coding to make connections between items in your roadmap. When using text, try using a large font and writing phrases that are short and to the point. And mind that the more text your roadmap contains, the less legible it will be. Don't add specific resource requirements, worker-hours, and story points to the roadmap; better save them for the roadmap execution stages. 
Here's an example of a visual representation of a complete goal-oriented roadmap: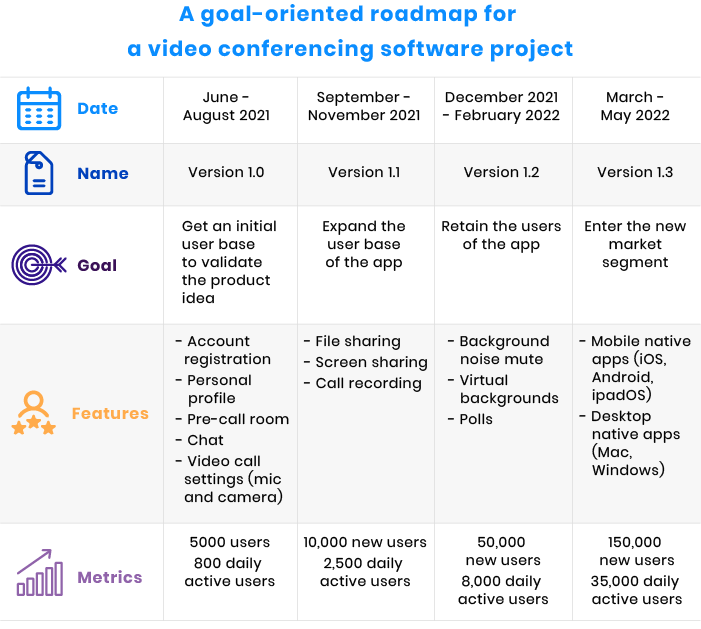 Although the content is the most crucial part of a roadmap, the way the roadmap looks also influences its efficiency.
Regularly review and update your roadmap
A product roadmap isn't something you create once and for all. It's a dynamic artifact that should be updated as your product evolves. 
The frequency with which you should update your roadmap depends on various factors, such as market volatility, your product strategy, and customer feedback. According to a survey by ProductPlan, over 30% of product managers update product roadmaps monthly, while about 25% update roadmaps weekly and another 25% update them quarterly. 
When deciding on how often to review and update your own roadmap, take into account the specifics of your product market, your project timeline, and your pace of product development. 
Conclusion
Lean startup product roadmaps aren't created overnight. Creating a roadmap that is truly useful for your team requires a lot of validated data and a systematic approach. 
FAQ
A product roadmap is a high-level visual summary of how to implement your product strategy. The roadmap guides all stakeholders in achieving the startup's goals and carrying out the startup's mission.

Since startups often need to reduce their time to market and check the viability of their business models as soon as possible, the goal-oriented roadmap is an optimal choice. The goal-oriented product roadmap template fully aligns with the Lean Startup methodology.

You can create a roadmap for your digital startup in six simple steps:

Define your product vision
Build your product strategy
Select product features
Estimate and plan the scope of work and project budget
Create a visual representation of the roadmap
Regularly review and update your roadmap

Looking for skillful specialists to help you build your digital product? Contact Ruby Garage.