How Can Machine Learning Revamp Your Mobile App?
57792 views
10 min
Jul 17, 2019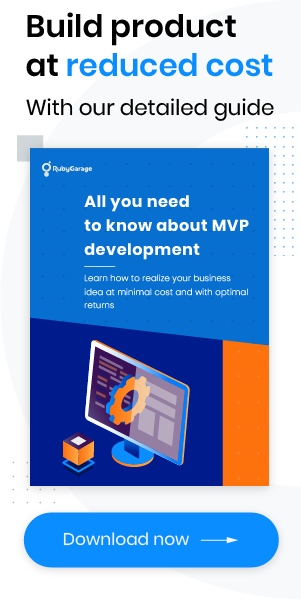 The era of generic services is waning. Customers want to get offers tailored to their needs. You can see the numbers for yourself: half of customers are likely to switch brands if a company doesn't meet their needs, and 57 percent are willing to share data with companies that send personalized offers.
Technological progress and digital improvements have created new chances for vendors to attract and retain customers. Yet there's a huge gap between mass personalization and true individualization: you can hardly delight your target audience with a mobile app that lacks any prominent feature or that contains bothersome pop-up ads. Machine learning (ML) helps to bridge the individualization gap. Cognitive technology lets companies create algorithms and machines that understand humans, assist them in their tasks, and even entertain them.
Machine learning, on a global scale, makes mobile platforms more user-friendly, improves the customer experience, maintains customer loyalty, and aids in building consistent omnichannel experiences.
In this article, we've сonsidered the six most lucrative use cases for machine learning in your mobile app. Let's look closer at how machine learning can enrich your business in 2019.
#1. Personalized experience
With machine learning, you can benefit from the continual learning process. Machine learning algorithms can analyze various sources of information from social media activity to credit ratings and pop recommendations right onto customers' devices.
Machine learning can help you classify users based on their interests, collect user information, and decide on your app's look. You can use machine learning to learn
Who your customers are
What they want
What they can afford
What hobbies, preferences, and pain points they have
What words they're using to talk about your products
Based on collected information, machine learning helps you classify and structure your customers, find an individual approach to each customer group, and adapt the tone of your content. To put it simply, machine learning lets you provide your users with the most relevant and enticing content and convey the impression that your app is really talking to them.
Market leaders are applying machine learning in all imaginable and improbable ways. Do you remember House of Cards, launched by Netflix in 2013? Netflix used big data to choose the main character and one of the executive producers (Kevin Spacey and David Fincher) for this show.
Here are a few more examples: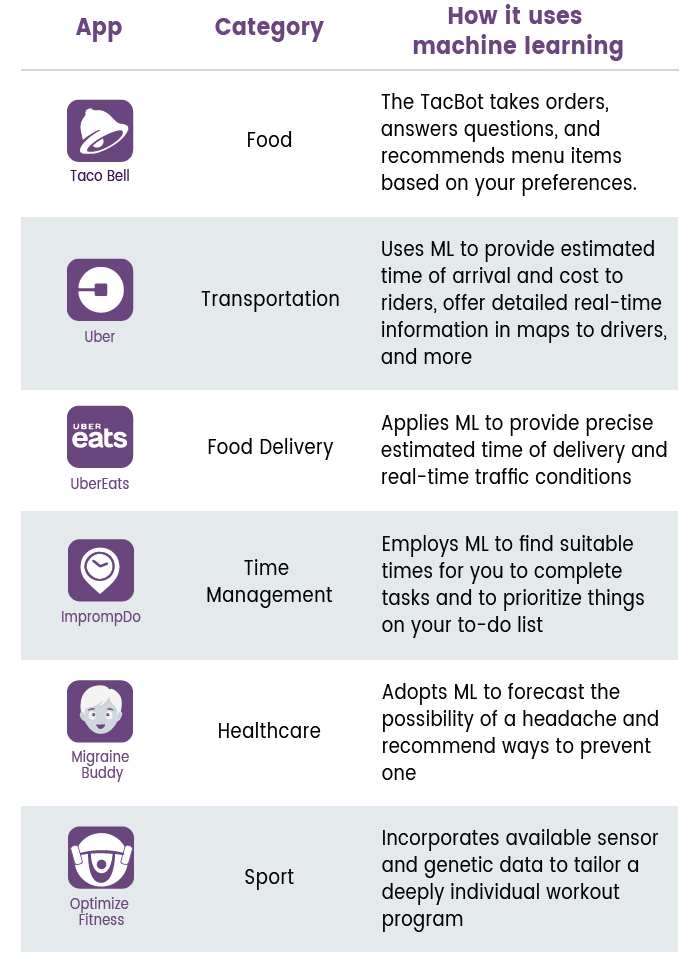 #2. Advanced search
Machine learning solutions let you optimize search in your app, deliver better and more contextual results, and make searching more intuitive and less burdensome for your customers. Machine learning algorithms learn from customers' queries and prioritize the results that matter most to a particular person. Cognitive technology also helps to group articles, DIY videos, FAQs, documents, and scripts into a knowledge graph to provide smarter self-service and immediate answers.
Modern apps allow you to collect all available data about your customers such as search histories, and typical actions. You can use this data coupled with behavioral data and search requests to rank products and services and show best matching search results. And, of course, you can upgrade your app with voice search and spelling corrections.
Reddit is already using ML to improve search performance for hundreds of millions of community members.
Reddit relies heavily on content discovery… As Reddit has grown, so have our communities' expectations of the experience we provide, and improving our search platform will help us address a long-time user pain point in a meaningful way.
#3. Predicted user behavior
Machine learning applications help marketers understand users' preferences and behavior patterns by scrutinizing different kinds of data:
Age
Gender
Location
Search requests
Frequency of app usage
… and so on
Why do you need this data? Because you can use it to keep different groups of customers interested in your app and improve the effectiveness of your app and your marketing efforts. Suppose you find out that more females under 40 use your app than males. Based on this knowledge, you may either take actions to attract a male audience or target your entire marketing campaign at women.
Machine learning also aids in creating individualized recommendations that increase customer engagement and time spent in your app. Look at Amazon's suggestion mechanism, for instance. While customers are browsing, a machine learning algorithm learns on the fly about their likes and dislikes. A full 80 percent of TV shows watched on Netflix are suggested by their recommendation system. This system has helped Netflix save about $1 billion. Here are a few more examples of machine learning applications:
#4. Relevant ads
The hard part of advertising is showing the right ads to the right audience.
As brands continue to battle for consumer dollars, it's clear that the way to win is through personalization. Consumers expect content that is both useful and contextually relevant ‒ the right information served at the right time
As advertising is becoming more personalized, machine learning technology helps companies target display advertisements and personalized messaging more accurately. Based on a report by The Relevancy Group, 38 percent of executives are already using machine learning as part of their Data Management Platform (DMP) for advertising.
With machine learning, you can avoid tiring customers by pushing an item they've just bought and likely don't need in the near future. Machine learning helps you generate ads drawing on data about each customer's unique interests and buying propensities.
Machine learning lets you predict how a certain customer will react to a given promotion so you can show specific ads only to customers with the highest likelihood of being interest in the displayed product or service. This saves time and money and improves your brand's reputation.
Coca-Cola keeps close tabs on how its products are represented across social media. The company uses image recognition technology to identify when people have posted images of its products or those of competitors on Facebook, Instagram, and Twitter. Having this information, Coca-Cola has learned what situations prompt customers to talk about its brand and has defined the best way to serve advertisements. Ads designed in this way have greater chances of being clicked on than ads designed using other methods of targeted advertising.
#5. Improved security
Aside from being an effective marketing tool, machine learning can streamline and secure app authentication. Video, audio, and voice recognition makes it possible for customers to authenticate using their biometric data such as face or fingerprint. Machine learning aids you in determining access rights for your customers as well. It's a smart decision for any kind of mobile app.
Apps like ZoOm Login and BioID make use of machine learning to allow customers to easily log in to other websites and apps with ultra-secure, selfie-style face authentication. BioID even offers periocular eye recognition for partially visible faces.
Beyond fast and secure login, there are more applications for machine learning. With machine learning, you can count on ongoing app monitoring with no need of constant control: machine learning algorithms detect and ban suspicious activities. Whereas traditional apps can resist only known threats, machine learning systems can protect your customers from previously unidentified malware attacks in real time.
Do you think that malicious traffic is something far from your app? During the previous year, account takeovers rose by 45 percent, resulting in a loss of $3.3 billion for online retailers in North America, Asia, and Europe. So it comes as no surprise that such big companies as Uber use machine learning to deal with fraudulent behavior by applying face detection technology and determining customers who use stolen credit cards.
Reputable banking and financial companies are also leveraging machine learning algorithms to inspect customers' previous transactions, social media activities, and borrowing history and to determine credit ratings. Machine learning opens access to an impressive variety of features:
Image recognition
Shipping cost estimation
Product tagging automation
Wallet management
Logistics optimization
Business intelligence
… and more
These features allow brands to efficiently forecast future trends, financial crashes, and bubbles.
#6. Deep user engagement
Machine learning tools empower you to offer solid customer support, a range of endearing features, and entertainment that gives customers an incentive to use your app on a daily basis.
Sufficient support
Amazon and Facebook use machine learning technology to work more efficiently and engage users with intelligent request handling. Machine learning systems can easily analyze large sets of data and make decisions in real time.
Some people are really bothered when they have to make calls, write long emails, or wait on the phone until somebody responds. Friendly and intelligent digital assistants can be a suitable alternative for assisting customers. Therefore, many companies implement machine learning to build conversational UXs or virtual assistants known as AI chatbots. Here's a selection of popular apps with virtual assistants.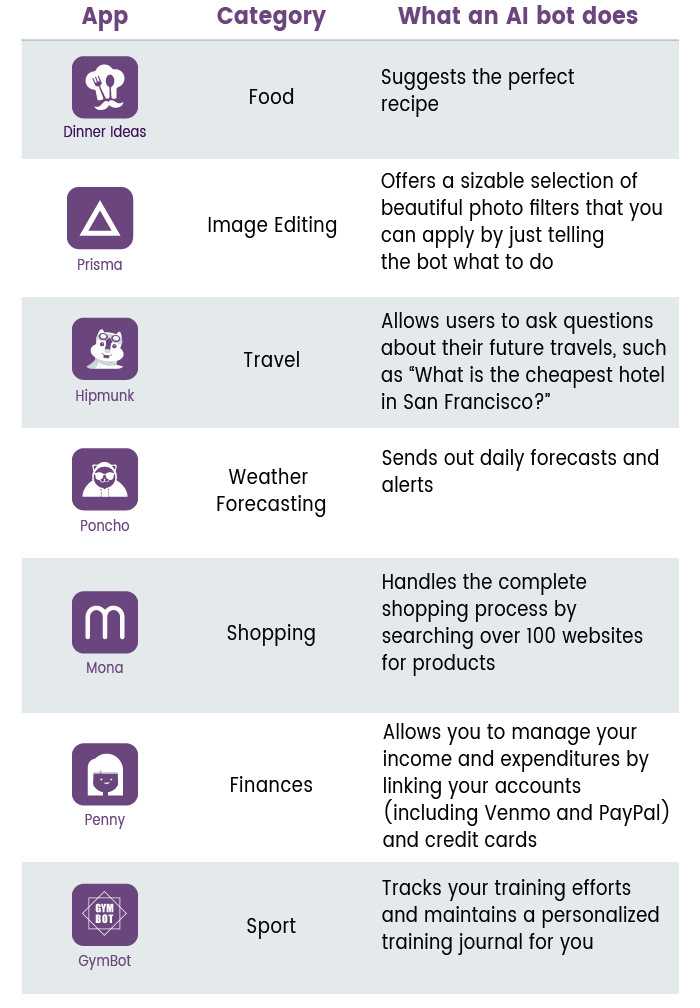 With machine learning tools, you may also send smart notifications to offer a deal of the day: voice assistants can send voice notifications about hot prices and special deals. This helps you become more proactive, remind customers about your brand, and engage even churned clients.
Providing entertainment
Beyond chatty AI assistants that can cheer up your customers and hold conversations at 3 a.m., there are more examples of machine learning being used to entertain customers. Look at Erwin, a riddle bot that lives in Facebook Messenger. Erwin excites users who are fans of complicated puzzles: this bot sends knotty riddles and clues if you get stuck.
Another example of an AI bot is ProjectMurphy. Murphy answers "what if" questions. Customers can ask ProjectMurphy essentially anything and the bot replies with a picture that represents the question.
The widely known Snapchat goes even further. The company uses machine learning and augmented reality to let customers revamp their pictures with funny filters. The app's camera detects a customer's face, localizes the facial features, and adds filters responsively.
Valuable features
Machine intelligence allows you to enhance your app with a built-in translator, as machine learning supports real-time speech translation. Thus, your international customers can successfully communicate within your app with no need for third-party online translators.
Since 60 percent of Airbnb bookings connect people who use the app in different languages, the company uses the Cloud Translation API to translate listings, reviews, and conversations between its users. Azar, a chat application, uses the Cloud Speech API and Cloud Translation API to translate audio between matches.
Another example of a machine learning application is Realtor.com. This real estate listing service uses the Vision API to allow people take pictures of a For Sale sign and get immediate information about the property.
One Step to Success
Machine learning technology can empower your mobile app with an efficient personalization engine, cutting-edge search mechanisms, fast and secure authentication, and fraud protection. What can be better for your app?