What are a CEO's responsibilities in a tech startup? Key roles, expertise, and skills
15802 views
9 min
Jun 03, 2021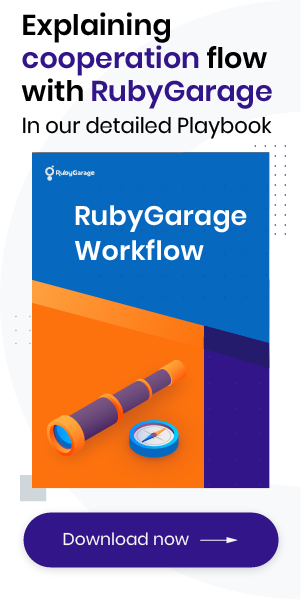 The importance of a CEO's work is hard to underestimate. But what exactly does a CEO do in a digital startup, and how can they do it better? 
This article lays out the key roles, competencies, and skills for this position. 
Startup CEO areas of expertise 
In a startup, the CEO has a multitude of functions. Their day-to-day duties range from strategic planning to marketing. But there are three areas that lie at the core of the CEO's activities. 
Business 
One of the key responsibilities of a startup's CEO is product management, which is primarily a commercial function with the goal of maximizing profit. Business should be the main area of a CEO's expertise. 
User experience (UX)
Being a chief advocate of the product users' interests, the CEO is determined to solve users' specific problems. The CEO is in charge of communicating with customers, analyzing their feedback, and drawing conclusions. 
Technology
A startup CEO doesn't have to be a software developer, but to make the right decisions, it's important for them to be keen on technology. This helps them estimate labor costs and speak the same language as their team.
Now let's see how a CEO can utilize expertise in these areas in their day-to-day duties. 
Evolution of the CEO role in a startup
As a startup expands, the CEO pivots from performing multifaceted duties into more of a managerial role. Let's look at this evolution in detail and define the key CEO roles throughout the stages of a startup. 
Startup stage #1 Product ideation and strategy development
The main goal of this stage is to make sure you're building the most viable product solution while minimizing costs, saving time, and reducing risks.
Here are the key CEO tasks and responsibilities at this stage: 
1. Define the product vision and identify the product idea
A product vision gives you the big picture of what you do and why. The main questions the CEO should answer are these: What's the product going to do? What's its core appeal? and Why is now the time to build it? 
2. Validate the product idea
The CEO should research existing demand and conduct in-depth interviews with potential customers. The goal is to find out whether people need your product and are ready to pay for it. If the answer is no, you should go back to the previous stage and reconsider your product idea. 
3. Provide market research
If your idea is validated, you can dive into the market more, gaining a better understanding of trends in your market and niche. In particular, the CEO should define and analyze competitors to see how the startup can get ahead of them. This is where product positioning stems from. 
4. Create the business model
The CEO's goal is to define clear business contours of the project: customers' top problems and solutions to them, existing market alternatives, key product metrics and KPIs, the product's unique value proposition, distribution channels, the target audience, customer segments, and more. 
5. Define the optimal solution and features for an MVP
You should design a set of features for the product focused on maximizing its value and utility for identified user roles. 
6. Define an MVP development roadmap
First, plan your budget, estimate the development cost, and consider all project expenditures. You can estimate each feature in detail. 
Second, you should define the optimal team structure to achieve your product goals. Your team may include a designer, software developers, and a QA engineer. You should also come up with a plan for how to involve each of these team members for maximum clarity in achieving your goals. 
Third, you should craft a clear, step-by-step project implementation plan based on the team set so you can predict the duration of project implementation and the date of your MVP release.
Startup stage #2 Product design and development
At this stage, the CEO's responsibilities include transforming the product from a vision to a scaled and constructed solution. The CEO is in charge of: 
Product requirements (business and functional). The goal is to define and manage requirements, maintaining their accuracy and consistency, and to prioritize them throughout the entire product development process. 
Product data modelling. It's the CEO who usually designs and maintains the product data model, validating it with the development team. 
Approving the UI/UX design. A CEO is usually engaged in UI/UX design to the extent they find necessary, as they're accountable for the final UI/UX solution. 
Facilitating and monitoring software development. The CEO supervises the software development process, including server- and client-side app development, infrastructure management, and DevOps. 
Startup stage #3 Product–market fit
At this stage, a startup tests the reliability and attractiveness of its product. Then, it goes back to design and development until it finds a niche in which to scale. 
The goal is to find key functionalities of a product for which customers are ready to pay and that solve a core problem for them.
The key roles of a CEO during this stage are to:
Gather and analyze customers' feedback
Develop a customer success strategy and practice
Validate product hypotheses in the real-world environment
Analyze product metrics and KPIs
And then: 
Revise the product strategy and vision
Revise the product idea and feature set 
Facilitate and monitor further product development 
At this stage, a CEO needs to switch from process management to people management and strengthen the connection with the team. This is especially important for fast-growing startups. 
Another crucial task of the CEO is to maintain a focus on end users while developing the product, as more and more people are standing between them and the CEO.
Startup stage #4 Product growth
At this stage, the startup focuses on increasing the scope of its operations. The CEO achieves this goal through a combination of marketing and sales activities. 
For a startup CEO at this stage, it's essential to fight overconfidence and not neglect innovation. The CEO should fuel the desire for change, especially with proven products. These days, a larger company that does not focus on continuous improvement is missing out on opportunities, and young, ambitious competitors can easily surpass it.
Also, as a startup grows, the likelihood of communication failures increases. And if there are more than 20 people on a team, the risk of forgetting vital information increases. But there is a way out: The CEO should perceive employees as customers. By treating your internal team as customers, you automatically focus on employees' growth and well-being. The best CEOs set aside time for communication in their schedules.
Startup CEO qualities and skills 
Since the CEO job comes with a lot of responsibilities, the skill set of a CEO should be wide. We'll list some specific skills that are essential for this role.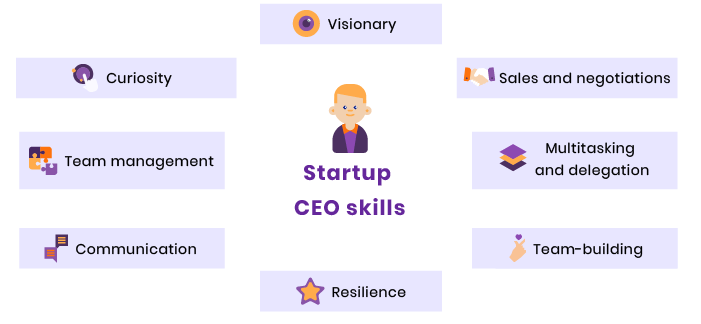 Visionary skills
The CEO sets the long-term product goals. The CEO should craft a vision statement that answers why the startup is creating its product and what the startup hopes to accomplish in the future.
Sales and negotiation skills
Although a startup CEO might not be heavily engaged in sales, they should be able to sell the startup's idea to an investor or a client. A CEO should be able to persuade others to reconsider their decisions. 
Multitasking and delegation skills
A skilled startup CEO can act as a marketer, product manager, tech lead, account manager, etc., taking on almost any role if necessary. However, CEOs must avoid taking on too much on an ongoing basis. 
By understanding their weaknesses and delegating work to experienced team members, a leader strengthens their role.
Team-building skills
An expert CEO knows what will lead their team to success. Goals, key results, motivation, and rewards should be consistent with what the team is working on. 
In startups with a healthy culture, individual and team goals are aligned with the corporate mission and values. In an immature or unhealthy culture, team goals are associated with cash bonuses.
Resilience and a willingness to embrace challenges 
Anyone who has worked in a startup knows there are many bumps in the road. The best leaders don't shy away from the daily confusion, setbacks, and conflicts but work with the team to improve the situation and thrive. 
A CEO should be resilient to problems and complex tasks. Only those determined to overcome challenges can succeed in a digital environment. 
Communication skills
The ability to clearly express thoughts, to listen, and to hear interlocutors is vital for a CEO. This is especially true for written communication, as startup CEOs often message their clients and partners and compose documentation.
Also, the ability to get along is crucial. This does not mean that a CEO should try to please everyone. They just have to find a way to get along even with people they have little in common with.
Time management skills
Developing a tech product is a challenging race. Time management applies to almost all areas of a CEO's work.
Curiosity
This trait is fundamental for a problem-solving mindset. The CEO should be aware of tech trends and be able to predict what will affect the product and find a solution no matter what kind of change is on the horizon. 
It's not so easy to possess all of these characteristics. However, if the CEO of a startup lacks some of these qualities, they can set a goal to develop them. 
Conclusion 
The CEO's job is a mixture of handling strategic challenges and dealing with hands-on tasks. As a startup expands, the CEO pivots from performing multifaceted duties into more of a managerial role. The primary goals of a chief executive officer are conveying their vision and facilitating the startup's progress.
FAQ
The three areas that lie at the core of a CEO's activities are:

Business. Product management is primarily a commercial activity with the goal of maximizing profit.
User experience (UX). Being a chief advocate of the product's users, the CEO is determined to solve users' problems.
Technology. Having technical chops helps a CEO estimate labor costs and speak the same language as their team.

A CEO's roles and responsibilities vary depending on the startup's stage of development.

At the strategy development stage, a CEO's tasks range from defining the product vision to building an MVP development roadmap.

At the product design and development stage, their primary goal is to transform the product vision into a scaled and constructed solution. In particular, they should define product requirements and design the data model.

At the product–market fit stage, the CEO's goal is to validate product hypotheses in the real-world environment as well as gather and analyze customer feedback. As a result, they may revise the product strategy and vision.

At the product growth stage, a CEO focuses on increasing the scope of their business model.

The skills a CEO should possess include but are not limited to:

Visionary skills
Sales and negotiation skills
Multitasking and delegation skills
Team-building skills
Resilience and a willingness to embrace challenges
Communication skills
Time management skills
Curiosity

RubyGarage can take responsibility for various tasks you have as a CEO and guide your tech startup to a successful launch. Share your business idea with us.