How to Conduct Consumer Research Surveys? Roadmap, Tips, and Best Practices
5091 views
10 min
May 20, 2021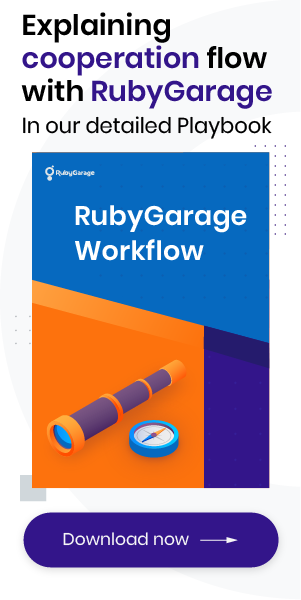 Imagine you have a product idea but need to validate it. One great way to do it is to conduct an in-depth survey. Surveys are easy to set up and analyze, and they scale well.
In this article, we look at in-depth surveys as a primary customer research tool. 
Do you really know your customers? 
Many startup owners think they know their potential customers well, but often that's a delusion. Having false assumptions about your target audience can be costly.
Let's see what might happen if you don't know your target customers well enough:
Your product might fail to meet users' goals and solve users' problems
Your product's value proposition may be irrelevant to your target audience 
Your advertising campaigns may be poorly targeted 
Your email campaigns might fail due to sending the wrong message
Visualizations on your banner ads may be irrelevant
As a result, nearly all your efforts on startup development and marketing can be a waste. 
You can only draw an accurate and realistic portrait of your target audience based on careful research. Customer development surveys can provide you with baseline information about your prospects and the issues they're concerned about. 
Benefits of conducting an online survey 
Conducting a customer development survey allows you to
find out what your customers are striving for and what they are afraid of
segment customers according to the problems they want to solve
understand what the value proposition for each customer segment should look like
narrow down the audience of potential customers with proper targeting
select a group of the most relevant candidates for in-depth interviews
How to conduct a customer development survey? 
Running a customer development survey consists of the following steps: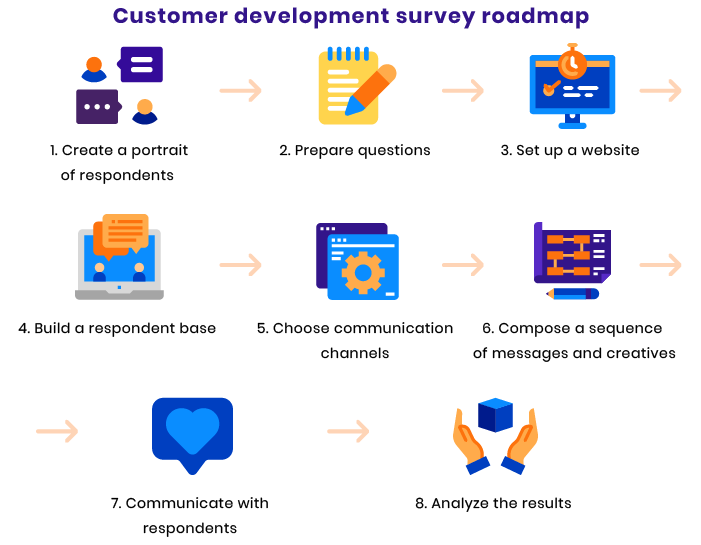 We'll describe each stage of this in-depth survey process using an example. 
Let's imagine you have a product that enables experts to provide consultations online, and you want to create a survey for people who offer consultations. 
1. Creating a portrait of your respondents
From the very beginning, you should be clear about who you're inviting to participate in your survey. Your respondent portrait represents your idea of a potential client. As an option, you can use your buyer persona. 
2. Preparing survey questions
Key questions 
First, you need to decide what kind of information you need to get and how you will use it in the future. Then, ask relevant questions.
Key questions to ask include: 
What problem are you solving now?
What result do you want to achieve?
What do you not want to get? 
Based on this information, you'll understand whether your product (or service) solves a customer's problem. It will also help you draw up a value proposition that you can use in future communications with potential customers.
Another question you can ask is What are you struggling with today? This question combines two questions: What is it that you don't want? and What have you been doing lately? This is how we get to know what is important to a person.
Should I pay attention to a particular respondent? 
It's vital to understand whether someone is a target respondent or you shouldn't pay attention to their answers. You can find this out by determining how important the task is that the respondent is trying to accomplish. We're interested in those striving to achieve their goals and solve the problems they've described. 
In our example, we can formulate our questions as follows:
Is counseling your only source of income?
Is counseling your full-time or part-time job?
If a respondent's job is their only source of income, then it's crucial for them to achieve results. Otherwise, they may be left without means of subsistence. 
You can also ask a respondent to leave their phone number, email address, or other contact information, explaining that you will contact them after finding a solution to their problem. If a respondent does leave their contact details, they are your potential customer, and you should include their answers in your analysis. 
What is a respondent like?
The goal is to get to know your potential customer: 
What industry do they work in?
What's their role? 
You can use the answers to these questions to form a proposal, create relevant success stories, and set up targeting campaigns. They will also allow you to segment your audience more accurately for pitching your product (or service) and further communication.
In our example, you can ask the following questions:
In what area do you provide advice?
Are you an independent consultant, or do you work for a company?
If you work for a company, what position do you hold?
How much money does a client lose?
It's essential to understand how much potential profit a client will lose if they don't find a solution to the problems they've declared or don't achieve their goal. 
You can ask head-on: 
What is your monthly (or annual) income?
Or you can formulate the question in a more accurate way:
What is the average number of consultations you conduct per month?
What is the average cost of one consultation?
The answers to these questions will show how motivated a client is to solve their problems and achieve their goals. They will also help you assess how much value your product can give a potential client.
3. Setting up a website with a survey 
To create a landing page with a survey, you'll need to:
Prepare the content. Your landing page can include video and text, an invitation to take the survey, and a link to a survey page with questions.
Take care of the design. Your landing page should be simple so a visitor understands where they are and what they need to do next.
Develop motivation. Offer an indirect reward for participating in your survey, such as a discount or a free version of your product.
Also, make sure your landing page meets the requirements of major search engines and ad networks (in terms of loading speed, text size, image size, etc.) so you don't have problems with traffic.
4. Building your respondent base
The easiest way to conduct an in-depth survey is to use your mailing list.
If you're just starting a business and don't have a mailing list, you can 
buy a mailing list from a company operating in your segment
find a relevant audience via LinkedIn
collect a list of candidates in thematic communities and/or social network groups
find experts and opinion leaders in your area of ​​interest and collect a contact list
drive cold paid traffic to your landing page
5. Choosing communication channels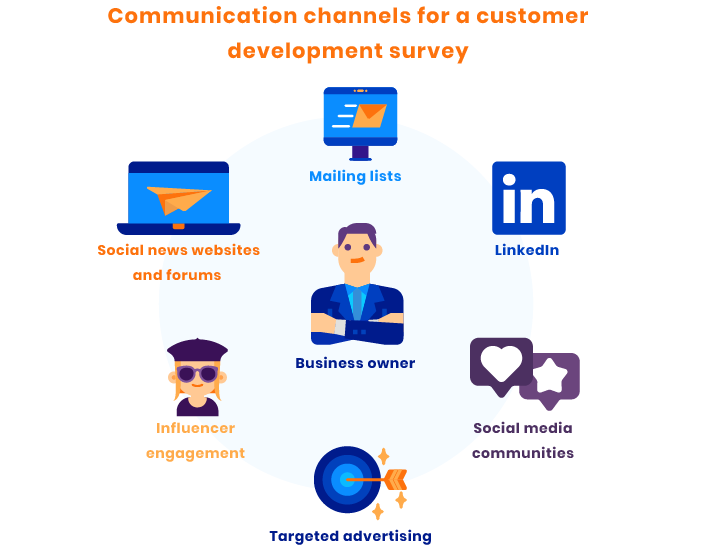 The fastest and easiest way to invite people to a page where a survey takes place is your mailing list. However, you can use alternative channels if you don't have one, or you can implement a multichannel communication strategy to increase the response rate. 
Here are some ideas for alternative and additional channels:
LinkedIn allows you not only to find suitable candidates for a survey but also to add them to your contacts and message them.
Post your survey in thematic forums, communities, social network groups, etc.
Use targeted advertising on social networks such as Facebook, Instagram, Twitter, and LinkedIn.
Collaborate with opinion leaders and experts to post your invitation to take the survey.
Before writing a sequence of messages and developing creatives for your communication channels, make sure you actually can get in touch with your potential customers. If a communication channel is moderated, you'll have to ask permission to post your survey, explaining how it can be useful for the audience.
6. Composing a sequence of messages and creatives
You'll need to draw up a sequence of messages (a welcome message, an invitation to fill out the survey, and follow-ups) as well as additional creatives (images, banners, videos) depending on the communication channels you choose.
Your messages should sound casual and simple, as if you were addressing them to a friend, not to a colleague or your boss. You can mention that filling out the survey won't take much time and that its main topic is the problem that worries the potential respondent most of all. You may add that the answers will allow you to prepare the best solutions for the respondent in the future.
In the invitation, it's vital not to offer any valuable prizes or rewards for participating in the survey. The reward will be the solution to the problem that worries your respondent. If you want to motivate survey participants, offer them a discount on future solutions to their problem in gratitude for their feedback and the opportunity to improve your product or service.
If a channel is moderated, make sure your messages meet the requirements in terms of message length, image size, and so on.
If you've chosen to communicate through advertising, be sure to study the requirements of each platform to prepare your creatives.
7. Communicating with respondents 
If you don't have experience setting up the communication channel you've chosen, it might be best to find an expert to do it for you. Otherwise, the audience you bring to your survey may be non-targeted. 
If you're using a multichannel communication strategy, use UTM codes to track which channel brings the most relevant respondents. 
8. Analyzing the results
The last and crucial step remains – analyzing respondents' answers.
Here's what you need to do: 
Download data from the service where you conducted the survey.
Convert the data to Microsoft Excel or Google Sheets format.
Hide all technical columns.
Add a column for codes specifying where a respondent came from. This step is necessary if you use multiple communication channels.
Add a column to the row that contains answers to the question about the problem a customer is looking to solve. In this column, indicate the length of the answer in characters (this is the most accurate indicator of the willingness to make a purchase).
Add a column where you can indicate whether a respondent is relevant. This field can have a coefficient from 0 to 1, by which you can multiply the number of characters from the answer about the problem the respondent wants to solve. This is a way to learn the importance of a particular respondent.
Add a column to which the result from above will be recorded (the length of the answer in characters multiplied by the relevance coefficient). Sort your data in descending order based on the values in this column. 
You should focus your marketing efforts on the top 20% of the resulting list. If this 20% contains fewer than a hundred answers, you can include the next 20% to have more data for analysis.
Now you can divide your respondents into groups by analyzing answers to the question What are you struggling with now? Narrow down the answers to three to five typical requests that you will propose solving with the help of your product (or service).
By analyzing your data, you can find some other interesting patterns that will be useful later in communicating with your respondents. 
Conclusion 
Customer development surveys help you customize your marketing so that it covers the majority of the market and has a high conversion rate. 
The key steps in conducting a customer development survey are compiling a list of relevant questions, setting up communication channels, and analyzing the data you receive. You'll need to break down your target segment into no more than three to five subgroups. Then, you can fine-tune your key marketing messages, proposals, and success stories for each of them. 
FAQ
Running a customer development survey requires the following steps:

Create a portrait of your respondents
Prepare survey questions
Set up a website with the survey
Build a respondent base
Choose communication channels
Compose a sequence of messages and creatives
Communicate with respondents
Analyze data

Your list of questions will depend on the information you need. However, here are some specific questions that are universally useful:

What problem are you looking to solve right now?
What result do you want to achieve?
What do you not want to get?
What is your monthly (annual) income?
What industry do you work in?
Are you an independent expert, or do you work for a company?
What's your role?

The fastest and easiest way is to invite all members of a mailing list. However, you can use alternative channels such as:

LinkedIn
Social media communities
Targeted advertising
Influencer engagement
Social news websites and forums

If you need to validate your business idea fast, think of building a Minimum Viable Product (MVP). To get started, tell us about your product idea.