3 Simple Strategies to Grow a Marketplace On a Budget
11469 views
8 min
Apr 23, 2019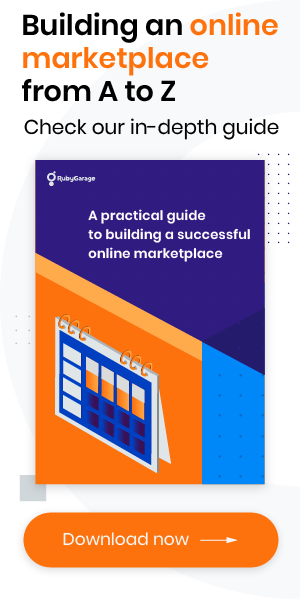 There are many different types of businesses, but marketplaces are the hardest to get off the ground.
Most marketplace startups believe that it's not only hard but also expensive to get a marketplace off the ground. However, lots of funding can't guarantee customer retention. The example of Homejoy, a marketplace for house cleaners that raised $38 million in 2013 and was shut down in 2015, proves this. You can grow a successful marketplace even on a shoestring budget. Today, we'll tell you how.
1. Build supply on a budget
In most cases, it's easier to start building a marketplace audience with the supply side. Service providers don't lose anything by registering on your platform. Quite the opposite: they get one more sales outlet. What you need to do is prove the reliability of your marketplace. Here's how you can attract suppliers without breaking the bank:
Write emails. That's right. Emails. People still read them and respond if they look appealing. Nevertheless, you have to remember that all your emails should be personalized. Start with the recipient's name and tell what benefits they can get by registering on your marketplace. It's also important to mention how your marketplace differs from the rest.
Meet suppliers in person. Offline events are important for your marketplace growth. At events, you can meet your first suppliers and talk to them in person. Show them your product, explain how it works, and describe its value proposition. Ask their opinion. This feedback is key to your improvement.
Fake your supply. All marketplaces are different, and in some cases, it's difficult to attract suppliers. That's why some marketplaces fake supply or create it themselves during their early stages. For instance, Uber paid taxi companies to have their drivers use the Uber app back when they didn't have any drivers. Udemy didn't have any lecturers at the very beginning, so they looked for free online courses and added them to the platform.
2. Release one feature at a time
When you take a look at some successful marketplaces, it may seem that you need to have tons of features to get noticed. But the truth is, you don't. An abundance of features and options scares users off.
History proves that products with minimal functionality and one clear value proposition get more attention. Simplicity also helps marketplaces target a specific group of users more easily and foster their loyalty.
Once your marketplace has gained enough traction and you have a community of loyal users, you can add more features and more value propositions for different groups of users.
Here's an example: at first, Uber offered only taxi services. Later, they expanded to Uber Eats, a service with an absolutely different set of features and a different value proposition.
Airbnb started with only one main feature: renting out rooms. Today, travelers can also book excursions on the platform. This approach has worked perfectly well for many other platforms.
3. Grow a user base
Once you've attracted supply, you can start looking for your first users. For this step, you don't need a lot of money. But it will definitely take some time and effort. Here's how you can attract users and save money.
#1 Create social proof
Social proof demonstrates great achievements of your platform or of your platform's users. These claims have to be real and be appealing so users want the same results.
Here's a real-life example: When Udemy was trying to attract users, it highlighted the fact that one of their tutors made $20,000 in only three months. When the marketplace organizers sent emails to their potential users, they included this information. And it worked. Who doesn't want 20 grand?
Even if you don't have such stunning results yet, you still can use this trick. All you need is a little bit of inspiration to come up with an engaging strategy.
#2 Start a low-budget content marketing campaign
Marketing doesn't have to cost an arm and a leg. Instead of costly leaflets, TV and radio ads, or billboards, you can now create content that's not only cheaper but also much more effective. Below, we name the most affordable strategies you can use:
Launch your own blog. You don't have to be a writer to create short posts about your product. You know your product best, and only you can explain its value proposition to readers. The only thing you have to bear in mind is that the content you create should be useful. For instance, if you sell toasters on your marketplace, recipes with toast or recipes for healthy breakfasts may catch your customers' attention and help you unobtrusively advertise.
Engage with micro influencers. Micro influencers are bloggers with a narrow audience, but that's their superpower. These bloggers are trustworthy and their audiences are loyal. Engage with bloggers to spread the word about your product. Uber, Airbnb, and Lyft all work with influencers to advertise their services. However, large companies choose macro influencers (Instagram celebrities that have from 500,000 to 1 million followers) to attract a wider audience of potential customers. For instance, Airbnb has collaborated with Mariah Carey and Lady Gaga, Lyft has worked with Shaquille O'Neal, and Uber has paid Andrea Denver and Charlotte Bridgeman.
Offer free content. While operating in a particular sphere, a marketplace gains tons of insights and analytical data that it can share with its users in the form of reports, e-books, software, and so on. For instance, Uber collects data to measure the impact of urban infrastructure projects and major events on traffic patterns and shares it with all users via their project Movement Uber. Movement Uber contains not only reports but also a set of tools that provide valuable insights on urban movement, travel times, average traffic at different hours, and the like.
#3 Launch referral programs and giveaways
When customers are satisfied with the service or goods they get, they want to share this experience with others. In some cases, it's enough to give them such an opportunity; in other cases, you may need to encourage users to tell about your product. Either way, this strategy is extremely effective.
Your referral campaign doesn't have to be expensive. Here are some ideas on how to save money while building your referral strategy:
Allow users to share your content. Just add social media sharing buttons on your blog and allow users to repost your articles on their social pages. This is a great (and cheap) way to make your brand known.
Use promo codes or referral links. Uber uses promo codes to encourage users to invite their friends and create word of mouth. Both those inviting and those invited receive perks. Airbnb uses a similar approach, but with unique links. By sharing a link, both new and existing customers receive discounts. This approach encourages people to share codes or links and persuades newcomers to register.
Encourage users to generate and share content. Of course, this content has to mention or promote your marketplace somehow, such as by including a branded hashtag or a picture with your logo. Don't forget to reward users for referring others to create a positive reputation and spread your name.
When you start a referral campaign, don't forget to set clear and transparent rules for all participants to avoid miscommunication and disappointed customers. Always be honest with your customers and fulfill your promises if you want to build strong long-term relationships.
#4 Organize and participate in local events
When we say that you should participate in local events, we mean that you can use the Etsy approach. When Etsy was trying to attract its first users, the company's founders attended local markets and showed their product to people who were selling handcrafted goods. This way, they managed to attract their first suppliers, who also acted as buyers.
You also can attend local events to attract potential suppliers and customers. Choose events that are connected with the idea of your marketplace or events that will attract your target audience. If it's difficult to find such an event for your target audience in the neighborhood, organize one yourself.
You could arrange a free educational workshop, an on-site class, or a meetup where you'll share useful information and also present your marketplace. Make sure that the topic you choose for your event is relevant and appeals to your potential users. And don't try to make this event 100 percent advertising; attendees want to hear useful information from you.
Roundup
As you can see, there are so many approaches to grow a marketplace with a small budget. Of course, it's harder and more time consuming, than it is if you have lots of money to throw around, but it works if you're diligent enough. Don't forget that your marketplace needs time to find its feet. Airbnb took four years to take off. So get to work and never give up!
Don't forget to subscribe to our blog to get more useful information, and feel free to start a conversation below.