How to Get Customer Feedback: 9 Viable Ways
7294 views
11 min
Nov 12, 2019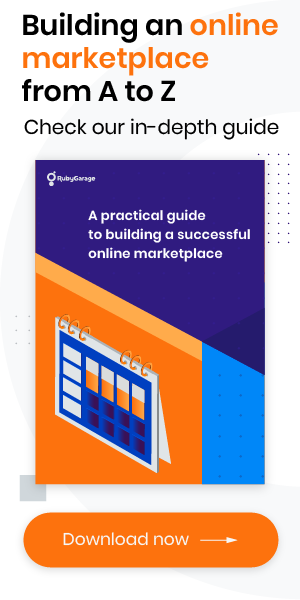 Customer feedback is a must for any online marketplace in order to provide customers with a product or service they really need. Collecting customer feedback is a great opportunity to get valuable insights into what motivates people to buy your products or services and what their pain points are.
There are many different ways you can get customer feedback and hear what your customers are saying about your online business. In this article, we share the best ways of getting customer feedback on web and mobile to keep track of your customer experience.
How to get customer feedback and why is it important? 
Before deciding how to collect customer feedback, it's important to determine what to collect. So what exactly is customer feedback? Customer feedback is any comment, rating, or review your customers leave to assess your company, product, or service. 
So, why is it important to collect feedback from your customers?
It helps you find out the strengths and weaknesses of your product or service. Once you know the upsides and downsides of your product, you can improve it and make it better than your competitors. 
Asking for feedback on your behalf ensures a better customer experience. Even if your customers don't respond to any of your questions yet, they feel that their opinion is important, and they're likely to share their concerns with you if there are any. 
It serves as an incentive for your business growth. If you build your business from a client-oriented position, customer feedback is the key to improving your product and enhancing customer satisfaction. Finally, positive feedback brings new customers, so you can expect your business to grow. 
However, not all customers are eager to share their experience even if it was positive. The reasons can be different. Some people don't have enough time to fill out feedback forms, some feel uncomfortable when sharing negative experiences, and some simply don't find it important to leave feedback. But it's important for you, so your task as a business owner is to get as much feedback as possible.
Let's move to the next section to find out how to get customer feedback quickly and effectively.
What are the fastest ways to get customer feedback on the web?
If you sell your products or services on a website, you have the following opportunities to collect customer feedback.
Get customer feedback directly in real time
Did you know that 79 percent of consumers prefer live chat  to phone calls or emails because it offers an instant response? That's a great sign to start providing live chat support. Live chat is a convenient way to communicate directly with customers and promptly address their questions. You can help them find the items they're looking for and answer questions about availability. 
Here are some benefits of live chat:
Get closer to customers by better understanding their needs and challenges
Identify recurrent problems and find long-term solutions
Enhance the customer experience and increase sales
It's generally believed that the most appropriate place to put live chat is on pricing pages or on the checkout page. This way you can answer any customer questions and reduce cart abandonment. Another tip to increase the efficiency of online chat is to make it proactive. For example, you can show the live chat window after a customer has been on a page for 15 seconds.
Evaluate customer satisfaction with NPS
The net promoter score (NPS) is obtained from a one- or two-question survey that shows how likely your customers are to recommend your brand to a friend. Generally, an NPS survey consists of two questions: On a scale of 1–10, how likely are you to recommend this brand to a friend? and Why did you give this score?
Here's how to analyze survey data from your NPS campaigns:
0–6 are detractors
 7–8 are neutral
9–10 are promoters 
Once you get your survey data, you can calculate your NPS score. To calculate the NPS score, subtract the percentage of respondents identifying as detractors from the percentage identifying as promoters. Now let's analyze your result:
If your score is below 0, it means you have a high number of dissatisfied customers, namely detractors.
A score between 0 and 30 is good, but there's still room for improvement.
If your score is between 30 and 70, that indicates your business is going well and has far more satisfied customers than unsatisfied.
If your score is over 70, that means most of your customers are brand advocates.
Only the best-in-class companies (such as Apple) have an NPS higher than 70. Below is an example of how Apple uses email NPS surveys to ask customers to rate the in-store experience. Based on these surveys, Apple can identify detractors and improve the retail store experience.
Just keep in mind that the net promoter score can vary a lot depending on the industry. Take a look at research by the XM Institute that compares the NPS of more than 340 companies across 20 industries.
Measure customer satisfaction with short questionnaires
One more direct and easy way to ask customers about aspects of your product is using short surveys or questionnaires. They're the most common way of getting customer feedback. With the aid of questionnaires, you can evaluate what your customers are happy with and identify areas you can improve.
 It's easy to set up surveys, send them out, and analyze the results. But creating surveys is not as easy as it may seem. There are so many questions to ask customers, but you have to be careful about the length of your survey.
To create a customer survey that works:
Ask closed-ended questions
Keep a balanced set of choices
Avoid leading and loaded questions
Keep your questions different from each other
Here's how Airbnb invites customers to share their opinions on the platform's service.
Track your customer experience via quick polls
Instead of longer, more traditional surveys, you can use quick and short polls that show up when customers browse your website. Polls are an efficient method of getting feedback thanks to their user-friendliness. There are different ways of conducting polls, such as via a newsletter, on the website, on social media, or via email. To create polls, you can use tools such as Crowdsignal and SurveyMonkey.
Polls especially come in handy when defining trends – for example, for the holiday season. You can conduct a poll and identify what customers are most likely to purchase. This information may be useful when it comes to determining stock.
The example below shows how a quick poll looks on a website.
What are the fastest ways to get customer feedback on mobile?
Mobile applications have a smaller range of opportunities to collect customer feedback. However, you can still use available options.
Ask your users for reviews
A pop-up is a small element that plays an important role in communicating with your users and getting instant feedback. While people are using your mobile app, you can ask them to leave feedback in the form of a review.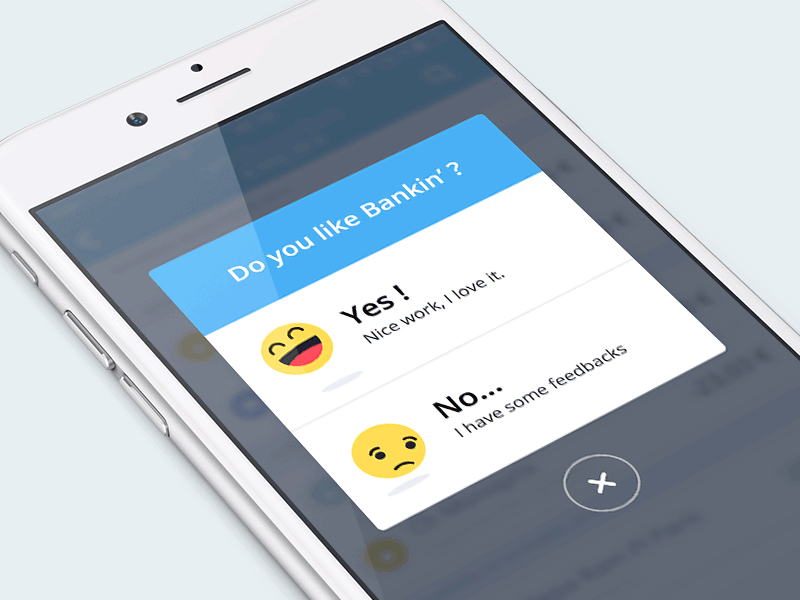 You can also use pop-ups to ask customers to rate your app in the App Store or Play Store.
Pop-ups are a great way to quickly gauge how users feel about your app and rapidly respond to their concerns. Using pop-ups, you can get high response rates because it's easier for users to respond to a pop-up than to an email.
However, it's crucial to note that you should show pop-ups only to users who achieve a certain milestone – for example, completing ten sessions in the app. Moreover, don't distract users from making purchases.
Allow your customers to review your app at any time
The simplest way to get feedback is to let users review your app at any time that's convenient for them. To make that possible, you only need to embed feedback forms in the app itself. These forms can provide you with insights into how your users actually feel about your app.
A big advantage of embedded feedback forms is that they aren't annoying and don't ask for ratings immediately. Just take a look at how Zomato asks users to rate the app using a menu button instead of bothering users at the wrong time.
Extra tips for collecting customer feedback
If you aren't going to implement special tools for gathering feedback on your site or application, or want to get more feedback from your customers, here's the list of additional approaches to consider.
Monitor social media channels
Social media can be an efficient way to communicate with your customers and an invaluable resource for getting their feedback. People are already actively communicating on Twitter, Facebook, and Instagram, and it will cost you nothing to join their communities. Engage with your customers by responding to comments or sending direct messages and find out how they really feel about your company. Here's an example of how T-Mobile uses social media to engage with its audience and improve customer service:
Most social network users expect a quick response, so it's important to monitor each channel where you're present.
Be sure to respond to negative comments to show your professionalism. Every company has its unhappy customers, and negative feedback is exactly what you can use to demonstrate your problem-solving skills and ease your customers' angst.
Listening to social media channels, closely monitoring your social buzz, and responding to feedback requires certain resources. Tools such as HootSuite, Social Mention, and Brand24 can help you monitor any brand mentions on social media. Using these tools, you'll be able to promptly react to any customer concerns and improve the customer experience.
Track feedback on other sites
Instead of directly asking for feedback, you can get feedback by monitoring what customers say about your company on other websites such as blogs and forums. To monitor feedback on third-party sites, you can use tools like Yext or Google Alerts that notify you when somebody mentions your company on the internet. Below, you can see how Google Alerts show all the news about Apple.
Being informed of all customer feedback is a solid foundation for building loyalty to your brand. If you aren't already monitoring customer feedback on other sites, it's time to do so.
Offer incentives for feedback
There's one more excellent way to drive customer feedback: offer a reward for reviews. Some businesses persuade their customers by offering a coupon, free useful content like an ebook or guide, discount, and so on. The example below incentivizes customers to provide feedback in exchange for a discount:
Such incentives encourage customers to provide feedback about your product or service, reveal your customers' general sentiments, and get customers to return.
What to do with customer feedback you've collected
Once you get feedback and understand your customers' concerns, it's time to put this data to use. Primarily, you should categorize all answers and discuss the feedback with your product team or your customer support team. A development team can use feedback to understand what features are a priority. It's also vital to reach out to customers who provide you with good reviews and strengthen the relationship to make them your brand advocates. Display positive feedback on your website. This can serve as social proof that inspires other visitors to become your customers.
Customer feedback is a great way to find out if you're running your business in the right direction. So try the tips above and find the right combination for your company. And of course, if you want to build a long-term relationship with your customers, don't forget to let them know if you implement something they've suggested.
Subscribe to our blog for more useful articles and handy guides!
FAQ
Websites provide you with an ability to collect customer feedback in different ways. Here are the most common ways:

Ask for customer feedback in real time (via live chat)
Evaluate customer satisfaction with net promoter score (NPS)
Measure customer satisfaction with short questionnaires
Track your customer experience via quick polls

It's possible to choose between the two common approaches to collecting customer feedback via mobile apps:

Ask your users for reviews
Allow your customers to review your app at any time

You can use additional approaches to find out more about what your customers think about your company, product, or service. Here is the list:

Monitor social media channels
Track feedback on other sites
Offer incentives for feedback