How to Build a Website Like Thumbtack: Business Model, MVP Features, Monetization
9168 views
10 min
Sep 04, 2020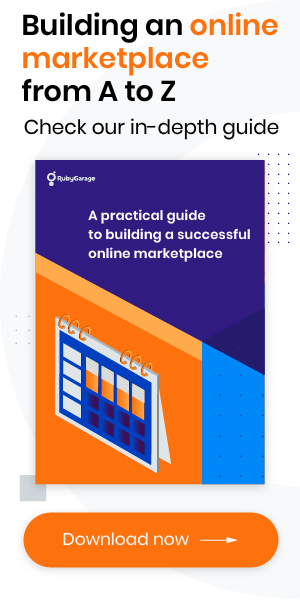 The gig economy is developing fast and offers great alternatives for people who don't want to work nine to six every weekday. It also opens up opportunities for businesses, and new service marketplaces appear nearly every day.
If you want to build your own on-demand task marketplace like Thumbtack or TaskRabbit but still have some concerns, we're here to help you handle them. 
Let's start by having a look at what Thumbtack is and how it became successful. 
What is Thumbtack?
Thumbtack is the largest on-demand task marketplace in the USA that matches customers with service providers. No matter what Thumbtack users need to get done ‒ clean the house or organize a wedding ‒ they'll find the best professionals in the area.
CEO Marco Zappacosta and his business partner had the idea for Thumbtack in 2008 when they noticed the difficulty of finding a good specialist in their local area.
The way to think about it is that this has been a historically hyper-fragmented industry and [it's] been very hard to assess who's available, who's qualified, and how much they're going to charge because there was effectively no common platform on which these folks were operating. We are building that [platform].
However, the platform didn't become successful right away. Thumbtack management struggled to get investments and had to reconsider their initial approaches to leading the business several times. 
Nowadays, Thumbtack offers customers more than 1000 services and allows skilled professionals to make money via the platform in all 50 US states.
Thumbtack business model
Thumbtack uses a different monetization approach from the ones we're used to on similar platforms. In the beginning, professionals had to subscribe to search for job offers, but the company soon decided this approach didn't suit their platform.
Nowadays, Thumbtack uses a pay-per-lead scheme, which means professionals are charged when they start chatting with potential customers. The amount of this fee depends on numerous factors such as the price for the service, the size of the project, and even the competition in a particular sphere.
Although this monetization approach has worked for years, not all service providers are happy with it. Leads don't always turn into customers, so professionals sometimes have to pay without making money.
How to build a website like Thumbtack 
No matter what product you want to build, there are some things you need to do before starting development. 
Step 1. Come up with an MVP feature set
Creating a minimum viable product (MVP) before launching a full-fledged product is beneficial for startups. Including only the most important features that will satisfy your customers' needs, an MVP helps you quickly launch a product on the market. Moreover, an MVP allows you to get feedback from early customers and improve your product to provide a better user experience.
Thumbtack, TaskRabbit, and other on-demand task marketplaces are aimed at two types of users: customers and service providers. Below, we list the features that cover the pain points of both types of users.
Registration should be mandatory for people looking for work or hiring workers via an on-demand task marketplace. By registering, users get access to the marketplace's full range of functionalities.
Personal profiles for taskers should include general information about taskers, descriptions of jobs they're ready to perform, portfolios, references, and prices for their services. 
Job postings for task givers should include job titles and descriptions, categories and locations, and other details that will help task givers narrow the choice of professionals. As a rule, on-demand task marketplaces provide templates to simplify the search for professionals.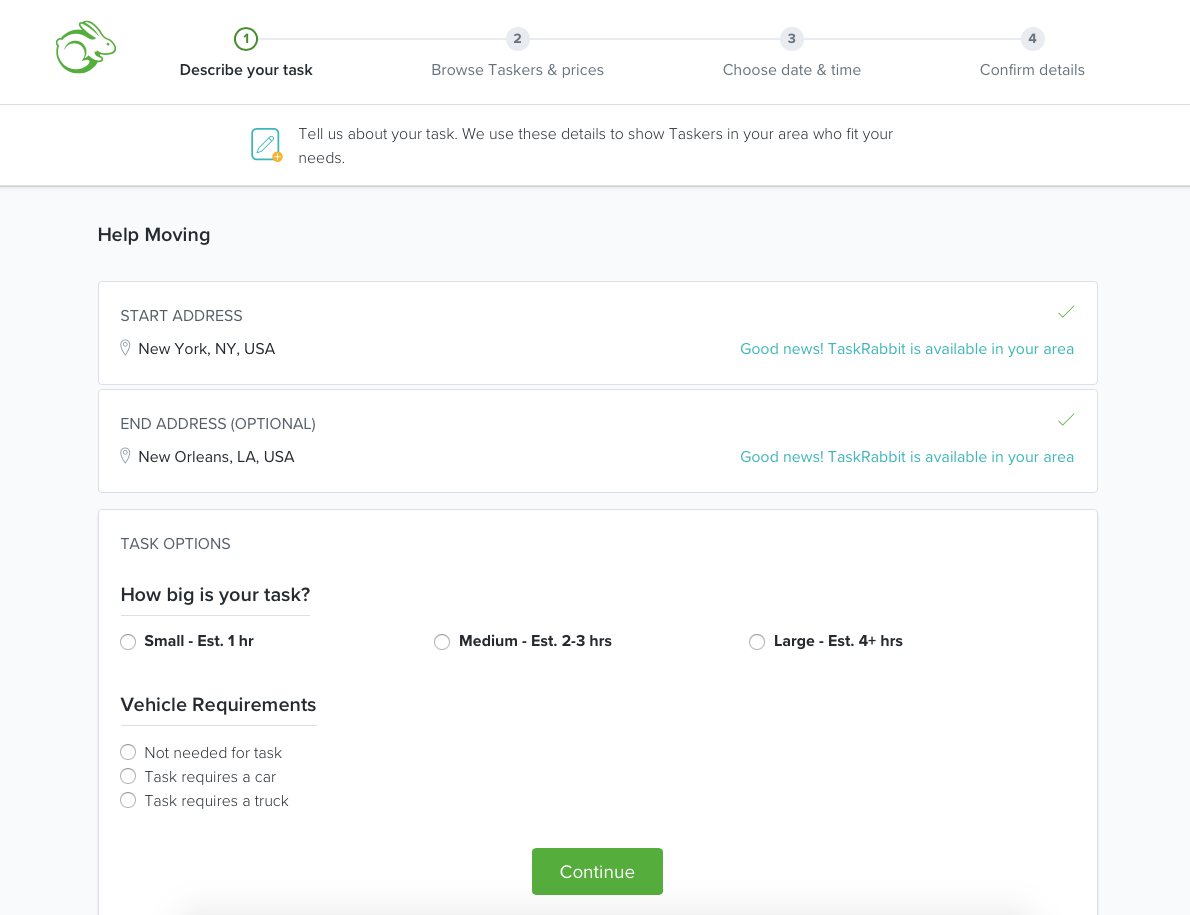 Scheduling and cancellations is a necessary feature for convenient cooperation between taskers and doers. This feature helps users on both sides of the platform manage their time.
Search filters help customers find specialists fast and conveniently. Filters can include location, services, hourly rate range, etc.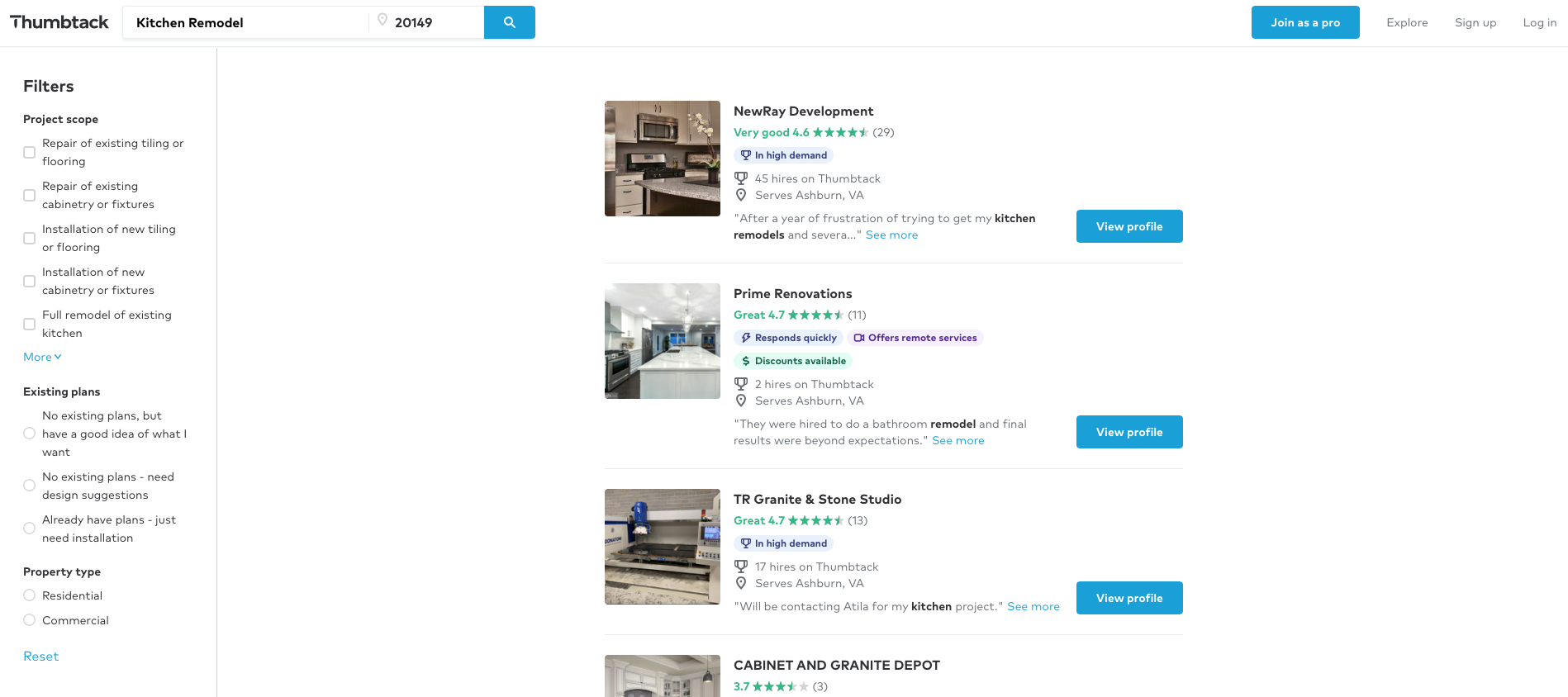 Built-in chat allows for hassle-free communication between task givers and doers. It's also a safe way of communication that doesn't require users to reveal their phone numbers.
In-app payments are an effective and safe way to process transactions for both customers and professionals. 
Ratings and reviews help build trust inside the marketplace community. They show the professionalism of every service provider and allow the best ones to get the best offers.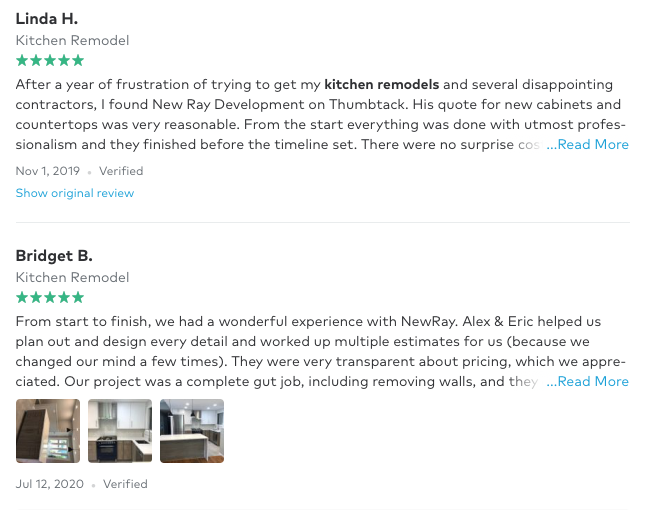 An admin panel is an effective tool for managing your site. It allows you to curate content, process requests and comments, and keep your site working smoothly.
Step 2. Decide on a monetization strategy
The monetization approach is a decisive factor for investors when choosing what startups to back. The founders of Thumbtack faced the challenge of not being prepared to provide a monetization strategy during their first interactions with investors.
Despite having shown more traction in building up our marketplace than anybody else had in the category, the feedback we got consistently was, "Yeah. Okay, great, cool. But how are you going to monetize?"
You should consider different options before choosing which monetization model suits your business best. Let's have a look at popular monetization approaches that can make your business profitable.
Commission is widespread among on-demand services. TaskRabbit charges 15% commission for every completed task.
Subscriptions are a good choice for B2C marketplaces. Couchsurfing uses this approach to make profit.
Advertisements shouldn't be your main monetization strategy, since they distract users from their primary purpose of visiting your site. However, if promoted smartly, ads can increase your revenue.
Partnerships with other brands can be considered as an additional source of monetization. The cooperation between Starbucks and Spotify is a great example. Starbucks loyalty members can earn "Stars as Currency" to use in the Starbucks loyalty program as a reward for having a Spotify Premium subscription. At the same time, this partnership helps Spotify grow its customer base. 
Don't forget about the pay-per-lead scheme used at Thumbtack.
Step 3. Validate your business idea 
Validating your business idea is a must before you start working on a product. Business idea validation gives you a chance to analyze your business prospects, competitors, and financial opportunities as well as to shape your business idea in general. 
A business canvas is a tool that can help you validate your business idea fast. All you need to do is take your time and fill in all sections of the canvas template. Below is a Thumbtack business canvas that can serve as an example for your own.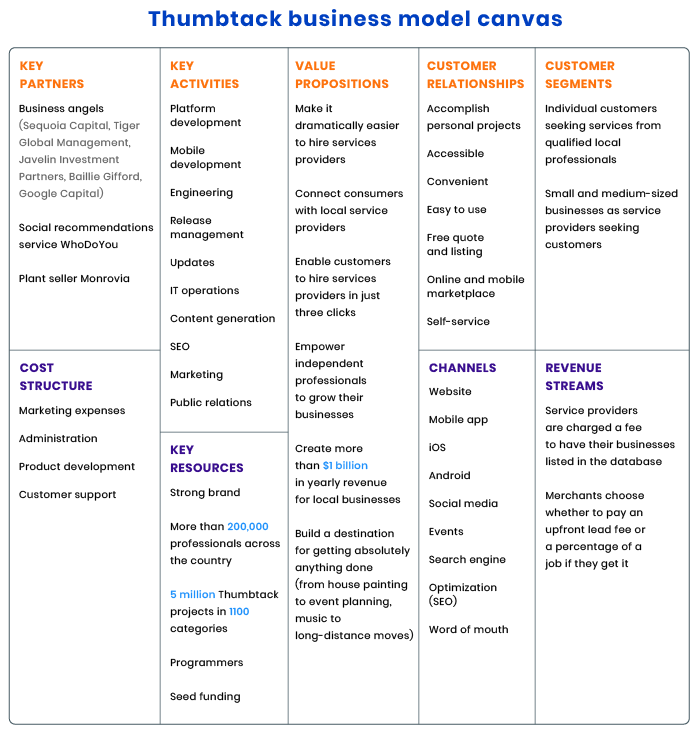 Challenges of building a website like Thumbtack 
Whatever new idea you want to implement, there will be challenges in your way. Let's consider the most common ones.
Overcoming high competition
The pioneers of online task marketplaces, Thumbtack and TaskRabbit, have shown that such services are in demand. The number of similar marketplaces is growing, and so is the competition. Thumbtack alone operates in all US states and has already managed more than 50 million projects for its customers. TaskRabbit is smaller, but it operates in the US as well as some Canadian and UK cities. 
These are examples of the two giants of on-demand task marketplaces, but there are other market players that are worth your attention. To make sure you'll be able to compete in the modern market, you should analyze competitors in the area you're going to target.
Choosing your niche
Choosing the right niche can determine your business success, but high competition can make it challenging. That's why you should carry out in-depth market research to understand where you have the best chance to succeed.
On-demand marketplaces vary in the number of services they provide, from one-service apps for dog walking to multi-service apps like Thumbtack. It's important to analyze the situation in the area where you're going to launch your product and choose a niche suitable for your product. 
Once you decide on your niche, think about how you can make your product stand out from the competition. For example, TaskRabbit wins service providers' loyalty by offering a different monetization strategy from Thumbtack.
Solving the chicken and egg problem
An online marketplace requires users on both sides of the platform, so who should you attract first ‒ customers or service providers? The ideal strategy is to attract both simultaneously, but that might be challenging. 
In the case of a Thumbtack-like platform, it will be sensible to attract service providers first. Their initial goal when registering on such a site is to make money, so they're likely to wait until the first orders become available. Customers, on the other hand, will likely go to a competing service if no one is willing to take their orders.
Building trust around the platform
Trust is one of the core aspects to consider when building an on-demand task marketplace. Service providers registered on a task website often have to visit customers' homes, so customers want to be sure they're hiring reliable and trustworthy individuals. 
One way to increase trust on your platform is to implement a ratings and review system. You can also consider background checks for professionals to provide peace of mind for customers.
To further ensure the reliability of your marketplace, you can follow the Thumbtack example. The company offers its customers money-back and property damage guarantees if something goes wrong that's the service providers' fault.
Setting fair prices
Fair prices are equally important for customers and service providers. Customers don't want to overpay, while service providers don't want to be underpaid. You should do your best to ensure fair prices on your platform. 
To solve this issue, Thumbtack offers its users to browse average prices on different services to better understand price formation on the market.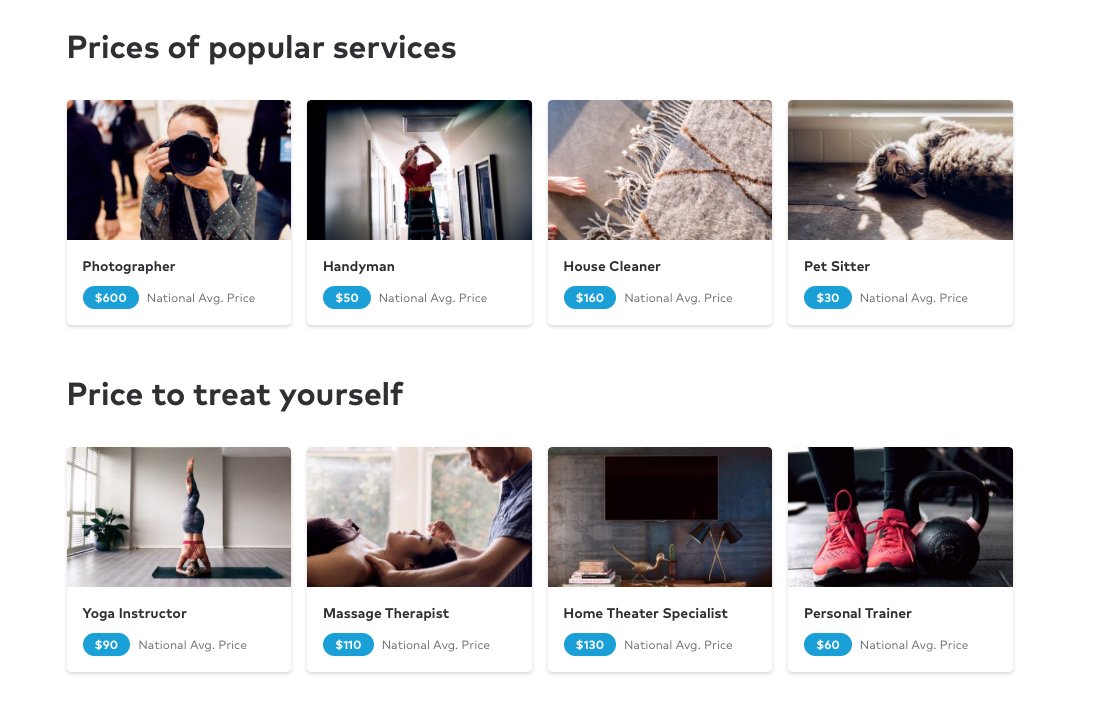 Dealing with taxes
Another important thing that service marketplace owners should take into account is taxes. Service providers who do business via Thumbtack act as independent contractors for tax purposes. This means taskers are considered self-employed when they pay taxes on earnings via Thumbtack. The platform doesn't pay taxes on a service providers' behalf, so it's up to them to determine what licenses are necessary and follow their federal, state, and local laws. 
It's recommended checking with your state to see if a business license is needed for the service you provide as well as what the federal and/or state taxes are for independent contractors. This should be clearly stated so that taskers won't have any misunderstandings about sensitive topics such as finances and tax management.
Summing up
Building a website like Thumbtack is a large-scale and demanding job that requires a lot of time and effort. However, with a team of professionals by your side, you have more chances to create a robust product to meet your end users' expectations and overcome your competitors.
FAQ
Here's a list of the minimum features you should consider when building an MVP of your online marketplace:

Registration
Personal profiles for taskers
Job postings for task givers
Scheduling and cancellations
Search filters
Built-in chat
In-app payments
Ratings and reviews
Admin panel

The most common approaches for monetizing online marketplaces are:

Commission
Subscriptions
Pay-per-lead
Advertisements
Partnerships with other brands (as a supplemental way of making money)

The most widespread challenges faced by startups include:

Overcoming high competition
Choosing a niche
Solving the chicken and egg problem (what group of users you should attract first)
Building trust around the platform
Setting fair prices
Dealing with taxes


Ready to start working on your service marketplace? Our professional team can help you build it. Contact us to start cooperation.