Guide to Developing an On-demand Dog Walking App Like Wag!
8402 views
9 min
Aug 28, 2020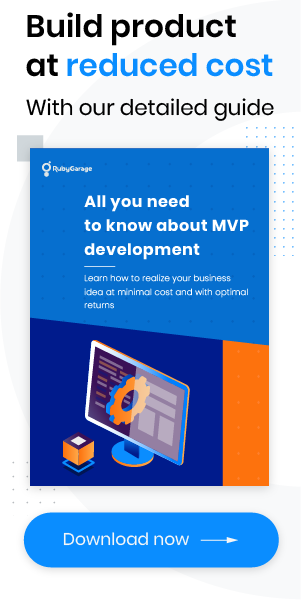 As of 2019, about 85 million American families had pets, and we bet the majority of them don't always have enough time to spend with their furry friends. That's why the idea of creating an on-demand dog walking app is becoming popular among startups. If you're considering this idea too, read our article to find out what features to include in your product, how to validate your business idea, what challenges you can face, and how to overcome them.
Best on-demand dog walking apps
Before starting to work on your own on-demand dog walking app, you should have a look at your competitors to understand the current market situation. After analyzing your competitors, you can adopt some of their best features in your app, avoid their mistakes, and make something better. Below, we list the top three dog walking apps.
Rover
Established in 2011, Rover is becoming more and more popular. It not only attracts more customers every month but is growing and taking over smaller on-demand dog walking apps. Currently, Rover can boast more than 300,000 dog sitters in ten countries and 95 percent client satisfaction. So what's the secret of success?
First of all, Rover is a user-friendly application for both dog owners and dog walkers. The app is effortless to navigate thanks to an intuitive design. Performing any action in the Rover app ‒ from registering to ordering services for dogs ‒ takes just a few minutes.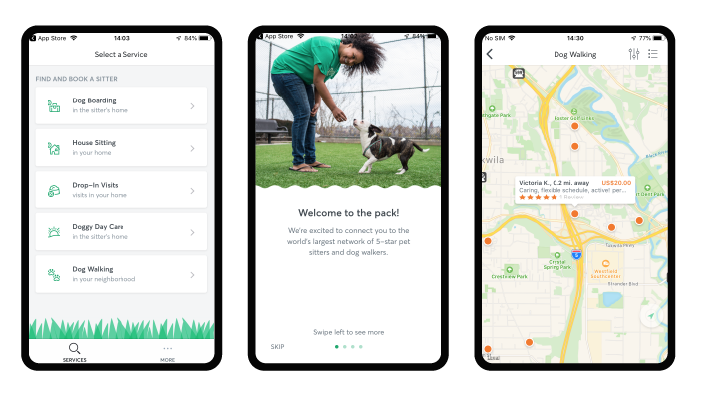 Secondly, Rover offers a number of services in addition to dog walking. Dog boarding, house sitting, drop-in visits, and doggy daycare are available whenever users need them. There's even a pet grooming option for the most fashionable pets.
Finally, Rover users like the app for its unique value proposition (UVP), which is insurance for pet owners' property as well as pets themselves. The company offers $1 million in property damage insurance and $25,000 in coverage for any incidents that happen to a dog.
Wag!
Wag! attracts customers with its own great range of services. Whether pet owners need their dogs to be walked, fed, or trained, they can book scheduled or on-demand services in Wag! 
Moreover, in the Wag! app, users can find a lot of information about dogs, including dog breeds, dog health, dog behavior, and dog activities.
But what really makes Wag! stand out from the crowd is its UVP. The company offers special Wag! Lockboxes for pet owners to ensure the security of their property. The idea of the Wag! Lockbox is to provide a safe storage space for customers' house keys and guarantee that only Wag! walkers can get into customers' homes.
Barkly Pets
In addition to all standard services on-demand dog walking apps provide, Barkly Pets offers a complimentary meeting where a pet owner can get acquainted with a dog walker and make sure the walker is the right choice for the pet. 
Barkly Pets positions itself as the first commission-free application for dog walkers. Unlike similar companies, Barkly doesn't charge walkers for every service they provide. Instead, they charge new walkers a membership fee of $8.50 a month after they earn their first $100. This monetization approach is Barkly Pets' UVP, and it attracts a lot of walkers to the service.
MVP features for a dog walking app
Creating a minimum viable product (MVP) is one of the first steps to implementing your business idea. An MVP always has several important features that are enough to launch the product onto the market. Starting with an MVP helps you reduce the time to market and attract customers fast. However, you should never sacrifice the quality of your MVP. Let's consider the features that make up the core of on-demand dog walking apps.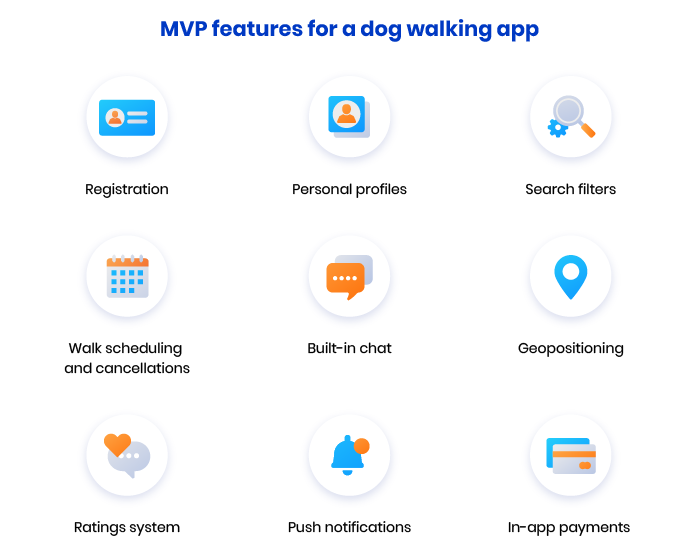 Registration. Although it's possible to view some functionalities of dog walking apps without registering, people who want to use an app on a regular basis should have to register. Registration opens up a whole bunch of possibilities: availability of all features, personalized search, special offers, etc. For instance, Wag! has a feature that tests walkers' knowledge of how to behave with dogs, and the result is recorded in the walker's profile . One of the easiest ways for customers to register is via existing social media accounts. 
Personal profiles. In personal profiles, dog owners can fill out information about their pets, such as each pet's name, food preferences, health issues, usual walking times, etc. Pet owners can also add pictures of their pets. Dog walkers can use their personal profiles to provide general information about themselves, describe their work experience, and attach references from previous employers.
Search filters. This feature will help dog owners and walkers find each other faster. Search filters should include location, walking times, fees, etc.
Walk scheduling and cancellations. Scheduling walks is quite an obvious feature for a dog walking app. As a rule, an app should allow for scheduling on-demand walks, regular walks, and one-time walks. Cancellations should be available for dog owners and walkers in case of unforeseen circumstances.
Built-in chat functionality is a handy feature for fast and effective communication between a dog owner and a caregiver. Moreover, it's a safe way of communication, since no personal information like a phone number is revealed.
Geopositioning helps dog owners and walkers find each other quickly and easily. Moreover, this feature makes it possible for pet parents to track a dog's walking route online.
Ratings system. Leaving ratings and reviews for dog walkers (and dog owners) helps to build a trusted community inside your app. Thanks to honest reviews, you can increase the trustworthiness of your application and attract more customers. 
Push notifications remind app users about scheduled walks and inform them about successful payments and other important events.
In-app payments are a safe way to carry out transactions. They're also faster and more convenient than cash payments.
How to monetize an on-demand dog walking app
There are different ways to get money once you launch your app onto the market. Choose the model that best suits your business objectives. 
Charging transaction fees is one of the most popular monetization approaches. Rover and Wag! have been successfully using this model for years.
Membership fees for walkers is an alternative to the first approach. Barkly Pets doesn't charge their walkers for every service, but they do charge a membership fee for a relatively small amount of money.
Paid promotions for walkers. If walkers want to get more views from dog owners and increase their chances of getting hired, they can promote their profiles for a price. The PetBacker service offers pet caregivers to promote their profiles via the Sponsorship option to get more perks.
Paid ads for dog-related products. Although very few dog walking apps use this monetization approach, it's a possibility. If you come up with a way of implementing advertisements into your app without irritating users, ads could be an additional source of revenue.
Once you decide on the main features of your app, analyze your competitors, and choose a monetization approach, it's time to gather all this information in one document to validate your business idea.
Wag! business model canvas
One of the fastest ways to validate your business idea is to create a business model canvas. Consider the Wag! canvas below as an example for your own.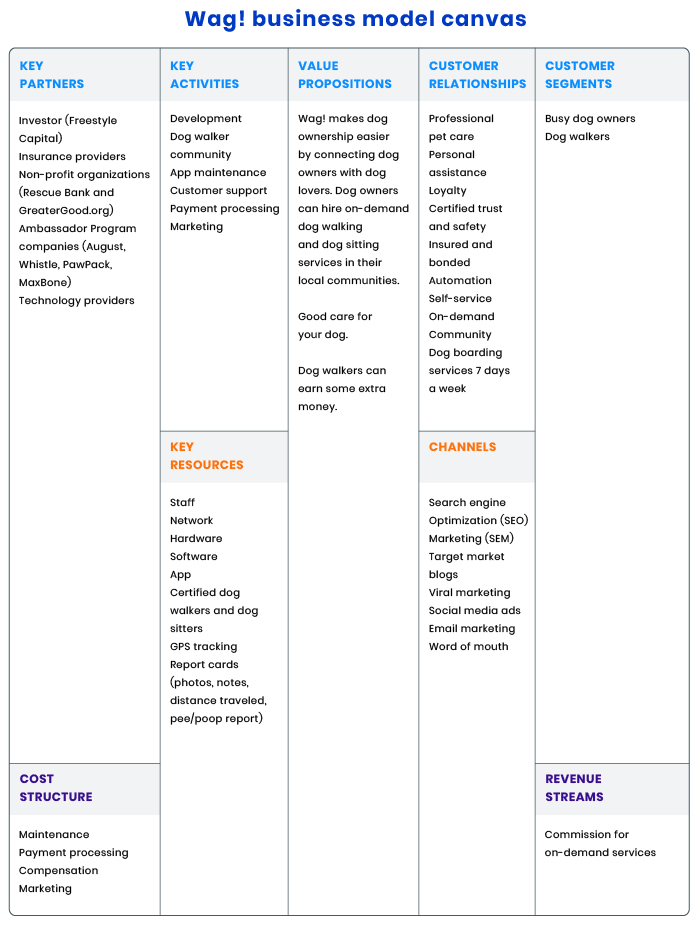 Challenges
Now you know that your business idea is realistic and that your app may survive on the modern market among other on-demand dog walking apps. However, there are challenges that you need to overcome to successfully launch your product and get traction. Let's have a look at them and at some ideas on how to overcome them.
Choosing the right market
Targeting the right market is important for a startup since it determines the success of your business. Before starting to work on app development, carry out research to understand if your application will be in demand in a specific area.
Analyze how many pet owners there are in your neighborhood, what their income level is, and if they're ready to spend the money on services for pets. You should also examine your competitors, both direct and indirect. Once you perform research and make sure your app will be popular with your target audience, you can move to product development.
Safeguarding your customers' property
If something happens to your customers' houses during the time when walkers are providing their services, you're likely to be blamed. That's why you should foresee and prevent any unpleasant situations in advance. And in case that's impossible, think about how you can mitigate the consequences. 
The majority of dog walking companies offer insurance to secure their customers' homes. Some companies like Wag! have come up with creative ideas and provide pet owners with special lockboxes to ensure property protection. Think about what approach your company can choose to make sure your customers' houses are safe.
Securing dog walkers 
While on-demand dog walking apps offer different ways to protect pet owners and their property, hardly any company does the same for walkers. This is a serious shortcoming, especially considering that dogs can be aggressive and all walkers are at risk of injuries. 
Finding a way to secure dog walkers can become your UVP and help you stand out from similar companies. 
Keeping dogs safe
When people come to dog walking companies for any kind of service, they're likely to be concerned about their pet's well-being. They worry if their lovely pet will be fine, eat healthy food, and be treated properly. That's why your task is to ensure the safety of your customers' dogs. To do so, you can learn from the experience of your competitors.
On-demand dog walking companies carry out dog knowledge tests and background checks before hiring new walkers. Some companies like Swifto have very strict rules for hiring walkers and choose only 1% of all applicants. What's more, regular photo reports from every walk are a must for pet caregivers. With such safety measures, pet owners can have peace of mind when using dog walking services.
Final thoughts
Even being popular, not all dog walking apps have solutions to some concerns like ensuring the safety of dog walkers. Thus, if you can offer a specific solution, you have all chances to enter the market and leave your competitors behind.
FAQ
These are the features you should include in your MVP:

Registration
Personal profiles
Search filters
Walk scheduling and cancellations
Built-in chat
Geopositioning
Ratings system
Push notifications
In-app payments

To get profit from your application, you should opt for one (or several) monetization approaches:

Transaction fees
Membership fees for walkers
Paid promotions for walkers
Paid ads for dog-related products

There are four major concerns associated with on-demand dog walking apps:

Choosing the right market
Safeguarding your customers' property
Securing dog walkers
Keeping dogs safe


If you need help finding a technological solution to overcoming these challenges, our team is open to cooperation.