5 Healthcare Technology Trends That Will Shape Industry
22277 views
8 min
Apr 18, 2022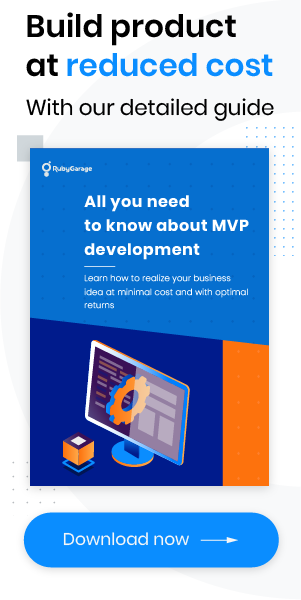 The healthcare industry is moving from products and services to solutions. Just a few years ago, medical institutions relied on special equipment and hardware to deliver evidence-based care. Today is the time of medical platforms, big data, and healthcare analytics. Healthcare institutions are focused on real-time results. The next decade will be focused on preventive care, and here new healthcare technology trends will come into play. In this article, we consider technologies that will dominate in the next few years.
Artificial intelligence
The modern healthcare industry has already introduсed AI-based technologies like robotics and machine learning to the world. For example, IBM Watson is an AI-based system that's making a difference in several areas of healthcare. The IBM Watson Care Manager was produced to enhance care management, accelerate drug discovery, match patients with clinical trials, and fulfill other tasks. Systems like this can help medical institutions save a big deal of time and money in the future.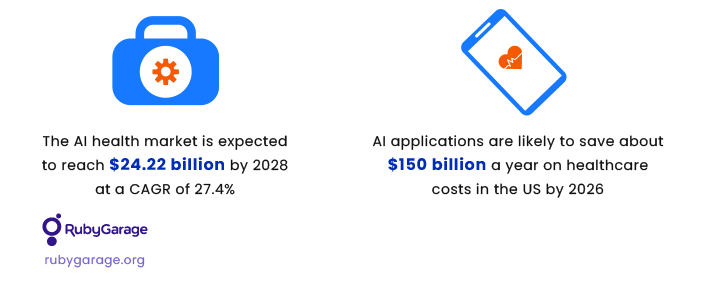 It's likely that in the near future, AI will become even more advanced and will be able to carry out a wider range of tasks without human monitoring. Here are some predictions of AI trends in healthcare:
Early diagnosis
This healthcare technology trend can accurately and quickly process a lot more data than the human brain. So AI tools can reduce human errors in diagnosis and treatment and allow doctors to work with more patients. For example, image recognition technology will help to diagnose some diseases that cause changes to appearance (diabetes, optical deviations, and dermatological diseases). It's also likely that in future people will be able to diagnose themselves. DIY medical diagnosis apps will probably ask some questions, process a patient's care history, and then show possible diagnoses based on the current symptoms. But as this technology isn't advanced yet, patients should be careful with DIY medical apps and self-medication.
Medical research and drug discovery
The future of drug discovery and medical research lies in deep learning technology. Deep learning is a field of machine learning that's able to model the way neurons interact with each other in the brain. This allows medical systems to process large sets of data to quickly identify drug candidates with a high probability of success. A Pharma IQ report says that about 94 percent of pharma specialists believe that AI technologies will have a noticeable impact on drug discovery over the next two years. Even today, pharmaceutical giants such as Merck, Celgene, and GSK are working on drug discovery in collaboration with AI platforms, predicting AI to be the primary drug discovery tool in the future.
Better workflow management and accounting
There are a lot of routine and tiresome tasks that medical workers have to do apart from caring for patients. AI can reduce staff overload by automating monotonous tasks such as accounting, scheduling, managing electronic health records, and paperwork.
According to the latest O'Reilly report, , the healthcare industry takes the 3rd place among top industries that actively adopts AI.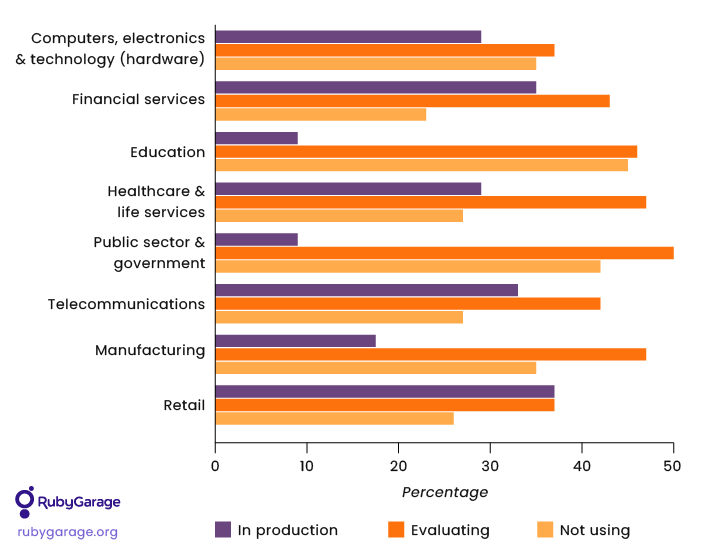 IoMT
The Internet of Medical Things (IoMT) includes various devices connected to each other via the internet. Nowadays, this technology trend in healthcare is used for remote monitoring of patients' well-being by means of wearables. For example, ECG monitors, mobile apps, fitness trackers, and smart sensors can measure blood pressure, pulse, heart rate, glucose level, and more and set reminders for patients. One recently introduced IoMT wearable device, the Apple Watch Series 4, is able to measure heart rate, count calories burned, and even detect a fall and call emergency numbers. The FDA has recently approved a pill with sensors called Abilify MyCite that can digitally track if a patient has taken it.
IoMT market is projected to reach $158.1 billion in 2022 according to Deloitte.
IoMT will contribute sensors and systems in the healthcare industry to capture data and deliver it accurately.
IoMT technology can reduce the costs of healthcare solutions by allowing doctors to examine patients remotely.
IoMT can help doctors gather analytics to predict health trends.

Telehealth
Telehealth is a relatively new concept in the healthcare industry and includes mHealth, remote patient monitoring, store-and-forward care, and live video. It's predicted that the interest in telehealth services will steadily grow even after the COVID-19 pandemic is over and become a new normal in healthcare. Southwest Medical offers a great example of a telehealth system that brings the examination right to a patient's home. It provides virtual appointments with doctors 24/7, saving time and money. Moreover, this technology allows patients to get immediate care on urgent but small matters.
According to a DataM Intelligence report, the global telehealth market is predicted to be worth $113.1 billion by 2025. Telemedicine will make healthcare more accessible and convenient than ever before. Just imagine that you need a consultation from a highly specialized doctor from Canada, while you're in the US. Telemedicine is the perfect solution, as you can use a special video chat platform and get a consultation online. As another example, a small clinic in the countryside that doesn't have an on-staff allergist could outsource specialist consultations via telemedicine.
Telemedicine will likely become more popular than office visits in a few years. Patients will become more engaged with regular examinations and will form stronger relationships with their doctors.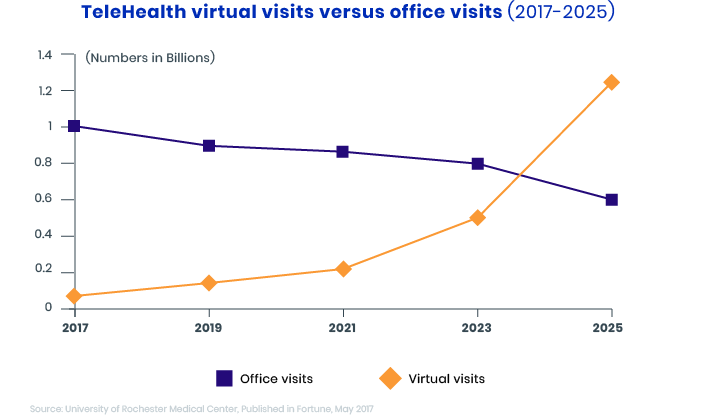 In addition, analysis by Deloitte shows that telehealth can increase customer engagement and improve the customer experience by reducing travel time and regular office visits. As a result, healthcare providers who deliver excellent experiences to patients will show stronger financial performance.
See how telemedicine is transforming healthcare and what trends are dominating in the industry in our dedicated report.
Blockchain
The blockchain is getting more and more popular in various industries, and healthcare is one of them. The blockchain's main advantage is the ability to secure data and protect it from breaches. Blockchain technology has made it extremely easy for healthcare providers to share medical data safely. This technology will help healthcare providers manage endless data — including patient health information, insurance claims, and electronic health records — and keep it safe and encrypted.
In addition, the blockchain will reduce the number of fake drugs on the market and increase trust and transparency between drug manufacturers and customers. Once a manufacturer creates a new medical product, they'll register it on the blockchain and be able to track and control it through all stages. Customers, in turn, will be able to trust manufacturers by monitoring any pharmaceutical product throughout the supply chain. According to an article in the International Journal of Computer Applications, blockchain-based applications can help to prevent counterfeit drugs. Let's consider how the blockchain will work with drug traceability.
Let's suppose that Dr. Helen needs some drug and she wants to order it in a pharmacy. First of all, she needs to verify the drug's ID and its journey from the manufacturer to the pharmacy. So Dr. Helen uses her blockchain-based mobile app to confirm the drug's authenticity. If the drug is fake, no information will be displayed.
AR/VR/MR
Virtual reality (VR) and augmented reality (AR) are revolutionizing the healthcare industry. These technologies are already used in treatments for a wide range of illnesses. For example, neurosurgeons are using AR technology to remove tumors safely and conduct orthopedic operations. Specialists in mental health are using AR to treat patients who aren't able to come to a medical center for the usual treatment. There are several examples of AR and VR tools that ease treatment and diagnosis. The AccuVein system shows a blood vessel map in real time and helps doctors avoid valves and bifurcations. Microsoft HoloLens mixed reality (MR) can be used for educational purposes and surgical planning as well as during childbirth and surgery.
What's even more exciting, the AR and VR healthcare market is predicted to be worth about $5 billion by 2025, growing at a CAGR of more than 25% according to a report by Medi-Tech Insights. The future of these technologies in the healthcare industry is believed to be in enhanced user experiences and increased mobility.
Wrapping up
The overall healthcare technology trend is toward preventive care, enhanced patients experiences, lower expenses, and big data processing. Cutting-edge technologies like AI and AR are already widely used to help patients with remote diagnosis and medical prescriptions, and there will definitely be even more outstanding discoveries within the next few years. Share your thoughts on this topic with us in the comments below.