6 Striking Benefits of EHR Software for Healthcare Organizations
12593 views
7 min
Dec 18, 2018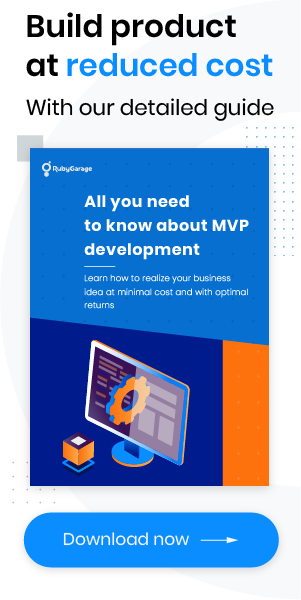 Today, we're observing significant improvements in the healthcare industry due to the adoption of software systems, namely electronic healthcare record systems (EHRs), that optimize a great number of processes. According to a report by the Office of the National Coordinator for Health Information Technology (ONC), 76 percent of US healthcare providers already used an EHR system in 2014.
There are great reasons for the explosive growth of digitizing data. Let's consider how EHR software can streamline patient treatment.
What is EHR software?
Electronic healthcare record software records health-related patient data in real time. With EHRs, all of a patient's information is available instantly and securely. These systems provide a broader perspective of a patient's treatment and improving the quality of care.
For a better understanding of what EHR software consists of, let's consider its core features:
A health information and data stores clinical information used to make treatment decisions (diagnoses, allergies, lab test results, medications, etc.) in an electronic format.
Result management allows physicians to quickly access and manage test results.
An order feature provides electronic processing of orders and prescriptions to reduce medical errors due to illegible handwriting.
A patient support feature provides patients with access to their health records and helps them carry out at-home monitoring.
An electronic communication feature connects physicians across care settings, labs, and hospitals.
In addition, an EHR system can contain some extra features like:
A decision support feature that provides reminders, prompts, and alerts that improve compliance with good clinical practice.
A reporting feature for producing reports on clinical evidence.
Now let's take a closer look at what advantages EHR systems can provide.
What are the benefits of EHR software?
EHRs formalized the process and gave doctors the ability to use data to better predict diagnoses, assist in health maintenance, and allow for a much better patient experience than having everything written down.
Doctor appointment includes filling out a bunch of paperwork, explaining symptoms again and again, and finally getting a prescription that's complicated to understand. EHRs make all these things easier. Let's consider the key electronic health record benefits.
Reducing medical errors
According to Martin Makary and Michael Daniel, there are more than 250,000 deaths related to medical errors each year in the United States.
Access to data leads to more personalized patient care and helps to solve health issues preventively. EHR software can significantly aid in diagnosis. Digital records contain crucial information on patient health, including comprehensive charts that indicate changes in a patient's weight, cholesterol level, blood pressure, and so on.
EHR systems can impact the entire treatment process and considerably eliminate data entry requirements. Now, instead of relying on what patients tell, EHR provides doctors with quick access to recent records of a patient's treatment. Using an EHR, a doctor can spend more time on patient care rather than writing down everything the patient says about their symptoms. An EHR system provides reliable access to complete patient health information, allowing doctors to diagnose more accurately and efficiently.
Increased quality of care
One of the great electronic healthcare record benefits is increased quality of care. A survey by ONC revealed that 75 percent of US doctors say EHR software has allowed them to provide better patient care. As for patients, 85 percent of those surveyed think digital records will significantly improve the quality of patient care.
EHRs help to provide higher quality treatment due to accurate information about lab results and insurance coverage and by making treatment recommendations accessible to patients.
Now let's look in detail at what exactly an EHR does to achieve better care:
Quick access to patient data and treatment history. Since EHR provides doctors with a full overview of a patient's previous symptoms, allergies, and treatments, they're able to make accurate diagnoses and choose the most appropriate medications. If a patient is unconscious, an EHR solution can tell the physician about patient's conditions and other crucial information.
E-prescribing. Patients can receive prescriptions in digital form and avoid indecipherable handwriting.
Reminders. Using EHR, physicians can receive reminders about checking finished test results. Patients can receive reminders about scheduled visits to the doctor. This EHR feature significantly speeds up the workflow and keep everything under control.
Computer-aided diagnosis. Using software algorithms, computer-aided diagnosis improves both detection and characterization of visual abnormalities, such as lung nodules and pigmented skin lesions.
The power of (big) data
Physicians usually make treatment decisions by relying on their training, past experience, and the research of other experts. Ultimately, they make treatment decisions based on partial information. To close the knowledge gap and offer quality patient treatment, you can leverage the power of EHRs.
How does this work? Modern EHR systems efficiently collect and analyze vital information that allows them to predict whether a patient is ready for discharge, needs to see specialists, or needs a phone follow-up. Data analytics helps medical staff to interpret lots of data and provides analysis of individual patients' situations to help doctors make better treatment decisions. It's therefore not surprising that patients, including senior citizens, are ready for their data to be collected to achieve higher quality, more effective healthcare.
One of the great example of predictive analytics in practice is the analytics algorithm by Kaiser Permanente. It focuses on newborn care. About 0.05 percent of babies born in the US have infections that require antibiotic treatment. But 11 percent of infants who receive antibiotics don't need them. This algorithm helped Kaiser Permanente to precisely predict the risk of infection according to a mother's clinical profile and her infant's condition and determine which newborns really need treatment. As a result, about 250,000 infants have been saved from unnecessary antibiotic treatment. Such cases demonstrate the powerful advantages of EHR predictive analytics.
Streamlined workflow
An EHR system is an indispensable tool for a modern healthcare service provider. When properly implemented, EHR software can streamline workflows to improve patient care. One healthcare provider that uses an EHR solution has increased their speed of documentation processing by nearly 17 percent.
Here's how healthcare providers can leverage the full potential of EHR solutions to achieve greater efficiency:
Save time on paperwork. One of the crucial advantages of EHR is that they allow physicians to avoid filling out a bunch of paperwork. The paperless approach not only cuts down on the amount of time required of medical staff but also eliminates all transcription costs.
Enhance daily operations. Most doctors have standardized daily treatment routines. To avoid repetitive tasks, EHR solutions provide useful templates that enable medical staff to create notes twice as fast as they could by hand. For instance, when a patient has fully recovered, doctors can trigger a default set of statements and the system will automatically enter them into notes. This trigger feature can save a significant amount of time and increase physician productivity.
Automate communication. EHR software allows doctors to communicate with one another (even in distant locations) about a patient's care and share patient information. Thanks to robust care coordination, physicians can eliminate unnecessary treatments and remove a burden from the medical staff.
Improve productivity.

Most patients have lots of medical treatment information. Using old paper charts, it's difficult to find a complex history of medical attention. With EHR, however, medical providers can easily find comprehensive files that contain all data on a patient's treatment.

Using it together with a tracking tool, you'll double the increase in productivity. With its help, you will reduce the paperwork, keep an eye on your workers, and make sure they're busy doing the right things. An excellent example of such an application is Time Doctor. It will add a time and payroll tracking features which your EHR system may lack.

.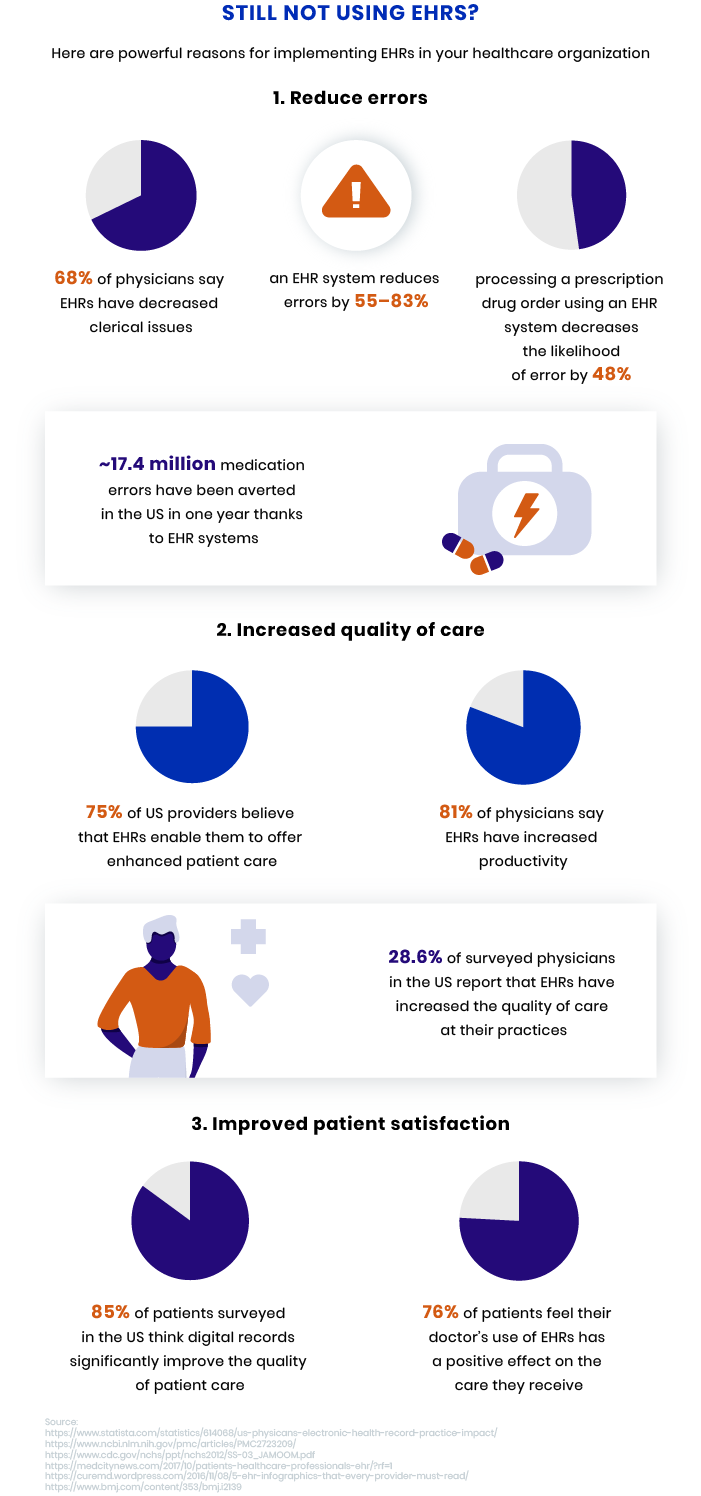 Ready to implement EHR software?
EHR software is a great way to reduce the risk of medical mistakes while improving revenue. This software can help healthcare providers save money by automating basic tasks and investing resources in more important tasks. If you have an idea for building healthcare software, tell us about it and our team will help you realize it.
To learn more about the latest healthcare technologies, subscribe to our newsletter!