Top 8 B2B Ecommerce Best Practices to Boost Your Marketplace
4480 views
9 min
Dec 17, 2020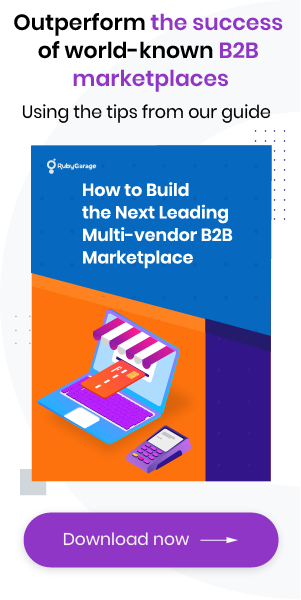 The shift to remote digital sales in the B2B market during the pandemic has caused a boom in the launch of new multi-vendor B2B marketplace platforms. However, it can be challenging for newcomers to compete with established marketplaces. To successfully attract and retain customers and be one step ahead of competitors, newcomers can follow a few B2B ecommerce best practices.
What are B2B ecommerce best practices?
In this article, we go over each practice to help you learn the nuances of running a successful marketplace. Let's get started.
1. Seamless registration and onboarding
More and more businesses are willing to procure products and services online. In response to this tendency, sellers and manufacturers are looking for ways to start selling online. The easiest way for them to do this is through an ecommerce marketplace. 
To engage more sellers and buyers on your B2B marketplace, you need to make sure that it's easy for them to start using your platform. A comprehensive onboarding process is necessary for new users to get acquainted with your platform and examine its workflows.
First, you need to create separate onboarding flows for buyers and sellers. The buyer onboarding process mainly requires a comprehensive sign-up procedure. For instance, Amazon Business enumerates the stages a buyer needs to go through to become a marketplace member: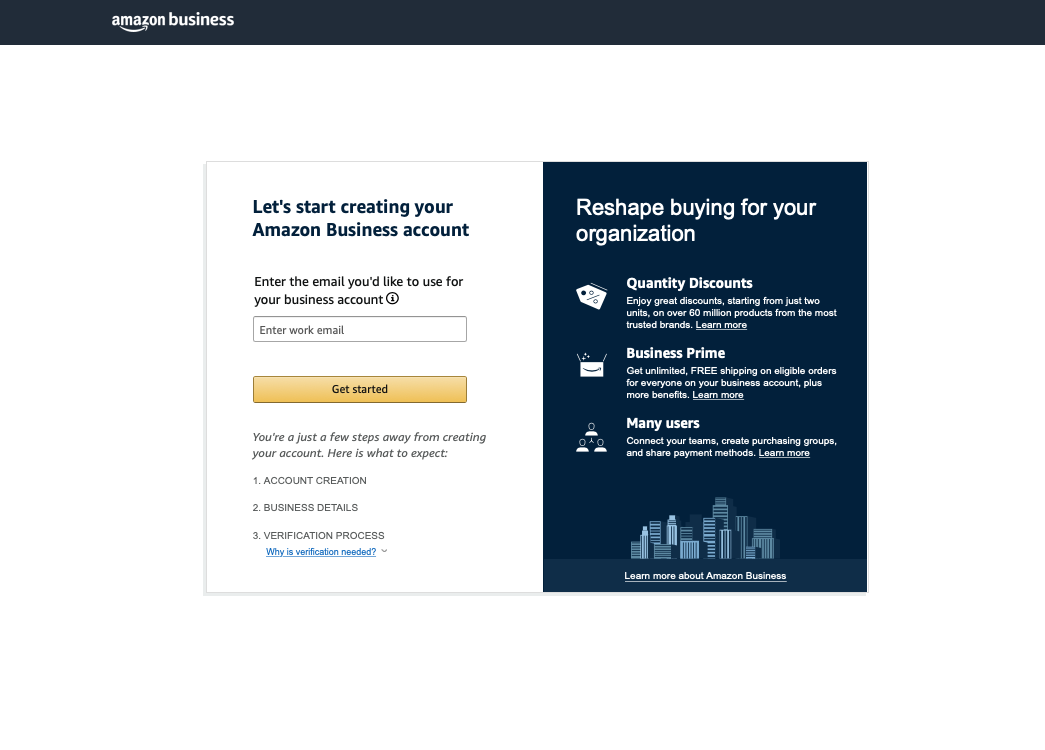 After a buyer creates an account, automated onboarding walks them through the platform and shows them how to use its features.
Creating an onboarding process for sellers on your B2B marketplace usually means building a separate Become a seller page that you feature in your marketplace navigation bar. On this page, you can enumerate the benefits of selling on your marketplace platform, specify the features and tools your platform offers, and explain the terms and conditions of using your services. Don't forget to include a compelling call to action to let newcomers immediately start their journey on your B2B marketplace. Here's how Amazon Business presents itself to new sellers:
The most critical aspects of the onboarding process are account creation, acquaintance with marketplace features, and filling in required information for personal or company accounts. To facilitate user onboarding, you can create a system with hints and tips to show and explain to users how to use each feature of the platform. 
To ensure transparency and safety on your platform, you should implement an identity verification process into onboarding for both buyers and sellers. This will ensure platform users are who they say they are. For instance, you can opt for AI-powered digital ID verification to verify users' identities and build credibility and trust in your B2B marketplace. 
You can think of more ways to implement the onboarding process in your marketplace, but your aim should be to make it as simple as possible. 
2. Detailed product page 
Each product page on a multi-vendor B2B marketplace should include a thorough description of the product's characteristics. Below is an example of a product page on the Tradeindia B2B marketplace.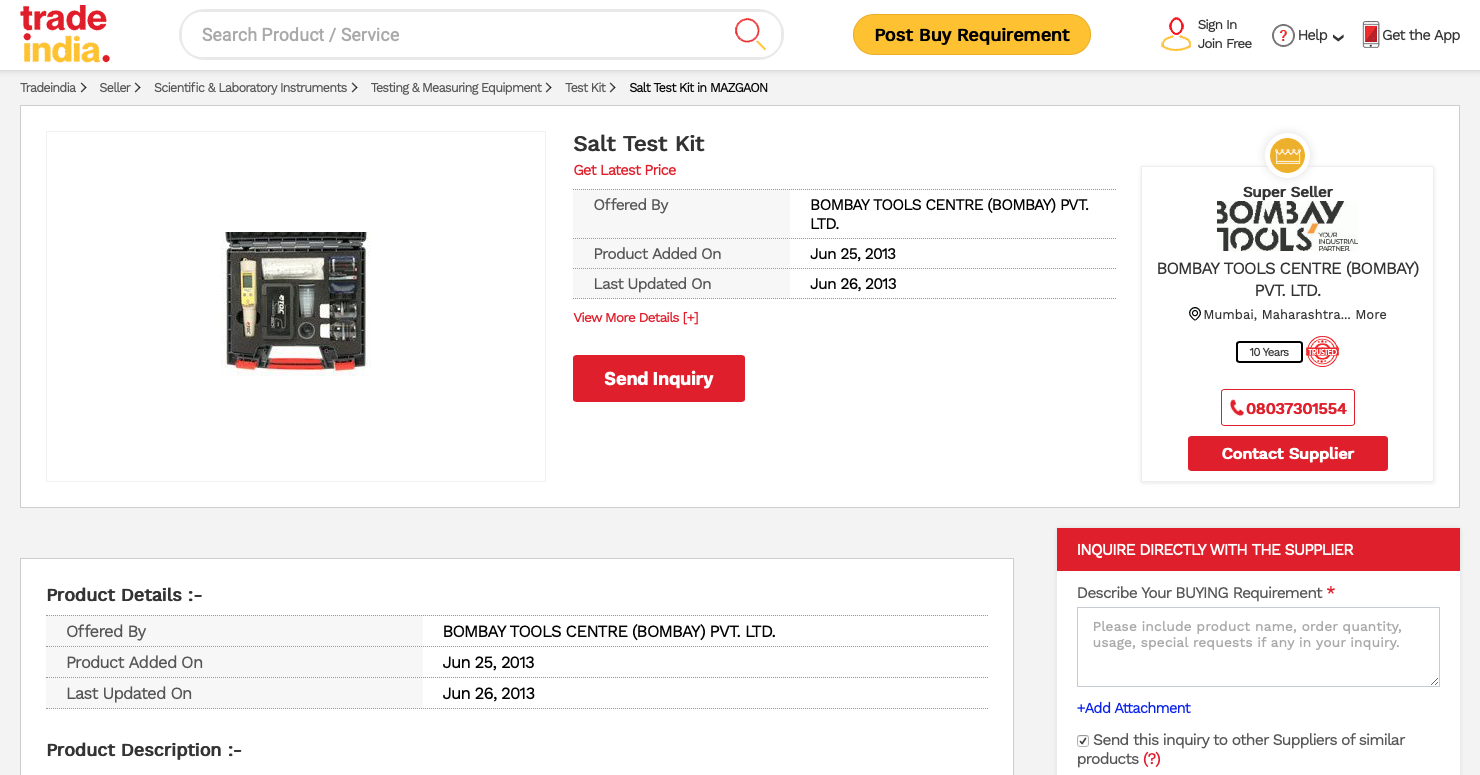 Detailed information on product pages not only helps buyers make informed buying decisions but helps to improve SEO. Each product page on a marketplace should include the following:
Description – A compelling review of a product's features and benefits in around 100 words to provide sufficient product details
Part numbers – Unique identifiers that are used to reference particular parts, such as stock keeping unit (SKU), MFR, and cross reference numbers
Availability – The number of items in inventory 
Media – Videos of the product or several photos with zoom 
Technical specifications – A detailed description of technical requirements that must be satisfied for the product to function properly 
Materials – Information about the materials, elements, and ingredients used to create the product 
Attributes – Product characteristics such as size and color
Attachments – Accompanying documentation from the product manufacturer, such as a spec sheet 
Accessories – A list of items users can buy as add-ons to the product
Alternatives – Other products that serve the same purpose as the product presented on the product page 
Related products – Products that belong to the same industry or category 
The more details sellers provide on their products, the easier it is for buyers to find items that match their requirements. 
3. Easy inventory management
Don't underestimate the importance of inventory management on your ecommerce marketplace. Automated inventory tracking helps marketplace sellers keep a sufficient quantity of goods to meet demand. 
However, sellers should also have full control over their stock to set product availability manually. This way sellers can keep orders coming even if an item is out of stock and complete orders later when the inventory is replenished. 
4. Simple navigation and advanced search
According to a survey by McKinsey, difficulty finding products is one of the most frustrating issues for 34% of B2B buyers. To address this issue, B2B ecommerce marketplaces should have comprehensive dropdown menus, a clear division of products into categories and subcategories, and quick search functionality. 
One of the ecommerce best practices used on B2B marketplaces to improve navigation is implementing guided navigation. Guided navigation allows users to add keywords and categories to product filtering when they browse the website. At each step of guided navigation, the marketplace user is provided with several categories to select from to narrow the range of search results. As users select these categories, they appear in the breadcrumbs. 

As for search functionality, it's vital to let buyers use the search box from any page of your marketplace. The search functionality on your platform should be smart enough to show matching results as the customer types. Consider autosuggest or autocomplete to help users find exactly what they need. Your search functionality should also be able to handle different variations of users' queries. For instance, buyers might input "24 feet" as "24ft.", "24 ft," "24 foot," or "24'". 
Another one of the ecommerce best practices used on B2B websites is a part finder. This will enhance the search experience on your ecommerce marketplace platform. With a part finder, multi-vendor B2B platform users can find products in the catalog by SKU, part number, or serial number. 
Straightforward navigation and a smooth search process on your B2B website helps buyers cut the time needed to find the right products.
5. Quick order options
To make the purchase process even quicker, you can allow buyers to place orders without searching for products. Buyers who regularly buy the same products can make orders just by entering SKUs or other product codes or by uploading XML or CSV files from their accounts. 
To simplify and streamline the sales process even more, you can let businesses sign contracts and non-disclosure agreements (NDAs) with vendors and manufacturers by adding document templates to your marketplace platform. In this case, buyers won't need to use third-party tools to formalize their cooperation with your sellers and will be able to check out faster.
6. Smooth payment flow
Advanced payment options help you improve the customer experience on your platform and build loyalty. 
Offering a variety of payment methods lets every customer on your website choose the most convenient way to pay. In addition to typical credit card payments, you can accept payments through direct bank transfers, e-wallets, or PayPal. 
Large orders in B2B ecommerce are quite common. However, due to the situation caused by the COVID-19 pandemic, it may be hard for businesses to pay large amounts of money at once. One suitable way to solve this issue is to let businesses pay in installments or postpone their payments through third-party credit as a service (CaaS) platforms. For example, Alibaba allows users to pay with Payment Terms implemented through the CaaS platform from MSTS Inc.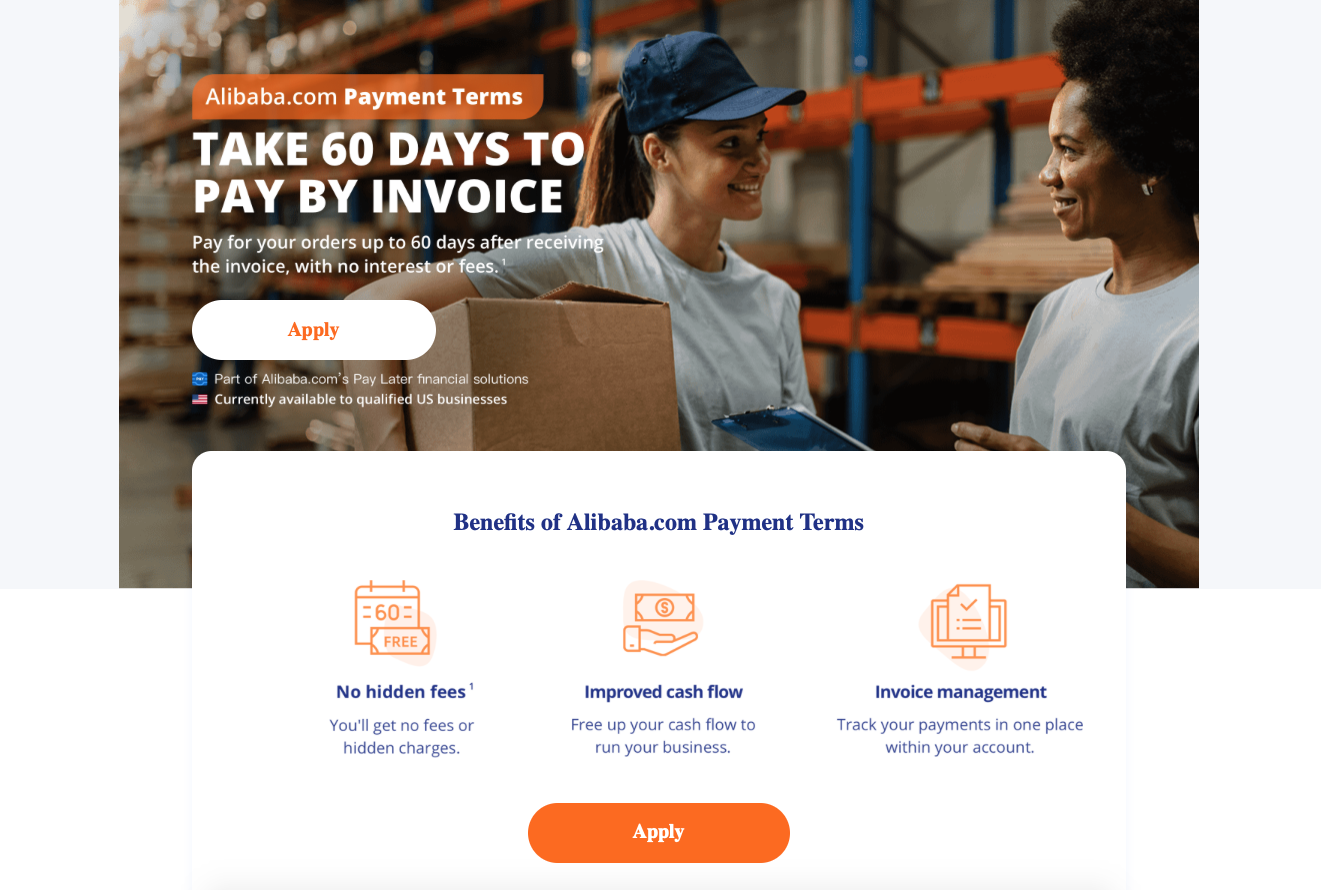 One more option to improve the payment process for buyers on your platform is to implement flexible pricing. This helps marketplaces set product costs in accordance with the needs of their business, the situation on the market, and the requirements of their customers. With flexible pricing, sellers can use multi-tiered pricing where a tier is a type of buyer, such as a reseller or wholesaler. Sellers can also offer discounts based on purchase quantities, offer unique credit limits, and provide specialized terms. Price negotiation options make the payment policy on your platform even more flexible for buyers and help you build long-lasting relationships with them.
Placing an "add to quote" button on product pages can contribute to the user-friendliness of your marketplace. With this feature, you can allow non-registered users to get quotes for products or services on your platform and make a good impression on your potential buyers. 
Your revenue flow depends directly on how convenient the payment flow is on your platform. That's why you must put effort into improving payment conditions for your customers in every possible way. 
7. Advanced shipping options
A variety of shipping options are also critical for your marketplace. It's best to start cooperation with numerous shipping carriers to let your platform users choose the most convenient delivery service. Another option is to provide shipping through logistics companies that help users compare multiple carrier options and arrange bulk shipments. Here's how Alibaba achieved this by cooperating with Freightos: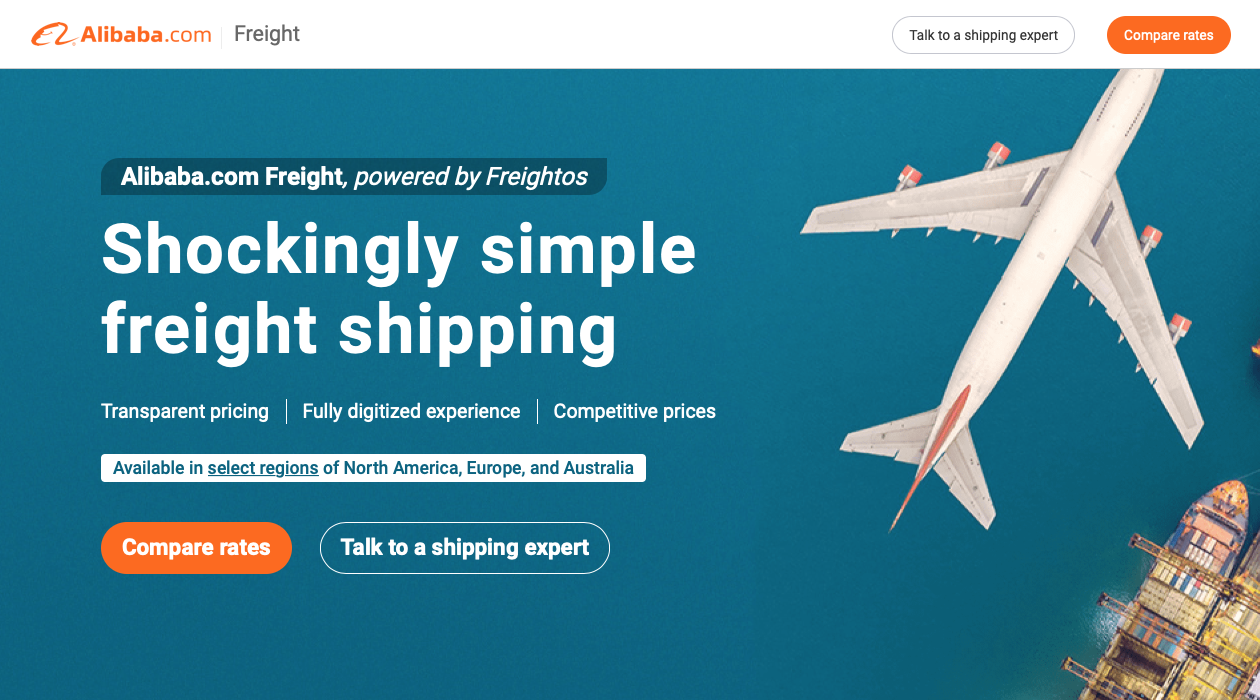 As buyers on B2B marketplaces may need their items to be delivered to several locations, it's also critical to implement a split shipment feature. You need to make sure a user can split an order even if it consists of only two items of one product type. 
Another vital aspect of product shipping is delivery address verification. This feature is necessary to prevent mistakes in delivery addresses and, consequently, issues during shipping. 
Real-time tracking is another ecommerce best practice to improve the user experience on B2B marketplaces. This option allows buyers to rest assured that the products they buy from you are on the way to their destination. 
8. Mobile optimization
More and more customers prefer to place orders on mobile devices. Since the beginning of the COVID-19 pandemic, there has been a 250% increase in mobile app ordering. Mobile optimization is a must for modern B2B marketplaces. 
If you decide to optimize your B2B marketplace for mobile devices, you can either opt for a responsive website design, create a mobile application, or do both. No matter what option you choose, your goal should be to let your users conveniently browse your marketplace, view products, place orders, and pay from any device to provide an exceptional user experience. 
Conclusion
We collected the best practices the most successful B2B marketplaces use on their websites to let their clients make procurements smoothly and conveniently. Now that you're aware of them, it's time for you to act.
FAQ
Make sure your platform offers:

A seamless registration and onboarding process
Detailed product pages
Easy inventory management
Simple navigation and advanced search
Quick order options
Smooth payment flow
Advanced shipping options
Mobile optimization

Product description
Part numbers
Availability
Videos and images
Technical specifications
Materials
Attributes
Attachments
Accessories
Alternatives
Related products

Offer a variety of payment options
Allow for payment in installments
Use credit as a service (CaaS) platforms
Provide flexible pricing
Include price negotiation options
Give price quotes to non-registered users

If you're looking for a reliable team to help you implement B2B ecommerce best practices in your multi-vendor marketplace, contact RubyGarage. Together, we'll create a leading marketplace.