How Augmented Reality Can Help You Boost Your Retail Business
13085 views
11 min
Mar 15, 2018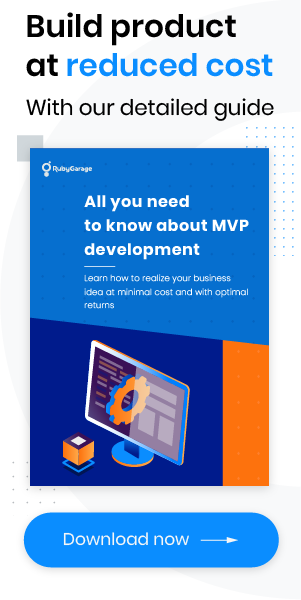 Retail is a multi-trillion-dollar industry that can bring businesses huge profits. The competition, however, is fierce, so retailers all over the world are straining every nerve to attract buyers and increase sales.
To stay afloat and grow, modern retail businesses launch stellar marketing campaigns, use deep data analysis to better reach out to audiences, and provide helpful customer support. All of these methods are crucial, but there's one more thing retailers need to succeed − technological innovations.
In this article, we draw your attention to augmented reality (AR) − an innovative technology that's taken the world by storm in the past few years. Let's find out how AR can help your retail business and why using AR gives you a competitive advantage you shouldn't miss out on.
How augmented reality can drive your retail business
What's the biggest challenge for both traditional and online retailers? Making sure customers are happy.
This seemingly simple recipe for success is hard to cook, though. You need to not only excite your customers but also provide a pleasant customer experience in every interaction. It can be hard to do this without using modern technologies such as augmented reality.
With all the buzz around augmented reality, you're probably familiar with it. If you aren't, though, let's define what it is: AR is a reality technology that overlays virtual objects on a user's view of the real world. Users can experience AR with their smartphones or tablets, so this technology is easily accessible to hundreds of millions of potential customers worldwide.
It doesn't matter whether you're a conventional or online retailer – there are plenty of ways augmented reality can help you enhance the customer experience to boost sales and increase profits. We've made a list of the most promising real-life applications of augmented reality in retail:
#1 Provide try-and-buy experiences
The core of AR technology is merging virtual objects with the real world, which means you can provide try-and-buy experiences for your shoppers. Customers can virtually try on clothing and footwear, preview products they want to buy (such as furniture and electronics), and so forth.
Moreover, AR allows your customers not only to try on products but to personalize them as well − they can configure items to match their preferences and make better purchasing decisions. This not only enhances the shopping experience but also minimizes the risk of returns (which are unpleasant for any retailer). This is particularly valuable for ecommerce, as online shoppers can't try products but can only check out images and videos.
You can use advanced analytical tools to monitor your customers' preferences and provide personalized product offers, thus increasing the probability of purchases. According to recent research by computer vision and machine learning company DigitalBridge, for 64% of consumers an ideal shopping assistant should combine augmented reality and artificial intelligence.
Amazon, the world's largest online retailer, has implemented an AR View feature in its mobile application. AR View allows customers to check whether products fit in their homes with the help of augmented reality. Users simply select a product and it's overlaid on the camera view.
Thanks to this feature, online shoppers can better understand what a product looks like and decide whether to buy it.
Amazon's official video introducing AR View (Source: YouTube)
L'Oréal, a renowned manufacturer of personal care products, has launched Makeup Genius, a makeup simulator based on augmented reality. Makeup Genius allows customers to select makeup products and create (and save) personalized ready-to-wear looks.
Makeup Genius turns a smartphone into a magic mirror that helps customers try on different looks without leaving home or going to a makeup artist. All they need to do is look in the front-facing smartphone camera; the app automatically scans faces and applies makeup effects with AR.
L'Oréal's official video introducing Makeup Genius AR app (Source: YouTube)
#2 Deliver product information instantly
A modern consumer is a digital consumer: according to 2017 research by Salsify, 77% of shoppers are using mobile devices even when shopping in traditional brick-and-mortar stores. Buyers not only chat with their friends on social networks but also use their smartphones to find product information, compare prices, and read product reviews.
Augmented reality allows you to enhance your buyers' journey by providing instant product information. Customers can use their smartphones to scan products on shelves and receive valuable information about them instantly.
IBM, a prominent technology company with solid experience in image recognition and object detection, has developed a mobile AR application that scans shelves and delivers instant information about products. The app can filter products by ingredients, price, and so forth.
Video of IBM's mobile AR app for delivering product information (Source: YouTube)
#3 Provide interactive entertainment
Entertainment is one of the best ways for retailers to engage with potential customers, particularly with young people. Augmented reality technology opens up incredible opportunities for retailers to increase sales through interactive experiences.
Thanks to AR, selling commonplace products becomes much easier as people get entertaining experiences along with their purchases. For example, augmented reality can turn conventional paper books into immersive and interactive AR books that are interesting to read and interact with. Augmented reality can help instill a love of reading in children and therefore enhance their academic performance.
Live Animations, an IT company that develops AR products for children, created Wonderland − an augmented reality mobile application (for both iOS and Android) for Alice's Adventures in Wonderland, the famous book by Lewis Carroll. After downloading and installing the AR mobile app, readers simply direct their smartphone cameras to special icons in the book and their favorite characters come to life.
Official video of the Wonderland AR application (Source: YouTube)
#4 Enhance in-store product positioning
Traditional retailers know how important product placement is. Placing the right products on the right shelves can increase purchases. Retail businesses take product placement seriously and create detailed planograms to plan in-store space. However, products are often misplaced (particularly in large department stores), resulting in financial losses for retailers.
Augmented reality provides an easy way to ensure that products are positioned on shelves in accordance with planograms. Employees can use portable devices to scan shelves and instantly check for misplaced products. Tesco, one of the world's leading retailers, teamed up with IBM to develop an augmented reality mobile application for in-store product placement.
IBM & Tesco testing an AR mobile app (Source: YouTube)
#5 Ensure stress-free try-on experiences
Shopping for clothes can be really exhausting, as customers visit multiple stores and try on lots of items. Also, some shoppers might have privacy concerns, making trying on clothes really stressful.
As a retailer, you can benefit from augmented reality to solve these problems and provide a positive customer experience to all audiences. AR enables virtual try-ons, while modern advancements in artificial intelligence ensure that virtual clothes perfectly fit your customer's body. Shoppers can simply select clothes they want and look at a large screen (that serves as a mirror) to see themselves wearing them. This way, augmented reality helps you provide an engaging and pleasant in-store customer experience to encourage purchases.
Cisco developed a technology that brings AR-enabled stress-free try-ons to conventional brick-and-mortar outlets. Customers can virtually try on whatever clothes they want and even customize them, selecting colors and accessories. Probably most people will still go to a changing room, but this way they can narrow down their selection first.
AR-enabled in-store try-ons by Cisco (Source: YouTube)
#6 Stimulate purchases
Being immersive and interactive, augmented reality technology helps customers create emotional connections with products. You shouldn't underestimate the importance of emotions − according to research by consultancy Capgemini, emotionally engaged consumers are likely to spend twice as much on purchases. Augmented reality helps retailers stimulate purchase decisions and drive sales.
LEGO, a popular toy manufacturer, also uses augmented reality technology to build emotional connections with their audiences and market toys as efficiently as possible. The company created a LEGO® 3D Catalogue mobile AR application to be used in combination with the company's paper catalog: kids can scan pages of the catalog that have a special mark to bring augmented reality experiences to life. The app allows children and parents to preview LEGO toys in 3D and decide what to buy.
Video showing how the LEGO® 3D Catalogue mobile AR app works (Source: YouTube)
#7 Facilitate in-store navigation
If you frequently shop at large department stores, you know that finding the product you want can be difficult amid dozens of similar aisles and shelves. Needless to say, brick-and-mortar retailers should make it easy for customers to find products they need so that they don't waste time wandering around the whole store.
Augmented reality is an innovative way to provide simple and accurate in-store navigation and guide your customers. It works like this: a customer launches a mobile AR app on their smartphone or tablet, select the products they want, and the app directs them by showing digital directions on the screen. AR helps your customers save time and have a better shopping experience.
Lowe's, a large retailer that operates lots of home improvement and appliance stores, decided to improve the shopping experience by developing a mobile AR application for in-store navigation. The app uses computer vision to detect a consumer's position in real time and provide the shortest path to the items they're looking for.
In-store navigation AR app developed by Lowe's (Source: YouTube)
#8 Increase brand awareness
Brand awareness is essential for businesses: a customer's journey down the conversion funnel starts with awareness, when they find out about your company. If potential customers can't recognize your brand, they'll never become loyal buyers. Businesses use a lot of different techniques to increase brand awareness, from TV commercials to podcasts to online marketing campaigns.
In the digital age, however, AR is another effective tool for enhancing brand recognition. Augmented reality helps retailers increase brand awareness and attract more potential customers. Interacting with immersive AR applications, your audiences become emotionally connected to your brand and more likely to make purchases.
LEGO uses augmented reality as an innovative and immersive way to market toys as well as a great solution to increase brand awareness. The company developed the LEGO® In-Store Action photo application to attract buyers to physical stores and promote the brand. Unlike LEGO's AR app for the catalog, In-Store Action allows shoppers to take pictures with virtual LEGO heroes.
Key benefits of augmented reality for retailers
Now that you know how augmented reality can help your retail business, be it ecommerce or traditional retail, let's highlight the biggest benefits this technology brings.
Spanning the imagination gap
Despite the continuing rise of the global ecommerce market, online retailers face a so-called imagination gap, meaning a situation when many potential buyers don't make purchases because they can't visualize products. Images and videos aren't enough; consumers want to fully understand what they're paying for.
Augmented reality is a technological innovation that solves this problem and helps online retailers span the imagination gap. Thanks to AR, customers can have a look at products and try them on without actually seeing them. Customers are more likely to buy goods online when they know that they're getting.
Increasing sales
To grow and gain ground, retailers need to increase sales. To meet this challenge, they use a variety of techniques such as launching marketing campaigns and offering the most competitive prices. Augmented reality is a secret weapon that can help retailers drive sales and outperform competitors. Research by DigitalBridge reveals that one in three consumers would make a purchase after previewing a product in augmented reality.
Therefore, AR technology isn't just a hyped buzzword but an essential tool for online retailers and their brick-and-mortar counterparts.
Building a loyal customer base
What is the success of a retail business based on? A loyal customer base. And building this customer base is one of the most challenging tasks for any business.
Augmented reality enhances the customer experience and also helps retailers increase the number of loyal customers. A whopping 69% of customers aged 18 to 24 claim they would be loyal to a brand that provides augmented reality experiences, and 59% millennials expressed the same opinion (as per DigitalBridge).
Ready to revolutionize your retail business with augmented reality?
Augmented reality has huge potential in the retail industry, and if you've read this far, you probably have an idea for a top-notch AR app for your own business. It's time to implement AR. The examples above show that some of the world's largest online and offline retailers have already jumped on the AR bandwagon, and more companies are likely to follow.
Developing a helpful and engaging AR application, however, is a challenge, particularly if you have no experience in mobile and web development. If you need assistance with your mobile AR app for retail, share your idea with our team and we'll help you get your project off the ground.